This Healthy Grilled Recipes article has over 20 BBQ recipes for main courses and side dishes.
These all make great grilled recipes for summer (or year-around for those in warm climates) and each recipe comes with it own printable card!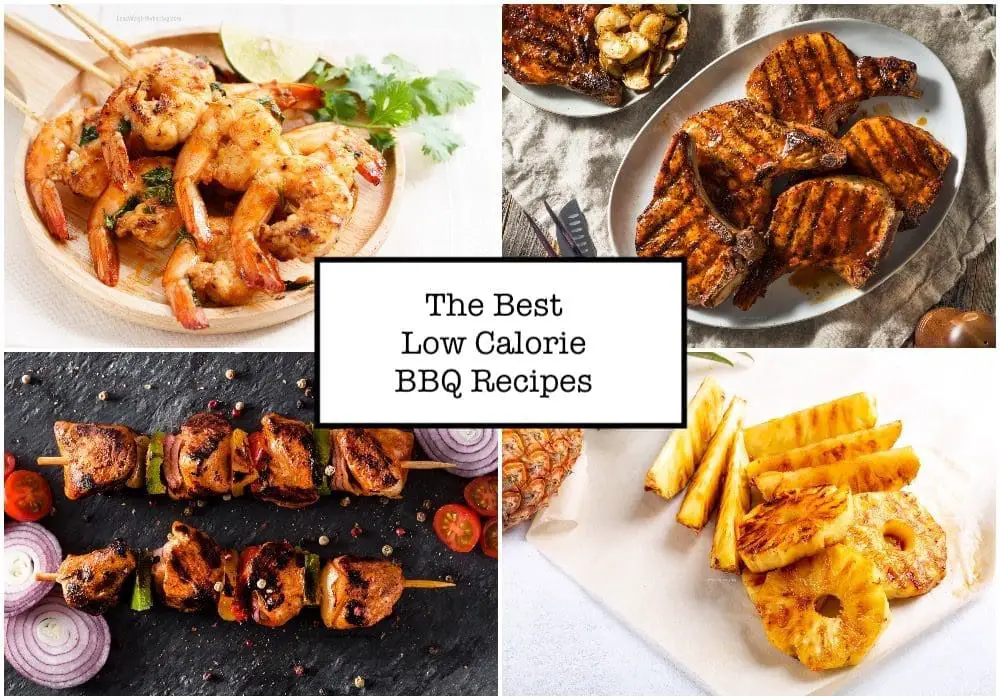 Below you'll find healthy BBQ recipes for every diet… Vegans and vegetarians will find 2 vegan burgers, plus lots of barbecue veggie sides.
And those on Keto and Gluten-Free diets will be happy to find a wide range of healthy grill recipes. There's something (or lots of somethings!) for everyone to choose below… we're sure you'll find your new favorite healthy grilled recipes!
This Healthy Grilled Recipes article has over 20 low calorie BBQ recipes for main courses and side dishes.
Over 20 Healthy Grilled Recipes
I want to get right to grilling, so we will start the list here!
You can click on the recipe card or the photo for each of the healthy barbecue recipes… it will bring you right to the recipe!
When it comes to grill recipes for vegetarians, this is by far the best! It's elegant and flavorful, but so easy you'll be shocked!
It's also a great side dish for grilled chicken and beef (I have LOTS of those recipes below too!) And at just 81 calories for 1 1/2 cups it's healthy and filling.
This extra simple BBQ recipe calls for you to grill the zucchini, then top it with feta and pine nuts for an impressive (but secretly easy) grilled recipe.
You can do so much with grilled tilapia! It's great on salads, in tacos, or just as a main course.
And at just 190 calories, and 3 ingredients… This healthy grilled recipe is great for most diets.
You're going to love this extra simple (3 ingredient) tilapia… It's a fantastic healthy barbecue recipe!
Grilled pineapple isn't just a great dessert (oh, it is… it really is!) but it's also great with grilled pork chops (recipe below!) or on burgers (more recipes below!)
At just 38 calories, you can enjoy this healthy BBQ recipe as a side dish, and then enjoy leftovers later for dessert.
This low calorie grilled recipe is sweet and delicious… Make it for a dinner side, or as a yummy BBQ dessert.
Brace yourself… I love kabobs and you'll find many more below (steak, salmon, shrimp just to name a few).
This healthy grilled chicken breast recipe is just 331 calories and has 50 grams of protein
Recipes with grilled chicken can be great for dinner main courses, or as appetizers like this one.
For those of you still eating carbs… you'll know all about healthy carbs and how important they can be to round out a meal.
This grilled recipe is just 101 calories, and is made in a foil packet (for super easy clean up!)
At just 101 calories, this healthy BBQ recipe can add a boost of healthy carbs to your grilled dinner.
More skewers! Yeah!! These steak kabobs are packed full of flavor, and go great with the chicken kebabs above!
At just 381 calories you get to enjoy your steak and your veggies together in a healthy grill recipe for dinner.
I also like to serve this healthy barbecue recipe with corn on the cob (there's a recipe below). Finger foods are fun, might as well embrace it!
These healthy BBQ recipes for pork chops are amazing! And this recipe included bone-in and boneless pork chop grilling directions!
At just 304 calories, these barbecue recipes for pork are the perfect main course for dinner.
I love to make this BBQ recipe for pork chops with grilled asparagus… and that just happens to be the next recipe!
This is another example of great vegan grilled recipes! Plus this recipe comes with 3 seasoning blends to choose from.
Great as a side dish alongside a vegan burger, or a pork chop, this 27 calorie healthy grilled recipe is healthy and low calorie.
There's nothing better than a crispy asparagus spear off the BBQ… And with all the flavors to choose from, I know you'll love this healthy BBQ recipe!
Before I go all beef on you, I wanted to share a lighter version of a BBQ burger.
This homemade veggie burger makes a great vegan grilled recipe, and at just 86 calories per patty… and very healthy grill recipe.
This simple and easy grill recipe is not the only BBQ burger recipe in this article! Meat eaters (and vegans too!) see below for more low calorie grilled burger recipes.
I love healthy grilled salmon recipes, and these BBQ skewers make a great salmon BBQ dinner!
Just 207 calories and packed full of flavor, this grill recipe helps you jazz up any healthy barbecue dinner.
There are more healthy grilled dinner ideas with salmon below… so keep scrolling!
This easy BBQ dinner recipe is packed with flavor! I love Chimichurri on this grilled steak dinner recipe, it really boosts the flavor of the marinated steak!
At just 366 calories, this grilled dinner recipe is healthy and low in calories.
Below, I have a steak sandwich recipe… if you have any leftovers of this hanger steak, try it on that healthy grilled dinner recipe.
This healthy grilled shrimp recipe makes great grilled dinner ideas. Enjoy it as an appetizer, main course, over salad, in a taco. The ideas for BBQ dinner are endless!
These shrimp barbecue recipes are just 114 calories. Plus this shrimp dish comes with 5 marinades for shrimp on barbecue recipes.
With 5 different shrimp grilled dinner recipes you'll be sure to find something you'll love!
This corn on the cob grilled recipe is one of the best barbecue food options.
With 5 recipes, and at just 116 calories, I know you'll find some BBQ dinner ideas you love.
With 5 different healthy grilled dinner ideas, you can change up your BBQ meals each week.
I love foil wrapped healthy BBQ ideas… and this grilled salmon recipe is easy, mess free, and so yummy!
With 5 different easy BBQ dinner ideas, this 119 calorie barbecue for dinner recipe is great for a healthy evening.
These grilled dinner recipes are easy and fast (15 minutes including meal prep!)
These grilled steak sandwiches can be made with freshly grilled steak, or with leftover steak!
With just 283 calories, this sandwich makes for great grilled dinner ideas… especially as it comes with different sauces.
For leftover barbecue dinner ideas, look no further. This leftover steak sandwich is perfect with leftovers, or freshly grilled steak (recipe for grilling steak included).
For healthy BBQ recipes for chicken, we have quite a few (check out the garlic lemon one below!) And these healthy grilled BBQ recipes for chicken breast are amazing!
With just 264 calories you can make a healthy chicken BBQ dinner that tastes amazing.
You can make lots of chicken BBQ recipes with this low calorie marinade… in the recipe you'll find directions on cooking all cuts of chicken on the barbecue.
For fun bbq dinner ideas for family, these fish tacos with mango salsa are great for everyone!
For 2 tacos, this healthy grill recipe is just 274 calories… including the mango salsa and sauce!
These healthy grilled recipes are quick and easy. I like to make the salsa and dressing ahead of time… they're better when they marinate for a bit.
I bet you thought we were done with skewer grilled recipes… but I couldn't wrap up this list of healthy BBQ recipes without this Ranch Seasoned skewer recipe.
These healthy grilled recipes are just 88 calories, and only require 3 ingredients.
These healthy and low calorie chicken BBQ recipes are great as main courses, appetizers, over salads… the possibilities are endless!
For vegan and vegetarian grilled dinner ideas, these mushroom burgers are amazing!
Great for all diets, these vegan burgers are just 343 calories… And they make great ideas for barbecue food for dinner.
So low in calories, meat eaters might want to try out these skinny mushroom burgers. But if you're looking for meaty grilled ideas for dinner, there's a beef burger recipe below!
These grilled tacos make great grilled ideas for dinner. Everyone loves street tacos, and now you can make them in your backyard.
Just 348 calories for two tacos, these BBQ ideas for dinner are healthy and low calorie… and with corn tortillas, lower in carbs too!
For more backyard BBQ ideas with beef… see below! I've got amazing burger and steak recipes coming.
I've supplied you with a lot of grilled chicken ideas for dinner. But I couldn't skip this amazing grilled chicken recipe form the list of healthy grilled recipe ideas
These grilled chicken breasts are just 232 calories, and they are great over salads, as a main course. The healthy grilled food ideas are endless with this recipe.
Cut the calories and fat without cutting the flavor. These BBQ recipes for chicken never disappoint!
Whenever we think of BBQ ideas for dinner, I always think "burgers" and this healthy recipe for the grill will curb your cravings!
Most burgers are over one thousand calories… but this BBQ dinner recipe is just 417 calories!
These healthy burgers make a wonderful BBQ meal, I like to serve them with the corn on the cob above.
Before I finish up with our healthy grill ideas, I have one last BBQ steak recipe for you.
This low calorie grilled recipe for steak is just 296 calories, and comes with a fantastic healthy BBQ marinade.
Before we finish this list of outdoor BBQ ideas, I want to remind you to keep scrolling for more low calorie, healthy recipes in the "what to read next" section.
Printable Guide for Healthy Grilled Recipes
Each of these healthy grilled recipes comes with a printable recipe card!
Choose a few and click on the links to get the printable (and sharable) recipes for the grill…
What to Read Next:


Lose Weight By Eating Cookbooks

Share these Low Calorie Recipes: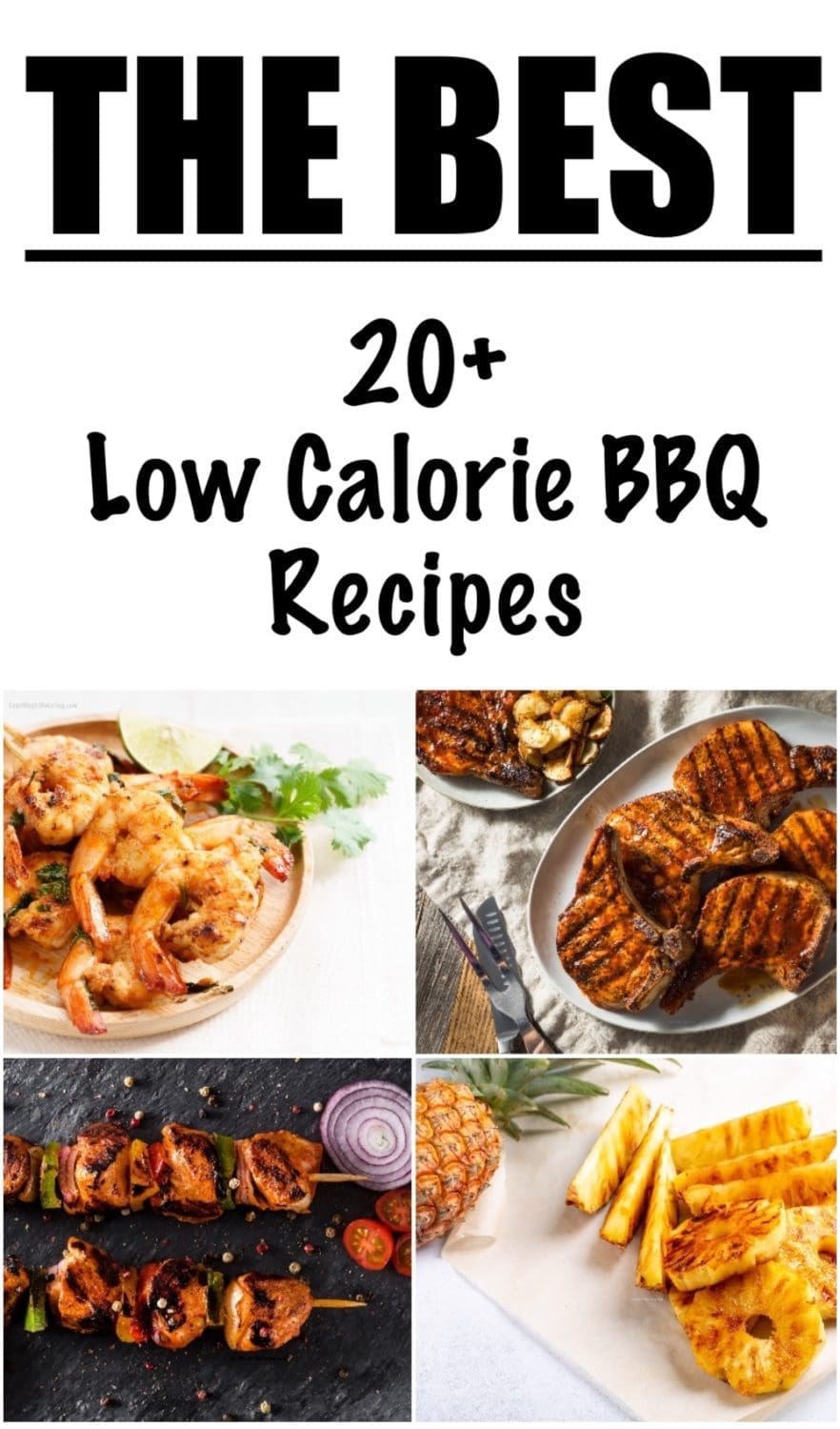 Article History: