These 10 Low Calorie Shrimp Side Dishes are all low calorie, high nutrition, and easy to make!
With low calorie shrimp sides (some just 24 calories!) you'll be able to make a healthy shrimp dinner… many are low carb, gluten-free, and keto friendly!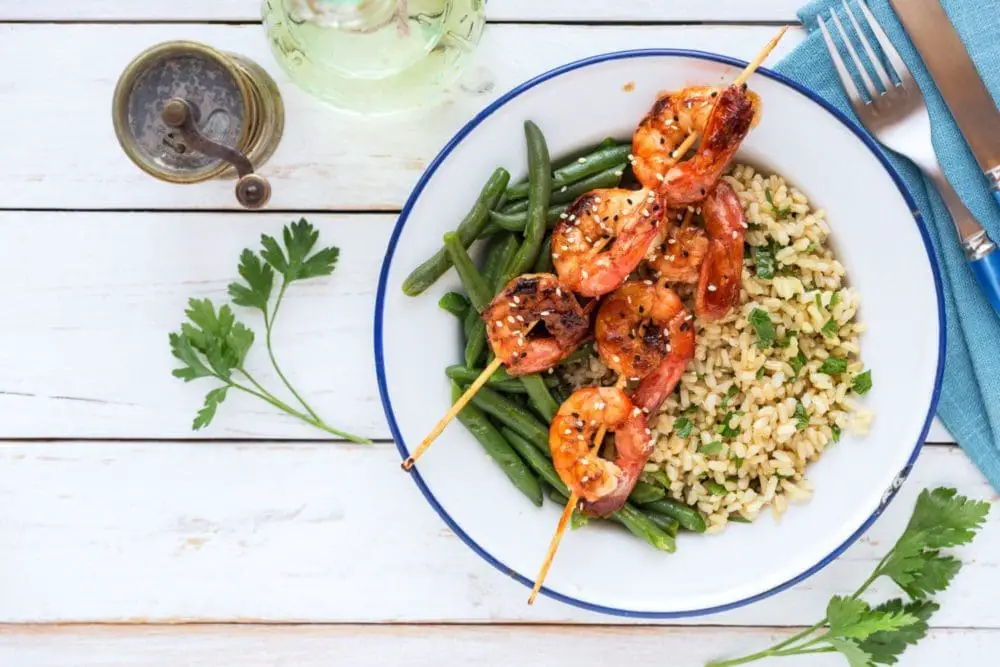 These healthy side dishes for shrimp come with printable recipe cards, shopping lists, and nutrition labels.
I even included the shrimp side dishes above, including our Low Calorie Rice Pilaf!
The 10 Healthy Shrimp Side Dishes below are low calorie, and easy to make… click on the top 10 links, or scroll through for more information on all the healthy sides for shrimp…
10 Low Calorie Shrimp Side Dishes
These sides for shrimp dinners range from oven cooked, to stove-top, and even BBQ shrimp side recipes.
Find the perfect side dish with shrimp below… you can skip the recipe reviews and just click the links here if you prefer.
Here are the 10 Side Dishes for Shrimp You'll Find Below:
As a reminder, I will review each of these low calorie shrimp dinner recipes (and go over calories!) in the sections below… So keep scrolling!
Before I dive into the best side dishes with shrimp, I thought you might enjoy these 5 healthy shrimp recipes. If you're looking to get creative with shrimp dinner dishes, these recipes will help.
Try Our Healthy Shrimp Recipes for Dinner:
This simple shrimp side dish is packed with flavor!
Broccolini is great side for shrimp pastas (like my Spicy Shrimp Pasta), and also makes a great coconut shrimp side dish.
At just 89 calories, this healthy side dish for shrimp makes for a low calorie and high nutrition meal… Plus with lemon and garlic, you'll be in shrimp dinner heaven!
This citrus salad is a fantastic fried shrimp side dish!
I love to serve fried dishes with healthy and fresh salads. And this one is perfect with shrimp thanks to its bright citrus flavor.
This recipe was originally made to be a full meal, so instead make one serving and split it between 2 plates. That will bring it to just 204 calories and covers 2 side dishes… healthy carbs and veggies.
For really easy shrimp dinner recipes, this 5 minute miso soup is perfect!
This makes a great side dish for grilled shrimp (like my Shrimp Scampi Grilled Shrimp), and also is a great side for coconut shrimp.
At just 24 calories, this 5 minute side dish for shrimp makes for a quick and easy shrimp dinner recipe.
Before I dive into a few "real rice" recipes (low calorie ones!) I wanted to cover a healthy cauliflower rice for those who are looking for low carb shrimp dinner ideas.
This 15 minute side dishes with shrimp makes for a quick and easy weeknight dinner.
This "fried rice" dish is just 96 calories and makes great side dishes for grilled shrimp… Like this Teriyaki Grilled Shrimp Recipe.
If you're making grilled shrimp, why not grill your side dishes as well?!
This recipe for shrimp sides comes with 5 flavors… including Chimichurri Corn on the Cob.
At just 116 calories (yes, with butter!– check out how I did it in the recipe) this makes for great healthy shrimp dinner recipes on the grill.
Another great side dish for BBQ shrimp, is grilled asparagus.
I love that this grilled side dish has 3 seasonings to choose from… so one day you can make Taco Flavored Asparagus, and the next day you can make Ranch Seasoned Asparagus!
At just 27 calories, this recipe makes shrimp dinners easy, and low calorie. Remember, there are 3 seasoning blends in there…
No list of the best side dishes for shrimp would be complete without a rice pilaf recipe!
This healthy version of the traditional shrimp side dish is packed full of flavor, and it's so easy to make!
This side dish for shrimp is just 142 calories for a "restaurant size" serving!
Here's another garlic and lemon recipe that goes great with shrimp dinners!
I love this easy spinach side dish with this Greek Grilled Shrimp Recipe… and it's also a great side dish for fried shrimp. The softness plays well off crunchy shrimp.
At just 67 calories for 1 cup (that's a LOT!) this shrimp side helps to make shrimp dinner recipes healthy, and filling!
This side dish for shrimp tacos is a "copycat" restaurant (I will "name" them below) and is low in calories and packed full of great flavor.
Shrimp taco sides can be healthy and easy! This flavor packed side dish goes great with these Low Calorie Shrimp Tacos and shrimp fajitas (recipe below!)
This 115 calorie side dish makes for both healthy and easy shrimp dinner ideas.
This is probably my favorite shrimp side dish… It's bright and pretty, packed with protein and flavor.
This healthy side is great with both shrimp pastas, and as a shrimp scampi side dish.
The 20 minute, 59 calorie (for a cup! – that's a lot) side dish with shrimp is both healthy and fast!
Low Calorie Shrimp Side Dishes:
This list of healthy shrimp dinner ideas include printable recipe cards, nutrition labels, and shopping lists for all 10 healthy shrimp side dishes!
You can click to open each recipe to find their individual recipe cards, and other helpful resources. 
Try Our Healthy Shrimp Recipes for Dinner:
10 BEST Low Calorie Shrimp Side Dished
These 10 healthy sides for shrimp dinners are all low calorie and easy to make.
Included are baked and grilled shrimp sides. As well as sautéed side dishes for shrimp.
Be sure to see above for our low calorie, healthy shrimp recipes for dinner!
Instructions 
Pick 1-2 healthy shrimp sides.

Click on the links to retrieve the recipes… You can even print the recipe cards for each side dish!

Serve them alongside your favorite shrimp dinners.
Nutrition
Serving:
1
side
Calories:
50
kcal
What to Read Next:

Lose Weight By Eating Cookbooks

Pin this Article to Pinterest: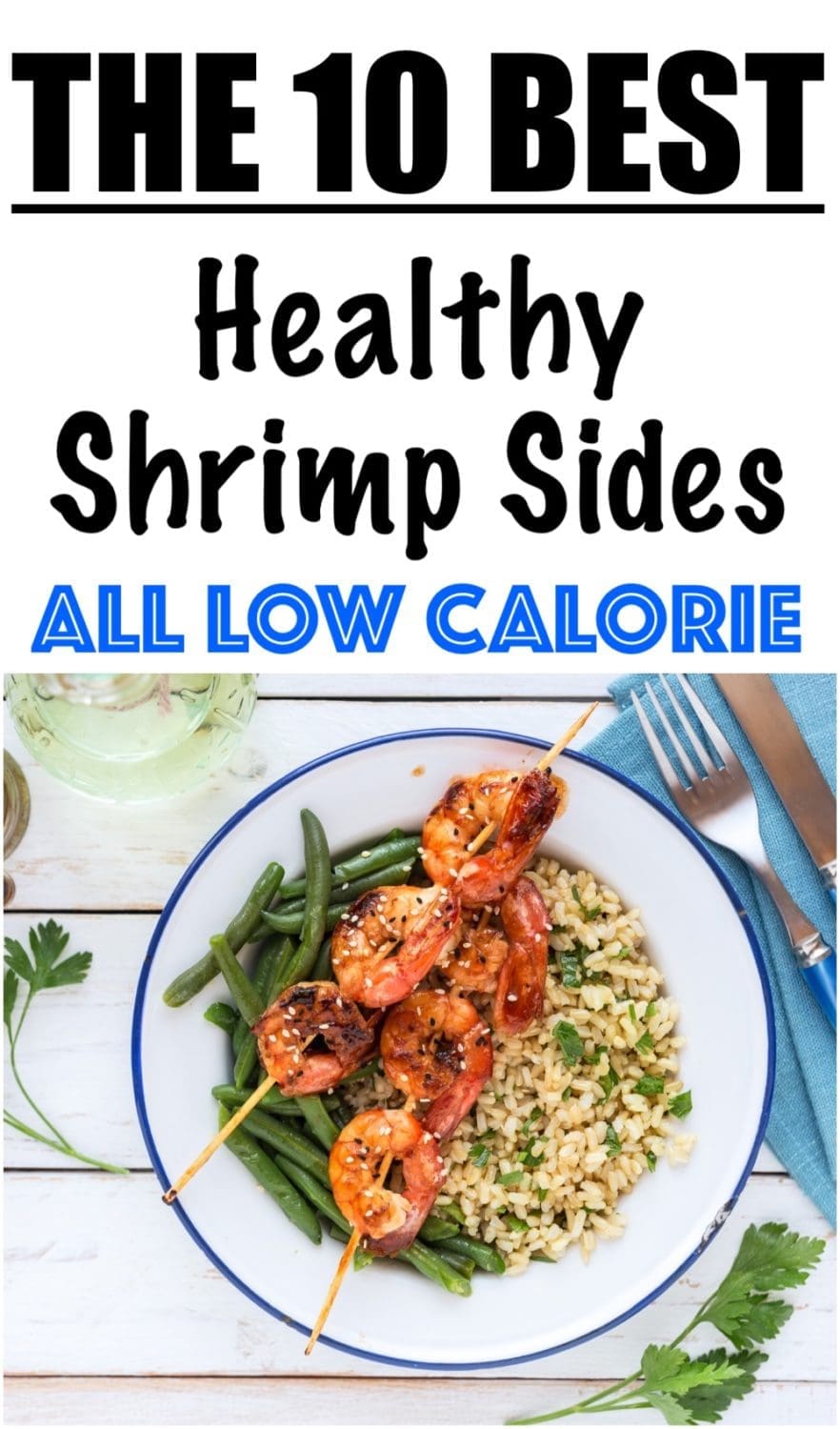 Article History: