Did you know weight loss is more about what you eat than how often you exercise? Sure we all know exercise is important for overall health and toning up the body, but eating metabolism boosting foods will help you shed the weight fast and keep it off!
Check out our Metabolism Boosting recipes and weight loss tips to get to your goal weight, to maintain a healthy weight or just ward off weight gain.
Who is Audrey Johns?
Hi, I'm Audrey Johns and after a lifetime of battling obesity I found the answer, eat all natural metabolism boosting foods and you'll never need to diet again!
I created this blog to help others like me, people who have struggled with their weight, and who want to change their bodies not just for overall appearance (and confidence!) but also for better health and longevity.
My best selling cookbook and popular blog has helped people all over the world change their eating habits and thus change their bodies and health. I invite you to join them and I and Lose Weight by EATING!
Lose Weight By Eating cookbooks:
What is the Lose Weight by Eating plan all about?
Preservatives and chemicals and additives… oh my! There is a reason we as humans are at our heaviest!
Lose Weight by Eating helps us get back to the way we ate before the food companies started packing food with extra sugar, chemicals and all the nasty additives that help them save money and cause us to gain weight.
What if I told you that you could lose weight eating pizza, pasta, cupcakes and all your favorite comfort food recipes? Sounds too good to be true… I know, but thousands have tried it and lost weight, maintained their weight loss, gained self confidence and better health all while eating the foods they love.
My motto… life is too short, just eat the darn chocolate!
I'll show you how to accomplish your weight loss goals, teach you how to cook (or cook in a new way) and impart my years of weight loss knowledge, I invite you to join in the Lose Weight by Eating movement, so come along.
The Basics
Here at Lose Weight by Eating we don't believe in rules, we believe in goals. Set a daily goal and you'll strive to meet it, set a rule and all you'll want to do is break it!
Here are our 4 core daily goals:
1. Skip the processed food and drinks and go all natural
2. Start planning your meals and log everything you eat and drink
3. Get your body moving
4. Drink a gallon of water a day
Find out more about our 4 pillar goals in my Lose Weight by Eating cookbook or right here on the website.
Here is a video I made for eHow on proper meal planning.
Most Popular Health and Weight Loss Articles
How to Lose Weight by Eating: The Clean Eating Diet Plan
1200 Calorie Diet Plan for Fast Weight Loss
Diet Plans: How to Create One That Will Work For You
Stay at Home Mom Weight Loss Tips
Fat to Skinny: How I lost 150 Pounds in One Year
Top Detox Articles
Detox Diet Week: The 7 Day Weight Loss Cleanse
Detox Water: The Top 25 Recipes for Fast Weight Loss
Detox Tea for Weight Loss and Beautiful Skin
8 Detox Smoothie Recipes for a Fast Weight Loss Cleanse
Most Popular Recipes
The Original Day Spa Apple Cinnamon Detox Water Recipe
Healthy Oatmeal Recipes for Breakfast that Boost Weight Loss
Skinny Jalapeno Poppers with Dip
Metabolism Boosting Veggie Skillet
Apple Cinnamon Breakfast Quinoa
The Lose Weight by Eating Cookbook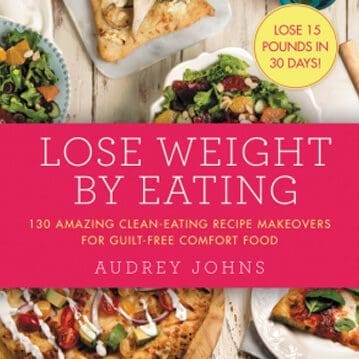 My best selling cookbook Lose Weight by Eating has been showcased on shows like Rachael Ray, Hallmark Home and Family, and Hollywood Today Live… I've even cooked some of the recipes with the famed Biggest Loser coach Bob Harper (who loves my skinny Greek yogurt dips and breakfast cookies!)
When I began writing the cookbook I had a few goals in mind… I wanted to pack it full of yummy comfort food recipes, loads of stunning photos and most important I wanted to keep the cost low, weight loss is hard enough, it shouldn't cost you a fortune too!
In my cookbook Lose Weight by Eating you'll find 130 comfort food recipes from pizzas and pasta dishes to your favorite snacks and treats, and of course yummy baked goods, fantastic drinks (skinny margaritas anyone?) and may I just say, the dessert chapter is the longest chapter in the book.
If you're still not sure check out all the amazing reviews on Amazon and watch some of the videos (like the one where I cheer on Bob Harper as he cooks with me!)
P.S. I'm working on another book now… so lots more yummy treats are on the way!
Order the Lose Weight by Eating Cookbook
Join the Lose Weight by Eating Community
– Twitter
– Youtube
– Email