These 10 Low Calorie Sides for Burgers are yummy, healthy, and so easy to make!
Below you will find the 10 best low calorie sides for hamburgers… plus 4 low calorie burger recipes!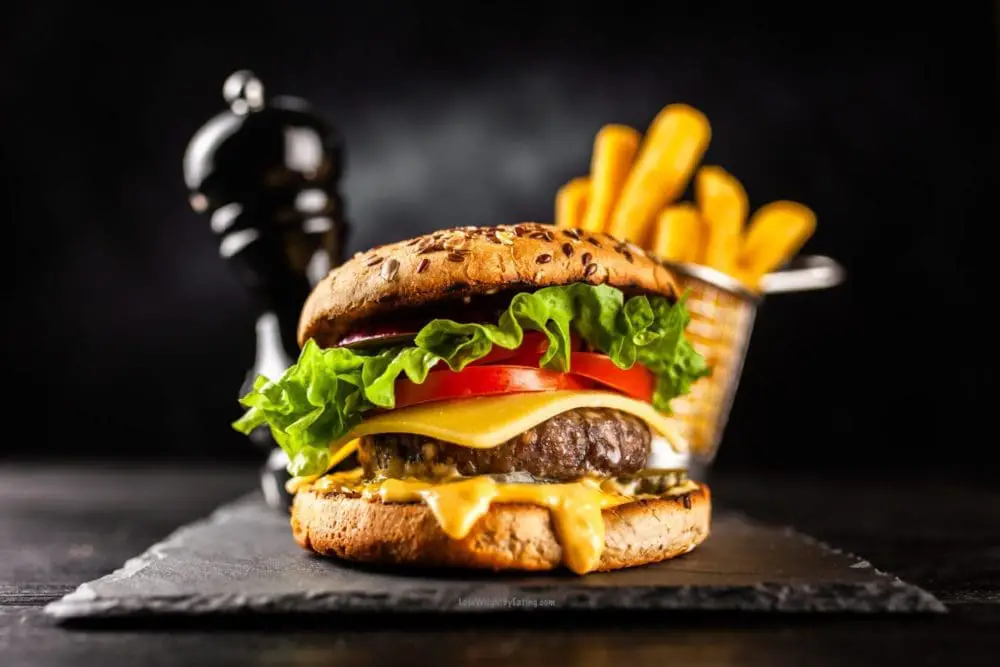 I've included grilled burger sides, veggie sides for burgers, and make ahead side dishes for hamburgers.
If you're looking for a salad to go with burgers, you should check out our Healthy Salads post… though you will find some fantastic salads below as well (just more like pasta salad and potato salad).
These 10 Easy Sides for Burgers are all healthy, low in calories, and packed full of flavor!
10 Best Low Calorie Sides for Burgers
These low calorie sides for burgers can be made for any burger you like… I've included vegan side dishes (for your vegan burgers) and hearty sides to go with burgers at a backyard BBQ.
Here are the 10 Hamburger Sides you'll Find Below:
But before I get into the low calorie sides for hamburgers, here are my 4 low calorie burger recipes.
There are two in there for vegan readers too!
Try my Healthy Burger Recipes:
This low calorie recipe for grilled asparagus is one of my favorite burger sides!
At just 27 calories, you can have as much as you like… and with the 3 seasoning blends, you're sure to find one everyone will love!
It's one of my favorite vegan burger side dishes, but goes fantastic with turkey or beef burgers too!
This healthy potato salad recipe is just 180 calories and swaps out mayo for metabolism boosting Greek Yogurt!
You can easily make these healthy burger sides vegan, by swapping out the Greek Yogurt for unsweetened cashew yogurt!
Sometimes making sides to go with burgers ahead of time is easiest… and this recipe is perfect for making ahead!
These low calorie baked beans are just 149 calories, and packed with flavor!
No matter if you're making hamburgers for dinner, or hosting a backyard BBQ… This side dish for burgers is perfection!
Now I do use bacon or turkey bacon in this burger side recipe. But don't fret, there are many more vegan low calorie burger side dishes below!
When searching for what to eat with hamburgers, I'm sure you've noticed corn on the cob is a common recipe to make with burgers.
But this super easy foil wrapped corn on the cob is even better as these grill sides for burgers extra easy to make!
You can easily make these healthy hamburger sides vegan, with your favorite vegan butter.
This cold pesto pasta salad is just 93 calories, and vegan!
You can make this burger side dish ahead of time, and you'll want to so that the salad to go with burgers is cold when you serve it.
Try this simple cheeseburger side for your next backyard BBQ or potluck… and add some cooked chicken to the leftovers for a simple and delicious "take to work" lunch the next day.
These vegan potatoes are easy and "mess free"… best of all, they are just 101 calories!
Though this recipe does call for mini (or new) potatoes, you could use any potato as long as you cut it into 2 inch cubes.
These good sides for burgers are a fun new take on fries… and I know you'll love these almost as much.
These 101 calorie sweet potato fries are the ultimate hamburger side! Salty and sweet, and thanks to our low calorie tricks, healthy too!
Meals with burgers "out" always include fries… might as well eat them "in" too! And we love this cheeseburger side oh so much!
Don't worry, I have more French fry recipes below!! Keep Scrolling…
When looking for "fancier" -but still easy- hamburger sides. This super easy grilled zucchini fits the bill.
I love making sides for burgers on the grill. It's great to cook everything on the grill at once, and this yummy recipe allows that.
Good side dishes for burgers can come in the form of a grilled salad like this one. Or in the more traditional things to make with hamburgers below.
This no cook salad is easy and fast to make… and one of my favorite recipes for salad to go with hamburgers.
At just 45 calories, and 10 minutes to make, this is the best salad to serve with burgers.
Try this easy vegan burger side I love making sides for burgers on the grill. But in this case you can make it ahead of time!
These French fries are just 150 calories, for 2 cups (that's a lot!) of fries!
Whenever I plan on what to make with burgers, I always think French fries. And now thanks to this healthy recipe, you can have them guilt-free!
Try this cheese burger side the next time you want to replicate your favorite burger at home… you'll need some fries to complete the dish.
The 10 Best Healthy Hamburger Sides
All of these cheeseburger sides are easy to make and super yummy!
Below, I've supplied you with a printable guide for healthy sides for cheeseburgers… and each recipe in the card also comes with a printable recipe card!
Check Out these 4 Healthy Burger Recipes:
10 BEST Low Calorie Sides for Burgers
These 10 hamburger sides are all low in calories, high in nutrition, and go GREAT with burgers!
Pick your favorites and make them guilt-free… every side here is healthy and completely delicious.
Instructions 
Pick 1-2 healthy hamburger sides (we like to pick one make ahead and one grilled side).

Click on the links to retrieve the recipe… You can even print the recipe cards for each side dish!

Serve them alongside your favorite burger, or BBQ main dishes.
Nutrition
Serving:
1
serving
Calories:
100
kcal
What to Read Next:



Lose Weight By Eating Cookbooks

Share these Low Calorie Sides: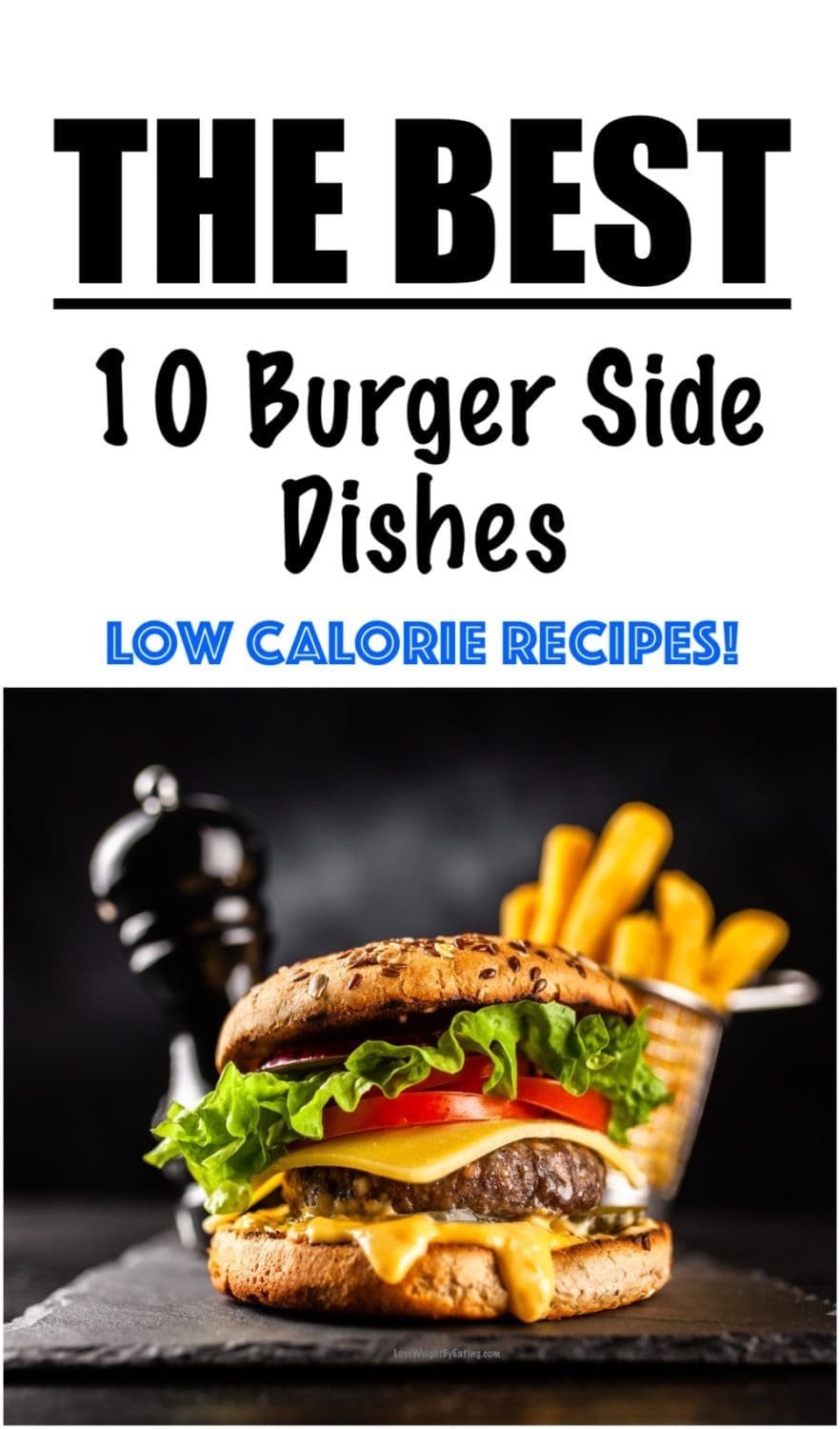 Article History: