These 30 Low Calorie Soup Recipes are all great for weight loss! They are packed with fat burning metabolism boosting ingredients that can help you lose weight fast.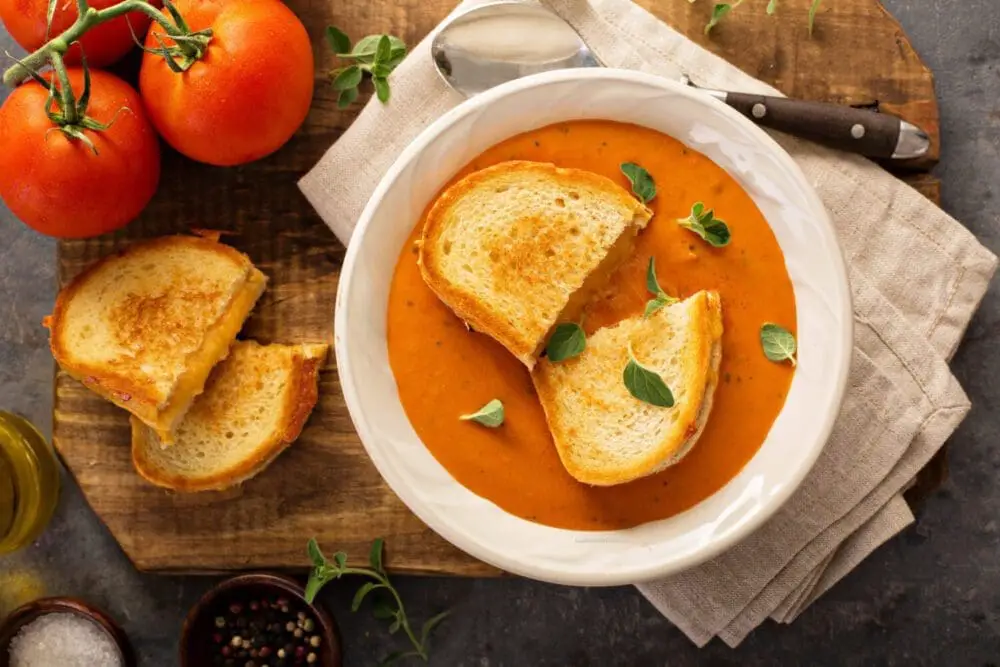 30 Low Calorie Soup Recipes
This Low Calorie Chicken Soup for Weight Loss is just 45 calories and has 6 fat burning ingredients per serving. With all the fat burning ingredients in this low calorie soup, you'll be boosting your metabolism and losing weight faster than ever! And at just 45 calories, you can basically have as much as you want.
This Low Calorie Vegetable Soup is just 82 calories and so easy to make! It's packed with plant based proteins and 100% all-natural! You can make this low calorie soup recipe with all fresh vegetables, but you can use frozen as well. No matter how you make this healthy vegetable soup, you'll love it!
This Red Bell Pepper Tomato Soup in the Crock Pot is vegan, healthy, and just 38 calories per cup! This healthy soup recipe is made with fresh tomatoes, and fresh bell peppers. Making this vegan tomato soup extra healthy and delicious.
This Low Calorie Minestrone Weight Loss Soup is just 150 calories and packed with weight loss ingredients. It tastes just like minestrone soup, in fact that is the base for this yummy recipe for weight loss soup. But with lots of fat burning ingredients to help you shed weight fast.
This Healthy Ham and Bean Soup Recipe is just 277 calories, and has 22.1g of protein per serving. Plus, you can make this leftover ham recipe in just 15 minutes! It's perfect for quick dinners after holidays, and even freezes really well and makes a great meal prep lunch or dinner.
This Curried Pumpkin Soup Slow Cooker Recipe is just 48 calories per cup. And this crockpot pumpkin soup is vegan! At just 48 calories this creamy pumpkin soup makes a great snack or side dish. And if you want to have it as a lunch or dinner, you can have as much as you like, because 4 cups is under 200 calories!
This Healthy Albondigas Soup Recipe is just 367 calories for 3 big cups (that's a huge meal!)  I worked hard to cut out as many carbs as I could without changing the flavor and consistency of this soup recipe, and it came out amazing!
This Loaded Low Calorie Potato Soup Recipe is low calorie, high nutrition, and can be made on the stovetop, in the slow cooker, or even an Instant Pot! At just 252 calories for 2 cups (before toppings) this healthy baked potato soup is perfect for healthy dinners or lunches. But what I really love, is that you can add lots of toppings and still enjoy this yummy soup for under 500 calories!
This Low Calorie Cabbage Soup Diet Recipe is just 61 calories! It can help you trim down fast, and stay on plan! With these 5 yummy recipes you'll never be bored with cabbage soup again!
These 6 Healthy Tortellini Soup Recipes are low calorie and filling! They start at just 345 calories for a BIG serving. With 6 recipes to choose from, you'll find a creamy tortellini soup recipe, a vegan and a vegetarian tortellini soup recipe. Even a tortellini soup with sausage, and chicken tortellini soup recipes.
This 173 calorie Chicken Rice Soup with Lemon is the best thing to beat a cold, or ward off sickness. With the fresh lemon juice, oregano (a natural antibiotic!), chicken, and chicken broth. You'll be feeling better in no time.
This Healthy Chicken Thai Coconut Soup (also known as Tom Kha Gai Soup) is just 183 calories per 1.5 cups, and is so easy to make! Making coconut chicken that soup at home will cut 100's of calories, and it means you can have this amazing recipe for tom kha gai soup anytime you like!
This Low Calorie Creamy Chicken Stew in Crockpot is just 138 calories and has 17 grams of protein per serving! The healthy creamy chicken soup recipe is so low in calories, that you can have seconds or thirds without hurting your diet! Plus it's packed full of healthy veggies, and is low carb!
This Slow Cooker Creamy Carrot Soup Recipe is just 74 calories. Plus it's vegan, healthy, and absolutely delicious as it is pretty to look at! Along with the slow cooker soup recipe, you'll also find a topping guide for this blended soup recipe!
This Curried Lentil Soup in Slow Cooker is just 166 calories, and vegan! Best of all, this easy lentil soup recipe is the easiest crockpot lentil soup. It's almost and "dump everything in and walk away" soup outside of a little bit of prep time.
This Healthy Crockpot Chicken Enchilada Soup Recipe is just 154 calories per cup! And each serving of this recipe for slow cooker soup has over 22 grams of protein!
This 5 Minute Japanese Miso Soup Recipe is just 24 calories and comes with lots of yummy miso soup add-ins! The authentic miso soup recipe can be made in just 5 minutes, and makes a perfect snack, starter, or side dish.
This Healthy Cauliflower Soup Recipe is just 66 calories and can be made in just 30 minutes! The simple cauliflower soup comes with a list of toppings, including homemade croutons! So you can make healthy cauliflower soup recipes any way you like them.
This low calorie Tom Yum Soup recipe is just 174 calories and can be made in just 25 minutes! This healthy soup recipe is low calorie and so healthy, and because you can get it done quickly, great for weeknights.
This recipe for French onion soup is just 216 calories for 2 cups! And that includes the crouton and cheesy top! This homemade French onion soup recipe is easy and delicious. And I've supplied you with everything you'll need to make the best French onions soup recipe at home.
This Mexican Pozole Soup Recipe is healthy and low calorie. You can have 2 cups of this pozole Rojo recipe for just 330 calories! Plus you can make this on the stove top and slow cooker. So you can make it slow and low and come home to a perfect low calorie dinner recipe.
This easy taco soup recipe with black beans is low-calorie (just 245 calories) and delicious! You'll also find a list of healthy toppings! So you can "jazz" up this soup however you like.
This low calorie creamy tomato soup recipe is just 108 calories, and has 6.4g of protein per cup! It's also vegan, gluten-free and so easy to make! If you're looking for a healthy tomato soup recipe that tastes just a s good as the full calorie version, you'll love this creamy and delicious recipe! It's just as good as the full calorie versions!!
This Hearty and Healthy Vegetable Noodle Soup recipe is vegan, and low in calories! You can have 2 cups of this healthy soup for just 211 calories, and it's packed with over 10g of protein!
This low calorie broccoli cheese soup recipe is just 84 calories per cup! This healthy broccoli cheese soup recipe has lots of optional toppings, and directions to make with an immersion blender, or a traditional countertop blender.
This Easy Chicken Noodle Soup Recipe cooks in just 30 minutes, and is only 117 calories for 2 cups! Whether you're feeling under the weather or you just need a quick healthy dinner. This 30 minute meal has you covered!
This Instant Pot Beef Stew Recipe is just 172 calories per cup, and you can make it faster than ever thanks to my time "hack"! I have made this easy beef stew recipe for years, and I found that I can't tell the difference in the flavor or texture when I skip browning the meat.
This is the Low Calorie Butternut Squash Soup recipe you'll ever make! It's vegan, only 87 calories for 2 cups, and beyond delicious! This recipe for butternut squash soup is made easy by making the entire recipe in one pot!
This Cucumber Honeydew Cold Summer Soup is just 93 calories, and is a no cook recipe! Plus, you can easily make this gluten-free soup vegan, with cashew yogurt (or your favorite unsweetened vegan yogurt).
You can make this Low Calorie Chicken Pho in just 30 minutes, including prep time! The best part about this chicken pho soup recipe, is that it's just 262 calories and has 40.9g of protein!
30 Low Calorie Soup Recipes
About the Author
Hi, my name is Audrey Johns and I am a 4 time best selling cookbook author! All 4 of my low calorie cookbooks are published by HarperCollins (the oldest publishing house in the US!) and have been featured on prominent TV shows like The Today Show, Rachael Ray and The Doctors. I am a low calorie and healthy recipe authority and my delicious recipes are tried and loved by thousands of readers. 
After a one year 150 pound weight loss (and I've kept it off for 13 years!) I started sharing all of my low calorie recipes with the world. They are always all-natural and geared around weight loss and weight management. I have even made some of these recipes with my Biggest Loser pal Bob Harper! Check out my weight loss story, my best selling cookbooks, and my numerous TV appearances by clicking here.
What to Read Next:



Lose Weight By Eating Cookbooks

Share this Low Calorie Soups Article: