This Low Calorie Creamy Chicken Stew in Crockpot is just 138 calories and has 17 grams of protein per serving! So low in calories, that you can have seconds or thirds without hurting your diet. Plus it's packed full of healthy veggies, and is low carb!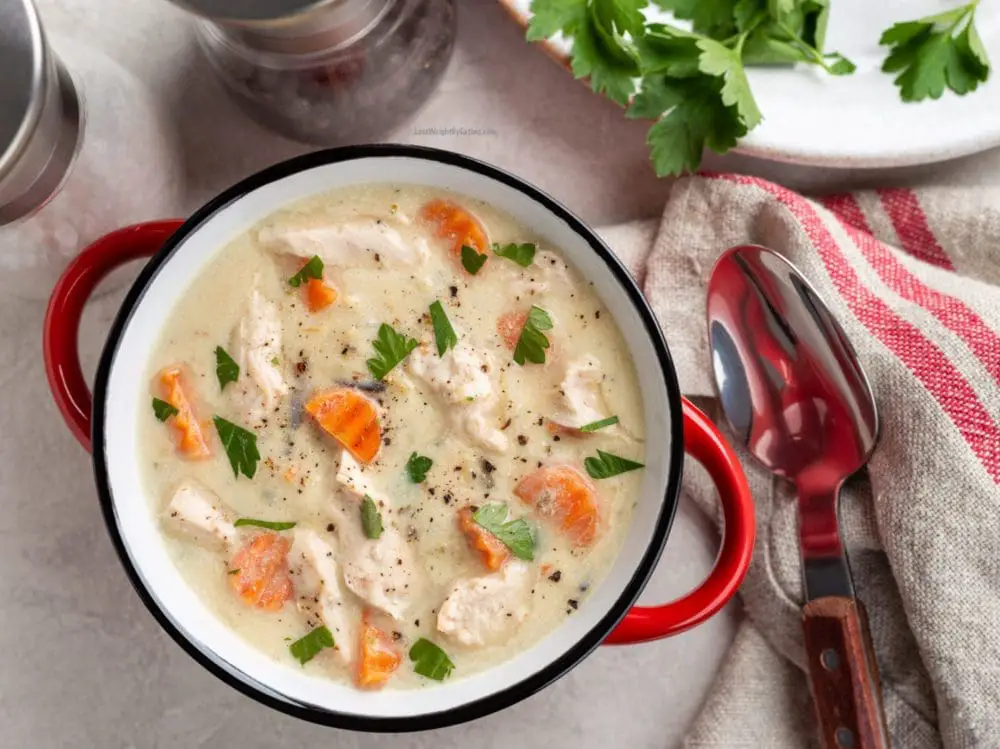 Everything You'll Need
1 onion
3 carrots
3 celery stalks
3 gold potatoes
2 cups sliced mushrooms
3 boneless skinless chicken breasts 
4 cups chicken stock
1 cup white wine (or more chicken stock)
½ tablespoon Italian seasoning
Salt to taste
1/2-1 tablespoon pepper to taste
2 tablespoons cornstarch
1 cup unsweetened almond milk
2 cups frozen peas (optional)
Low Calorie Creamy Chicken Stew in Crockpot
Skip Ahead:
Healthy Crockpot Chicken Soup Meal Prep & Storage
Meal Prep – Cook the stew and then allow to cool completely. Scoop single servings into individual containers, or family sized servings into gallon freezer bags (or jars/containers with lids). 
Frozen Stew – Be sure any container is only filled 2/3 full as the stew will expand in the freezer. Store for up to a month in the freezer. If freezing gallon bags, lay flat to freeze to save storage room. 
Refrigerated Stew – Will hold in the refrigerator for 4 days.
Reheating – Add to a medium or large sauce pot, heat frozen for 30 minutes on low, or defrosted stew for 5-10 minutes over medium-low heat.
Low Calorie Chicken Stew in Crockpot Recipe
More Low Calorie Chicken Soup Recipes: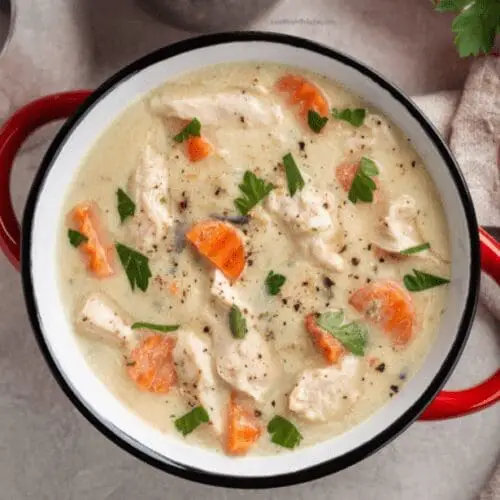 Low Calorie Creamy Chicken Stew (Crockpot Recipe)
This creamy chicken stew in crockpot is just 138 calories per cup, and so delicious!
You can make this creamy chicken soup in a slow cooker, or on the stove top. Directions for both methods have been included.
And should you want to skip the wine, we have given a modification for that as well. If you don't want to buy a full bottle of wine, you can get a can of wine (I like Creamery Chardonnay).
Ingredients  
1

onion

diced

3

carrots

peeled and diced

3

celery stalks

sliced

3

gold potatoes

diced

2

cups

sliced mushrooms

3

boneless skinless chicken breasts

cut into bite size chunks

4

cups

chicken stock

1

cup

white wine

or more chicken stock

½

tablespoon

Italian seasoning

Salt- to taste

1/2-1

tablespoon

pepper

to taste

2

tablespoons

cornstarch

1

cup

unsweetened almond milk

2

cups

frozen peas

optional
Instructions 
Add the onions, carrots, celery, potato, mushrooms, chicken, chicken stock, white wine, Italian seasoning, a pinch of salt, and pepper to a slow cooker or large pot.

Cook on low (in slow cooker or low heat on stovetop) for 4-6 hours. The longer the better.

Remove 1/2 of the chicken stock and add to a bowl with the cornstarch. Mix together until the lumps are dissolved.

Add the cornstarch mixture, almond milk, and peas (see note below) to the soup.

Mix together and cook on high for an additional hour, uncovered. This will help thicken up the soup.

Taste and add salt and pepper as needed.

Note on peas- if you plan on storing this soup for the week, don't add the peas until you're reheating each serving. Add 1/8 cup peas per person, add the soup to a pot and cook together. Otherwise they will get mushy.
Nutrition
Serving:
1
cup
Calories:
138
kcal
Carbohydrates:
9.7
g
Protein:
17
g
Fat:
1.7
g
Saturated Fat:
0.1
g
Cholesterol:
40
mg
Sodium:
621
mg
Potassium:
274
mg
Fiber:
1.6
g
Sugar:
2.5
g
Calcium:
61
mg
Iron:
1
mg
About the Author
Hi, my name is Audrey Johns and I am a 4 time best selling cookbook author! All 4 of my low calorie cookbooks are published by HarperCollins (the oldest publishing house in the US!) and have been featured on prominent TV shows like The Today Show, Rachael Ray and The Doctors. I am a low calorie and healthy recipe authority and my delicious recipes are tried and loved by thousands of readers. 
After a one year 150 pound weight loss (and I've kept it off for 13 years!) I started sharing all of my low calorie recipes with the world. They are always all-natural and geared around weight loss and weight management. I have even made some of these recipes with my Biggest Loser pal Bob Harper! Check out my weight loss story, my best selling cookbooks, and my numerous TV appearances by clicking here.
Nutrition and Calories in Chicken Stew
The nutrition is based off 1 cup of the healthy stew recipe above.
Low Sodium Tips: Remove the salt from the recipe and get low sodium broth. If you feel it need the saltiness still, add 1-2 tablespoons fresh lemon juice just before serving.
More Weight Loss Recipes:


Lose Weight By Eating Cookbooks

Share this Low Calorie Recipe: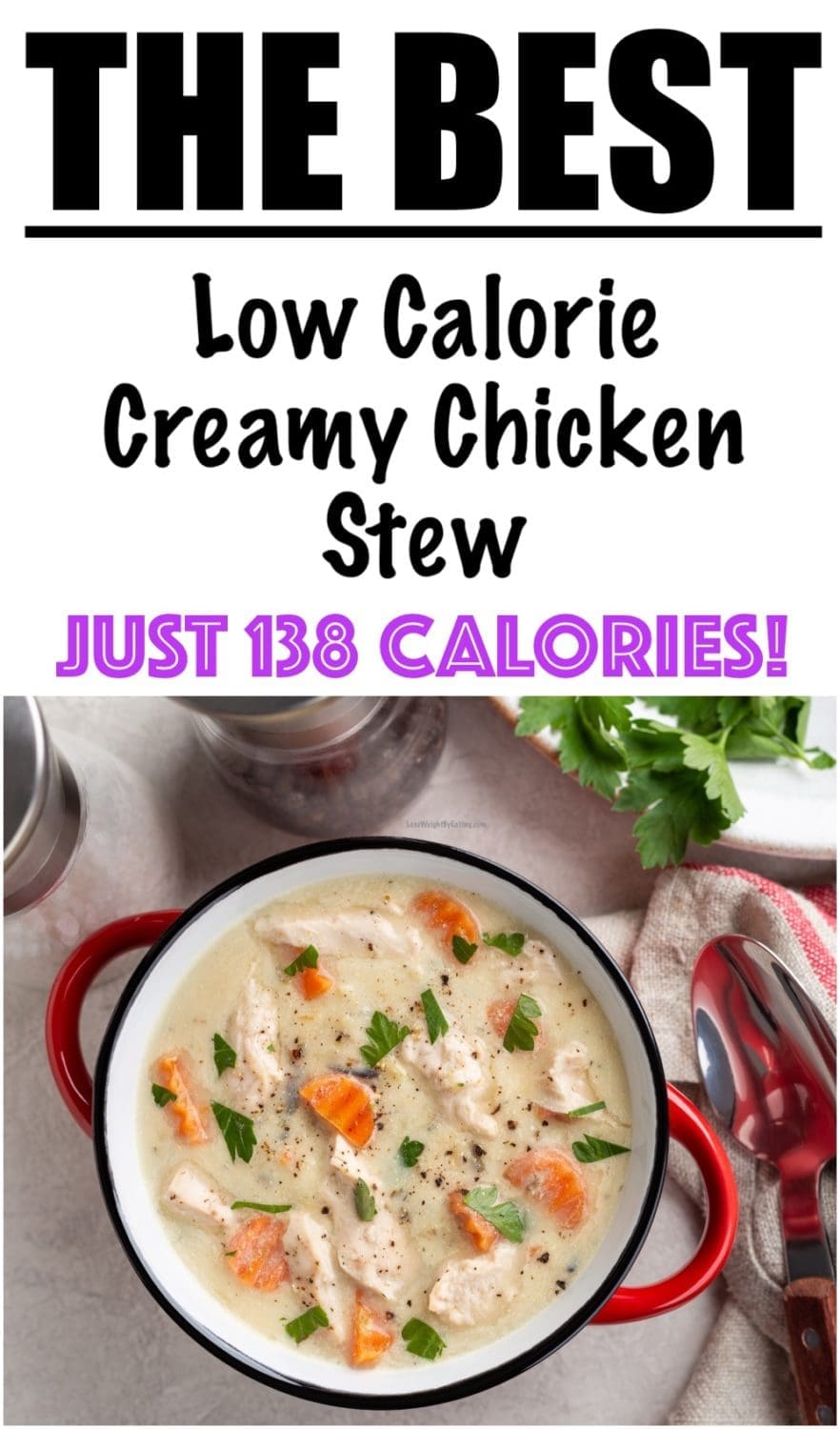 Article History:
Originally written and published November 16, 2021 by Audrey Johns
Most recent update on November 9, 2023 by Audrey Johns