Learn how to boost metabolism naturally in just 4 easy steps!
In this article you learn how to speed up metabolism with what you eat, what you drink, how much you sleep, and how you exercise. Just a few modifications in these areas and you'll speed up metabolism… fast!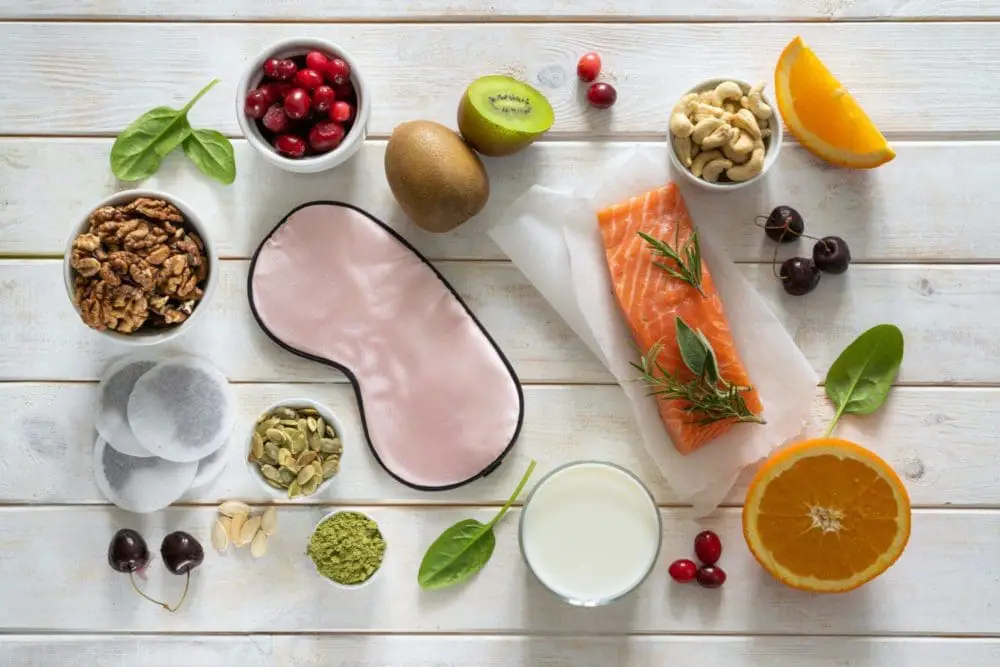 These 4 ways to increase metabolism are easy and effective. I recommend adding one new metabolism booster for weight loss each week for a month. This will help ease you into a new healthier lifestyle, and help avoid any plateaus.
So choose one area to start (the one that looks easiest to you) and start today… Then a week from today choose the next easiest, and so on. This way you don't get overwhelmed with these metabolism boosters.
Choose one metabolism booster this week, then add one each week for the rest of the month to help you lose weight and stay on plan… plus avoid plateaus.
How To Boost Metabolism Naturally
In this article we will show you how to use exercise, sleep, drinks and food to boost metabolism naturally. We took out all the guesswork on how to speed up your metabolism so you can easily increase your metabolic rate without turning your life upside down.
There are 4 main metabolism boosters for weight loss, and we will outline them all in the sections below.
How to Boost Metabolism:
Keep things easy, choose the weight loss booster that seams easiest, and start with just that one today. Then next week add another, and so on… After 4 weeks you will be well on your way to a metabolic rate increase, easily.
In the next section you will learn what speeds up metabolism naturally, in the food, drink, exercise and sleep areas.
Up next… eat your way to a faster metabolism with foods that speed up weight loss.
1. Eat Foods that Boost Metabolism
There are lots of foods that boost metabolism, in this section we will supply you with a snapshot of what to add to your diet, plus 50 recipes!
The best way to introduce metabolism boosting foods into your diet, is to start by adding, not subtracting food. This way the healthy foods eventually "push out" the unhealthy foods as the weeks and months progress.
Try to work 2-3 of these items into your day to start, and eventually into each meal. And be sure to see the metabolism slowing foods below, these are the ones you will want to slowly "edge out" with healthier options.
The easiest way to start, is to start snacking on metabolism boosting foods only. It's easy to fit some of these fruits and veggies into your day as snacks.
Foods That Boost Metabolism:
Citrus (Lemons, Oranges, Limes, Grapefruits)
Berries (Strawberries, Raspberries, Blueberries, Blackberries)
Fruits high in Vitamin C (Apples, Pineapple, Pears, Kiwi, Mangoes)
Peppers (Jalapeños, Bell Peppers)
Cruciferous Veggies (Broccoli, Kale, Spinach, Arugula, Bok Choi, Brussels Sprouts)
Lean Protein (Chicken, Fish, Turkey, Eggs, Nuts)
Healthy Fats (Coconut Oil, Olive oil, Sushi, Avocado)
You can find 50 Metabolism Boosting Recipes here!
Here are some tips to work these items into your diet, this way you can easily incorporate metabolism boosting foods.
Tips to Add Metabolism Boosting Food to Your Diet:
Snack on Citrus, Berries, Hard Boiled Eggs, and Nuts
Make Salads with Cruciferous Veggies or add to your sandwiches (spinach instead of iceberg)
Cook with Healthy Fats like coconut oil and olive oil, and use Avocado in place of mayo
Make Protein Rich Meals like fajitas (with bell peppers, jalapeños and chicken, add lime juice and cook in olive oil for a super metabolism boosting meal)
You can find 50 Metabolism Boosting Recipes here!
Here are some foods to remove from your diet… in the next section we will supply you with some alternatives to drinks that fall in the "Foods to Remove" section.
Foods to Avoid and Remove from Diet:
Foods with Preservatives
All Food and Drinks with Artificial Sweeteners
Excess Sugar
Limit Alcohol
Eating metabolism boosting foods is one of the quickest ways to boost your metabolism. And with these 50 Metabolism Boosting Recipes, you can enjoy flavorful meals that have several metabolism boosting foods per serving.
Up next… drink your way to a higher metabolism!
2. Drink to Boost Metabolism
Perhaps the easiest way to raise metabolism, change what you drink. Just by changing what you have in your glass, you can have a higher metabolic rate!
In this section you will find drinks to boost metabolism, plus some recipes to curb cravings and add extra metabolism booting ingredients into your diet.
It's not just what you drink, but also how much you drink. For instance, water can help boost metabolism, but only in large amounts. Which is why we recommend drinking 1/2 to 1 gallon of water per day.
There are other drinks that can help boost metabolism, and many can help curb cravings (like green tea for caffeine instead of diet soda). Below will share several metabolism boosting drink ideas, and further down you'll find several metabolism boosting drink recipes.
Drinks that Boost Metabolism:
Water in large amounts 1/2 to 1 gallon per day
Fruit Infused Water, adding citrus to your water is a double metabolism booster!
Green Tea and Coffee without milk or artificial sweeteners. Add almond milk, it boosts metabolism!
Detox Tea recipes that combine tea and metabolism boosting ingredients (Detox Tea Recipes)
Iced Tea, made at home to avoid additives (Metabolism Boosting Iced Tea Recipes)
You can find Metabolism Boosting Drinks here!
You'll want to remove sodas and flavor packets for water that include artificial sweeteners. If you crave sodas, we've included some tips to drinking healthy below.
Tips to Add Metabolism Boosting Drinks to Your Diet:
Set a Timer on your phone to drink water throughout the day
Replace Sodas with soda (sparkling) if you crave the bubbles
Swap Caffeine Sodas with green tea
Make Homemade Iced Tea and sweeten with fruit (Fruit Sweetened Iced Tea Recipes)
Drink Water with Every Meal, leave other drinks for non-meal time
You can find Metabolism Boosting Drinks here!
We all love a nice cocktail, or a fancy coffee drink from time to time… But these things should be consumed in moderation. Especially when trying to raise your metabolism.
Drinks to Avoid:
Sodas with artificial sweeteners
Coffee Drinks with sugar free syrups
Drink Alcohol in moderation
Added Flavors to water (Crystal Light, etc.)
Fruit Juices
Of course this may be difficult for some… But don't fret, the next time you go to a coffee shop you can get a green tea. And here are some Low Calorie Coffee Drink Recipes, and of course we have lots of Low Calorie Cocktails to choose from as well.
Up next, learn how to get a fast metabolism fast… with exercise!
3. Exercises to Boost Metabolism
There are many reasons to exercise more. It's great for your health, it tones your body as you lose weight, and it helps raise metabolism.
With that said, you can't expect to eat and drink anything you want and lose weight. But this is a good place to start (or end) in the journey of how to increase metabolism to lose weight.
Pretty much all exercise can help increase metabolism. But some exercises are better to boost to lose weight. This section will outline the best exercises to boost metabolism, and how to work more exercise into your week.
No matter how much you're working out now… Once a day, or never, you can absolutely boost metabolism with exercise!
Exercises to Boost Metabolism:
High Intensity Workouts like HIIT workouts
Weight Lifting and resistance band workouts
Standing and Moving More, take the stairs and get a standing desk
Here's something to help to motivate your Fitness goals!
As we noted above, all exercise is good exercise when it comes to boosting metabolism. So if none of these work for you, simply moving more will help increase metabolic rates. Here are some tips to increase exercise and weight loss.
How to Increase Metabolism Boosting Exercise:
Increase Exercise by 1 Hour this week, and 1 additional hour each week for a month
Get a Workout Buddy to help keep you motivated on days you not
Set an Appointment on your phone to workout daily
Buy New Running Shoes or workout gear, making an investment in yourself will encourage you to exercise more
Find ways to Move More each day, like taking the stairs, parking farther away from the stores, or using a standing desk
Here's something to help to motivate your Fitness goals!
Perhaps the most luxurious way to boost metabolism naturally is by sleeping more… So after your hard workout be sure to recover. You can learn how to boost metabolism naturally by sleeping, in the next section.
Up next, boost your metabolism while you sleep!!
4. Sleep Your Way to a Higher Metabolism
Lack of sleep will decrease your metabolism, cause stress and inhibit weight gain! Its so important you're sleeping enough if you're looking to increase metabolism naturally!
But for many of us (myself included) that is easier said than done. In this section we will discuss how much sleep you need to boost metabolism, and how to get more sleep.
Lack of sleep can effect your hormones, causing weight gain and raised metabolism. Just by sleeping more, you can boost metabolism!
How much sleep do you need to raise metabolism is not the only question here, it's also how to get more restful sleep so you can boost metabolism.
How to Get More Sleep and Increase Metabolism:
Have a Nighttime Routine and a set bedtime
Put your Phone Away 1 Hour Before Bed, and all devices
Try Meditating Before Bed
Take a Hot Bath or Shower before bed
Use All Natural Melatonin if needed to fall asleep
Put Your Feet Up for 1-2 hours before bed, so you won't have so many bathroom interruptions
You'll want to try and get 7-9 hours of sleep per night to raise your metabolism. This easy way to boost to lose weight is achievable for most, but for others daily 30-45 minute naps might help supplement sleep and rest and thus help raise metabolism.
Check out metabolism boosting foods and recipes in the next section!
Try this Metabolism Boosting Smoothie Recipe:
Boost your metabolism with this amazing smoothie recipe!
With 4 metabolism boosting ingredients, it's a great way to start the day!
Metabolism Boosting Smoothie (164 CALORIES)
This metabolism boosting green smoothie is low calorie, high nutrition, and comes with an entire article on how to boost your metabolism.
Make this easy metabolism boosting smoothie for breakfasts, or snacks… And add some vanilla protein powder to make it a meal replacement smoothie!
Notes on Nutrition: The calories and nutrition do not reflect adding protein powder. Should you add 1-2 scoops, you can boost the protein to 25g or more!
Ingredients  
½

cup

raspberries

1

banana

1

cup

raw baby spinach

½

cup

unsweetened almond milk

1

scoop

Vanilla Protein Powder

(optional)
Instructions 
Add all the green smoothie recipes ingredients to blender.

Blend green smoothie until smooth, adding more water as needed to reach desired thickness.

Serve, and wash out your blender right away to avoid sticking.
Notes
Nutrition
Serving:
1
smoothie
Calories:
164
kcal
Carbohydrates:
36.4
g
Protein:
3.4
g
Fat:
2.7
g
Saturated Fat:
0.3
g
Cholesterol:
0
mg
Sodium:
116
mg
Potassium:
778
mg
Fiber:
8.2
g
Sugar:
17.3
g
Calcium:
201
mg
Iron:
2
mg
What to Read Next:


Lose Weight By Eating Cookbooks

Pin this Article to Pinterest: