Detox tea has been getting a lot of publicity lately thanks to the slew of celebrities attributing their weight loss success to natural detox drinks.
Some alternative medicine practitioners believe these detox teas nourish the liver, an organ that aids in the elimination of toxins from your body.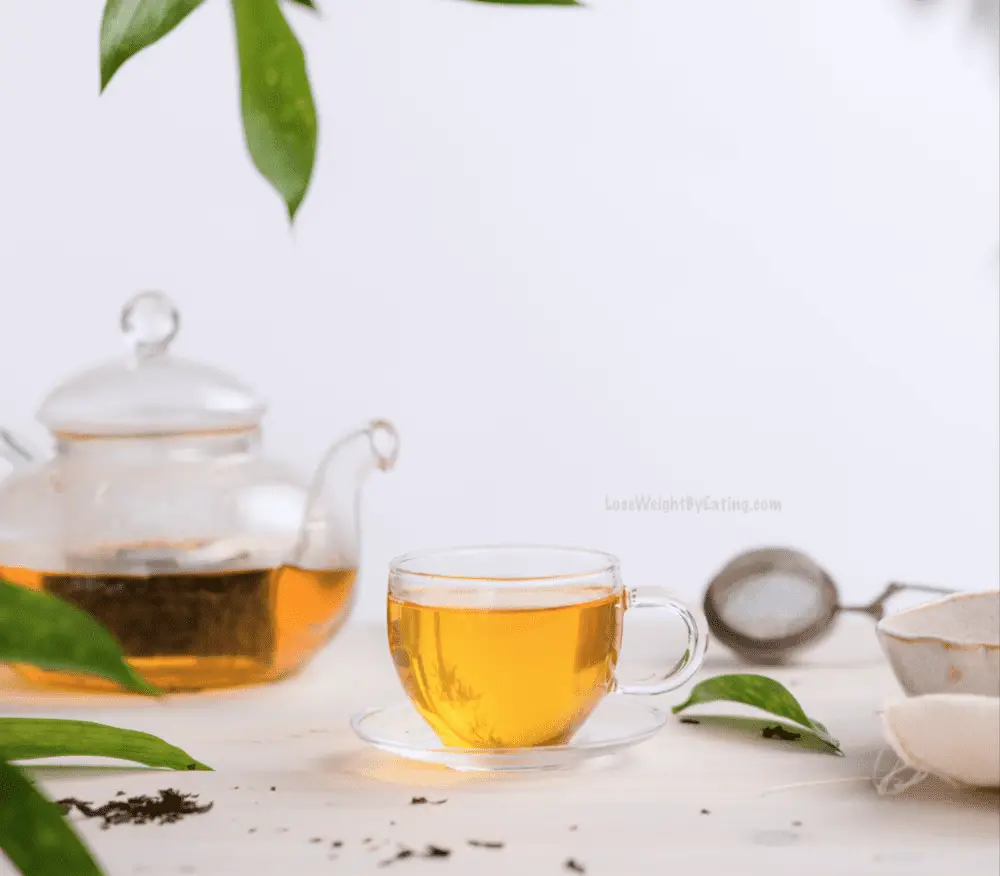 Many people like to work it into their current diet, others use it in conjunction with a detox plan. A brave few do a full detox cleanse and drink only the tea, some for a single day and others a full week.
We recommend either adding it to your current diet or trying it with our Detox Diet Week: 7 Day Weight Loss Cleanse. If you want to go the route of fasting, we recommend you are doing so under the guidance of a healthcare professional.
Types of Detox Tea
Also known as skinny tea, weight loss tea or cleansing tea, a detox tea recipe consists of hot water steeped in herbs or other plant materials such as roots.
There are many types of common ingredients. Herbal tea companies offer a huge variety of leaves to choose from, but there are several ingredients that are the most popular.
Here are the top three types of ingredients:
Green Tea
Green tea is a wonderful drink if you're looking to lose weight and add nutrients, many love it for it's detoxifying benefits. (1)
Green tea is packed with antioxidants called polyphenols, which possibly have detoxifying effects and the amount of antioxidants in green tea is more than any other tea. Antioxidants help rid your body of free radicals, which can damage otherwise healthy cells. (2,3)
There are many green teas out there to choose from, even the two brands above (Yogi Tea and The Republic of Tea) have their own green tea blends! Be sure to get a green tea that is organic and GMO free.
A green tea cleanse is very good for you, but you may want to try it in one of my green smoothie recipes to avoid getting bored with the monotonous flavor, or scroll down for my delicious Iced Detox Green Tea Recipe. Either way, it's good to drink green!
Next time you visit a coffeehouse ask for a green tea or iced green tea, you can find it just about everywhere. If you're not in love with the taste, see below for our Green Tea Detox Drink, we added fruit to boost the flavor and fat burning properties.
Dandelion Tea
The roots and leaves of the dandelion plant are used to make Dandelion Tea. It contains lots of antioxidants like vitamins A, C and D, and significant amounts of zinc, iron, magnesium and potassium.
The antioxidant and anti-inflammatory properties of dandelion tea have been used in alternative medicine as a detoxifying agent for the liver. (4)
Milk Thistle Tea
Milk thistle tea is commonly associated with its benefits to the liver. The active ingredient in milk thistle tea is called sylmarin, which is a combination of three flavonoids that are potent antioxidants.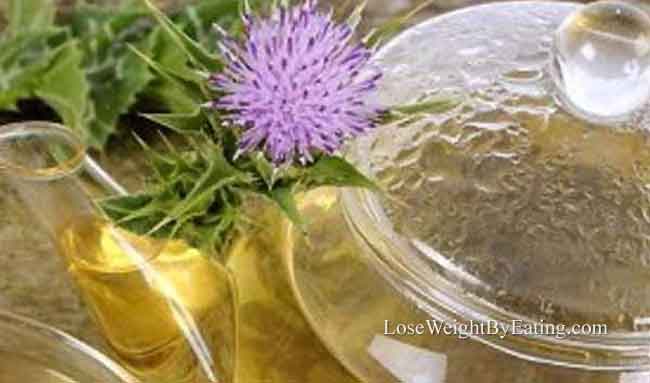 Sylmarin is believed to be responsible for protecting and repairing liver cells, as well as reducing inflammation in the liver.
Benefits of Detox Tea
Research has found that drinking tea may help lower your risk of stroke and heart disease, lower your blood pressure, improve your mood, and even help with weight loss.
There is still so much to learn about the detoxifying properties of teas and the many ingredients used in them.
What we do know is that it tastes great, helps get healthy nutrients into your body, increases your water intake (which will help with weight loss and other water benefits), and may help ease some pains and inflammation. (5)
But there is a need for additional research to prove that they are able to eliminate toxins from your body. Because of this, we like to concentrate on the "getting healthy and feeling healthy" aspects of detox tea, and don't count on them only to remove toxins.
If they do, great, but what we want here are herbs that help boost metabolism, give you energy and clear up your skin. Any detox cleanse effects are just a bonus.
Detox Tea Cleanse for Weight Loss
Detox tea has been a popular topic due to it's popularity with celebrities. Beyonce reportedly lost 20 pounds in two weeks on a cleanse before her role in the film Dreamgirls, and E! News host Giuliana Rancic is said to have used them to slim down her already fit physique for her 2007 wedding.
Perhaps that's part of the reason for the boom, these teas can help you lose that last few pounds, or jump start a major weight loss journey. They help people in all stages of their weight loss trim a few pounds, making it a great option for just about everyone. (6)
So what is the best detox for weight loss? It's not just the tea, but a well rounded diet supplemented with these metabolism increasing teas.
Our free Clean Eating Weight Loss Plan helps you trim pounds, and the tea recipes at the bottom of this article can help you increase those results.
Many teas have shown results, so what it comes down to is decide which you enjoy, which ones you can afford and consistently see results from.
Our current favorite is Yogi detox teas, when we tested the teas, our tester lost 3 pounds in 2 days, just two cups of tea a day along with a healthy diet.
Plus Yogi detox teas have lots of flavors to choose from, can be found in many grocery and health food stores and have a reputable, 30+ year history with consumers.
Liver Detox
Eat a healthy all natural diet, stay away from alcohol, cigarettes and prescription (and nonprescription) drugs, live in a rural area with clean air? If you answered yes to all of these, you don't really need a liver detox, but if you said yes to any of the questions a liver cleansing might be a good thing to do every so often.
Our bodies are strong and know how to remove toxins found in nature, but toxins made in a laboratory are a different issue entirely. While detoxing, stay away (when possible) from these toxins for maximum benefit.
Detox Tea for Beautiful Skin
If you use a good acne clearing facial cleanser and toner, wash your face before bed and in the morning, drink lots of water, and yet still seem to have acne or an occasional breakout, a skin cleansing detox might be a way for you to cleanse from the inside.
Some people drink these teas all month long and others during breakouts or monthly hormonal breakouts.
Whether you're looking to treat acne or the occasional breakout, Yogi Skin DeTox is great. It's organic, inexpensive and quite delicious when made into iced tea.
But if you're looking to clear up that monthly pimple or breakout brought on by your monthly cycle or from hormonal changes due to menopause you may want to try out The Republic of Tea's Get Gorgeous as it helps reduce symptoms of PMS and menopause while clearing your skin.
Best Detox Tea Products on a Budget
There are many tea detox products on the market which boast weight loss, liver detoxification and even acne reduction.
Some cost the price of a box of tea, and others are hundreds of dollars! It's daunting to choose the best tea for weight loss and weed through the real stuff and ignore the marketing hype.
For those of you looking to purchase the best detox tea, these are our favorite. We took flavor, cost and quality into consideration and these are the three we like best:
Yogi Detox Tea
One of the most popular commercial detox teas is Yogi Detox Tea.
They have many flavors and options to choose from. If you're looking just for a basic one, they have a box for that.
Other selections include an acne tea, stress reducing tea and weight loss teas, and with over 60 tea blends there is something for everyone.
The prices are reasonable and you can even get a variety pack! If you're a picky tea drinker try out their Peach DeTox, it's delicious and has the best reviews of all their teas.
Started in 1984 Yogi teas has a long history of providing reasonably priced items to every customer, all their teas are certified organic and start under $10 for 16 tea bags.
Often you can find their teas in health food stores, and below we have used some of their teas to create a fat burning tea recipe you can enjoy hot or cold.
Republic of Tea
The Get Clean blend from The Republic of Tea is delicious, organic, GMO free, Kosher and sugar free.
This zero calorie tea is sweet and delicious with a nutty vanilla flavor, but it does contain nuts so if you have a nut allergy steer clear.
Many drinkers of this one say they feel an almost immediate reduction in bloat.
The Republic of Tea also has a metabolism boosting tea called Get Burning, we have yet to try it but it gets great reviews online and is also organic, GMO free, Kosher and sugar free.
Some of their teas are loose leaf, but you can buy your own empty tea bags to fill or use a tea strainer to make your brew.
Detox Tea Recipes
Some people find the flavor of the teas strong at first, so here are some recipes to maximize flavor while adding metabolism boosting ingredients.
If you plan on icing your tea, use frozen fruit in your glass for an added boost of flavor. We like to replace half the ice with frozen organic berries.
We made these drinks to compliment the teas they are mentioned with, however you can mix and match to create your own blends, or use the recipes with your own favorite skinny weight loss tea.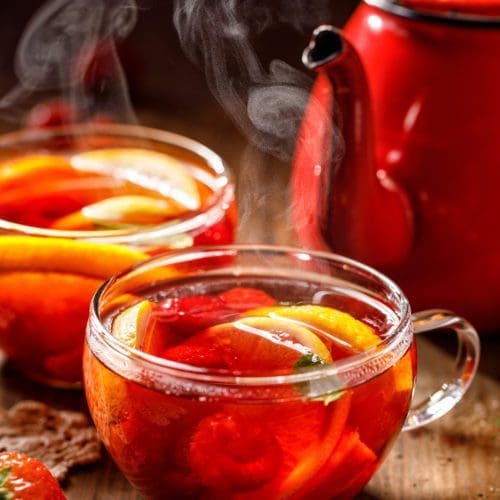 5 Metabolism Boosting Detox Tea Recipes
These weight loss tea recipes are easy and yummy!
We recommend using a detox tea (see above) or an organic green tea… though you can make any of these metabolism boosting teas with your favorite tea.
Ingredients  
Fruit Infused Detox Tea
1

tea bag

green tea, detox tea, black tea

1/4

cup

mango

1/4

cup

pineapple
Skin Detox Tea
1

tea bag

green tea, detox tea, black tea

1/4

cup

Pomegranate seeds
Berry Orange Weight Loss Tea
1

tea bag

green tea, detox tea, black tea

1/2

orange

sliced

1/4

cup

sliced strawberries

or favorite berries
Peach Detox with Apples
1

tea bag

green tea, detox tea, black tea

1/4

cup

peaches

frozen is best

1/4

cup

apples slices

about 1/4 apple

1

cinnamon stick
Green Tea Detox Recipe
1

green tea bag

1/4

lemon cut into rings

1/4

orange cut into rings

1

thin slice ginger

peeled

¼

cup

mango cubes

frozen is best

¼

cup

pineapple

frozen is easiest
Instructions 
Brew and steep tea as directed on the package in 8 oz of hot water.

Add the fruit and herbs and let cool to a drinkable temperature.

Remove fruit (or leave it in) and drink the tea.

If making iced detox tea, let cool to room temperature (with the fruit in the tea) then strain out tea and pour over a tall glass filled with ice.
Notes
Nutrition
Serving:
8
oz
Calories:
4
kcal
Carbohydrates:
0.9
g
Protein:
0.1
g
Fat:
0
g
Saturated Fat:
0
g
Cholesterol:
0
mg
Sodium:
0
mg
Potassium:
33
mg
Fiber:
0.2
g
Sugar:
0.6
g
Calcium:
2
mg
Iron:
0
mg
Conclusion
Whether you're drinking it for a weight loss cleanse, to flush your system of toxins, or just because you like the taste, detox teas are a great way to drink more water and add antioxidants to your diet.
Start slow, some tea detox products include natural laxatives, so it's best you know how your body will react on one tea bag a day before increasing.
Remember, a healthy diet is important to maintain during and after your cleanse to maximize results. For those of you looking for a more intense cleanse, try our Detox Diet Week: 7 Day Weight Loss Cleanse with these teas.
Check out Lose Weight by Eating for more clean eating recipes and weight loss tips from Audrey Johns.
Lose Weight By Eating cookbooks: