Here's our collection of the best metabolism boosting drinks for weight loss.
In this post are natural weight loss boosters that are inexpensive, easy to make, taste delicious, and give your weight loss an extra boost!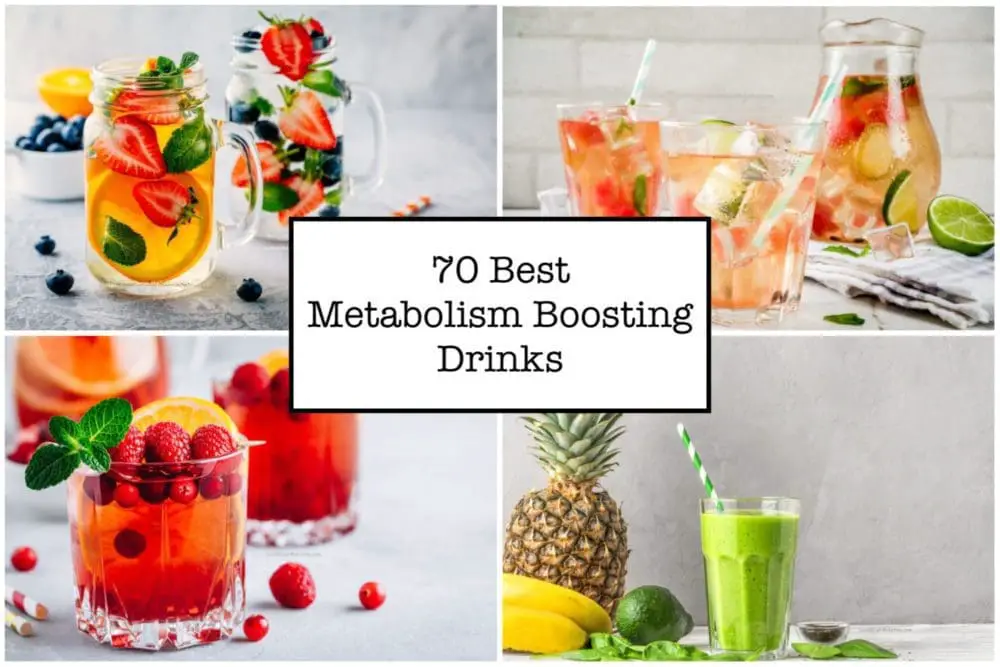 Did you know high quantities of water help to increase your metabolism? (1) This article will teach you how to speed up metabolism by simply swapping out what you drink per day.
This article is dedicated to taking the metabolism boosting properties of water to the next step, by adding fruits and herbs that are known to boost metabolism and increase energy.
Find the best metabolism boosting drinks for weight loosen the sections below…
The Best Metabolism Boosting Drinks for Weight Loss
We have included our reader favorites like our Apple Cinnamon Water and Mango Ginger Water. But we have also added in new recipes for burning fat drinks that have recently been posted to the website.
Also included, are several detox tea recipes and even a few fat burning smoothies. So you can sip these metabolism boosting drinks all day, or as a meal replacement. Before you know it, the pounds will be melting away!
#1. Apple Cinnamon Water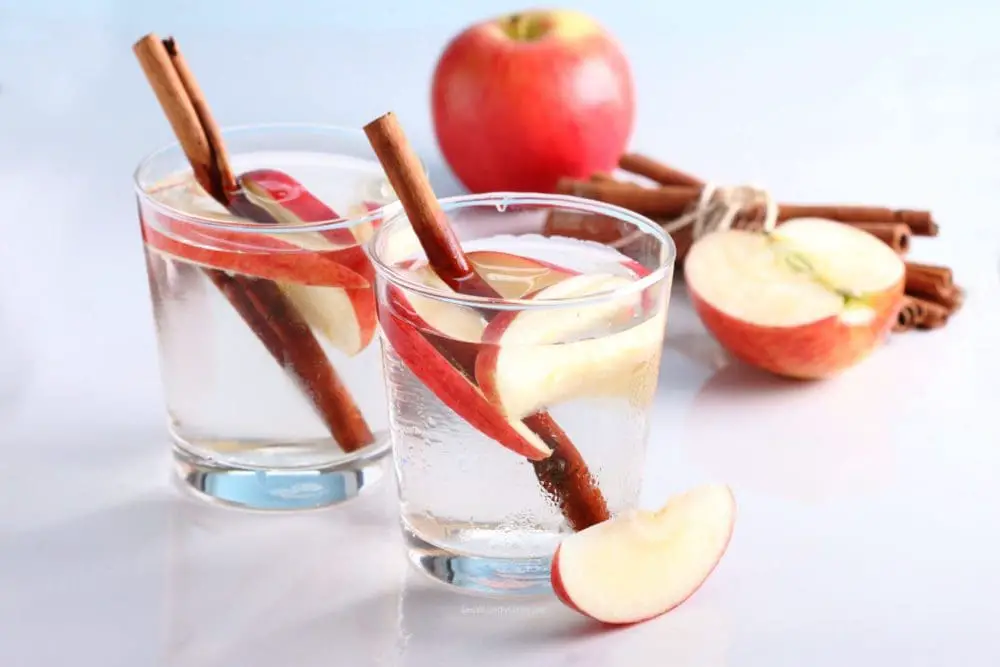 Did you know both apples and cinnamon raise your metabolism? Try this now famous drink and any day can feel like fall (2).
Fuji and Honeycrisp apples work best as they are the sweetest. Keep in mind that this metabolism boosting drink has just a hint of flavor. Should you want it stronger, add more apples or slice them thinner.
Apple Cinnamon Detox Water Recipe
This is the ORIGINAL apple cinnamon water recipe. Created and published first, here at Lose Weight By Eating!
Since it's publication in 2012 this healthy weight loss drink has become so popular that Dr. Oz even recommends it!
Try this apple detox water with cinnamon today, it's fast, easy, yummy, and boosts metabolism!
Special Tip: Pick sweet apples, they will make this apple detox drink sweeter. And make sure you use cinnamon stick, not ground cinnamon as it will clump in your water.
Check out this recipe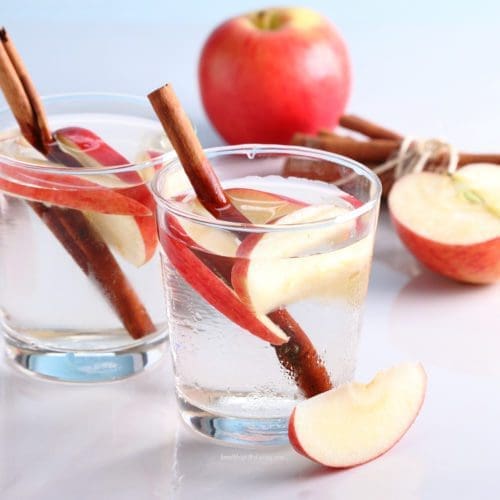 #2. Mango Infused Water (10 Recipes Included!)
With ingredients like mangoes and ginger, these metabolism boost drinks all help boost weight loss in a number of different ways.
Aside from it's natural metabolism boost, ginger acts as a natural pain reliever. Whether you're up against migraines or menstrual cramps, it's amazing what ginger can do (3).
Ginger also aids in reducing morning sickness, nausea and heartburn and will give your digestive system, memory and sex drive a welcome boost.
This one little drink will do a lot for your body, so make a big pitcher today and enjoy.
10 Mango Detox Water Recipes
These weight loss water detox drinks all help boost metabolism, reduce bloat, improve your immune system, and shed fat!
All 10 infused water flavors help boost metabolism and curb hunger.
Choose your favorite, or make your own combination of mango detox water.
Check out this recipe
#3. Berry Infused Metabolism Boost Drinks (7 Recipes Included!)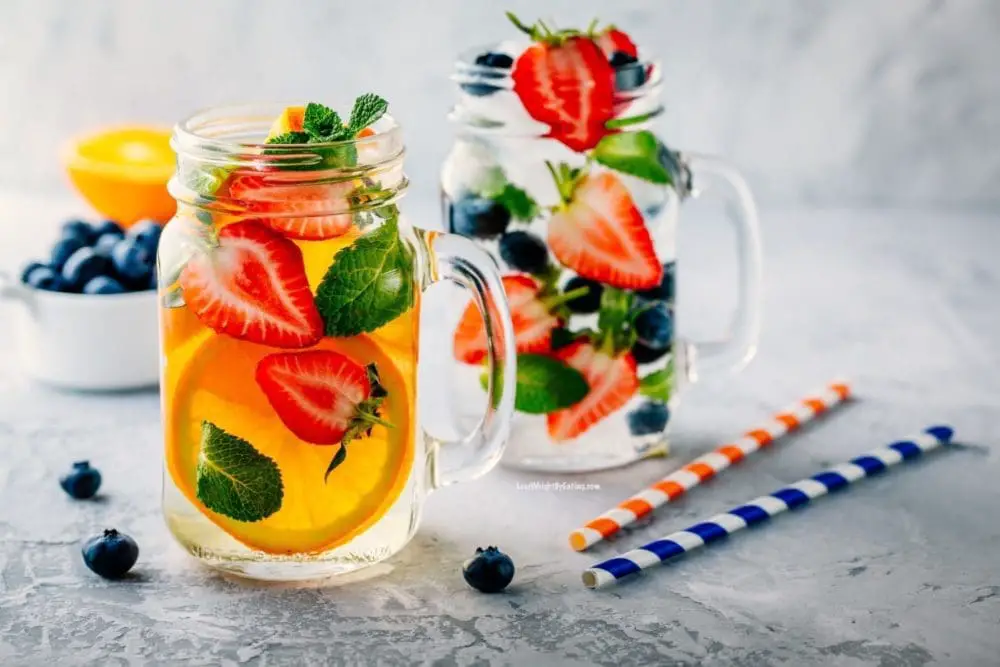 These metabolism boosting drinks are packed full of flavor and perfect for sipping all day long.
Pick up a bag of frozen berry medley at your local grocery store and you'll have all three berries ready at a moment's notice. Just a handful creates a fat burning drink!
Add some delicious citrus — like lime or orange slices — and you will have added a healthy dose of vitamin C to the mix.
7 Metabolism Boosting Berry Infused Drinks
This strawberry water recipe is easy and flavorful.
Lime and strawberry detox water recipes are great for staying hydrated, and keeping your metabolism roaring.
Try this recipe for strawberry water anytime of the year by using frozen strawberries!
Check out this recipe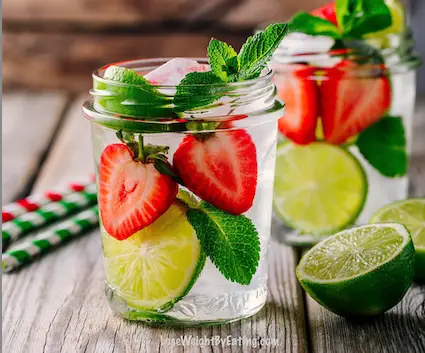 #4. Fat Burning Watermelon Infused Water (10 Recipes Included!)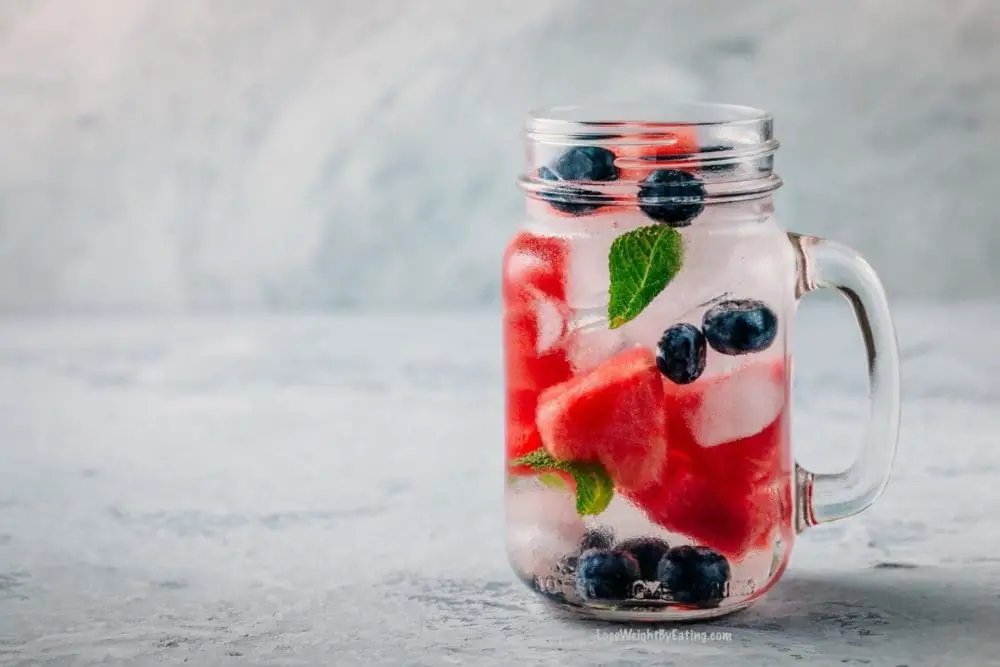 Watermelon is packed full of flavor and makes a wonderful fat burning drink base!
We paid the watermelon with other metabolism booster ingredients like blueberries.
Blueberries have one of the highest antioxidant capacities of all fruits. The plant compound flavonoid appears to be the source of the majority of the antioxidants (4).
10 Infused Watermelon Water Recipes
These 10 fruit infused water recipes with watermelon are low calorie, yummy, and packed with fat burning nutrition.
From an after workout watermelon water recipe, to a detox watermelon water recipe… you'll be sure to find an infused water recipe you love in the recipes below.
Special Tip: You can double and triple the servings using the 2X and 3X buttons below… it will do all the measurement math for you!
Check out this recipe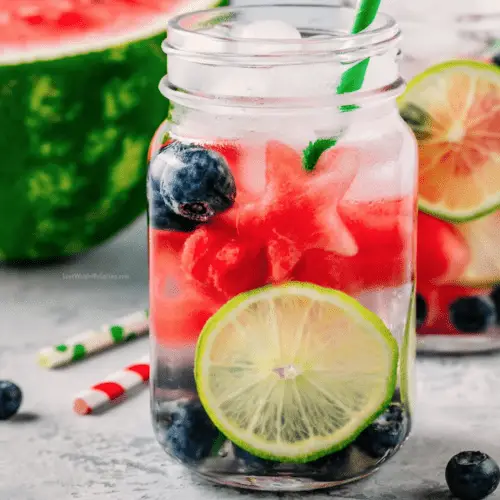 #5. "Flat Belly Water" Cranberry Juice Detox Drink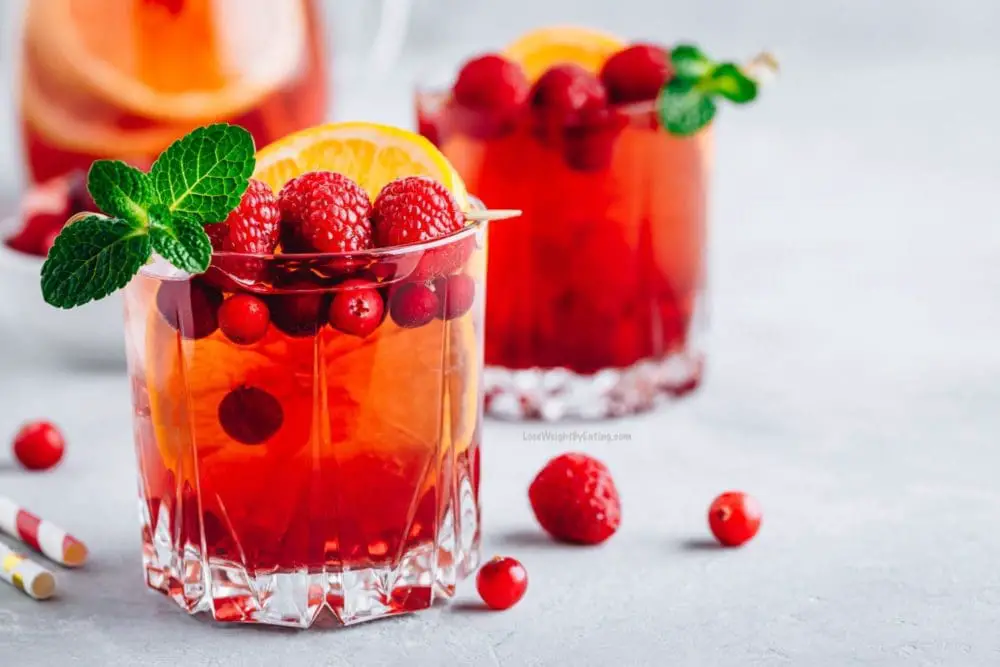 This metabolism boosting drink is one of the top 10 reader favorites here at Lose Weight By Eating!
These amazing fat burning drinks both increase metabolism, while reducing bloat at the same time!
Cranberry Juice Detox Drink for Weight Loss
This cranberry juice detox for weight loss will help jumpstart your metabolism, promote heart and urinary track health.
The cranberry detox water is great for liver health and detoxing, it's an anti inflammatory, promotes gut health. And thanks to the superfoods in this recipe, this flat belly detox water can help you lose weight fast!
Enjoy 1 glass of cranberry water detox on an empty stomach, 3 times a day. Ideally, having this cranberry cleanse drink 1 hour before eating each meal can help you shed excess fat fast.
Check out this recipe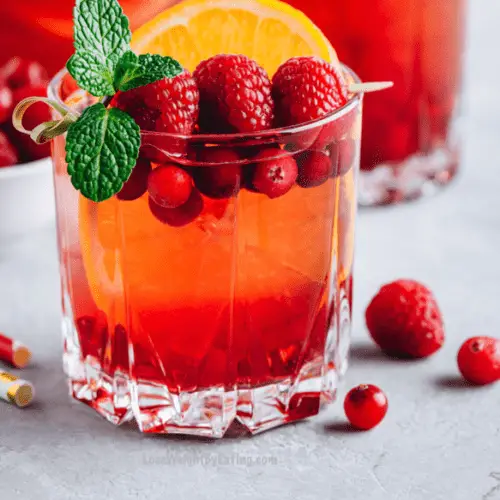 #6. Sparkling Water Recipes for Weight Loss (10 Recipes Included)
If you love sodas, these 10 sparking water recipes for weight loss are the perfect burn fat drinks for you!
Skip the surge filled sodas, and the chemical filled diet sodas and make your own. With 10 metabolism boosting drinks to choose from, we know you'll find your next favorite soda here!
10 BEST Sparkling Water Recipes (Fizzy Water)
These 7 fizzy water recipes are easy to make and yummy to drink!
They make great cocktail mixers, or mocktails. And are just as yummy on a hot day, as a chilly afternoon.
Try these sparkling water recipes, and feel free to mix and mingle the ingredients to find a new favorite flavor.
Get the Recipes
#7 Cucumber Mint Water
Water is a great metabolism booster, and with ingredients like mint and cucumber you'll also be reducing bloat!
This fat burning drink is refreshing and yummy, and helps cut belly bloat fast too!
Cucumber and Mint Infused Weight Loss Water
This cucumber mint water for weight loss is a fantastic homemade detox drink!
The homemade infused water with cucumber and mint naturally boosts metabolism and reduces bloat!
Try this cucumber mint weight loss water on hot days, or during hot flashes to cold down and beat bloat.
Check out this recipe
#8 Cucumber Water Recipes (10 Recipes Included!)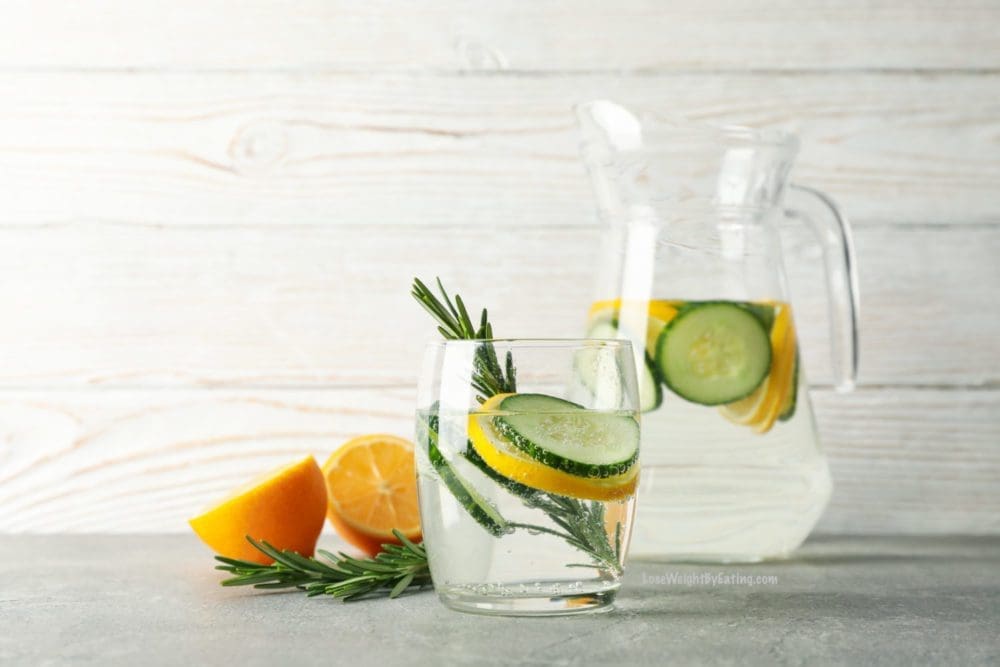 We really love cucumber water, and that's why we have supplied you with 10 more recipes here.
Beat bloat and boost metabolism with these 10 yummy drink recipes.
The 10 BEST Cucumber Water Recipes
These 10 cucumber water recipes are great for your health, and your tastebuds!
With all the amazing health benefits of cucumber water (we shared 20 above!) you'll want to drink cucumber water everyday… and you can!
Special Tip: Each recipes has it's own printable recipe card! So be sure to click on the link and print it out!
Check out this recipe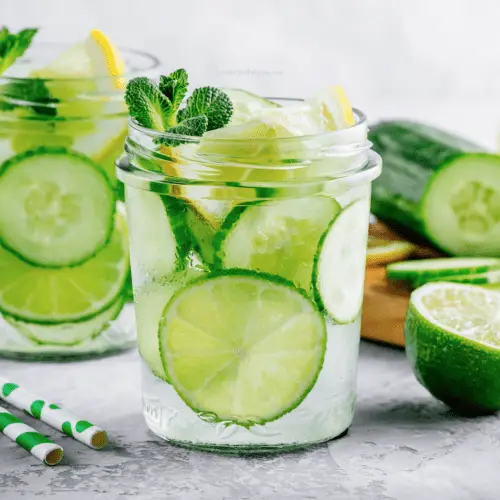 #9 Pineapple Water for Weight Loss Recipes (10 Recipes Included!)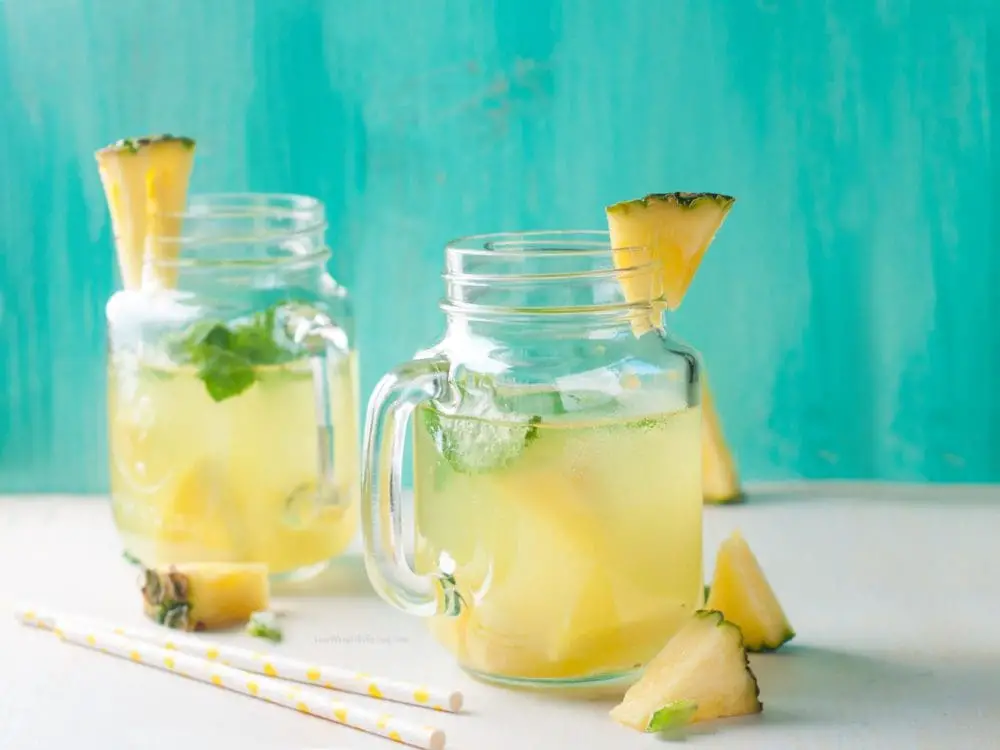 Pineapple is a great metabolism booster! And it adds so much flavor to water too!
Try one of these 10 metabolism boosting drink recipes to help curb your sweet cravings while burning fat.
10 BEST Pineapple Water Weight Loss Drinks
These 10 pineapple water recipes all help burn fat, and boost immunity.
With so many pineapple drinks to choose from, we know you'll find one to love. And with all the wonderful health benefits (more above) you'll want to sip these all day long.
Special Tip: You can use frozen pineapple to enjoy these infused water recipes all year long. Just be sure to defrost it a little first.
Check out this recipe
One of my most famous drinks is my Apple Cinnamon water. During the winter, I like to make it as a hot tea. The flavor is stronger and oh so yummy!
#10 Mint Infused Water with Peaches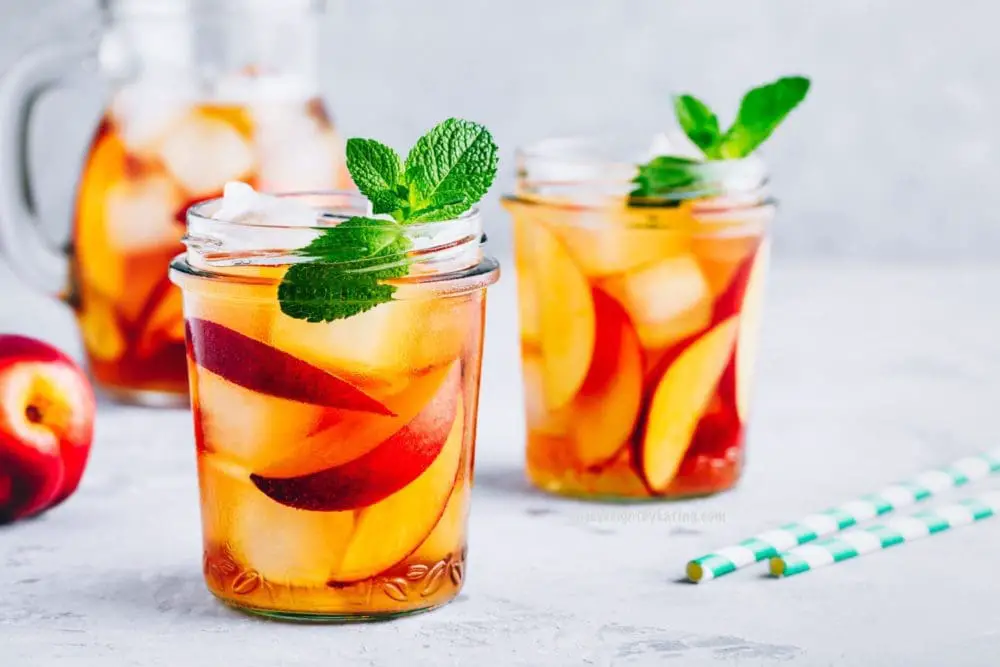 This metabolism boosting water recipe also helps cool you down on hot days!
Mint naturally de-bloats the body while cooling you down. Making this fat burning drink great for hot days.
15 Calorie Mint Peach Drink Recipe
This Infused Mint Water with Peaches naturally cools you down on a hot day (or during a hot flash!)
Plus, making peach infused detox water recipes are a great way to boost metabolism and hydrate at the same time!
Special Tip: Try this mint peach drink recipe anytime of the year and get frozen peaches… just be sure to defrost them a little.
Check out this recipe
#11 Green Tea Detox Drink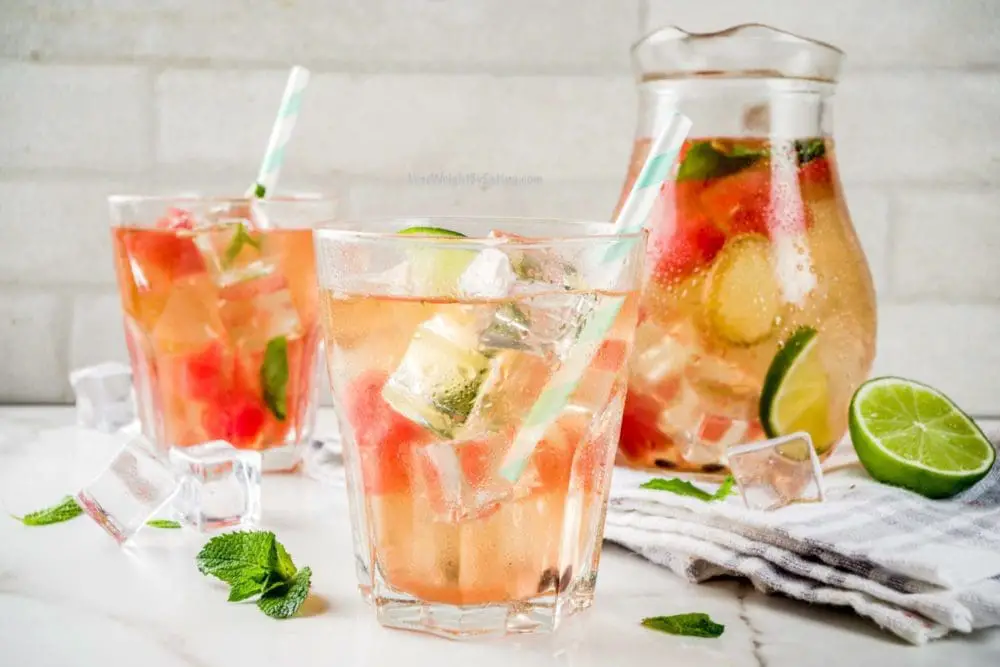 Green tea is one of the best metabolism boosters! This yummy drink burns fat fast and helps you keep your metabolism roaring all day long!
Try this metabolism boosting drink in place of your afternoon coffee to boost energy as well as boosting metabolism!
5 BEST Green Tea Detox Drinks
These fat burning green tea detox drinks are yummy and refreshing… and great for sipping all day long.
If you're looking to burn fat, these iced detox tea recipes will help. And if you're looking to reduce bloat they will help with that as well.
Special Tip: You can choose to add in the all-natural sweetener or not… it really just depends on how sweet you like your tea.
Check out this recipe
#12 Best Metabolism Boosting Smoothies (10 Recipes Included!)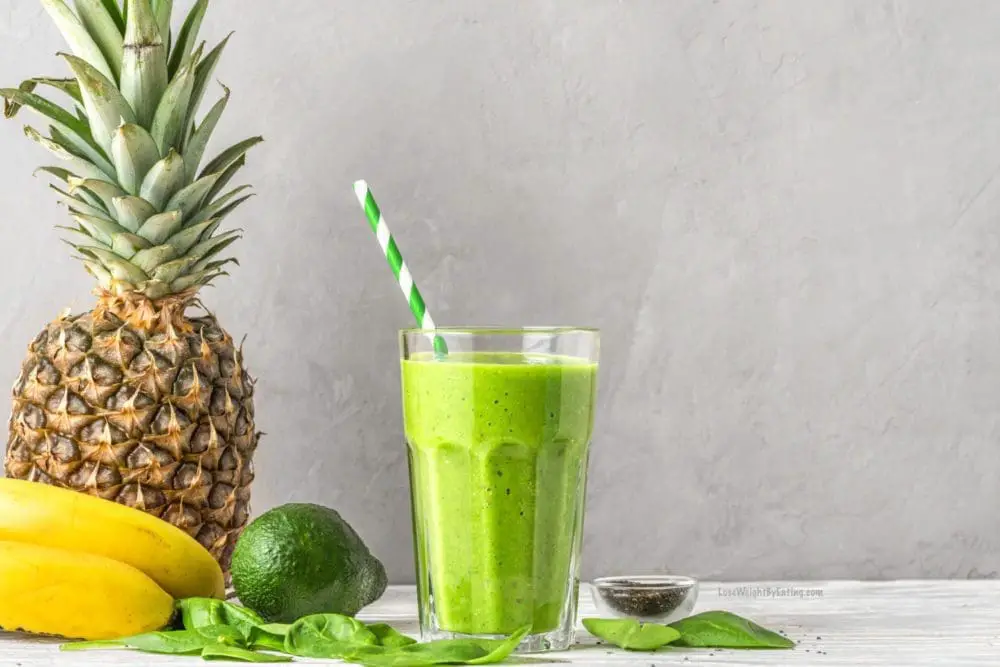 These 10 metabolism boosting smoothies all make great meal replacement smoothies, or snacks.
Try swapping one meal or snack of these fat burning smoothies, and watch the fat fly off.
10 Best Weight Loss Smoothies
This Tropical Green Weight Loss Smoothie is just 207 calories and filled with fat burning ingredients.
If you look above in the article you will find lots of metabolism boosting ingredients to swap in and out, should you not like one of the ingredients.
Plus, you'll find 10 more weight loss smoothies to try… and if you don't like green smoothies there are LOTS of weight loss smoothies above with no greens in them!
Special Tip:
There are 10 more Weight Loss Smoothies above!
Check out this recipe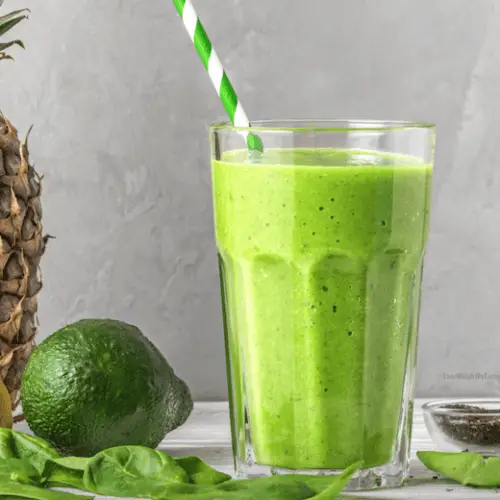 72 Best Metabolism Boosting Drinks for Weight Loss
These metabolism boosting drinks all come with printable recipe cards.
Simply choose your recipe and click on it to collect the recipe card, find nutrition information and even a shopping list for each fat burning recipe!
70+ BEST Metabolism Boosting Drinks for Weight Loss
These 72 Metabolism Boosting Drinks include fat burning water recipes, smoothies, and even tea recipes for weight loss.
Some are for sipping all day long, and some are for snacking or meal replacement… see above for more information.
Special Tip: Each of these recipes for weight loss include printable recipe cards and shopping lists. Simply click the link to get the recipe card.
Instructions 
Choose the metabolism boosting drink you want to try.

Click the link to get the printable recipe card.

Get busy making your fat burning drinks.
Nutrition
Serving:
1
drink
Calories:
5
kcal
What to Read Next:

Lose Weight By Eating Cookbooks

Pin This Article to Pinterest: