These 20 Best Low Calorie Holiday Recipes are all low in calories. Many are vegan and vegetarian, and all are delicious!
From Easter recipes, to Thanksgiving Dinner recipes, and easy Christmas recipes. All of these holiday recipes are fun and festive recipes for the holidays.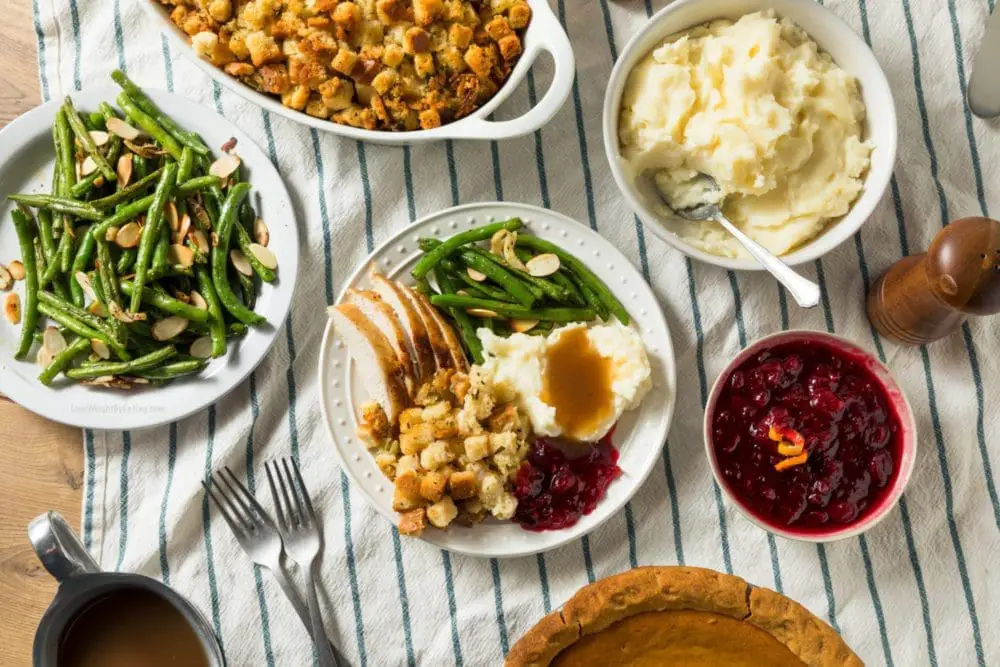 All of these festive food recipes will impress your holiday guests and leave you with leftovers you can actually enjoy without guilt!
From a low calorie turkey recipe, to vegan holiday side dishes, you'll find amazing holiday recipes that you'll want to make every year!
These 20 healthy holiday recipes are all low calorie… and 1/2 of these are vegan too!
The 20 Best Low Calorie Holiday Recipes
I pulled all of our best low calorie holiday recipes together for you, and added them all with full color photos below.
To make sure I supplied holiday recipes for everyone in your life, you'll find 10 vegan recipes in the sections below! Half of the holiday recipe ideas below are vegan and vegetarian!
I've included easy Christmas recipes, side dish Thanksgiving recipe, and even Easter recipes for brunch and dinner below.
At the bottom you'll find some desserts, but I wanted to concentrate on healthy holiday side dishes, and main dishes like our low calorie Honey Baked Ham recipe and easy roasted turkey.
Try these festive recipe for the holidays anytime of the year, or just enjoy them with family and friends on holidays.
From low calorie holiday side dishes, to easy roasted turkey and low calorie honey ham recipes, you're covered with the 20 best healthy holiday recipes below.
These Scalloped Potatoes are just 141 calories!
Low Calorie Recipe for Scalloped Potatoes is a great festive recipe for easter dinner, for Thanksgiving and even Christmas. Try this low calorie holiday recipe for all your get togethers.
This easy holiday side dish recipe is great year round. It's great with ham (recipe below!) or turkey (recipe below!) and doesn't taste healthy at all!
At just 59 calories, this Green Bean Recipe makes a great, healthy side dish for holiday recipes.
Healthy Green Bean Recipes are some of the best low calorie holiday recipes. Instead of making a heavy green bean casserole, try this vegan holiday recipe. Great for Easter, thanksgiving and Christmas cooking recipe. It's healthy and delicious!
These fun holiday recipes suit all diets. Try this vegan holiday recipe for any holiday, or even for weeknight cooking!
This easy Christmas recipe is great for all holidays as well! Everyone loves bacon, so try these Sautéed Brussels Sprouts with Bacon Recipe. They're just 124 calories and don't taste healthy at all!
Sautéed Brussels Sprouts with Bacon make festive recipes for easter dinner, thanksgiving side dishes and an easy Christmas recipe.
The best holiday recipes are both healthy and delicious… This way you can go back for seconds or enjoy leftovers without guilt!
This Homemade Cranberry Sauce Recipe is vegan and all natural, and will change your mind about using canned cranberries in your best Christmas recipes.
Homemade Cranberry Sauce Recipe is one of the best festive holidays recipe ideas… plus it's all natural, low in calories, an vegan!
We strive to make these festive holiday recipes easy and delicious. This wonderful holiday recipe is a crowd pleaser and goes great on sandwiches, over yogurt and oatmeal after holidays.
No list of easy Thanksgiving recipes, or healthy holiday recipes would be complete without this Healthy Turkey Recipe!
The Best Turkey Recipe is simple and easy… And requires no oil at all! Instead we use salt and turkey drippings to get a crispy skin, saving 100's of calories.
No matter what holiday you make this festive recipe for, it always comes out perfect and yields lots of leftovers.
This healthy Mashed Sweet Potatoes Recipe is vegan and low in calories. It's just 142 calories per serving and makes one of the best holiday recipes!
Some of the best recipes for Christmas food includes sweet potatoes. This savory version is creamy and wonderful, and will make you want seconds and thirds.
This also works for easter recipes vegan.This recipe is great easter recipe, as well as a thanksgiving healthy recipe and makes wonderful recipes for Christmas food side dishes.
No list of the best festive food recipes for the holidays would be complete without a Deviled Eggs Recipe. These are just 42 calories and have no mayo in the recipe! Instead we use a Healthy alternative… hint, it's the same alternative we use in the mashed potatoes (below) to omit the butter!
The Best Easy Deviled Eggs Recipe makes a wonderful appetizer for holiday gatherings. Plus this easter recipe is a crowd favorite!
For more easter recipes for dinner keep scrolling, we have many more healthy healthy holiday recipes to share with you.
This Oven Roasted Carrots Recipe is just 53 calories and vegan. It makes wonderful easter recipes for brunch and dinner, and the leftovers are amazing on salads and wraps!
Oven Roasted Carrots Recipe also works well for healthier side dish thanksgiving recipes. And you haven't lived until you've dipped these in cranberry sauce (for the vegans) or gravy (for everyone else).
For more vegan holiday fun recipes keep scrolling… every-other recipe is vegan so that these healthy holiday cooking ideas will work for everyone.
This Homemade Gravy Recipe is great with turkey or chicken, and is a staple of the best healthy holiday recipes!
Homemade Gravy Recipe makes great festive food recipes and holiday food recipes, it goes great over turkey, mashed potatoes (coming up below), stuffing and veggies.
For more thanksgiving recipe ideas keep scrolling… We still have many more healthier thanksgiving recipes, Christmas recipes, and easter recipes to go through.
No matter if you're searching for healthy recipes for Christmas food, thanksgiving dinners, or easter brunch… this Cauliflower Mash Recipe is a great option! This vegan holiday side dish is just 43 calories and completely crave-worthy!
The Best Cauliflower Mash Recipe is low in calories, and oh so healthy. But don't worry, there is a low calorie mashed potatoes recipe coming up!
If you're looking to remove more starches from your healthy holiday dinners, this Cauliflower Mash Recipe is a great option.
If you're looking for a healthy easter ham recipe, this Healthy Recipe for Honey Baked Ham is a great low calorie option. At just 213 calories it won't hurt your diet, and you can enjoy leftovers without guilt.
Honey Baked Ham makes great recipes ideas for easter dinner, and is also great for a Christmas ham recipe as well.
The best healthy holiday recipe would not be complete without this wonderful ham recipe. Try it with the green beans above, and the mashed potatoes below…
This low calorie Oven Roasted Broccoli Recipe is vegan and just 63 calories. It's great for all holiday gatherings, as well as weeknight cooking.
Oven Roasted Broccoli Recipe makes great recipes for the holidays Christmas, thanksgiving and easter… It also makes a great side dish recipe for Christmas Eve dinner!
Italian Christmas eve recipes vary depending on the region. My family comes from Sicily, so we always have lasagna and other heavy dishes. This Oven Roasted Broccoli Recipe goes great with marinara sauce, and makes for one of my favorite Christmas Eve dinner recipes.
This Homemade Mashed Potatoes Recipe is is just 62 calories and is as good as the high calorie/high fat versions.
One of the best healthy holiday recipes is this low calorie Homemade Mashed Potatoes Recipe, and it goes wonderfully with the homemade gravy above!
These skinny mashed potatoes are easy and delicious, and so low in calories you can enjoy seconds, and leftovers with out guilt!
This Homemade Stuffing Recipe is easily made vegan… simply use vegetable broth and skip the butter. Instead spray the top with olive oil and enjoy this vegan holiday side dish.
Homemade Stuffing Recipes are so much better than the high fat, high carb stuff you buy from the store. This healthy holiday recipe is 50% hidden veggies so that you can enjoy your indulgent dish, without ruining your diet.
This healthy side dish thanksgiving recipe is great for all the holidays, but goes so well on "turkey day"!
One of the best recipes for Christmas Eve dinner is this Lasagna Recipe. It's low in calories and absolutely delicious… and as an Italian woman, you can trust that I did not compromise flavor or texture to make this a low calorie recipe.
My low calorie Lasagna Recipe is a great dish for Christmas eve recipes, and it's what my family has every year.
This lasagna recipe is completely amazing, and my entire (first generation!) Italian family can't get enough of it! It never tastes healthy or low calorie… but it is!
These Oven Roasted Brussels Sprouts are just 65 calories, and they're vegan too!
Above we shared a bacon and Brussels sprouts recipe, but this vegan Oven Roasted Brussels Sprouts is great for all diets and needs.
This perfect holiday side dish recipe is easy and fantastic. It's great as leftovers over salad, quinoa or rice… that is if you have leftovers, which is doubtful!
This Loaded Baked Potato Casserole Recipe is just 168 calories and has 15.9g of protein!
Take your holiday mashed potatoes to the next level and make a Loaded Baked Potato Casserole Recipe!
Fun holiday recipes like this one can take your meal to the next level… and if you do have leftovers, you'll want to serve this nightly topped with turkey and leftover veggies, yum!
This Low Calorie Apple Crumble Dessert can be made vegan with a few ingredient swaps (all included in the recipe card!)
Low Calorie Apple Crumble Dessert makes a wonderful healthy holiday recipe for dessert. It's a perfect holiday dessert for Christmas, thanksgiving and even easter… and quite the crowd pleaser!
Try this low calorie holiday dessert year round, you can swap out the apples for your favorite fruit too!
No list for the best healthy holiday recipes would be complete without a perfect Christmas morning breakfast like this Breakfast Casserole.
This low calorie holiday recipe feeds a lot of people, and can be made vegetarian, or packed with meat. Directions for both versions can be found in the recipe card!
This healthy Breakfast Casserole is a great way to start a holiday morning, or easter recipe for brunch too!
This Healthy Pumpkin Bread Recipe is vegan, low calories, and perfect for thanksgiving!
Try this low calorie Healthy Pumpkin Bread Recipe around the holidays, or bring a loaf as a hostess gift for thanksgiving.
This low calorie Healthy Pumpkin Bread Recipe is great for the holidays, and it can be made vegan and gluten free too!
What to Read Next:
Lose Weight By Eating Cookbooks

Share these Low Calorie Recipes:
Article History: