This Low Calorie Prime Rib Roast recipe is 1/2 the calories of the average prime rib recipe! Most prime rib recipes are about 750 calories per slice, but my low calorie version is only 367 calories without sacrificing flavor or servings size!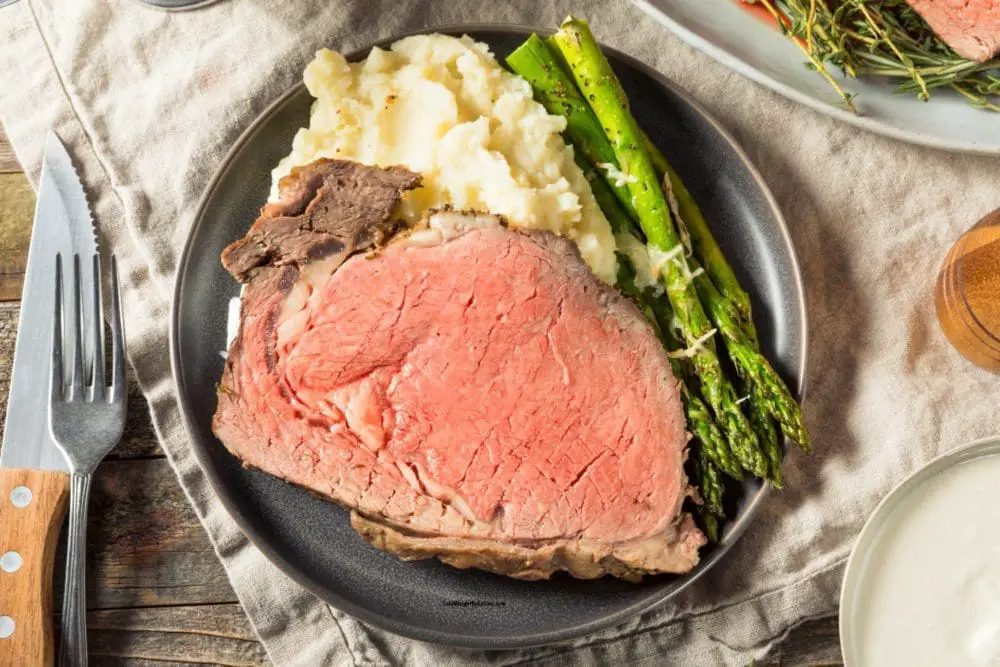 Everything You'll Need
5 pounds beef prime rib
1-2 tablespoons salt
2 teaspoons pepper
1 teaspoons fresh rosemary
1 teaspoon fresh thyme
1 teaspoon sage
10 garlic cloves
Olive oil spray
Low Calorie Prime Rib Roast
Skip Ahead:
Healthy Prime Rib Roast Meal Prep and Storage
Uncooked Meal Prep – Rub the herb paste all over the uncooked prime rib, place in a 2 gallon freezer bag and close. Freeze for up to a month. Defrost completely before cooking.
Cooked Meal Prep – Cook the prime rib according to the directions, cool completely. For single servings, slice the prime rib and add to individual containers with desired side dishes. Or place the prime rib in a large container. 
Frozen Leftovers – Will hold in the freezer for 1 month.
Refrigerated Leftovers – Will hold in the refrigerator for 4 days.
Reheating – Add to the microwave for 2-3 minutes or add to a baking sheet covered with parchment paper and bake for 10-15 minutes in a hot oven (350-400 degrees). Cut in half to check that it is warmed through before serving. Also good cold for sandwiches.
Low Calorie Prime Rib Roast Recipe
More Low Calorie Holiday Sides: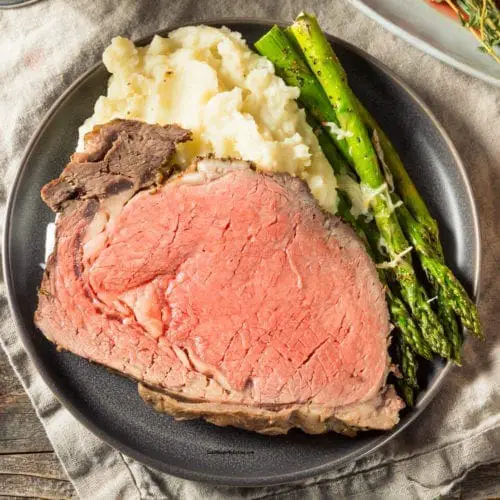 Low Calorie Prime Rib Roast
This healthy prime rib roast recipe is just 367 calories! About 1/2 the calories of the average recipe, and for the same serving size!
Comes with a Prime Rib Cooking Time Guide, and a yummy prime rib rub you'll want to add to all your recipes.
Learn how to cook a prime rib roast so it's low in calories, but just as delicious as the best prime rib recipes!
Ingredients  
5

pounds

beef prime rib

1-2

tablespoons

salt

2

teaspoons

pepper

1

teaspoons

fresh rosemary

chopped

1

teaspoon

fresh thyme

chopped

1

teaspoon

sage

chopped

10

garlic cloves

minced
Instructions 
One hour before roasting your prime rib, remove it from the fridge and season it on all sides with salt and cover it loosely with plastic wrap. (This will help the prime rib cook more evenly)

Preheat the oven to 500°.

In a small bowl, combine the pepper, rosemary, thyme, sage, and garlic.

Pat the roast with paper towels to dry it. Then sprinkle the seasoning all over it, rubbing it all over. And spray lightly with olive oil.

Place roast in a roasting pan, with the bones side down. Or place a boneless roast on a rack inside the pan.

Bake prime rib for 15 minutes, then reduce the oven temperature to 325° and continue baking until desired doneness. (see below)

Remove the prime rib from the oven and tent it with foil. Allow it to rest for 30 minutes before carving.

Carve the roast against the grain at about 1/2 inch thickness.
Prime Rib Cooking Guide:
Rare Prime Rib: Cook until thermometer reaches 120° (about 10-12 minutes per pound)

Medium Rare Prime Rib: Cook until thermometer reaches 130° (about 13-14minutes per pound)

Medium Prime Rib: Cook until thermometer reaches 140° (about 14-15 minutes per pound)

Medium Well Prime Rib: Cook until thermometer reaches 150° (about 16-17 minutes per pound)
Nutrition
Serving:
1
slice
Calories:
367
kcal
Carbohydrates:
1.4
g
Protein:
46.3
g
Fat:
18.1
g
Saturated Fat:
7
g
Cholesterol:
130
mg
Sodium:
838
mg
Potassium:
860
mg
Fiber:
0.3
g
Sugar:
0
g
Calcium:
52
mg
Iron:
6
mg
About the Author
Hi, my name is Audrey Johns and I am a 4 time best selling cookbook author! All 4 of my low calorie cookbooks are published by HarperCollins (the oldest publishing house in the US!) and have been featured on prominent TV shows like The Today Show, Rachael Ray and The Doctors. I am a low calorie and healthy recipe authority and my delicious recipes are tried and loved by thousands of readers. 
After a one year 150 pound weight loss (and I've kept it off for 13 years!) I started sharing all of my low calorie recipes with the world. They are always all-natural and geared around weight loss and weight management. I have even made some of these recipes with my Biggest Loser pal Bob Harper! Check out my weight loss story, my best selling cookbooks, and my numerous TV appearances by clicking here.
Nutrition and Calories in Prime Rib Roast
The nutrition and calories below is based off 1 serving (1 slice) of the Healthy Recipe for Prime Rib Roast  recipe above.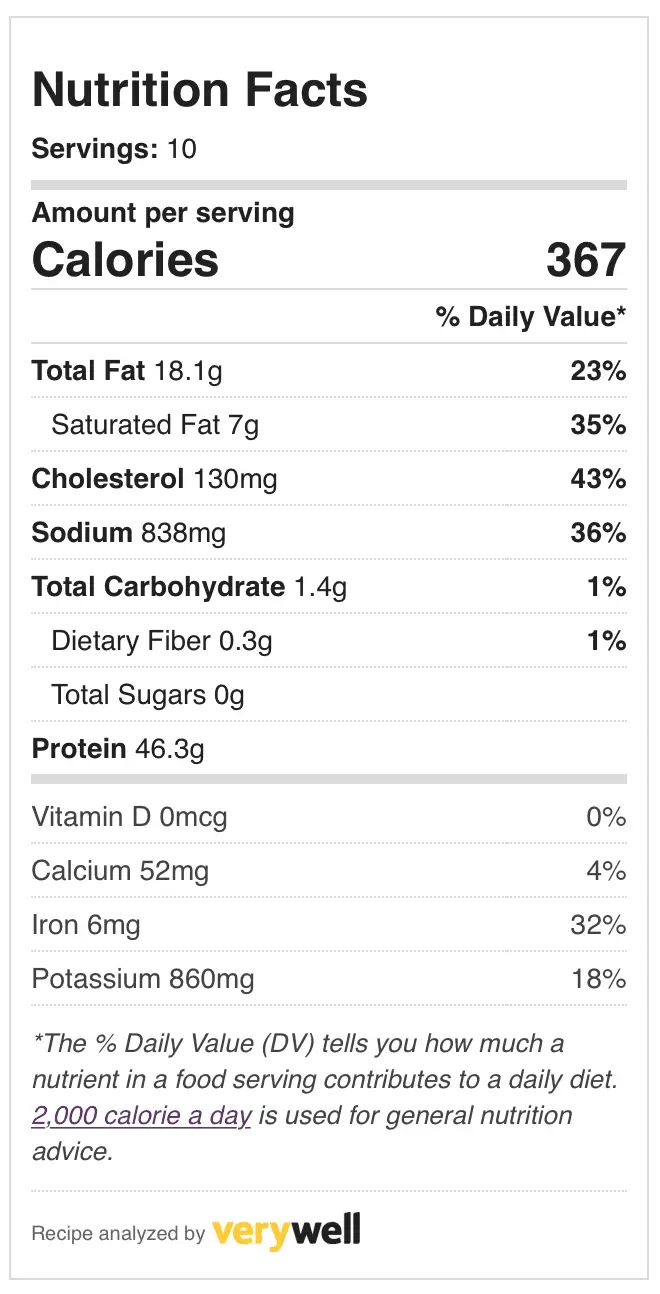 More Weight Loss Recipes:



Lose Weight By Eating Cookbooks

Share this Low Calorie Recipe: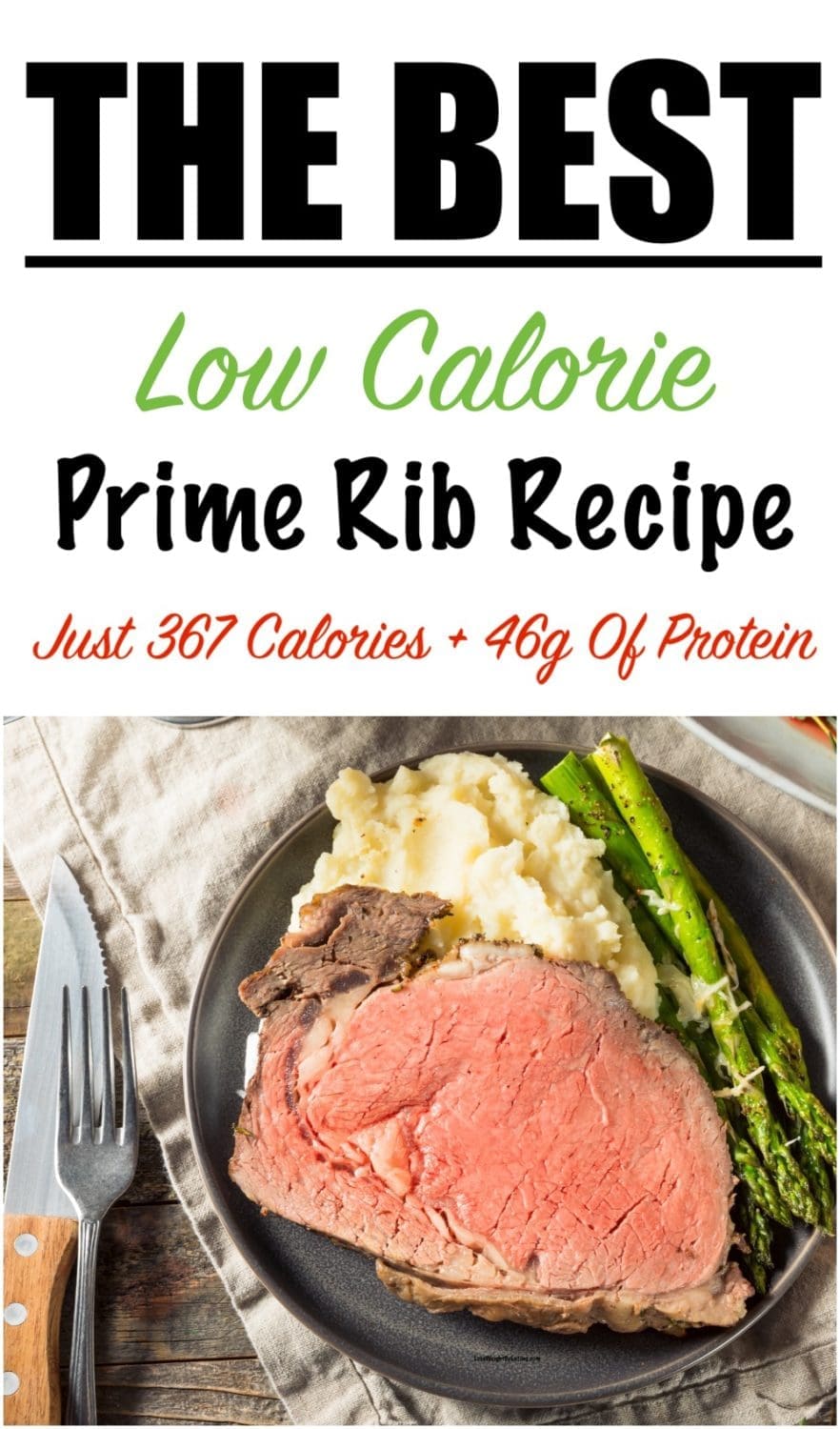 Article History: