All of these 20 Low Calorie Appetizers are healthy and delicious, and perfect for all types of get togethers and parties!
From holidays, to game day, and even for appetizers before dinner. You'll find the best healthy appetizer recipes below.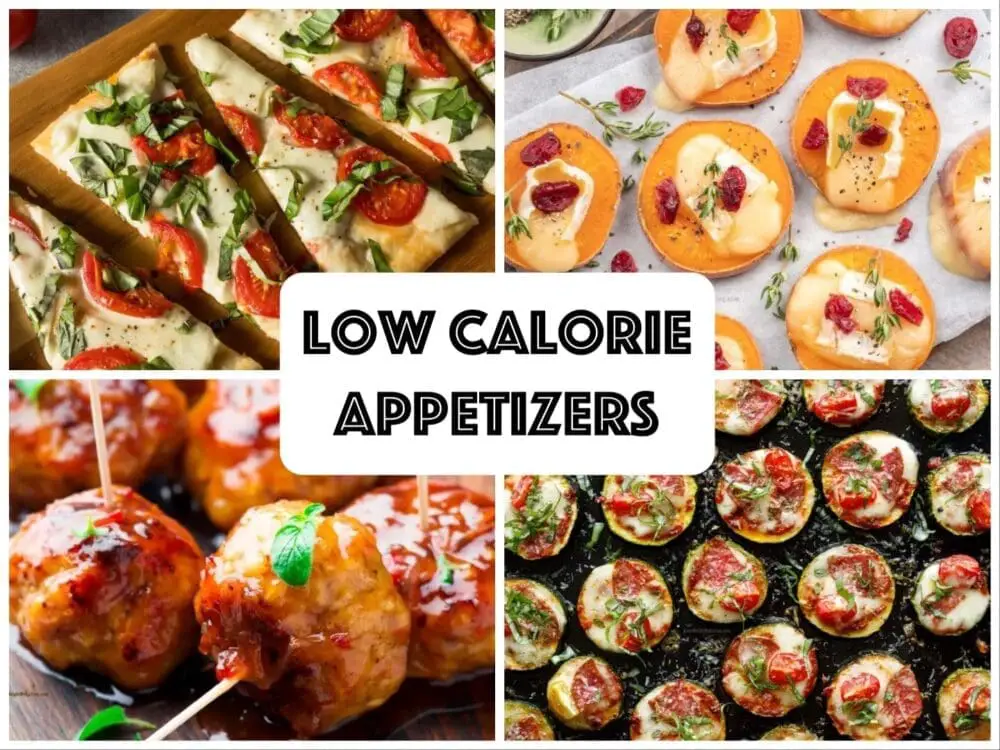 All of these healthy appetizers are 100% all-natural, easy to make, and packed with good for you ingredients. Though they are low in calories, these healthy appetizers taste just as good as the full calorie versions.
Low Calorie Healthy Appetizers
All of these appetizers are healthy, low calories and all-natural. I have included printable recipe cards for each one, plus nutrition alleles, shoppings lists and more. Just click on the photo to collect each one.
This Low Calorie Chicken Satay with Peanut Sauce is just 96 calories per skewer, and that includes the peanut sauce.
Perfect for snacking, these healthy appetizers are quite the crowd pleaser! I know your guests will love them!
These Healthy Spring Rolls are just 130 calories (for an entire roll) and that includes the yummy peanut sauce! 
The peanut sauce is the same as the one in the chicken satay above, I recommend making both together give your guests meaty or veggie packed healthy appetizers.
These Low Calorie Zucchini Pizza Bites are just 36 calories per serving and come with 3 different flavors (traditional, Alfredo, and pesto pizza flavors).
Your guests will love these healthy appetizers, and they won't ruin their appetite for later.
This Low Calorie Chip Dip is just 43 calories and is packed with 5g of protein per serving. 
I like to have these with my Low Calorie Chips (recipe included in this dip recipe), but you can also use veggie sticks! Check out the tips in the article to help you repurpose any leftover chip dip.
These Low Calorie Chips are just 41 calories and come with 3 homemade spice blends!
Perfect with the dips above and below, these low calorie chips are the perfect dipper for your healthy appetizer dips.
These Low Calorie Pizza Rolls are just 55 calories each! And they are big, hockey puck sized appetizers.
Perfect for holiday gatherings, game day, or just snacking. These healthy appetizers will wow your guests.
This Low Calorie Pimento Cheese is just 89 calories for a very large serving, and is a wonderful healthy appetizer dip.
Each serving of this healthy pimento cheese dip is packed with 7.4g of protein and it's low carb too!
These Low Calorie Crackers are just 97 calories and come in flavors like Ranch, Everything "Bagel" and even Garlic Bread flavored crackers.
With so many flavors to try, these healthy crackers will quickly become one of your favorite low calorie appetizer dipper.
This Homemade Low Calorie Hummus Recipe is extra easy, and just 30 calories!
I made this healthy hummus recipe extra quick and easy with the help of canned Chickpeas. 
This Loaded Potato Skins Recipe is just 113 calories and so easy to make! 
Perfect for healthy appetizers, no one will ever believe these are healthy. But they are!
This Low Calorie Spinach Cheese Dip is just 82 calories, and it makes a wonderful healthy appetizer.
Along with the recipe, you'll also find 10 healthy veggies to dip into this low calorie spinach dip. 
This Brie and Sweet Potato Appetizer is easy and impressive!
At just 55 calories easy, and only 4 ingredients (if you don't count salt and pepper) these are sure to impress your guests without over working you. 
These Healthy Chicken Meatballs make great appetizers for holiday gatherings and get togethers year around.
They are just 52 calories and can easily be made gluten-free. 
At just 42 calories each, these no mayo deviled eggs taste just like the originally recipe. But with less calories and more protein!
I use a mayo swap that no one can tell the difference in, and as a bonus there is less fat and cholesterol in this healthy appetizer recipe!
This Low Calorie Smoked Salmon Appetizer is just 53 calories and is a no cook recipe!
Perfect for holiday gatherings, you can make them ahead of time and store them in the fridge until you're ready to serve.
I love serving these Low Calorie Mini Cheese Balls at holiday gatherings. My favorite (by far) is the cranberry walnut version shown in the photo. But I have also supplied you with 4 other flavors.
From salty (bacon and cheese coated) cheese balls, to sweet and savory combination cheese bites. These yummy recipes will keep all your guests happy.
These Low Calorie Cucumber Rolls are great appetizers or snacks. I like to serve them at holiday gatherings, everyone loves them!
I like to make them with Ham and Swiss cheese, but you can easily swap out the meat and or cheese.
This baked artichoke spinach dip recipe is both low in calories, and easy to make!
At just 118 calories per serving you can serve this low calorie appetizer guilt free! It's great with veggie sticks, or my low calorie crackers Or chips (both above).
These Healthy Chicken Lettuce Wraps are low calorie and high protein!
You can have 1/4 the recipe (about 8 chicken lettuce wraps) for just 267 calories and each serving is packed with 23.3g of protein! 
This Low Calorie Flatbread is just 40 calories per slice, and it comes with 6 low calorie flatbread recipes!
Best of all, you can make this healthy flatbread in just 15 minutes, including prep time! Making it a great healthy appetizer to serve to your guests.
Healthy Appetizer Recipe Roundup
All of these healthy appetizers come with printable recipe cards, shopping lists and more. Simply choose and click and collect all the free appetizer recipes you desire.
What to Read Next:

Lose Weight By Eating Cookbooks

Share these Low Calorie Healthy Recipes: