This Low Calorie Healthy Spinach Dip is just 82 calories, and comes with a video on how to make it!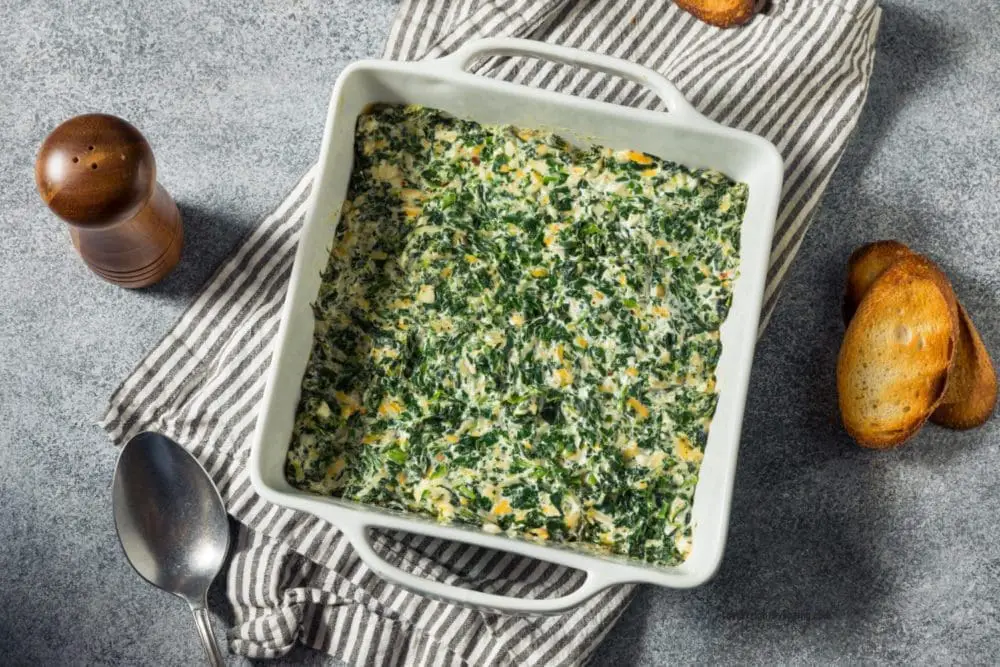 Everything You'll Need
Ingredients You'll Need:
2 tablespoons butter – Olive oil can be used, but butter is best for this recipe.
2 tablespoons all purpose flour – You can also use gluten-free flour.
2 ½ cups unsweetened Almond milk – You can use any unsweetened milk.
2 garlic cloves – Or a dash of garlic powder.
4 cups chopped fresh spinach – Baby spinach is best for this recipe.
¾ cup shredded low fat cheddar cheese – Or regular cheddar cheese.
¼ cup shredded Parmesan cheese – I like freshly shredded in this, but any parm will work.
½ cup 0% Greek yogurt – Or unsweetened cashew yogurt.
Metric Measurements Below in Recipe Card
Low Calorie Spinach Cheese Dip
Healthy Spinach Dip Recipe Variations
Low Sodium Spinach Dip
Feel free to omit the salt from the recipe, also look for low sodium cheese in place of the cheddar and parmesan. Both are high in sodium.
High Protein Spinach Dip
You can easily boost protein in this recipe by adding 1-2 scoops of unflavored collagen powder or protein powder in with the milk.
Low Carb Spinach Dip
This dip is already low carb, and you'll want to choose some carb healthy items to dip into the recipe. I have supplied lots of yummy veggies that are carb friendly below.
Vegan Spinach Dip
You can easily make this recipe vegan! Swap out the butter for vegan butter, and the cheese for vegan cheese.
Low Sugar Spinach Dip
This recipe is already low in sugar, keep the sugar low with healthy veggies to dip with. You can also add in some protein powder (see high protein tips) to boost the protein more and balance out the ingredients.
Gluten Free Spinach Dip
To make this recipe gluten-free simply swap out the flour for gluten-free flour.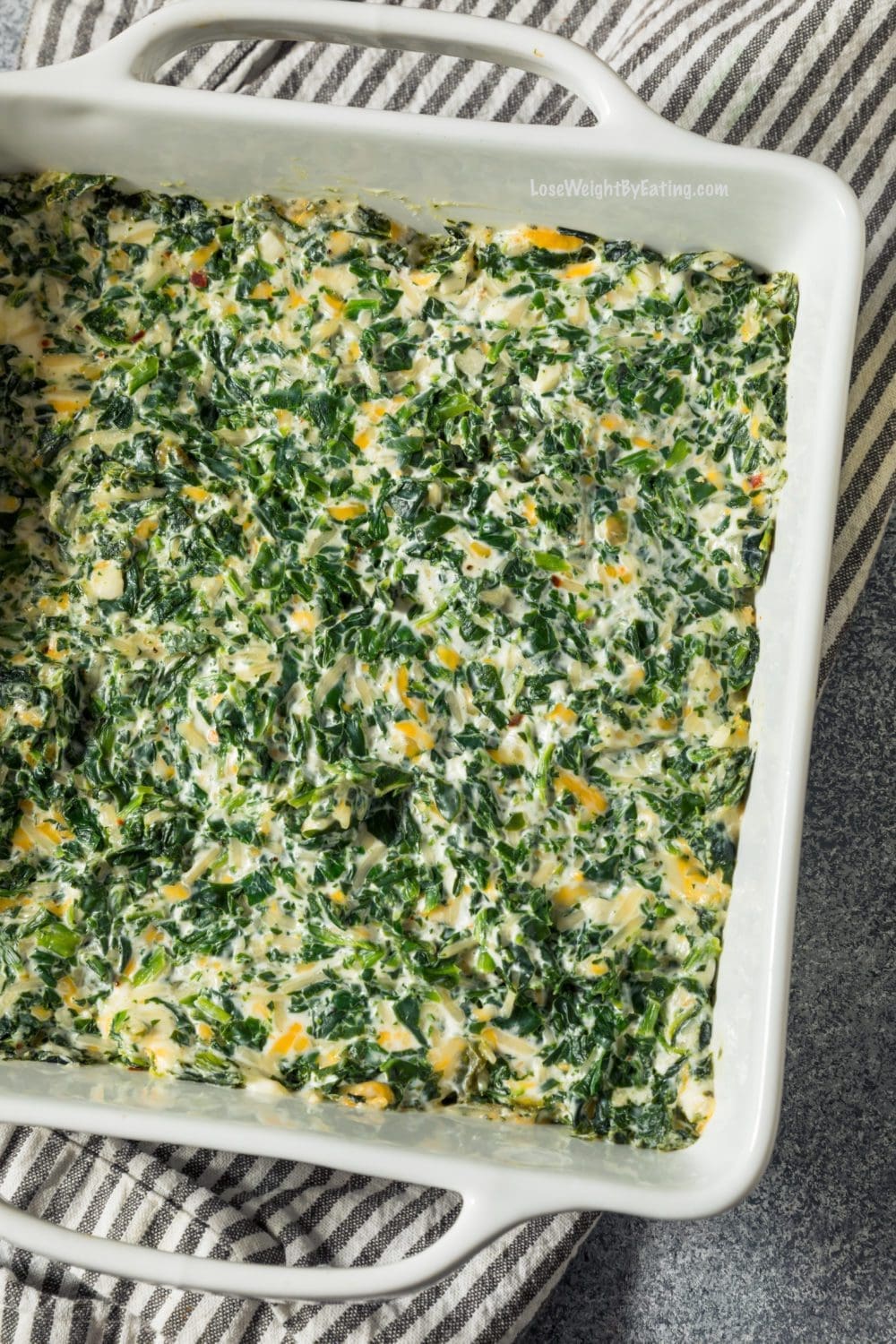 Healthy Spinach Dip Meal Prep and Storage
Meal Prep
Prep – Make the recipe as directed and add to a casserole dish.
Cover – Cover with plastic wrap, or a casserole lid.
Refrigerate or Freeze – Will hold for 4 days in the fridge. And in the freezer for 1 month. 
Cook – Defrost overnight in the fridge if frozen. Uncover and place in an oven at 350 degrees for 20 minutes to warm through.
Leftover Storage
Cook – Cook and serve.
Individual Servings – Add one serving (1/3 cup) to individual containers with vegetable sticks.
Refrigerate or Freeze – Will hold for 4 days in the fridge. And in the freezer (without vegetable sticks) for 1 month. 
Reheat – Defrost in the fridge if frozen. Bake in a 350 degree oven for 20 minutes, or the microwave for 3 minutes.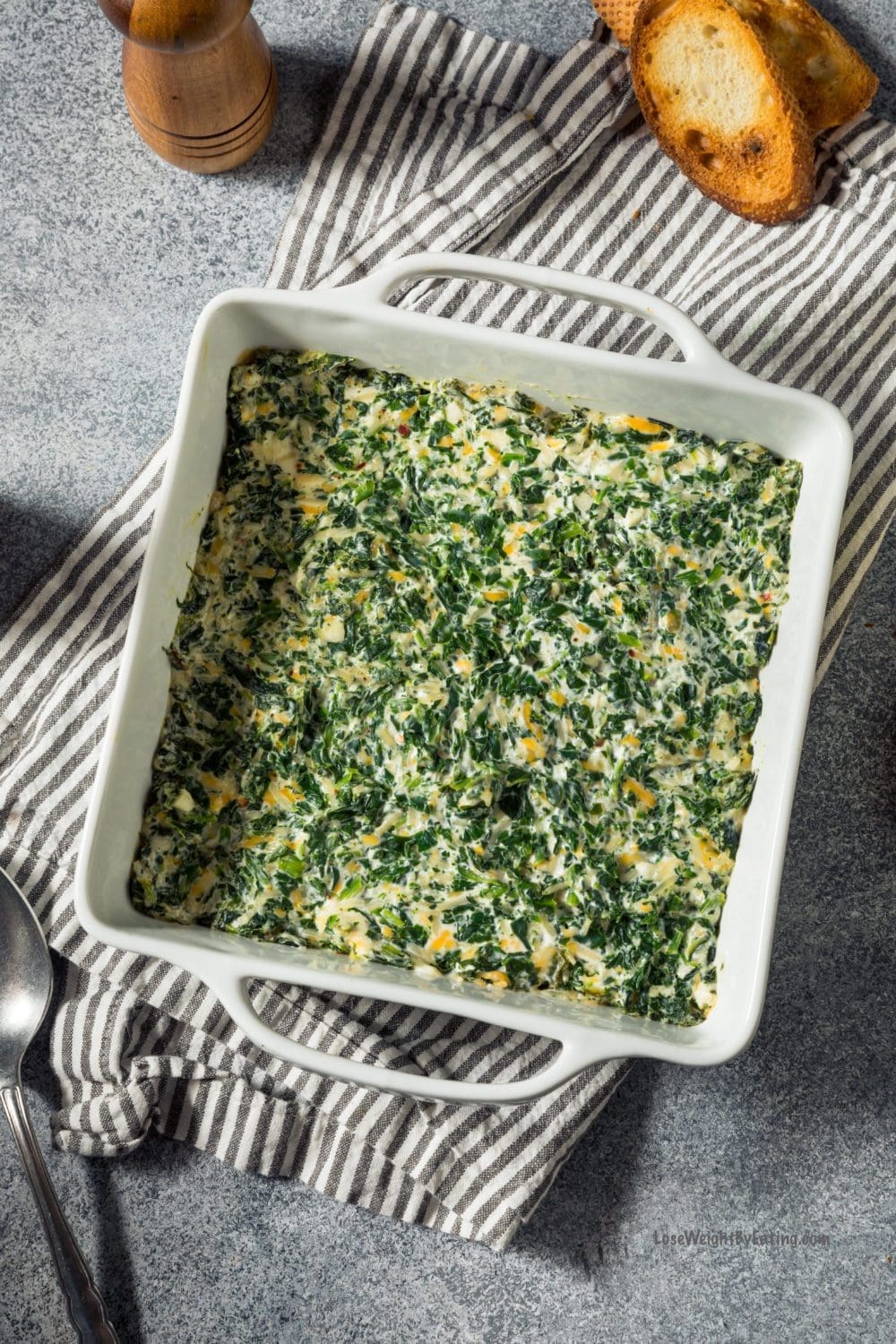 Low Calorie Spinach Cheese Dip Recipe
More Low Calorie Dip Recipes: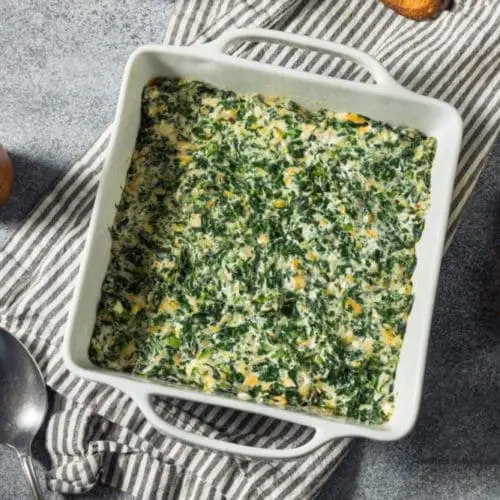 Low Calorie Spinach Dip Recipe (WITH VIDEO!)
This low calorie hot spinach cheese dip is just 82 calories for about 1/3 cup, plus it has over 6g of protein and low sugar and carbs!
I've even included healthy dipping options for this yummy spinach dip, and of course, you can use bread or serve it in a bread bowl as we did in the video.
Special Tip: You can use any unsweetened milk you like, including cows milk.
Instructions 
Melt the butter in a large saucepan over medium heat.

Add in the flour and combine with the butter, stir for about 3 minutes until a paste forms and darkens.

Whisk in the almond milk, add the garlic cloves.

Stir every 2-3 minutes, until the sauce thickens and coats the back of your wooden spoon, about 15 minutes. Then remove the garlic and discard.

Add the chopped spinach and stir, the spinach will wilt and darken.

Once the spinach is wilted and reduced by half (about 5 minutes) remove the pot from the heat and add in the cheese.

Stir together and add in the Greek yogurt, mix again and serve.
Nutrition
Calories:
82
kcal
Carbohydrates:
3.8
g
Protein:
6.1
g
Fat:
5
g
Saturated Fat:
2.5
g
Cholesterol:
10
mg
Sodium:
170
mg
Potassium:
183
mg
Fiber:
0.7
g
Sugar:
1
g
Calcium:
187
mg
Iron:
1
mg
About the Author
Hi, my name is Audrey Johns and I am a 4 time best selling cookbook author! All 4 of my low calorie cookbooks are published by HarperCollins (the oldest publishing house in the US!) and have been featured on prominent TV shows like The Today Show, Rachael Ray and The Doctors. I am a low calorie and healthy recipe authority and my delicious recipes are tried and loved by thousands of readers. 
After a one year 150 pound weight loss (and I've kept it off for 13 years!) I started sharing all of my low calorie recipes with the world. They are always all-natural and geared around weight loss and weight management. I have even made some of these recipes with my Biggest Loser pal Bob Harper! Check out my weight loss story, my best selling cookbooks, and my numerous TV appearances by clicking here.
Nutrition and Calories in Spinach Dip
The nutrition and calories in spinach dip below are based off the recipe above, and a single serving (about 1/3 cup).
More Weight Loss Recipes:


Lose Weight By Eating Cookbooks

Share this Low Calorie Recipe:
Article History:
Originally written and published November 7, 2013 by Audrey Johns
Most recent update on November 12, 2023 by Audrey Johns