These 10 Healthy Pizza Recipes are easy and delicious, and packed with all-natural healthy ingredients!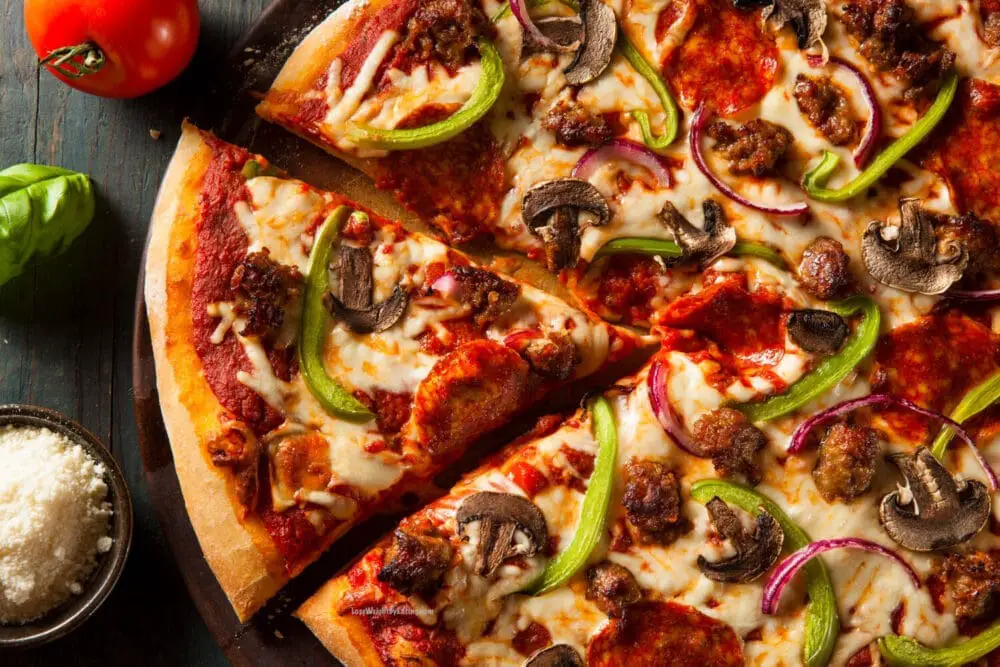 10 Healthy Pizzas
This healthy pizza recipe is just 45 calories per slice, comes with lots of optional toppings (with calorie counts for each) and it can be made into a heart pizza, individual pizzas and so much more.
This Healthy Chicken Alfredo Pizza is just 76 calories and has 6.8g of protein per slice.
This Healthy Pesto Pizza is just 76 calories and it's packed full of flavor!
This Healthy High Protein Pizza has 19g of protein per slice! It's just 154 calories per slice, and that includes the cheese and 3 different protein packed meats!
This Healthy Sheet Pan Pizza is just 45 calories per slice, and it comes with a healthy toppings guide!
This Healthy BBQ Chicken Pizza is just 82 calories, and that includes all of the toppings!
These Healthy Pizza Bagels are just 68 calories and take just 15 minutes to make!
This low calorie Healthy Hot Honey Pizza Recipe is just 131 calories and so easy to make!
These Healthy Portobello Mushroom Pizzas are just 51 calories, have only 8 carbs, and just 2.8g of sugar!
You can have two slices of this healthy taco pizza recipe for just 307 calories. That's just 153 calories per slice (and they are large slices!)
10 Healthy Pizza Recipes
About the Author
Hi, my name is Audrey Johns and I am a 4 time best selling cookbook author! All 4 of my low calorie cookbooks are published by HarperCollins (the oldest publishing house in the US!) and have been featured on prominent TV shows like The Today Show, Rachael Ray and The Doctors. I am a low calorie and healthy recipe authority and my delicious recipes are tried and loved by thousands of readers. 
After a one year 150 pound weight loss (and I've kept it off for 13 years!) I started sharing all of my low calorie recipes with the world. They are always all-natural and geared around weight loss and weight management. I have even made some of these recipes with my Biggest Loser pal Bob Harper! Check out my weight loss story, my best selling cookbooks, and my numerous TV appearances by clicking here.
More Weight Loss Recipes:


Lose Weight By Eating Cookbooks

Share these Healthy Recipes:
Article History: