These 10 recipes for Italian food all make amazing healthy dinners. From a low calorie shrimp scampi, to a baked chicken parmesan recipe with 1/2 the carbs… You'll find 10 amazing Italian food recipes below.
The healthy Italian recipes include vegetarian, chicken, turkey and shrimp Italian recipes. Something for everyone! And at the bottom of the post we have added 5 pasta and pizza sauces (that's 15 recipes total!)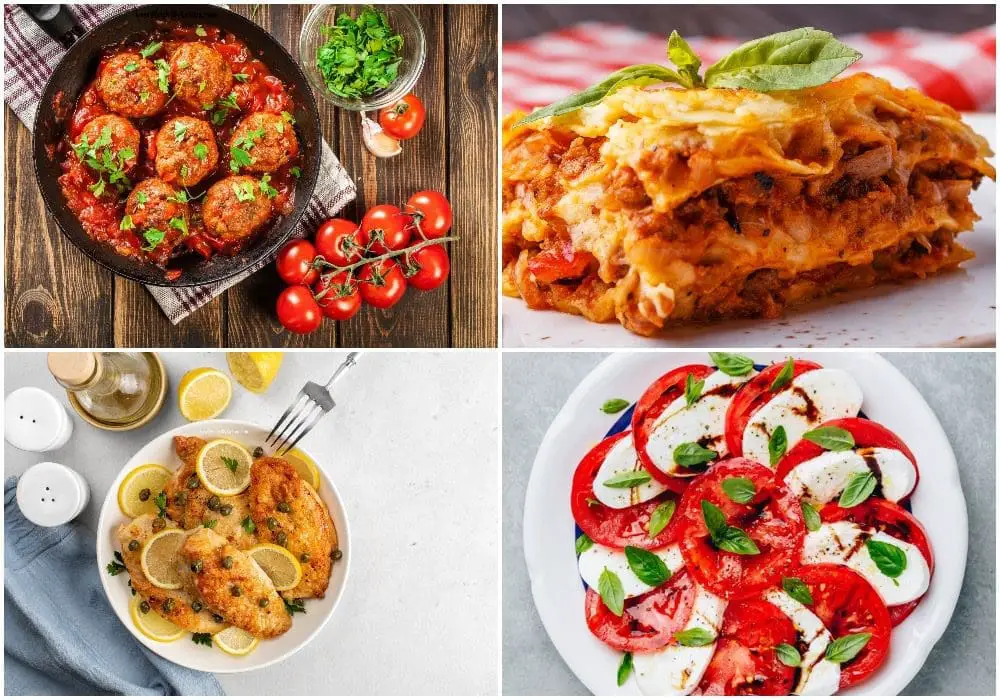 These authentic Italian recipes are all made low calorie and healthy with tips and tricks. These tips help lower calories and fat without sacrificing flavor, texture, and servings size.
We've included vegetarian Italian recipes, shrimp Italian recipes, chicken Italian recipes and more. Plus, as I add new Italian recipes to the Lose Weight By Eating website, I'll add them to the "What to Read Next" section at the bottom (there are already 3 new healthy Italian recipes in there!)
These 10 recipes for Italian food are all low in calories and healthy… and new recipes are added to the "What to Read Next" section often!
10 Recipes for Italian Food for Healthy Dinners
We did our best to keep these Italian recipes traditional. As an Italian myself, I did not want to offend my ancestors. But some tricks were employed (like baking the chicken Parmesan instead of frying it) to make these recipes taste traditional while saving calories.
From Italian recipes spaghetti dishes to protein packed recipes. These easy Italian recipes including something for everyone, and all diets.
After the 10 recipes, you'll find 5 additional Italian sauce recipes, all low in calories and healthy. So be sure to keep scrolling for many more recipes at the bottom of the page.
And to make these Italian recipes easy, we've added links to all the recipes in several places. Including the large photos… you can click on the photo and it will bring you right to the low calorie Italian recipe. Same with the snippet of the printable recipe cards.
These low calorie recipes for Italian food include vegetarian, chicken, turkey and shrimp options… something for everyone.
Italian recipes for chicken are easy, delicious, and protein packed. We started this list of the best low calorie Italian recipes with this healthy Fettuccine Chicken Alfredo Recipe.
This meal is under 400 calories and can be made (from start to finish) in just 30 minutes!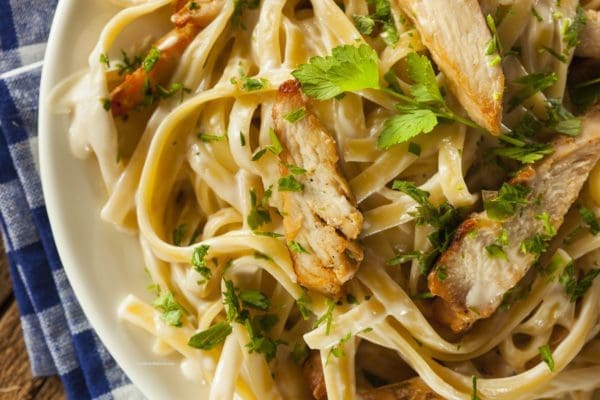 This healthy Italian recipe with chicken also comes with 5 vegetable "add-ins" to make the servings larger and the recipe even healthier.
This 30 Minute Baked Ziti vegetarian Italian recipe is just 255 calories and it makes a wonderful weeknight meal. It freezes well and can be reheated easily.
Vegetarian Italian recipes makes wonderful healthy Italian recipes, and they are also low in cost. Best of all, this Italian dinner recipe can be made in under 30 minutes start to finish!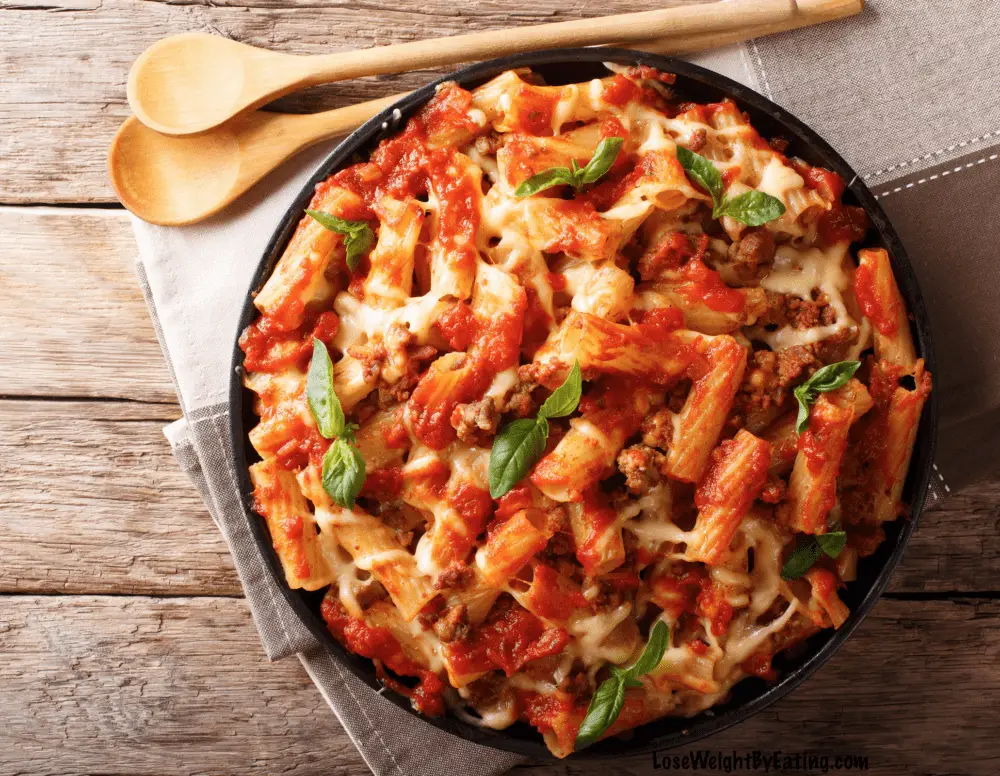 Supplied with our Italian recipes vegetarian style meals, we have also shared 3 add-ins to boost protein, increase flavor, and add even more vegetarian protein.
Not all recipes for Italian food are smothered in marinara sauce. This Easy Chicken Piccata Recipe is one of the best Italian recipes with chicken.
Best of all, this Italian chicken dinner is only 113 calories and has 11.9g of protein!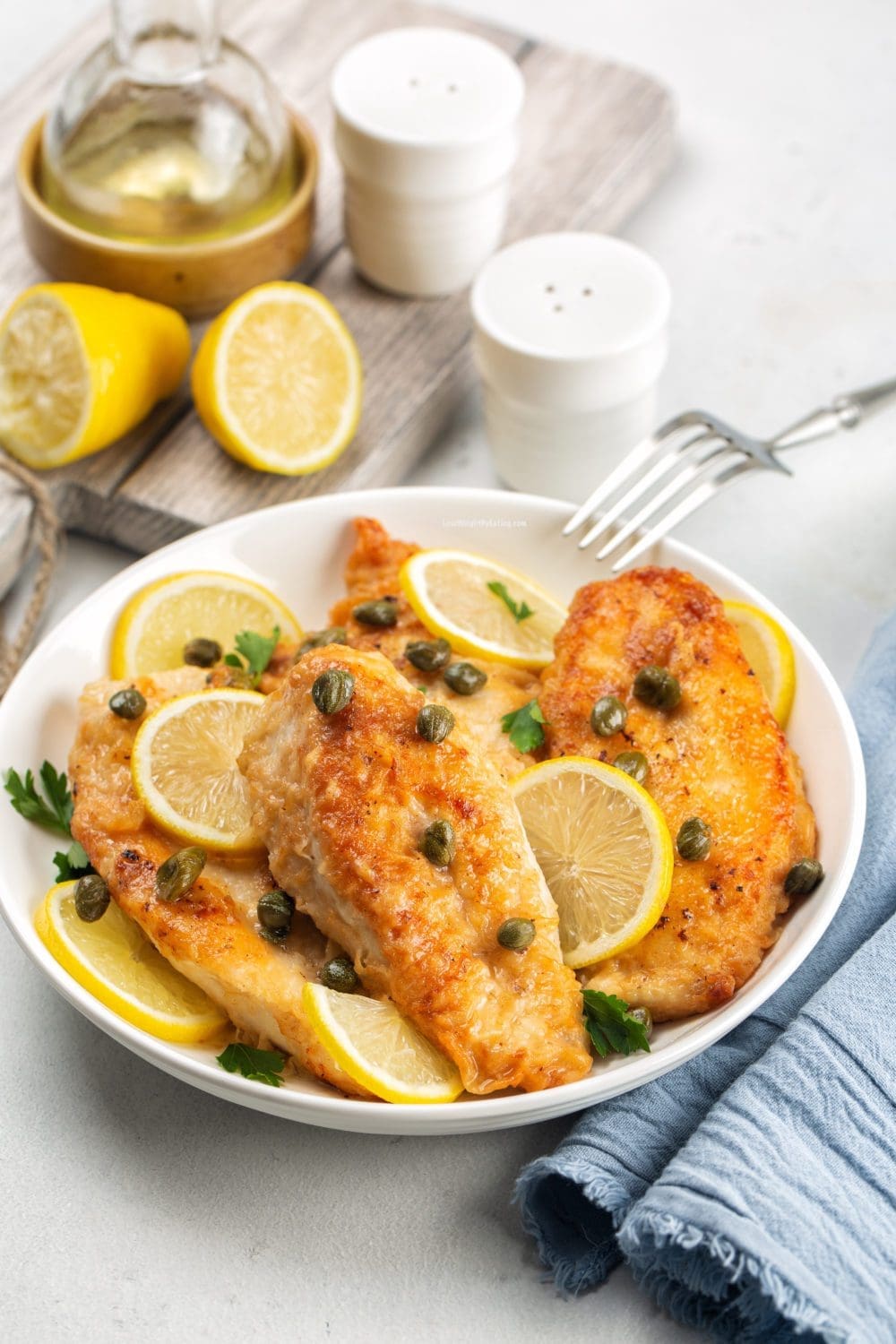 Most chicken piccata recipes are VERY high in calories. But we made all our authentic Italian food recipes healthy and low in calories with our tips and tricks to make Italian food healthy.
For easy Italian recipes, this low calorie Caprese Salad Recipe is fantastic! At just 82 calories, this vegetarian Italian recipe makes a great side dish.
You can make this healthy Italian recipe in just 5 minutes, with just 5 ingredients (not counting salt and pepper).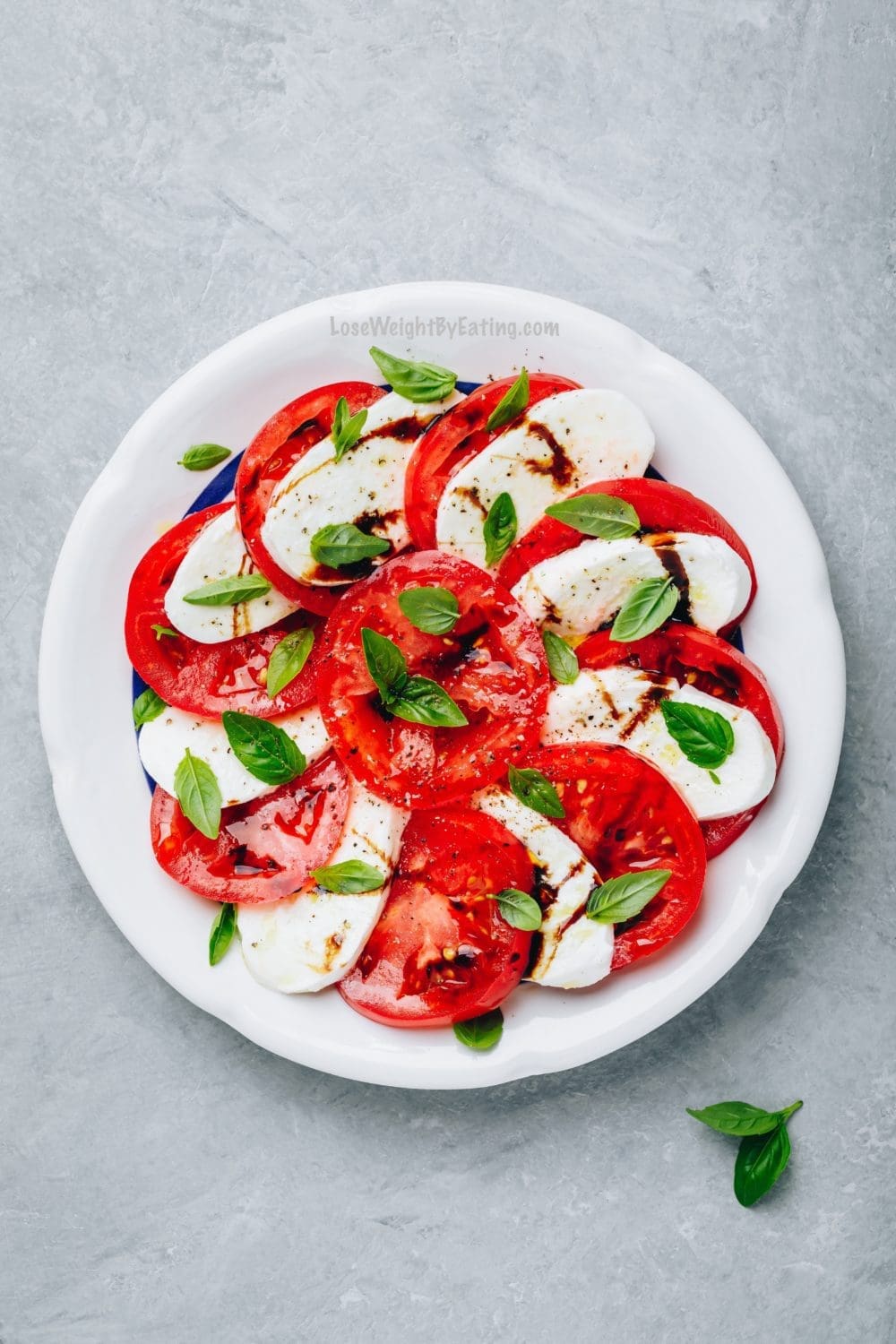 To make the best Italian recipes for dinner, you need a great side dish. This this recipe goes great with Italian recipes for pasta, or chicken.
This low calorie Lasagna Recipe is one of the best recipes for Italian food! It's low in calories (just 361 calories!) It's easy thanks to the "No-Boil" lasagna sheets. And we made this Italian recipe for pasta healthy, with our low calorie tricks.
Perhaps the best part of this low calorie Italian recipe is that there are just 4 servings per 9×9 baking dish… that's a HUGE serving for just 361 calories!
Of all the Italian food dishes, this is my favorite. This Italian recipes lasagna dish is packed full of flavor and tastes sinful. But it's got lots of hidden vegetables and a very healthy Italian recipes dinner dish.
For protein packed Italian recipes for dinner, this Turkey Meatball Crockpot Recipe is great! You can use it to top Italian recipes with pasta, make low calorie meatball sandwiches, or just enjoy alone.
We like to keep our Italian recipes easy, and this. crockpot Italian recipe is no exception. You can cook these all day and come home to an amazing meal.
This slow cooker Italian recipe is made with turkey to make it healthier… But we add a little something special to the meatballs to make them taste and look like beef or pork meatballs.
This Healthy Spicy Pasta with Shrimp Recipe is one of the best Italian recipes with shrimp. The shrimp Italian recipes pasta dish is spicy and delicious, and just 222 calories!
Authentic Italian recipes vary depending on region. This Italian seafood recipe takes just 20 minutes to make and oh-so-healthy!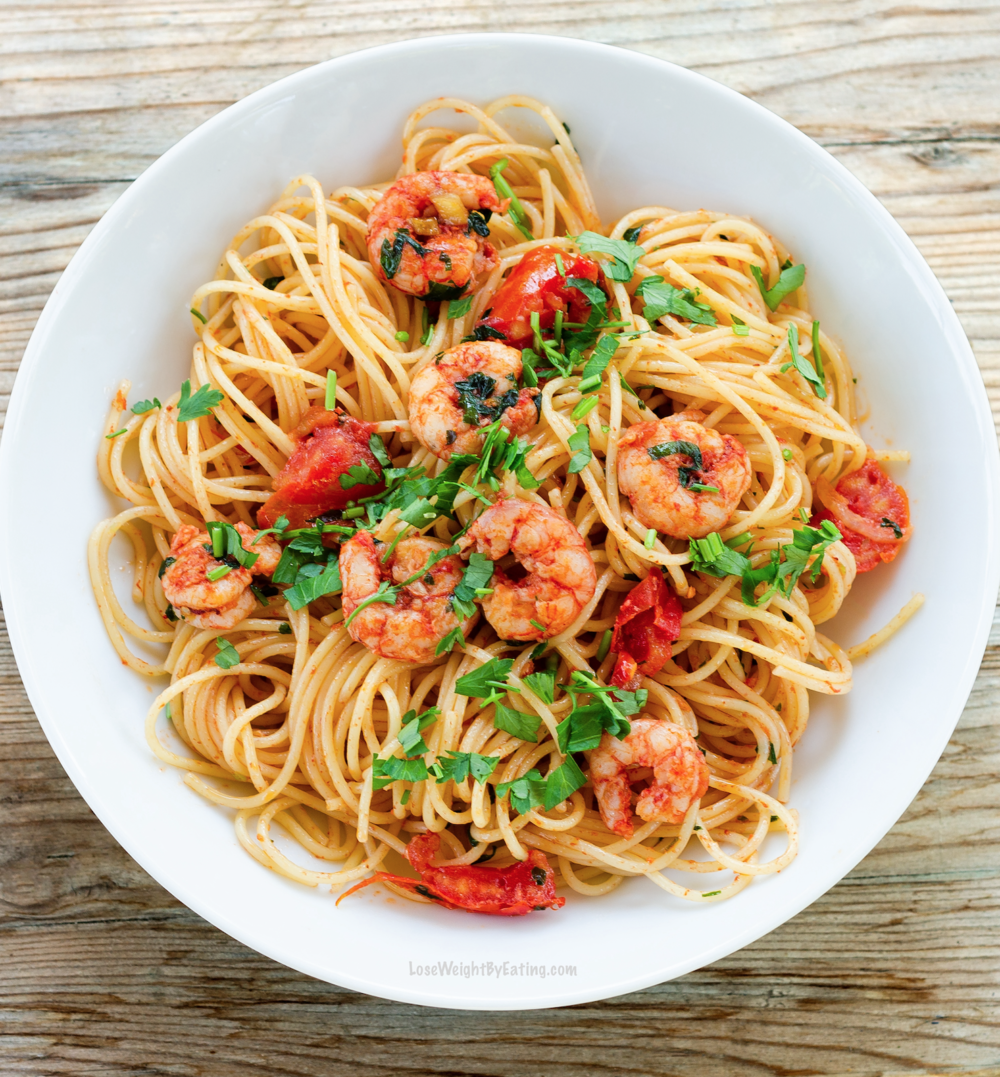 For Italian recipes spaghetti with shrimp, this spicy pasta is one of the best! But if you don't like spicy food, we've included a mild sauce for you as well.
These healthy recipes for Italian food will show you how to make Healthy Pizza from start to finish. From our "no cook" pizza sauce, to the low calorie homemade pizza dough.
This healthy Italian recipe makes 3 pizzas and you can enjoy 3 slices for only 344 calories!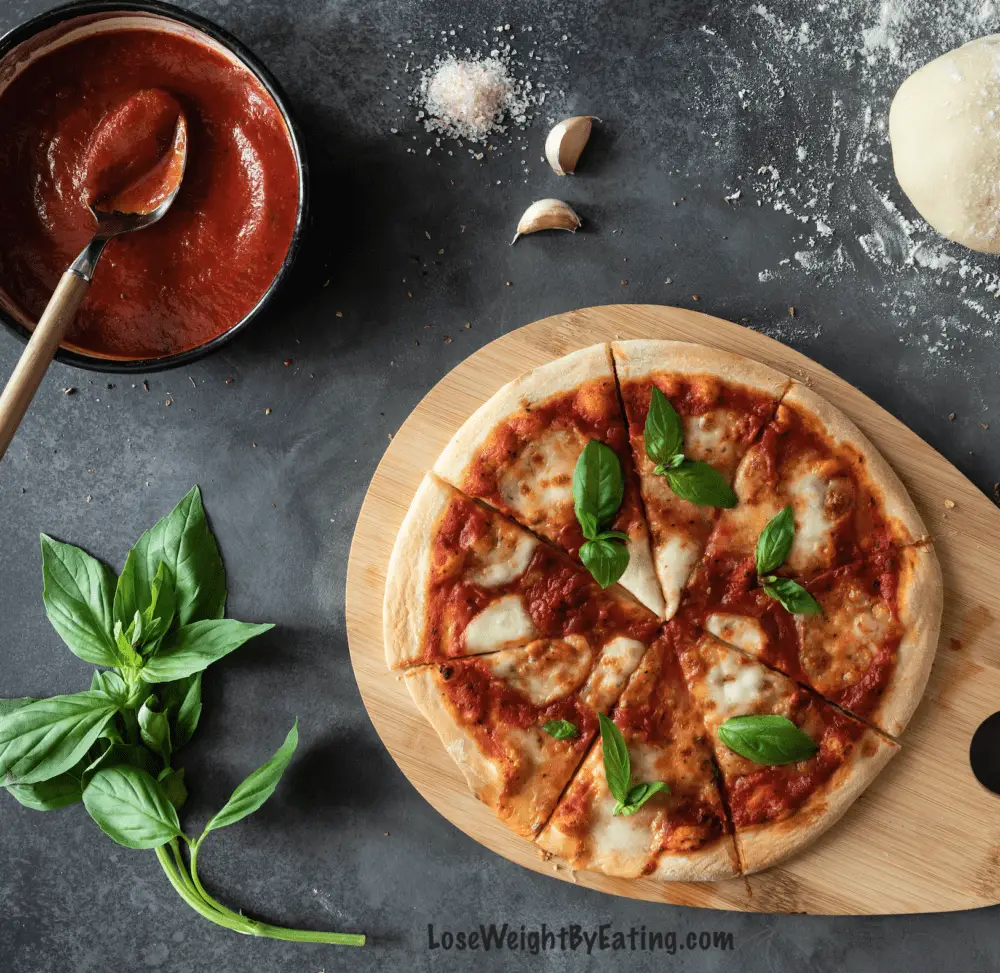 Along with the recipe card, you'll find a video of Rachael Ray and I making these yummy healthy Italian recipes together!!
This low calorie Italian recipes chicken dish is just 408 calories, and packed full of protein! This Baked Chicken Parmesan Recipe is easy and yummy, and we don't pound the chicken breasts into cutlets to save calories (and time, and work!)
You see, when you pound the chicken breasts into flat cutlets, you need a lot of breadcrumbs to cover them. But not as many (in fact 1/2) when you skip the cutlet step.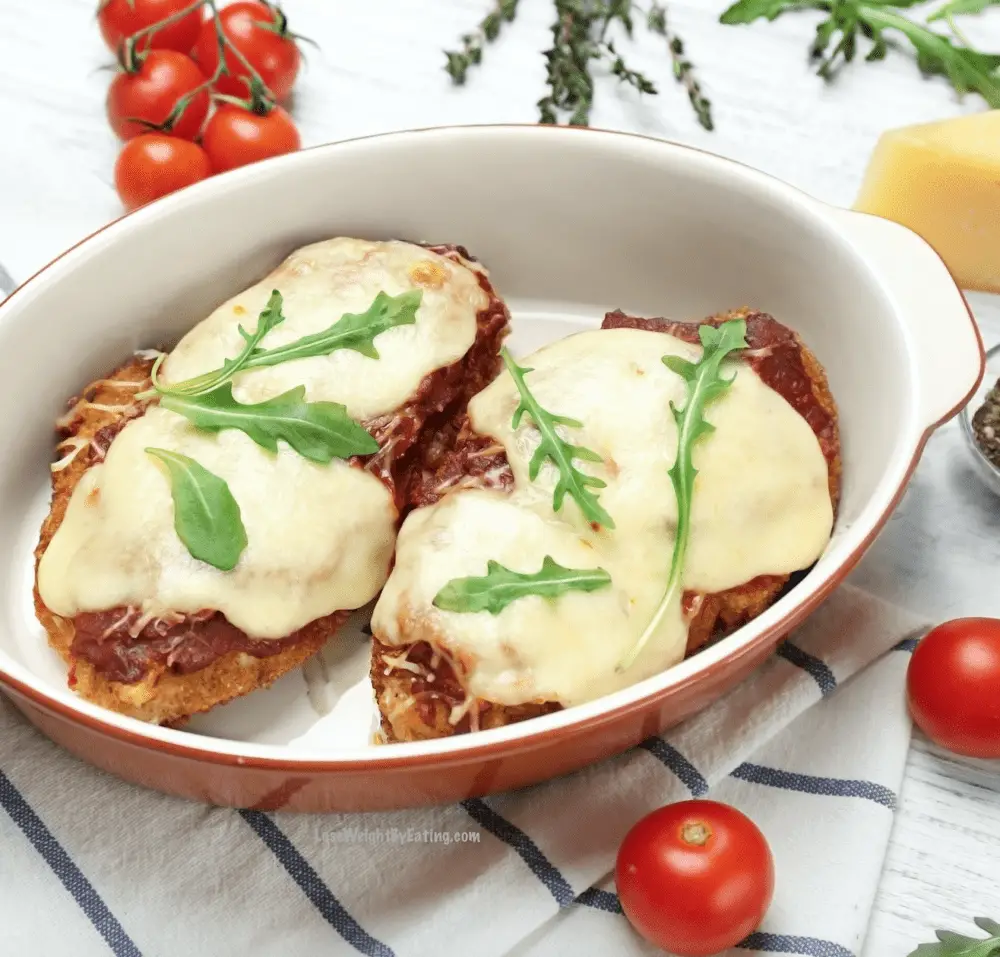 Italian recipes traditional dishes can be slightly modified to save 100's of calories. In this one you'll learn how to save calories and carbs!
This shrimp Italian recipe is healthy and low calorie. We cut calories and fat in this Shrimp Scampi with Linguine, making one of the most popular Italian recipes authentic, but also healthy.
This healthy recipe for Italian food takes just 17 minutes to make! It's a wonderful healthy dinner recipe for weeknights, date nights, just about anytime!
Italian food recipes can be fast and easy. This shrimp Italian recipe is also healthy, low calorie, and absolutely delicious.
5 Healthy Pasta and Pizza Sauce Recipes
These 5 Italian sauce recipes are all low in calories and easy to make.
All of the sauces will work with the recipes above, and you can also get creative and add them to your favorite pasta.
10 Healthy Italian Recipes for Dinner:
What to Read Next:


Lose Weight By Eating Cookbooks

Add These Italian Recipes to Pintrest: