This Low Calorie Chicken Parmesan is just 362 calories, and has 58.5g of protein!
It's easy to make healthy chicken parmesan. With my healthy tips I shaved off nearly 1000 calories when compared with restaurant chicken parmesan recipes!
This chicken parmesan recipe is easy and delicious, and is made in only 30 minutes. Making it a great weeknight dinner.
Most chicken with parmesan recipes call for lots of oil. Even more cheese (don't worry there is plenty of cheese in this recipe!) and this creates an unhealthy dinner.
I shaved nearly 1000 calories off traditional chicken parmesan recipes to make this healthy baked chicken parmesan recipe…
Low Calorie Chicken Parmesan
What You'll Find in this Article:
Ingredients in Healthy Chicken Parmesan
This recipe for chicken parmesan has simple, whole ingredients. I recommend you make your own marinara sauce, or buy organic.
My low calorie marinara sauce can easily be modified to suit your dietary needs. Including cutting the sodium.
This healthy baked chicken parmesan recipe uses as little oil as possible. It has just the right balance of cheese to curb cravings, without being too heavy.
Shopping List for Skinny Chicken Parmesan:
Chicken breasts
Parmesan cheese
Egg
Mozzarella cheese
Olive oil spray
Panko bread crumbs
Low Calorie Marinara Sauce (or store-bought)
Garlic powder
Pepper
How to Make Healthy Chicken Parmesan
I make this easy chicken parmesan even easier (and lower in calories) by not flattening the chicken.
In a traditional recipe for chicken parmesan you flatten the chicken breast. This results in a flat, but huge space to cover with breadcrumbs. Just skipping that one step will save you 100's of calories.
Making it this low calorie way will save you up to 10 minutes in prep work too!
How to Make Skinny Chicken Parmesan:
Preheat the oven to 425 degrees.
In a pie pan or large shallow bowl, mix together the panko bread crumbs, Parmesan, and garlic powder. In another pie pan or shallow bowl, whisk the egg.
Spray a large skillet with olive oil spray and place over medium-high heat.
Working with one at a time, dunk a chicken breast in the egg, then the bread crumb mixture, and place it in the hot skillet. Cook for 10 minutes on each side, or until golden brown.
Transfer the chicken to a rimmed baking sheet, top with the marinara sauce and mozzarella, and bake for 10 minutes or until the cheese is melted and the chicken is cooked through (no pink on the inside and the juices run clear).
Serve the chicken hot, and try it with the broccoli recipe in the video below…
Healthy Tips and Swaps
You can easily modify this healthy chicken parmesan to suit your own dietary needs!
Low Carb Chicken Parmesan
To make low carb chicken parmesan, skip the breadcrumbs and egg steps. Instead of dredging the chicken in egg and breadcrumbs, sprinkle the parmesan and garlic powder over the chicken breasts. Just continue the cooking just as directed.
Gluten-Free Chicken Parmesan
You can easily make gluten-free chicken parmesan by swapping out the breadcrumbs with gluten free breadcrumbs. They are easily found at the store. You can also toast your favorite gluten free bread, cool and then add to a food processor. Pulse until you have breadcrumbs.
Low Sodium Chicken Parmesan
To make low sodium chicken parmesan, make your own marinara sauce and skip the salt in that recipe. Also make sure you get unflavored Panko breadcrumbs as many flavored breadcrumbs have added salt.
High Protein Chicken Parmesan
This chicken parmesan is already high protein. You can cut carbs by skipping the breadcrumbs (see Low Carb Chicken Parmesan above) and by serving without pasta. My favorite way to enjoy this low calorie high protein chicken Parmesan in over a bed of baby spinach.
Low Sugar Chicken Parmesan
This chicken parmesan is already low sugar. You can make sure to keep the sugar low by making your own marinara sauce. The stuff you get at the store is packed with added sugar.
Low Calorie Chicken Parmesan Recipe
This easy recipe for chicken parmesan can be made in just 30 minutes! I make the chicken parmesan easy by eliminating one step, flattening the chicken. Earlier I reviews how many calories you can save just by skipping one step in making chicken parmesan .(see above)
More Low Calorie Chicken Recipes:
Low Calorie Chicken Parmesan
This healthy baked Chicken Parmesan recipe is easy to make and low in calories!
In the recipe and the video below I will share tips to make this baked chicken parmigiana easy and healthy… without any weird ingredients!
Ingredients  
4

boneless skinless chicken breasts

2

tablespoons

grated parmesan

1

egg

½

cup

shredded mozzarella cheese

Olive oil spray

½

cup

Panko bread crumbs

or gluten-free

½

teaspoon

garlic powder

⅛

teaspoon

pepper
Serve Chicken Parmesan With:
Instructions 
Preheat the oven to 425 degrees.

In a pie pan or large shallow bowl, mix together the panko bread crumbs, Parmesan, and garlic powder. In another pie pan or shallow bowl, whisk the egg.

Spray a large skillet with oil spray and place over medium-high heat.

Working with one at a time, dunk a chicken breast in the egg, then the bread crumb mixture, and place it in the hot skillet. Cook for 10 minutes on each side, or until golden brown.

Transfer the chicken to a rimmed baking sheet, top with the marinara sauce and mozzarella, and bake for 10 minutes or until the cheese is melted and the chicken is cooked through (no pink on the inside and the juices run clear).

Serve the chicken hot, and try it with the broccoli recipe in the video below…
Nutrition
Serving:
1
chicken breast
Calories:
362
kcal
Carbohydrates:
12.9
g
Protein:
58.5
g
Fat:
7.9
g
Saturated Fat:
1.9
g
Cholesterol:
178
mg
Sodium:
486
mg
Potassium:
45
mg
Fiber:
1.1
g
Sugar:
2.5
g
Calcium:
106
mg
Iron:
3
mg
Nutrition and Calories in Chicken Parmesan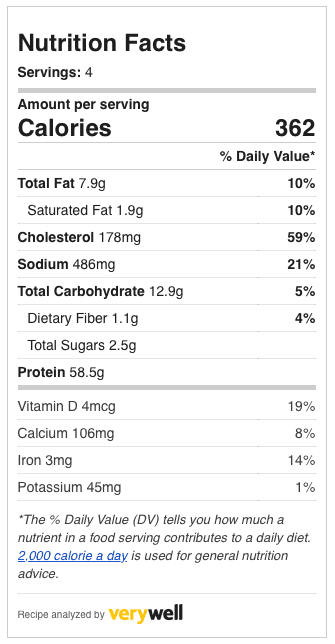 More Weight Loss Recipes:


Lose Weight By Eating Cookbooks

Share this Low Calorie Recipe: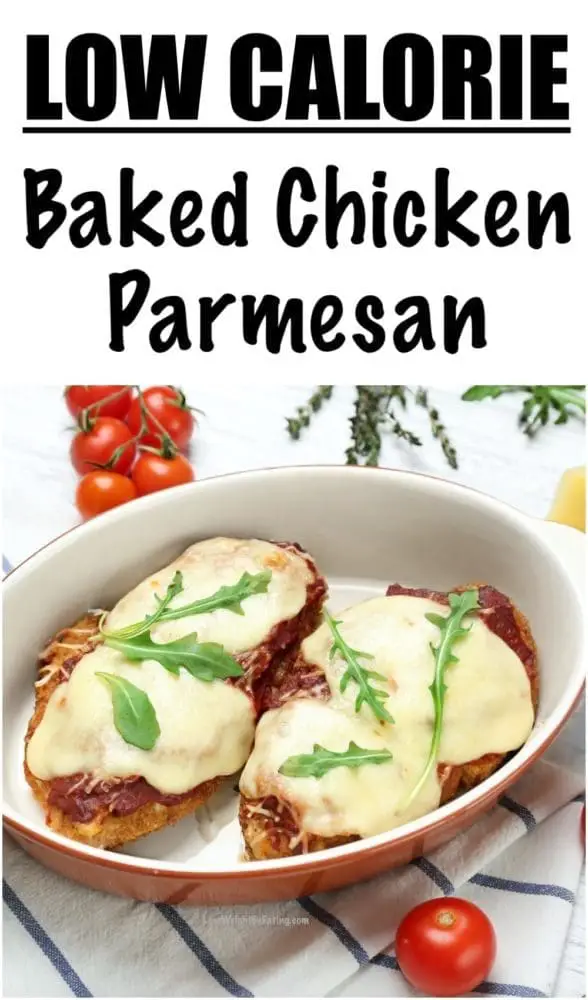 Article History: