This Healthy Carne Asada recipe is just 239 calories and it's packed with 30.4g of protein per serving! Try this low calorie carne asada over salads, nachos, in burritos, tacos and wraps.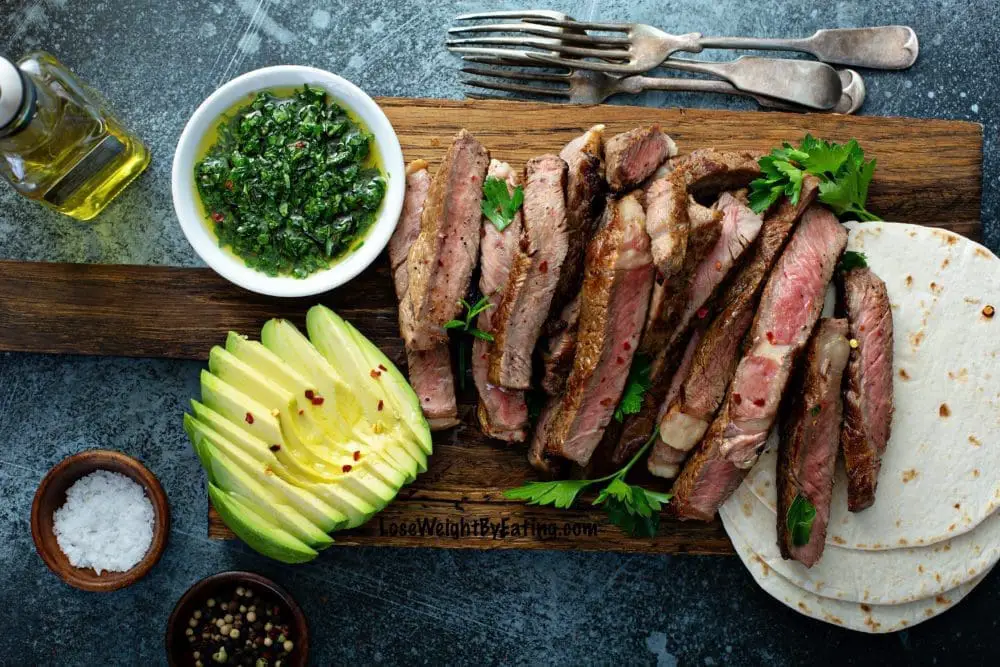 Everything You'll Need
Ingredients You'll Need:
4 limes – Fresh limes are best.
4 garlic cloves – 1 teaspoon garlic power will also work.
1 cup fresh cilantro – Fresh is best, but you can use 1 teaspoon dried cilantro.
1 jalapeño – Remove the seeds and ribs if you are sensitive to spice.
2 tablespoons distilled white vinegar – Apple Cider Vinegar also works.
Pinch of freshly ground black pepper – Any pepper will work, a "pinch' is 1/8 teaspoon.
2 pounds skirt steak – Flank steak also works.
Olive Oil Spray – Or 2 teaspoons olive oil.
Metric Measurements in Recipe Card
Healthy Carne Asada
Skip Ahead:
Low Calorie Carne Asada Recipe Modifications
Low Sodium Carne Asada
I was able to make this Carne Asada without any salt, thanks to the limes. So it is as low in sodium as I can make it. Make sure that the items you serve with it are low sodium. I supplied you with some homemade toppings and tortillas/shells below. Make sure to omit the salt from any of those to keep the meal low sodium.
Gluten-Free Carne Asada
This Carne Asada is already gluten free because I made my own marinade. If you purchase pre-marinated carne asada it often has gluten in it due to the marinade.
Low Fat Carne Asada
To make this Carne Asada low fat, trim off all of the fat from the meat, and be sure to use olive oil spray. It's such a fine mist that you hardly use any at all. You can also skip the oil if you desire.
Low Carb Carne Asada
This Carne Asada is already pretty low in carbs, you can find low calorie high protein tortillas below or serve in lettuce cups to keep the carbs extra low.
High Protein Carne Asada
This Carne Asada is already very high in protein, you can keep the recipe high protein by serving over a salad or in lettuce cups in place of taco shells or wraps.
Low Calorie Carne Asada Meal Prep and Storage
Meal Prep
Prep – Make the marinade and add to a gallon freezer bag along with the steak.
Cover – Close well and squish around to get the marinade all over the steak.
Refrigerate or Freeze – Will hold for 4 days in the fridge. And in the freezer for 1 month. 
Cook – Defrost overnight in the fridge if frozen. And cook as directed below (you can print out the recipe card and tape it to the bag).
Leftover Storage
Cook – Cook as directed below, rest and slice.
Individual or Family Servings – Add one serving to small containers for single serve. Or as many servings as you need for the full family for family servings. Cover and store for later. 
Refrigerate or Freeze – Will hold for 4 days in the fridge. And in the freezer for 1 month. 
Reheat – Defrost in the fridge if frozen. Microwave for 3 minutes, or add to a dry pan and cook until heated through.
Healthy Carne Asada Recipe
More Low Calorie Beef Recipes: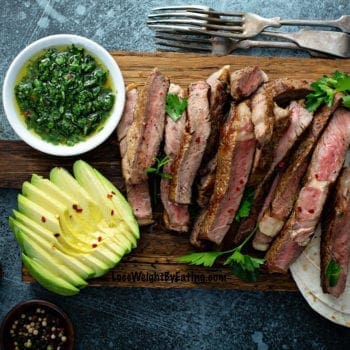 Low Calorie Carne Asada
This low calorie carne asada recipe is easy to make and delicious to eat!
I cut 100's of calories by removing the oil from the marinade, and replacing it with more lime juice… Which is both lower in calories, and better at tenderizing the meat.
Ingredients  
Juice of 4 limes

4

garlic cloves

1

cup

fresh cilantro sprigs

1

jalapeño

2

tablespoons

distilled white vinegar

Pinch

of freshly ground black pepper

2

pounds

skirt steak
Instructions 
In a blender, combine the lime juice, garlic, cilantro, jalapeño, vinegar, and pepper and blend until smooth. Transfer the marinade to a resealable gallon bag. Add the steak, seal the bag, and marinate in the fridge for at least 2 hours and up to 24 hours.

Preheat a grill to high heat.

Remove the steak from the marinade, and discard. Then lightly spray the steak with olive oil spray.

Grill the steak for 7 to 10 minutes on each side, until it reaches your desired doneness.

Let the steak rest for 10 minutes, then slice and serve.
Nutrition
Serving:
4
oz
Calories:
239
kcal
Carbohydrates:
1.4
g
Protein:
30.4
g
Fat:
11.5
g
Saturated Fat:
4.4
g
Cholesterol:
67
mg
Sodium:
88
mg
Potassium:
367
mg
Fiber:
0.2
g
Sugar:
0.3
g
Calcium:
18
mg
Iron:
3
mg
About the Author
Hi, my name is Audrey Johns and I am a 4 time best selling cookbook author! All 4 of my low calorie cookbooks are published by HarperCollins (the oldest publishing house in the US!) and have been featured on prominent TV shows like The Today Show, Rachael Ray and The Doctors. I am a low calorie and healthy recipe authority and my delicious recipes are tried and loved by thousands of readers. 
After a one year 150 pound weight loss (and I've kept it off for 13 years!) I started sharing all of my low calorie recipes with the world. They are always all-natural and geared around weight loss and weight management. I have even made some of these recipes with my Biggest Loser pal Bob Harper! Check out my weight loss story, my best selling cookbooks, and my numerous TV appearances by clicking here.
Nutrition and Calories in Carne Asada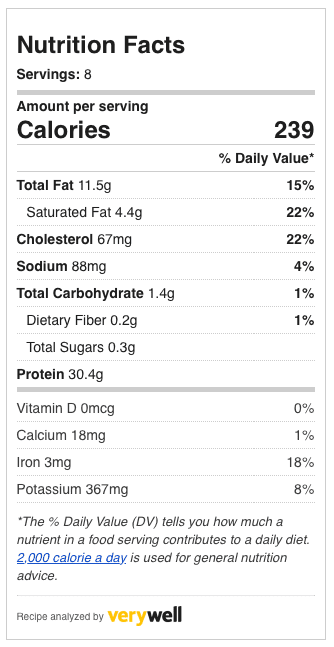 More Weight Loss Recipes:



Lose Weight By Eating Cookbooks

Share this Healthy Recipe: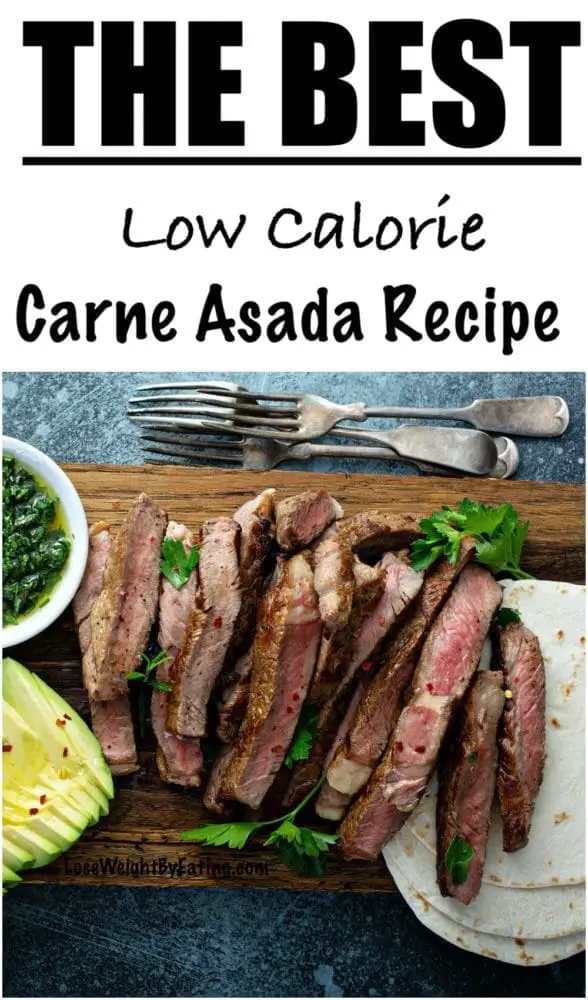 Article History: