French Bread Pizza for weight loss… it can be done! Many of you know of my 150 pound weight loss transformation, and have seen me talk about it on TV… but have you seen me recently? I've shed another 20 pounds and never felt younger, healthier and more confident in my body. I've also never eaten so much food in a single day… ha ha
In my new book you'll get 4 weight loss plans, for any stage in life (pregnant and nursing moms, I've got you covered as well) and over 130 delicious, metabolism boosting recipes to take the hard work out of weight loss and weight maintenance.
Here is the recipe for my new Vegetarian French Bread Pizza… and I know what you're thinking, "French Bread Pizza, that CAN'T be healthy" but I assure you I do a real number on the bread and make it healthy, so you can feed your cravings and feel satisfied, while eating healthy and losing weight.
Grab a copy of Lose Weight By Eating-Detox Week and start losing weight faster than ever, you can pick it up here, or anywhere books are sold.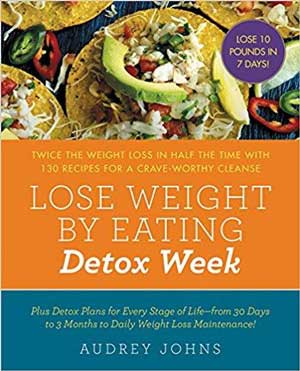 Vegetarian French Bread Pizza Recipe
Makes 4 servings
Serving size: ½ French bread pizza
Per serving: calories 232; fat 8 g; saturated fat 5 g; fiber 4 g; protein 11 g; carbohydrates 29 g; sugar 7 g
Prep time: 15 minutes
Cook time: 20 minutes
I know what you're thinking: How on earth can I eat French bread pizza and lose weight? Well, I really do a number on the poor loaf of bread—I take out almost all the inside of the bread, saving calories and unnecessary carbohydrates.
So try this baby out, and don't feel bad if you let out an evil laugh while destroying the loaf of bread—I always do!
1 (8-ounce) can tomato sauce
2 tablespoons tomato paste
10 large fresh basil leaves, chopped
2 garlic cloves, chopped
Kosher salt and freshly ground black pepper
1 large French baguette
1 cup shredded mozzarella cheese
2 red or green bell peppers, cut into 1∕8-inch dice
¼ cup diced red onion
1 cup sliced white mushrooms
3 tablespoons sliced canned black olives
3 canned artichoke hearts, roughly chopped
In a medium bowl, mix together the tomato sauce, tomato paste, basil, garlic, and a pinch each of salt and black pepper. Set aside to marinate for at least 1 hour, but you can do this up to 24 hours ahead of time.
Preheat the oven to 375°F.
Slice the bread lengthwise in thirds. Reserve the middle third to make bread crumbs, French toast, or croutons.
Hollow out the top and bottom halves of the bread, leaving a layer of bread ¼ inch thick all the way around.
Place the tops and bottoms of the bread cut side up on a rimmed baking sheet. Spread half the pizza sauce over each piece of bread and top with the cheese, bell peppers, onion, mushrooms, olives, and artichoke hearts.
Bake for 15 to 20 minutes, until the cheese has melted and the bread is golden and crispy along the edges.
Let the pizzas cool for 5 minutes, then cut each pizza into 8 slices and serve (a single serving is 4 slices). Store leftovers in an airtight container in the refrigerator for up to 3 days or in the freezer for up to 3 months.
Lose Weight By Eating cookbooks:
From Lose Weight By Eating: Detox Week by Audrey Johns.
Copyright © 2017 by Audrey Johns. Reprinted by permission of William Morrow, an imprint of HarperCollins Publishers.