I've shaved 100's of calories from this basil pesto recipe. This way you can feel good about using it on all your favorite basil pesto recipes.
When it comes to making a basil pesto recipe, there are three high calorie ingredients… Olive Oil, Pine nuts, and Cheese. And let me tell you, I never shy away from cheese!
In this pesto sauce recipe I cut the fat and calories by reducing the olive oil and nuts, without sacrificing flavor (or too much cheese).
In this article you will learn how to make pesto for pasta and other recipes. This delicious recipe for basil is fantastic when sweet basil is in season.
I shaved 100's of calories from this traditional recipe, now you can have it everyday without blowing your diet!!
Low Calorie Basil Pesto Recipe
Pesto basil recipes, though delicious and fresh, often come with a lot of fat and too many calories.
I started working on low calorie recipes for pesto years ago, and I finally reached the sweet spot. This is the best basil pesto recipe you will ever taste, and it's 100's of calories lower than the average pesto sauce recipe!
What You'll Find in this Article:
Ingredients for Low Calorie Pesto
All basil recipes pesto have the same base ingredients. These help give pesto basil it's unique flavor.
Further down in the article I'll give my low calorie homemade pesto measurements, here is the grocery list for all basil pesto recipes.
Shopping List for Healthy Pesto Recipes:
Basil
Garlic
Olive Oil
Pinenuts
Parmesan cheese
In the printable recipe card below I will show you the proper measurements to keep basil pesto recipes low calorie…
How to Make Healthy Pesto
It's easy to learn how to make pesto! I know the more traditional way is to use a Mortar and Pestle, a method where you grind the ingredients together… But I use a food processor!
This low calorie basil pesto recipe is so easy to make! Here are the directions.
How to Make Healthy Pesto:
Add the basil, garlic, olive oil, parmesan, salt and pepper to a food processor or blender.
Blend until you reach desired consistency. I like it pulverized….
This basil pesto recipe is easy to make, just add everything to a food processor and blend!
How to Serve Low Calorie Pesto
This low calorie basil recipe is as easy to make as it is versatile! You can use this delicious basil recipe in many different ways… Here are a few.
3 Ways to Serve Healthy Pesto:
Use Pesto as a Marinade – Make pesto chicken and marinade chicken breasts in pesto sauce before baking or adding to the Instant pot.
Use Pesto on Pasta – After draining pasta, add to a bowl and top with skinny pesto. Toss together and top pesto pasta with rough chopped basil and parmesan cheese.
Make Pesto Salad – Chop summer veggies like tomatoes, cucumbers and avocado into bite sized chunks. Toss in the low calorie pesto recipe.
There are many different ways to use these pesto recipes basil.
You can store this recipe in the fridge for about a week. I recommend adding it to ice cube trays, then freezing into cubes. It will appear darker in color but will taste the same… The color change is just natural oxidation.
Low Calorie Basil Pesto Recipe
I've been working on this low calorie basil pesto recipe for many years. This version is similar to the Skinny Pesto in my best selling cookbook Detox Week… with a few modifications.
I do believe this is the best pesto recipe I've ever tasted! And certainly the best pesto recipe for people looking to cut calories and fat without cutting flavor.
More Low Calorie Pesto Recipes: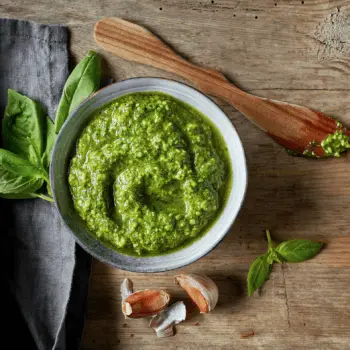 Low Calorie Pesto (24 Calories)
This low calorie basil pesto recipe tastes just like the full fat version!
I cut 100's of calories with a few modifications, and without any weird ingredients… just basil, garlic, pine nuts, parmesan, and olive oil.
Equipment
food processor or blender
Ingredients  
1

cup

fresh basil leaves

½

tablespoon

olive oil

2

tablespoons

pine nuts

1

garlic clove

1

tablespoon

freshly shredded parmesan cheese
Instructions 
Add the basil, olive oil, pine nuts, garlic, parmesan to a food processor or blender.

Blend until you reach desired consistency adding 1 teaspoon of water at a time to thin if needed.
Nutrition
Serving:
1
tablespoon
Calories:
24
kcal
Carbohydrates:
0.4
g
Protein:
1.1
g
Fat:
2.2
g
Saturated Fat:
0.5
g
Cholesterol:
1
mg
Sodium:
16
mg
Potassium:
9
mg
Fiber:
0.1
g
Sugar:
0
g
Calcium:
21
mg
Iron:
0
mg
Nutrition and Calories in Basil Pesto
Here at Lose Weight By Eating we have one main rule… The low calorie version MUST taste as good, if not better than the full calorie version.
All of the recipes you will find on the Lose Weight By Eating website will be low in calories, or at least "lower" in calories. The goal is to create the food I'm craving, you're craving, we're all craving… Without blowing our diets!
I'm a firm believer that weight loss and healthy eating should not depend on your income ability. It is my personal goal to bring you low cost, high nutrition recipes that work without your budget and not against it.
With that said, for those of you without a diet that you love, or don't want to shell out monthly for a plan… I have several FREE weight loss plans outlined in this article.
What to Read Next:

Lose Weight By Eating Cookbooks

Share this Low Calorie Recipe: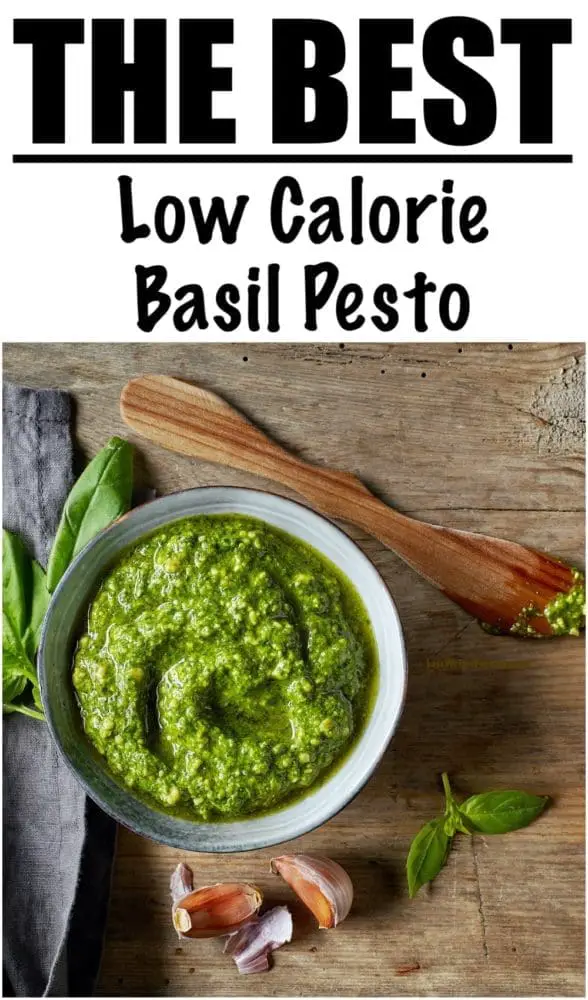 Article History: