This Low Calorie Healthy Alfredo Sauce is just 118 calories, and only 5 all-natural ingredients!
Everything You'll Need
Ingredients You'll Need:
2 tablespoons unsalted butter – Or vegan butter.
2 tablespoons flour – All-purpose or gluten-free.
3 cups unsweetened almond milk – Or 1% milk.
1 garlic clove whole – Or 1/2 teaspoon garlic powder.
2 tablespoons Parmesan Cheese – Or vegan parmesan cheese.
Metric Measurements in Recipe Card
Low Calorie Healthy Alfredo Sauce
Healthy Alfredo Sauce Recipe Variations
Low Sodium Alfredo Sauce
To make this Alfredo Sauce low sodium, cut the parmesan cheese by 1/2. You can add 1 teaspoon lemon zest to boost the flavor as well.
Gluten-Free Alfredo Sauce
To make this Alfredo Sauce gluten-free, swap out the flour for gluten-free flour. I like Bob's Red Mill "One to One" gluten-free flour.
Low Fat Alfredo Sauce
This Alfredo Sauce is already pretty low in fat, but we can easily cut it down more by skipping the roux. Heat the almond milk and garlic clove in a sauce pot, once hot scoop out 1 cup of the almond milk and add it to a bowl. Add 2 tablespoons of cornstarch and mix well until you have a paste. Add this to the sauce and mix well. This will remove the butter and cut down the fat even more.
Vegan Alfredo Sauce
To make this a vegan Alfredo Sauce swap out the butter for vegan butter, and the parmesan for vegan parmesan cheese.
High Protein Alfredo Sauce
To boost the protein in this recipe add 1-2 scoops unflavored and unsweetened protein powder or collagen powder.
Low Carb Alfredo Sauce
This recipe is already low in carbs, to keep the carbs extra low serve this sauce over spaghetti squash, zoodles, or protein pasta. I like Banza chickpea pasta.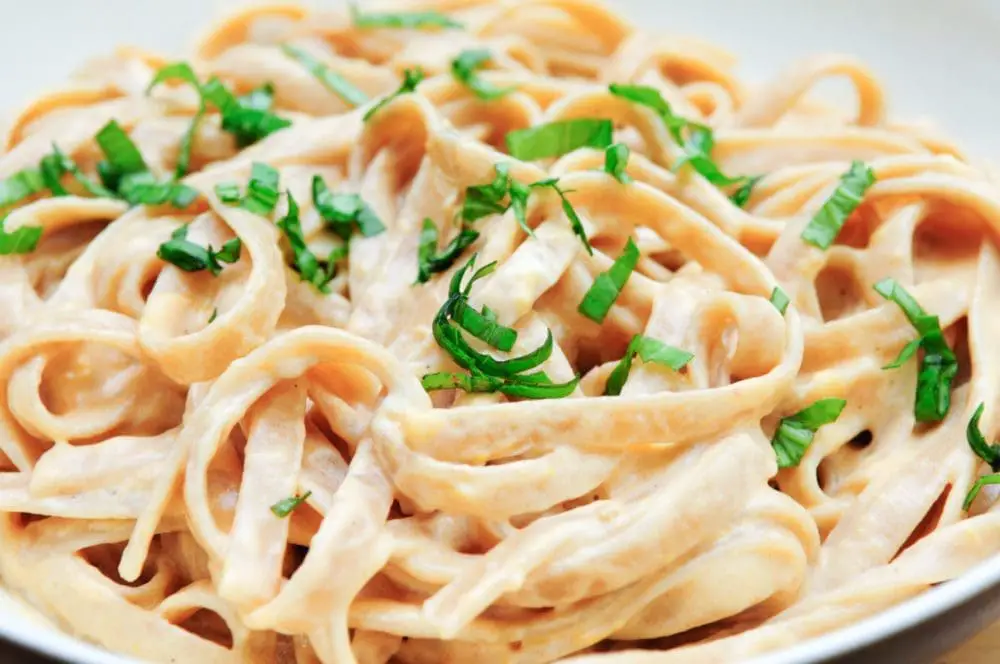 Healthy Alfredo Sauce Meal Prep and Storage
Meal Prep – Cook as directed and cool completely. Move to a jar (to store in the fridge) or a freezer bag (to store in the freezer.
Refrigerate – Will hold in the fridge for up to 5 days. 
Freeze – Will hold in the freezer for a month.
Reheating – Add the defrosted sauce to a sauce pot and heat on low for 10-15 minutes until hot.
Low Calorie Healthy Alfredo Sauce Recipe
More Low Calorie Recipes: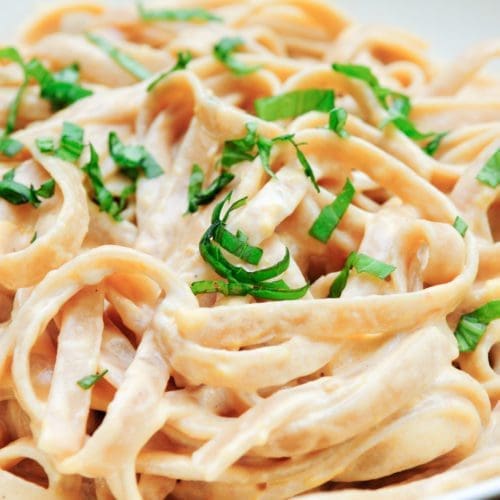 Low Calorie Alfredo Sauce
This healthy recipe for Alfredo sauce is low in calories, and only 5 ingredients!
Homemade Alfredo sauce has never been easier or more delicious than this healthy Alfredo sauce recipe.
Ingredients  
2

tablespoons

unsalted butter

or vegan butter

2

tablespoons

flour

all-purpose or gluten-free

3

cups

unsweetened almond milk

or 1% milk

1

garlic clove

whole

2

tablespoons

Parmesan Cheese freshly grated

or hard vegan cheese
Instructions 
In a large saucepan, melt the butter over medium-low heat.

Whisk in the flour, and cook whisking often until the mixture browns. About 5 minutes.

Add the milk and garlic, and whisk together.

Cook for about 20 minutes, stirring often.

Once the sauce coats the spoon, remove the garlic clove and discard.

Mix in the parmesan cheese and serve over pasta, chicken, even on homemade pizza.
Notes
How to serve this recipe:
Over Pasta – I like the wider noodles like fettuccini, though spaghetti or even penne will work great.

As a Dip – Dip your favorite crunchy veggies for a healthy snack!

Over Chicken – You don't even need the pasta… Just pour this healthy sauce over chicken for a delicious meal.

Add to Mac and Cheese – You make a similar sauce for homemade Mac and cheese… try adding in some Alfredo for parmesan kick to your favorite Mac and cheese.

On Pizza – Using this low calorie sauce in place of red sauce on pizza is delicious! In the section below you can find my low calorie pizza recipe!
Nutrition
Calories:
133
kcal
Carbohydrates:
9.2
g
Protein:
3.5
g
Fat:
9.2
g
Saturated Fat:
4.7
g
Cholesterol:
20
mg
Sodium:
211
mg
Potassium:
6
mg
Fiber:
0.1
g
Sugar:
4.5
g
Calcium:
65
mg
Iron:
0
mg
About the Author
Hi, my name is Audrey Johns and I am a 4 time best selling cookbook author! All 4 of my low calorie cookbooks are published by HarperCollins (the oldest publishing house in the US!) and have been featured on prominent TV shows like The Today Show, Rachael Ray and The Doctors. I am a low calorie and healthy recipe authority and my delicious recipes are tried and loved by thousands of readers. 
After a one year 150 pound weight loss (and I've kept it off for 13 years!) I started sharing all of my low calorie recipes with the world. They are always all-natural and geared around weight loss and weight management. I have even made some of these recipes with my Biggest Loser pal Bob Harper! Check out my weight loss story, my best selling cookbooks, and my numerous TV appearances by clicking here.
Nutrition and Calories in Alfredo Sauce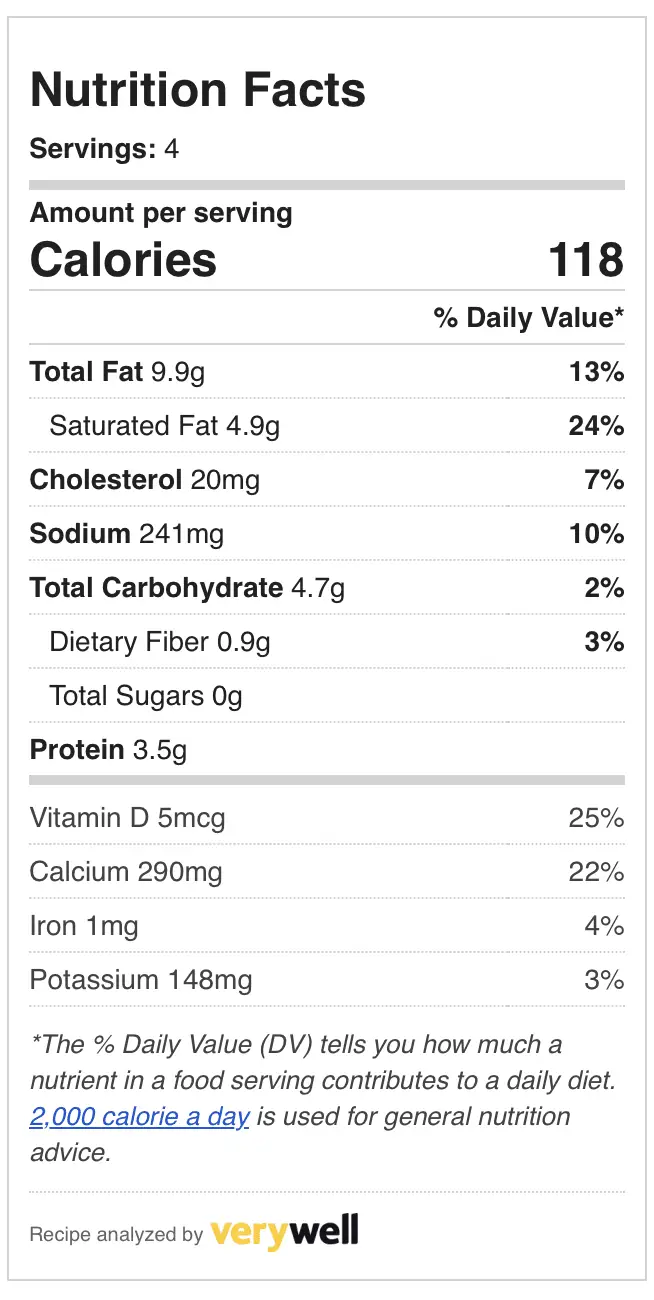 More Weight Loss Recipes:


Lose Weight By Eating Cookbooks:

Share This Low Calorie Recipe: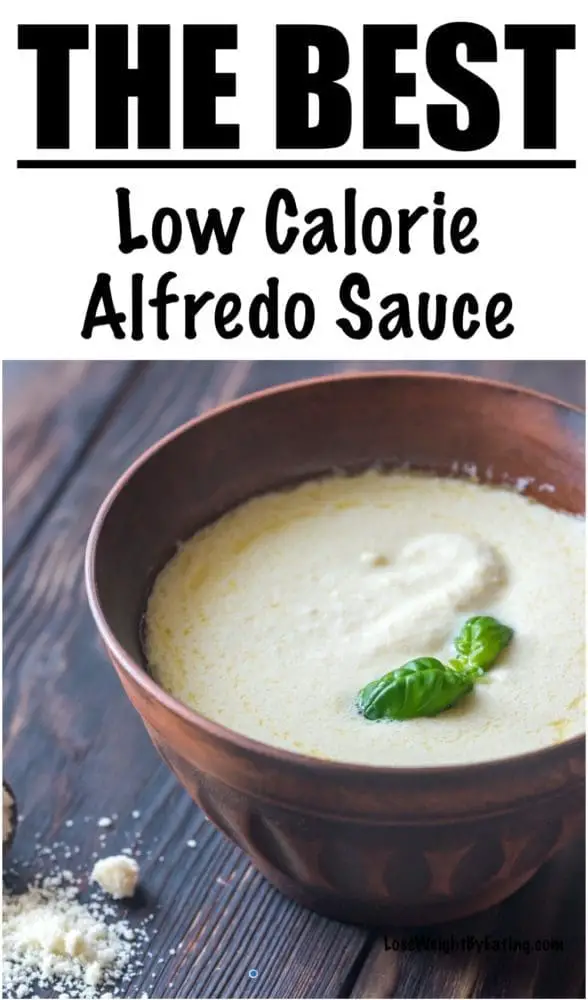 Article History: