These Healthy Falafels are just 206 for 2 falafels, they are perfect for meal prep or plant based dinners. I know you'll love this low calorie falafel recipe, and all the yummy sides I supplied you with as well.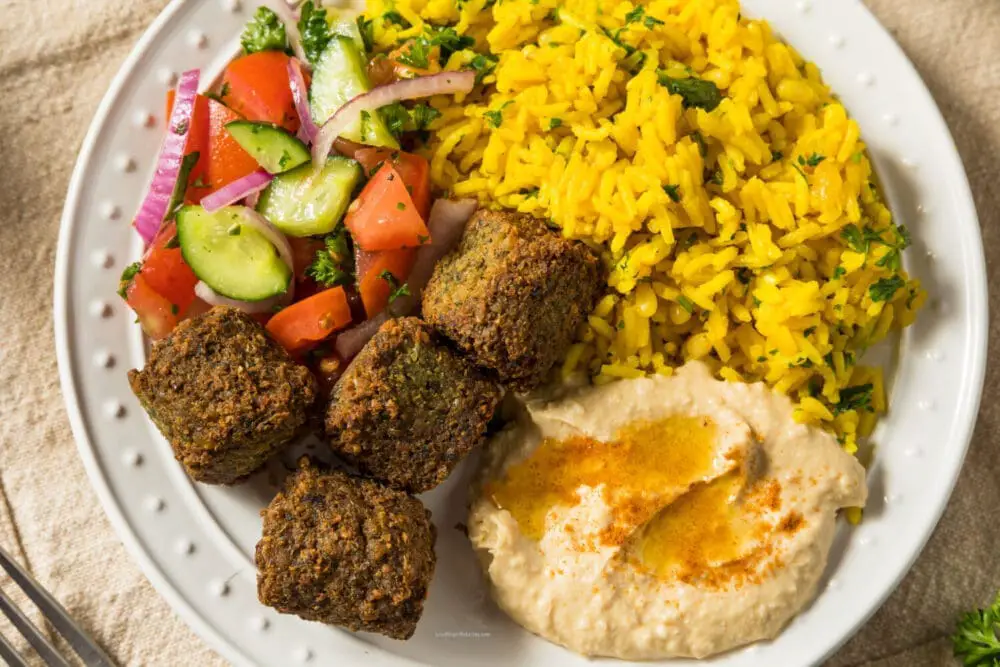 Everything You'll Need
Ingredients You'll Need:
1 (15-oz can) chickpeas – Same as garbanzo beans.
1 yellow onion – Red or sweet onions also work.
6 scallions – Also known as "green onions".
2 garlic cloves – Or 1 tsp garlic powder.
⅓ cup parsley – Fresh is best, or 1 tablespoon dried parsley.
½ cup breadcrumbs – Gluten-free or keto breadcrumbs also work.
1 teaspoon coriander – Or dried/fresh cilantro.
1 teaspoon cumin – Or chili powder.
½ teaspoon cayenne – Or chili powder, you can also skip if you are spice sensitive.
1/8 teaspoon ground cardamom – If you don't have, use a pinch of nutmeg.
Olive oil spray – Or 1-3 teaspoons olive oil
Metric Measurements Below in Recipe Card
Healthy Baked Falafels (Low Calorie)
Low Calorie Falafel Recipe Variations
Low Sodium Falafels
To make these falafels low sodium, make sure to get low sodium chickpeas/garbanzo beans. And be sure to rinse them very well to remove any residual sodium.
High Protein Falafels
These falafels are already pretty high in protein, but you can boost it even more by replacing the breadcrumbs (cup for cup) with unsweetened collagen or protein powder.
Vegan Falafels
These falafels are already vegan, be sure to serve them with vegan sides. The tzatziki sauce is not vegan but can be made vegan with cashew yogurt.
Low Fat Falafels
To keep these falafels low fat, use olive oil spray, it lets off a light mist and not a heavy drizzle. You can also skip the oil all together, they won't get quite as crispy and dark, but will still be yummy.
Low Calorie Falafel Meal Prep and Storage
Meal Prep
Prep – Mix the falafels and form into balls or patties. Place on a baking sheet covered with parchment paper and freeze for 2-4 hours.
Store – Once frozen, move the uncooked falafels to a freezer bag.
Refrigerate or Freeze – Will hold in the freezer for 1 month. 
Cook – Defrost overnight in the fridge, then bake according to the instructions below.
Leftover Storage
Cook – Cook as directed below.
Individual or Family Servings – Add one serving (2 falafels) to individual containers for single serve. Or as many servings as you need for the full family for family servings. Cover and store for later. 
Refrigerate or Freeze – Will hold for 4 days in the fridge. And in the freezer for 1 month. 
Reheat – Defrost in the fridge if frozen. Bake in a 350 degree oven for 20 minutes, or the microwave for 3 minutes.
Healthy Baked Falafels Recipe
More Low Calorie Plant Based Recipes: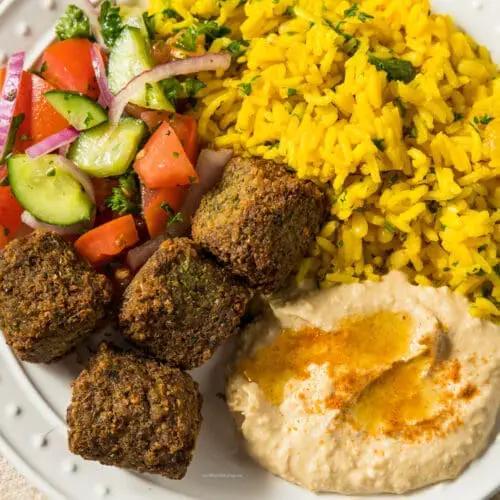 Low Calorie Falafels
This recipe for falafels uses canned chickpeas. It's not the traditional way to make falafels, but it is the quick way!
Try this low-calorie recipe for falafel's baked in oven for a fast weeknight meal. Make sure to see the five different ways to serve these vegan falafels.
Ingredients  
1

can

chickpeas

drained and rinsed

1

yellow onion

roughly chopped

6

scallions

bottoms trimmed off

2

garlic cloves

⅓

cup

parsley

½

cup

breadcrumbs

or gluten-free breadcrumbs

1

teaspoon

coriander

1

teaspoon

cumin

½

teaspoon

cayenne

Pinch

of ground cardamom

Olive oil spray
Instructions 
Baked Falafels:
Preheat the oven to 350°. Line a baking sheet with parchment paper.

Add all of the ingredients to a food processor, and blend together well.

Scoop out a quarter cup of the mixture to make your first falafel, roll in your hand until it's a round ball. If you want to make it into a patty gently squish it down in the palms of your hand and then place on the baking sheet. (Will make 8 falafels)

Spray with olive oil, and bake for 25 minutes until crispy and golden brown.

See below for different ways to serve this recipe for falafels baked in oven.
Falafel Sandwiches:
Add two falafels to a slice of toasted bread.

Topped with tomato, Romain lettuce, red onions, and falafel sauce before topping off with a second slice of toasted bread.
Falafel Wraps:
Place a large tortilla, or sandwich wrap on a clean dry surface.

Add two falafels, Romain lettuce, tomato, red onion, and roll up the falafel wraps.

Serve with falafel sauce on the side, you can dip or drizzle it into your falafel wrap.
Falafel Pita / Falafel Gyros:
If using a pita, cut in half and open. If using a you're a wrap, place it on a clean dry surface.

Add to falafel's to the pita, or gyro wrap, some Romain lettuce, sliced tomatoes and onions and serve with falafel sauce.
Falafel Salads:
To a plate, add one and a half cups of chopped romaine lettuce, 1/4 cup of cherry tomatoes,  sliced onions, and drizzled with falafel sauce.

Top with two falafels, and optional feta cheese.
Falafel Plate / Falafel Bowl:
To 1/4 a plate, add half a cup of chopped romaine. Top with cherry tomatoes, sliced red onions, feta, and a drizzle of the falafel sauce or your favorite balsamic vinegar dressing.

On half of the plate, place three falafels, and falafel sauce.

On the remaining 25% of the plate add 1/3 cup of your favorite Greek rice, or dolmas, or if you're like me… a second serving of the delicious salad.
Nutrition
Serving:
2
falafels with sauce
Calories:
206
kcal
Carbohydrates:
37.2
g
Protein:
12.6
g
Fat:
1.8
g
Saturated Fat:
0.3
g
Cholesterol:
3
mg
Sodium:
309
mg
Potassium:
558
mg
Fiber:
5.2
g
Sugar:
8
g
Calcium:
178
mg
Iron:
3
mg
About the Author
Hi, my name is Audrey Johns and I am a 4 time best selling cookbook author! All 4 of my low calorie cookbooks are published by HarperCollins (the oldest publishing house in the US!) and have been featured on prominent TV shows like The Today Show, Rachael Ray and The Doctors. I am a low calorie and healthy recipe authority and my delicious recipes are tried and loved by thousands of readers. 
After a one year 150 pound weight loss (and I've kept it off for 13 years!) I started sharing all of my low calorie recipes with the world. They are always all-natural and geared around weight loss and weight management. I have even made some of these recipes with my Biggest Loser pal Bob Harper! Check out my weight loss story, my best selling cookbooks, and my numerous TV appearances by clicking here.
Nutrition and Calories in Baked Falafels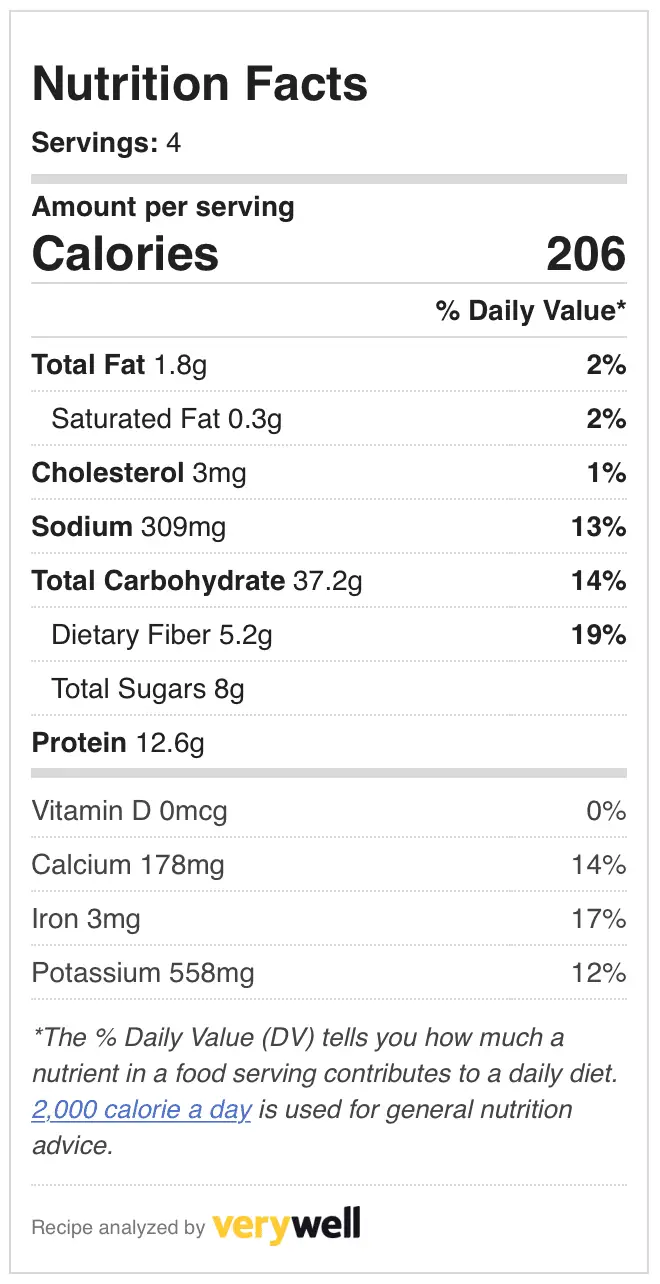 More Weight Loss Recipes:



Lose Weight By Eating Cookbooks

Share this Healthy Recipe: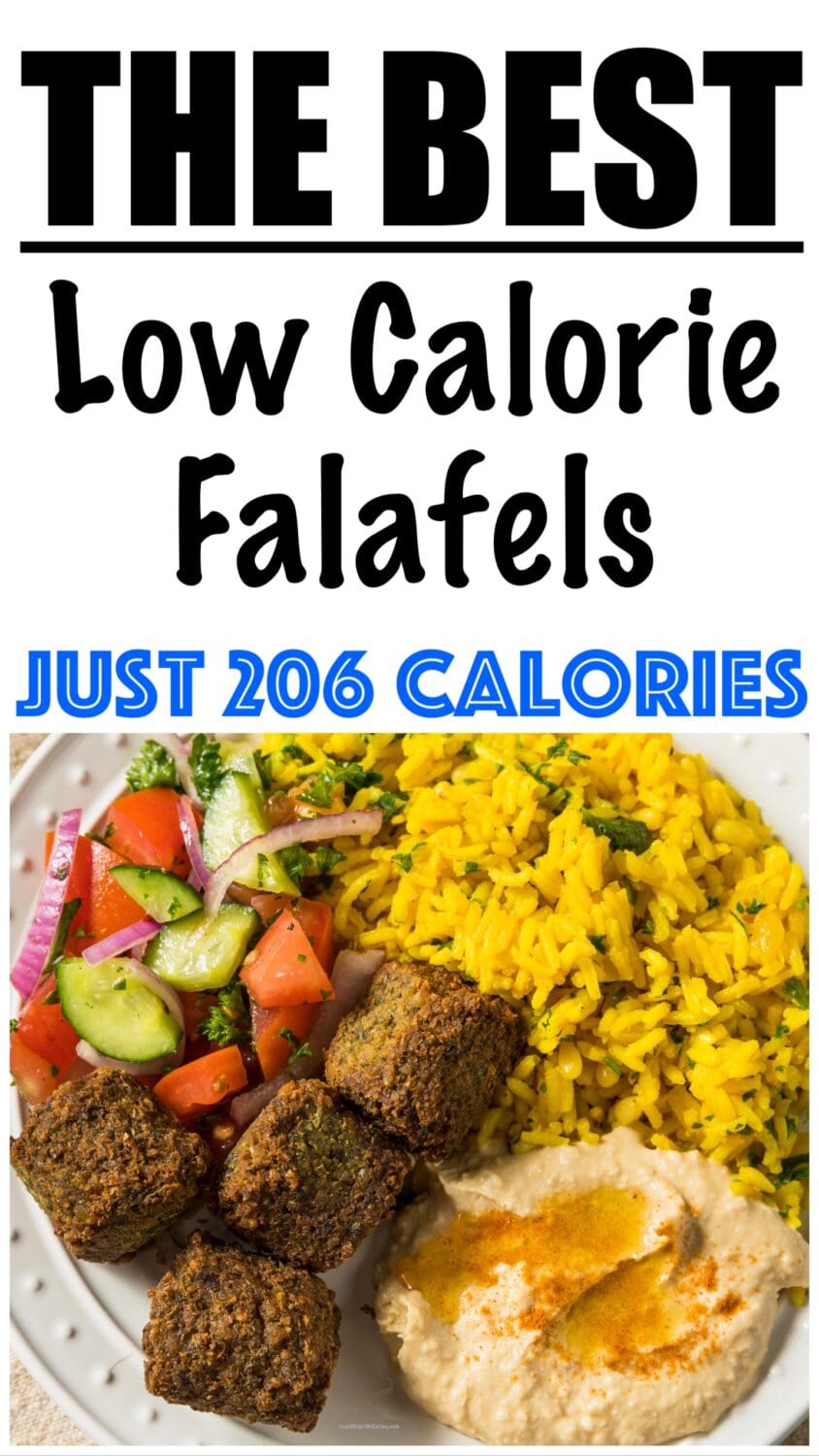 Article History: