These Green Beans in Bacon are just 149 calories and completely delicious!
Plus, I have supplied you with 5 dips to dunk and drizzle over your green bean bundles. Bacon alternatives, and more in the sections below.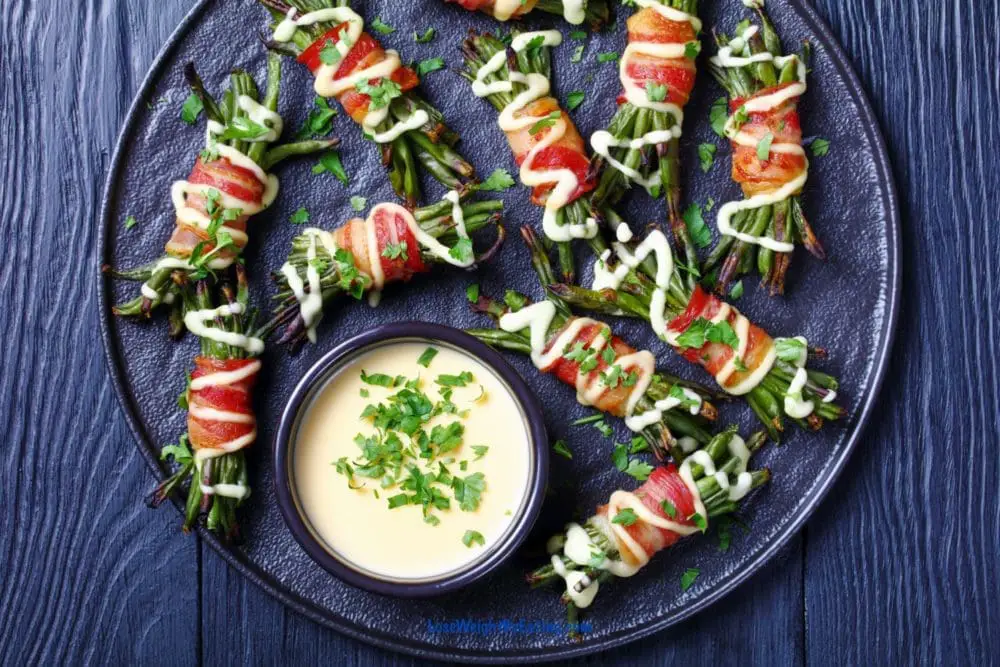 You can make this recipe vegan (really!) Meal prep it, and even lower the sodium. I'll show you how!
Green Beans in Bacon
In these sections I have provided you with bacon alternatives, healthy dips, and tips on making this recipe both low sodium and vegan. But if you are eager to get cooking, or want to skip to a section, these handy links will help you hop to the section you are looking for.
Ingredients for Bacon Wrapped Green Beans
Don't worry, you can make this recipe with any bacon you like (turkey, pork, vegan!)
I have chosen to use real bacon, because my readers love it when I take something naughty, cut it in half and wrap out around something healthy. It's always easier to get someone to eat healthy when you add in a little bit of something they love.
But feel free to choose your preferred bacon, and see the Healthy Tips and Swaps section below for more information on swapping out the bacon.
Shopping List for Bacon Wrapped Green Bean Bundles:
5 strips of bacon 
2 cups of fresh green beans (about 50)
1/4 teaspoon salt
1/2 teaspoon pepper
How to Make Green Beans Wrapped in Bacon
These little green bean bundles are so delicious, and quick to make. I like wrap them up ahead of time and store them in the fridge for later. Then I can just bake them up quick on weeknights.
Tips on Meal Prepping: The best way to meal prep these is to make them in a baking dish (or large glass meal prep container that is oven safe) and then cover. If they roll around in a bag they will fall apart and you will have to assemble them again. I don't freeze them as the green beans tend to get soggy after defrosting.
How to Make Green Bean Bundles:
Preheat the oven to 350 degrees and spray a baking dish with olive oil.
Lay out a half strip of bacon. Place 5 green beans onto the strip of bacon and roll up into a bundle.
Place the bundle into the baking dish, seam side down.
Repeat with remaining bacon strips, then sprinkle with salt, and pepper.
Bake for 20-25 minutes until the green beans are browned and the bacon cooked through.
Serve hot with your favorite sauces (see above for 5 healthy recipes!)
Healthy Tips and Swaps
As I said before, you can use any bacon you like. And before I sound like a broken record, I must admit… I will get a ton of hate comments because of the bacon. And I'm ok with that, because I know my longtime readers get it.
You CAN eat healthy and still include bacon in your diet. Just use a tiny amount (just 1/2 slice per serving!) and let it infuse the flavors of the recipe.
Bacon Alternatives:
Healthy Sauces to Dip and Drizzle:
Make it Vegan:
You can easily make this recipe vegan, just swap out the bacon for vegan bacon and use unsweetened cashew yogurt to make ant of the sauces you want to try.
Make it Low Sodium:
To make this recipe low sodium simple skip the salt and get a low sodium bacon at the store.
Green Beans in Bacon
These bacon wrapped green beans are great for weeknight dinners, and for holiday sides as well. Each green bean bundle is one serving, and is just 149 calories.
Be sure to see all the yummy dips above, here's a link to jump right to them!
Nutrition and Calories in Green Beans and Bacon
In the section above I discussed how to make these yummy side dishes with turkey or vegan bacon, how to make them low sodium and how to make them vegan too (even the drizzle!)
Each serving is 1 bundle (1/2 slice bacon and 5 green beans) and this recipe makes 10 servings.
Important Note: As a reminder, at Lose Weight By Eating the goal is to make healthier, all-natural versions of your favorite recipes… not all will be "diet worthy" depending on the diet you are on. But they will be healthier versions to help curb your cravings.
What to Read Next:


Lose Weight By Eating Cookbooks

Share this Recipe: