There are 5 amazing Low Calorie Air Fry Cauliflower Recipes in this article. You know me, why make one recipe when I can make 5!
I have also supplied you with 5 healthy dips, and sodium cutting tips (because readers have asked for them and I aim to please).
At just 23 calories per cup, you can basically have as much as you want! And I'm all about that!
Low Calorie Air Fry Cauliflower
In these sections I will share lots of helpful resources, dips, sodium cutting tricks and more. But if you want to jump ahead, I have supplied you with these links. They allow you to hop to the section you are looking for.
Ingredients in Low Calorie Air Fry Cauliflower
I love olive oil spray, and if you are a longtime reader of Lose Weight By Eating you know this well. Heck, I gave away 100's of Misto Olive Oil Sprayers on the Rachael Ray Show years ago. So yeah, this stuff is great!
It allows you to add just a fine mist of olive oil, saving you both calories AND money. So get a Misto Can, or pick some olive oil spray up at the store. You will want to use it in all your air fryer recipes!
Simple Air Fried Cauliflower:
Cauliflower (cut into bite sized florets) – you can also just get florets!
Chili powder
Garlic salt
Pepper
Olive oil spray
Optional Seasonings:
How to Make Healthy Air Fry Cauliflower
I love making these in the air fryer, but just incase you want to make them in the oven… here are the directions.
How to Make in the Oven:
Preheat the oven to 450°, and line a rimmed baking sheet with parchment paper
Add the cauliflower bites to the prepared baking sheet, and season. Then spray with olive oil.
Place in the oven, and bake for 15 minutes, until crispy.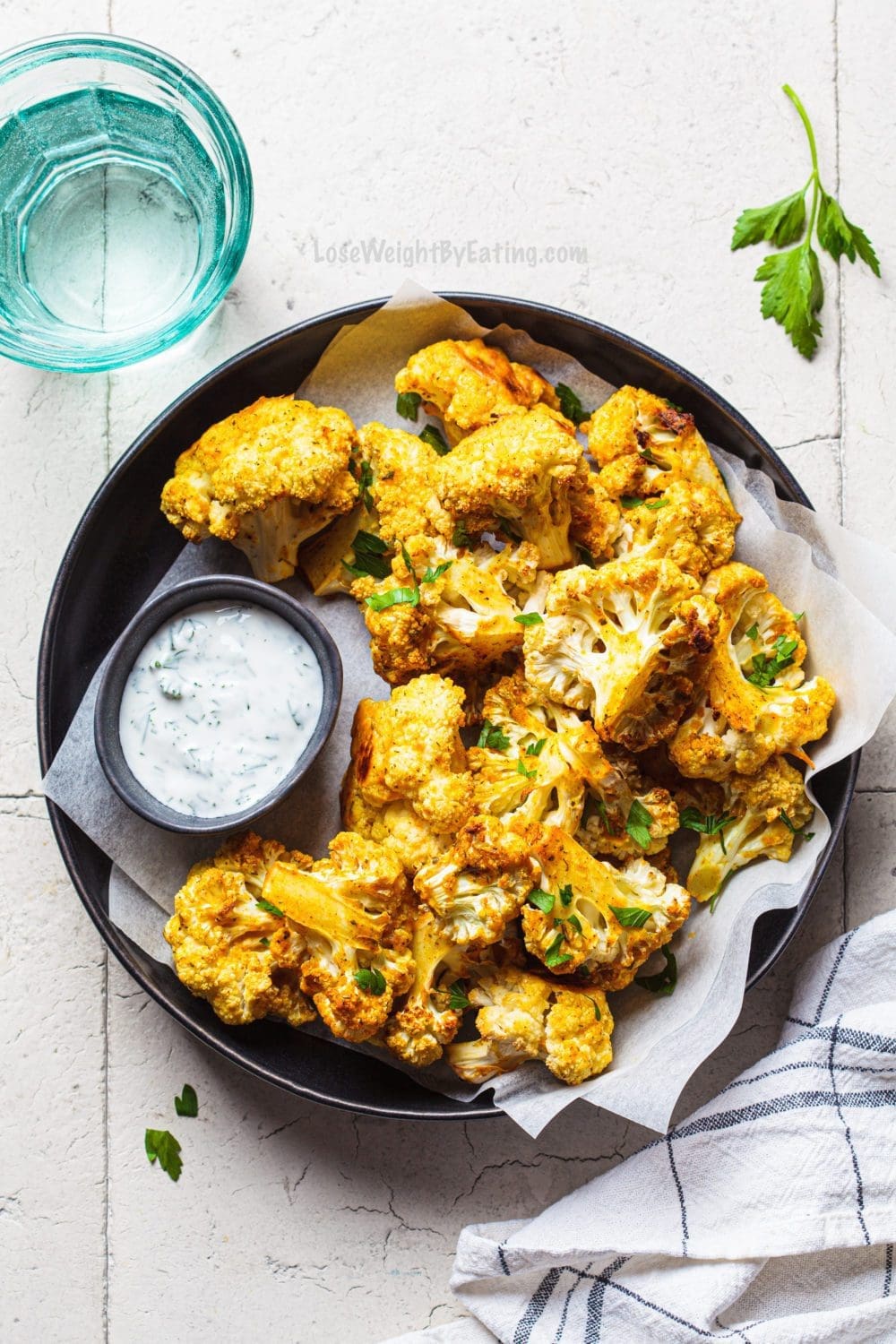 How to Air Fry Cauliflower:
Preheat air fryer to 320°.
Add the cauliflower pieces and desired seasoning to a large bowl. Toss well.
Add the cauliflower to the air fryer (working in batches as needed.)
Spray with olive oil, and cook for 10 minutes, until crispy.
Remove from air fryer and serve.
Ingredient Swaps, Dips, and Healthy Tips
These air fried cauliflower bites are amazing anyway you make them, and with 5 different seasoning blends to choose from I know you'll find one you love.
But what about dips (should you desire to dunk these little bites)? Or lower sodium tips, that's where this section comes in!
Best Dips for Dunking and Drizzling:
How to Make it Low Sodium:
My first tip to making this recipe low sodium, is making your own seasoning blends. This way you can control the amount of salt.
If you want to omit the salt all together, simply don't add it to the seasoning blends. You can squeeze a lemon over the bites after you're done air frying them and that will give the recipe the salty bite you're looking for.
5 Low Calorie Air Fry Cauliflower Recipes
I love making these cauliflower bites for a side dish at dinner, and sometimes I make them as snacks on weekends. No matter when you make them, I know you will love them!
I have included 5 low calorie healthy dips above, so if you skipped to the recipe card, here they are.
Nutrition and Calories in Air Fried Cauliflower
I have included ways to lower sodium and more healthy tips in the Ingredient Swaps and Healthy Tips section above.
The nutrition is based on 1 serving (1 cup) of the Simple Air Fried Cauliflower recipe above.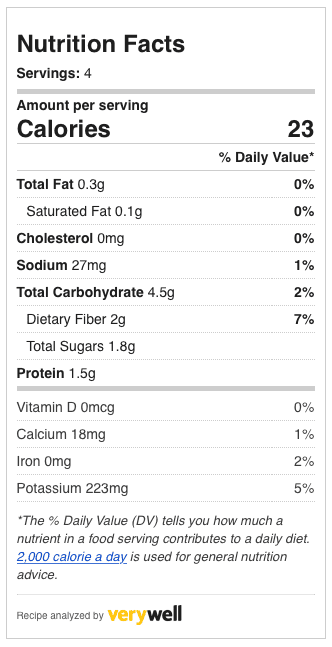 Important Note: As a reminder, at Lose Weight By Eating the goal is to make healthier, all-natural versions of your favorite recipes… not all will be "diet worthy" depending on the diet you are on. But they will be healthier versions to help curb your cravings.
What to Read Next:

Lose Weight By Eating Cookbooks

Share this Low Calorie Healthy Recipe: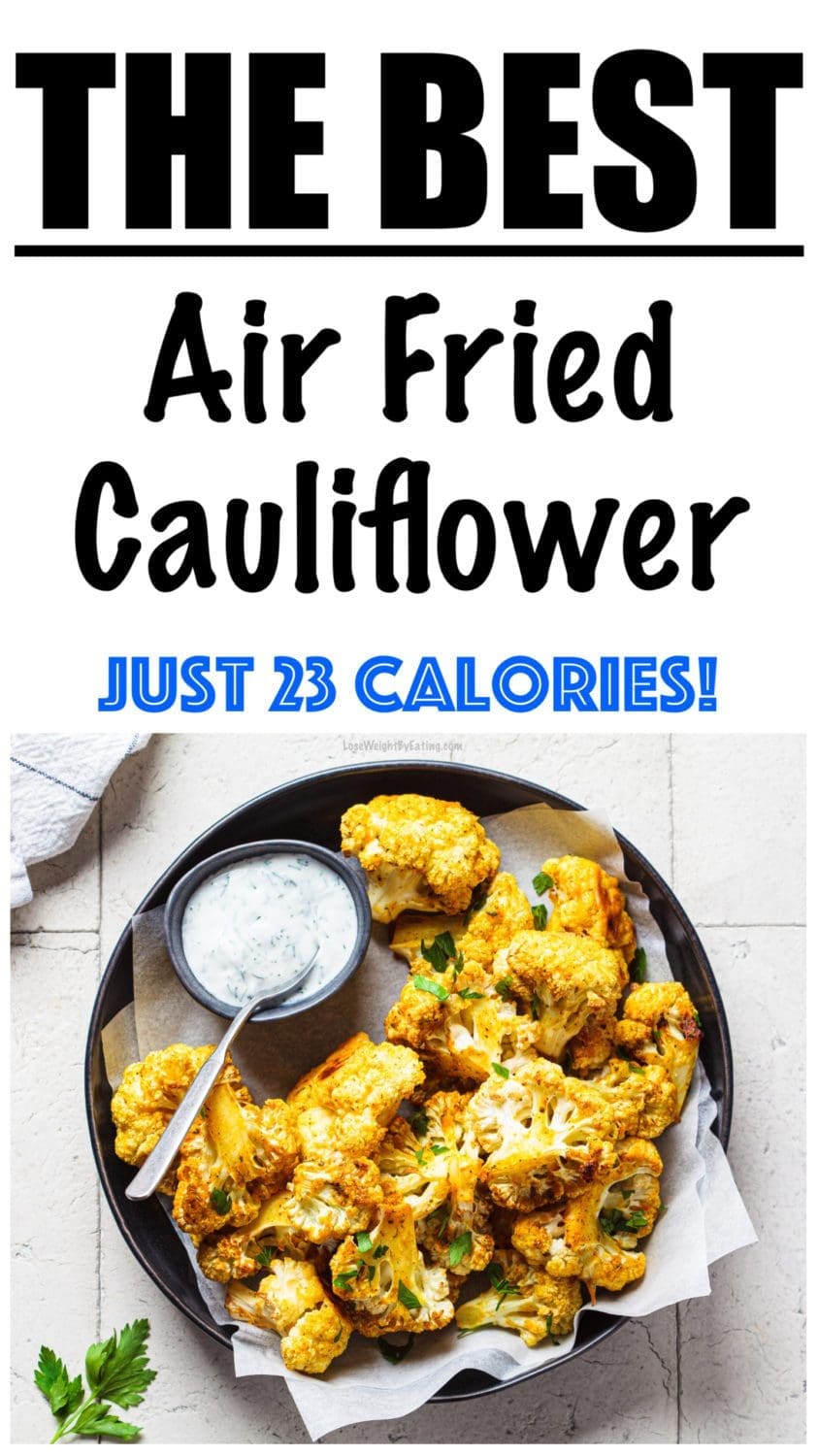 Article History: