These 10 Healthy Sides for Pork Chops are all low calorie, high nutrition, and easy to make!
The pork chop side recipes range from oven and skillet recipes, to BBQ and Instant Pot side dishes. I've even included pork chop recipes that are fast and easy, with some under 50 calories!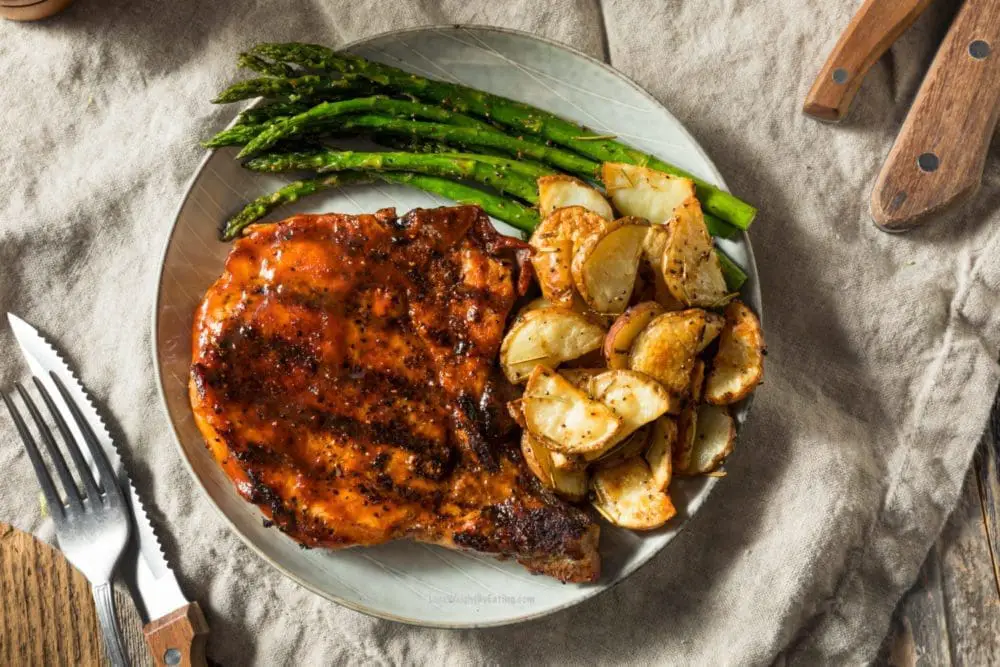 When trying to figure out what to serve with pork chops, this article will supply you with lots of healthy side dish ideas.
I will even include the two sides the photo above (like the Ranch Baked Potato Wedges) and great pork side dishes to fit into any diet.
The 10 Healthy Sides for Pork Chops below are low calorie, and easy to make… click on the top 10 links, or scroll through for more information on all the healthy side dishes for pork chops…
10 Healthy Sides for Pork Chops
Pork chops call for a different style of side dish than chicken or beef would.
They do well with both savory and sweet sides. And with that said, below you will see both styles of side dishes for pork chops.
Here Are the 10 Pork Chop Sides You'll Find Below:
I have alternated sweet and savory in every other recipe. This will help you balance your pork chop dinner, and give you the opportunity to try new flavors with your pork chops. With lots of low calorie pork chop recipes on the site as well, so if you're looking for a new healthy recipe, see the list below.
Try These Healthy Pork Chop Recipes:
1. Homemade Applesauce
This Instant Pot apple sauce recipe is a fantastic pork chop side dish!
The "no sugar added" recipe is whipped up quickly and easily, while making your home smell amazing!
This low calorie pork side recipe is just 80 calories, and is easy and fun to make! And as a bonus, this is a great make ahead or meal prep side dish.
2. Oven Roasted Broccoli Recipe 
This garlic roasted broccoli recipe makes great vegetable sides for pork chops.
At just 63 calories, these sides for pork steaks are healthy. And with just 3 ingredients (not counting salt and pepper) this side recipe is also low cost and super easy!
Try this oven baked side dish the next time you make baked pork chops! If you're already got the oven on for the pork chops, might as well pop in the side dish too!
3. Cranberry Quinoa Stuffed Butternut Squash
Pork chop sides can be savory or sweet… or in the case of this recipe, both.
This low calorie stuffed butternut squash makes great baked side dishes for pork chops. With quinoa and chickpeas you're adding a bit of protein. And with the ACV Maple Dressing, a punch of amazing flavor!
Don't worry if you can't find fresh cranberries! You can use frozen cranberries (look for them by the frozen berries) and enjoy these side dishes for pork chops anytime of the year!
4. Ranch Baked Potato Wedges
This low calorie pork chop side dish is only 52 calories and requires only 3 ingredients!
This recipe is a great staple for easy sides with pork chops, pair the potatoes with asparagus, broccoli, or one of the other vegetable sides for pork chops below.
These potatoes get their wonderful coating from the buttermilk powdering the homemade ranch seasoning mix. Trust me on this, you will want to take the extra step to make your own seasoning!
5. Grilled Pineapple
There's a reason people bake hams with pineapple rings covering the top… Because pineapple and pork go great together!
The next time you're looking for creative and yummy side dishes for grilled pork chops, try pineapple!
If you have kids, and you're looking for what goes with pork chops for dinner, try this family favorite side dish!
6. Oven Baked Radishes
Get really creative with your next pork chop dinner, and make this roasted red radish side dish!
Peppery and crunchy, these potato like baked radishes make great sides for pork chops! And at only 31 calories, this vegetable side dish is a great option for those looking for healthy options.
If you're looking for what goes with baked pork chops, try out this fun, low cost, and low calorie side dish. It's sure to wow your family and friends.
7. Spinach Salad with Apples and Cranberries
My favorite side dish for fried pork chops has always been a crisp salad.
With the apples you're also touching on a traditional pairing of apples and pork chops. And this crisp salad is the perfect light side dish to compliment a yummy fried pork chop.
As noted above, these fried pork chop dinner sides compliment crunchy chops. They also make fantastic side dishes for BBQ pork steaks, especially my Caramelized BBQ Pork Chops.
8. Broccolini with Garlic and Lemon
No list of low calorie pork chop side dish ideas would be complete without an 89 calorie garlic lemon broccolini recipe… At least that's what I believe.
This simple baked side dish is great with baked, fried, and sautéed pork chops.
If you can't find, or don't like broccolini, see above for a low calorie roasted broccoli recipe… or below for more vegetable side dishes for pork chops.
9. Garlic Sage Acorn Squash
If you're looking for what to serve with pork chops to elevate a meal, acorn squash roasted with garlic and sage will impress any guest at your table.
Playing off the sweet and savory combination that goes great with pork chops. This recipe goes great with pork chops, and is super healthy too!
At just 91 calories, this recipe for pork side dishes vegetables is great for most diets. Try this side dish with baked pork chops, fried, grilled and even sautéed.
10. Grilled Asparagus
This low calorie side dish is fantastic for all your grilling meals! These sides for grilled pork chops can be cooked alongside your favorite BBQ chop recipe.
Grilled pork chop sides can be made healthy, proven by this 27 calorie side dish recipe.
I love this grilled pork chop side dish recipe in the summer. Summer sides for pork chops area great way to use up yummy seasonal (and often on sale) veggies like this asparagus.
Recipe Roundup Card for the Best Pork Chop Sides:
I've collected all 10 of the best pork chop sides into the printable recipe card below.
You can click open each recipe to find their individual recipe cards.
Try Our 5 Healthy Pork Chop Recipes: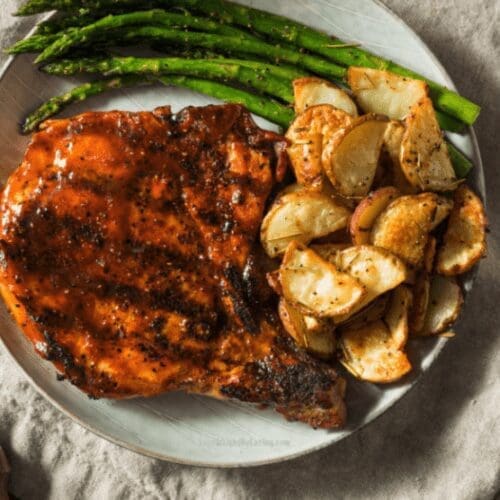 Low Calorie Pork Chop Sides
These 10 healthy sides for pork chops are all low calorie and easy to make.
Included are baked and grilled pork chop sides. As well as fried, sautéed, and instant pot side dishes for pork chops.
Be sure to see above for our low calorie, healthy pork chop recipes!
Instructions 
Pick 1-2 healthy pork chop sides.

Click on the links to retrieve the recipes… You can even print the recipe cards for each side dish!

Serve them alongside your favorite pork chop dishes.
Nutrition
Serving:
1
meal
Calories:
50
kcal
More Weight Loss Recipes:



Lose Weight By Eating Cookbooks

Share these Healthy Recipes: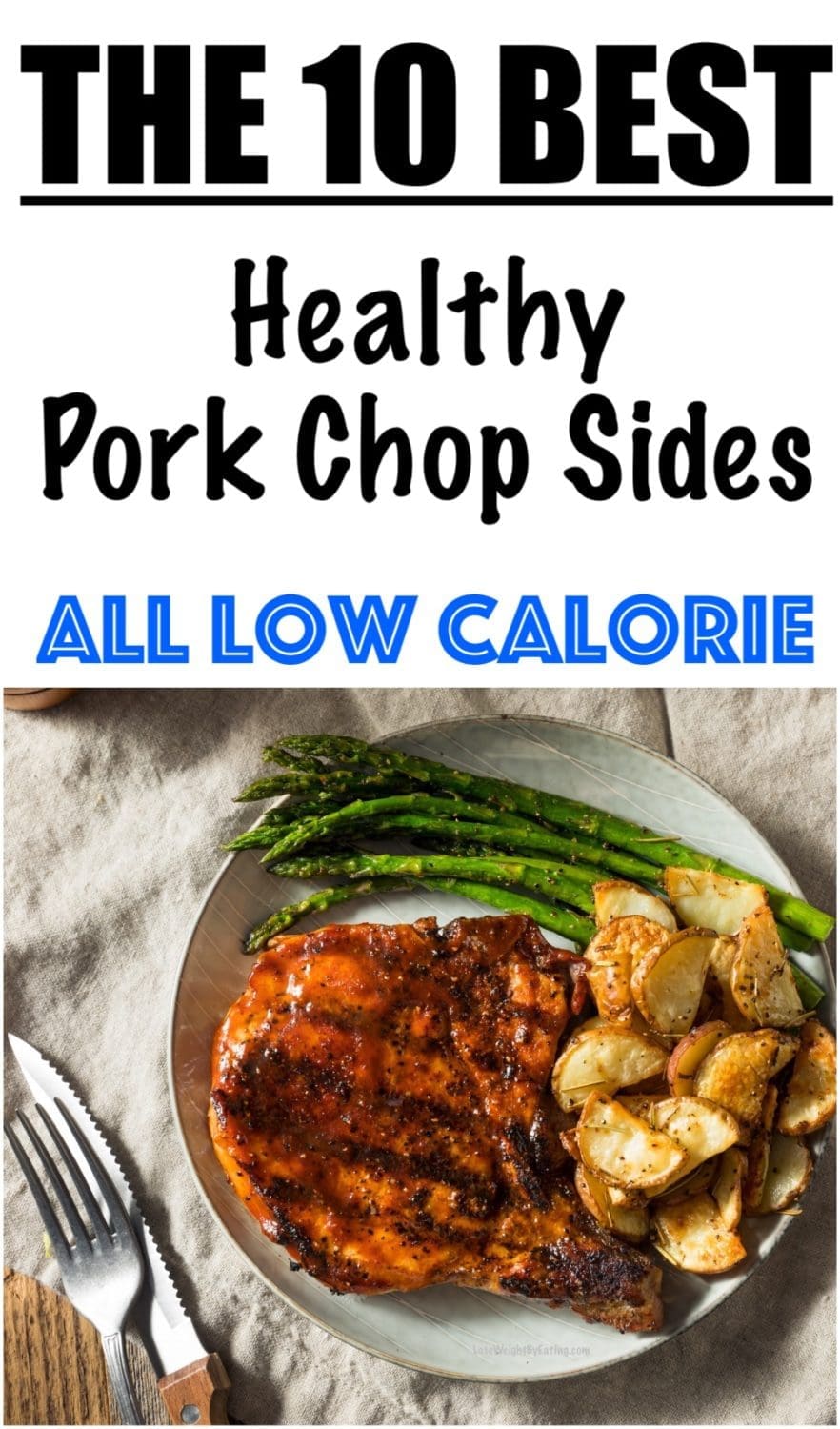 Article History: