This Healthy Chocolate Brownies Recipe is the perfect balance between chewy outer crust and fudgy chocolate center.
Our healthy brownie recipe is one of the most popular desserts on the Lose Weight By Eating website… who doesn't love chocolate, right?!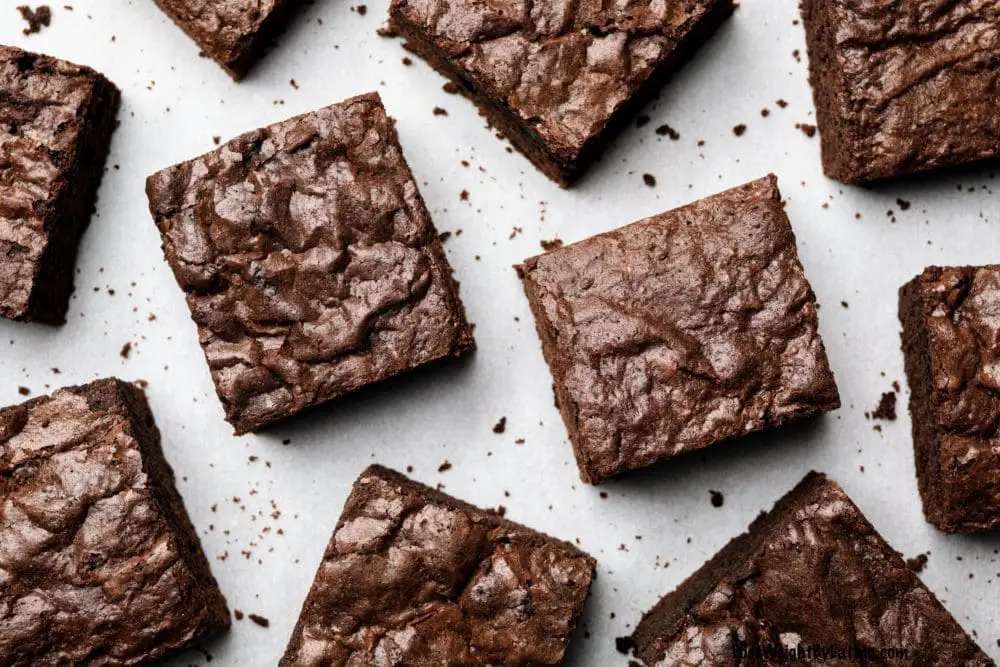 I just recently updated this long time reader favorite homemade brownies with new toppings and a printable recipe card.
When making brownies homemade, you don't have to blow your diet… and let's be honest, if you're going to have an entire tray of brownies in your home, you might as well make them the best brownie recipes, and low calorie!
I added a list of "add ins" for this Healthy Chocolate Brownies Recipe, although I assure you they don't need anything to make them more amazing, this just gives your an unlimited amount of combinations.
Healthy Chocolate Brownies Recipes
A healthy chocolate brownie recipe is a great way to curb your chocolate cravings, without completely blowing your diet!
I love making brownies from scratch for bake sales, pot lucks, and holiday parties. They're always a huge hit, and who doesn't love a homemade brownies recipe?
Here's what you'll find in this article:
In this article for the best brownie recipe, I will supply you with all you need to know about making healthy brownies at home.
Homemade brownies are impressive and delicious. This article will answer all your brownie questions, and supply you with the best brownie recipes for those looking to cut calories.
Homemade Brownie Recipe Mix
My healthy brownie mix is so popular, eHow (the largest "How To" website in the world) asked me to make a video for them to show their viewers how I make low calorie brownies!
That video is supplied below in the healthy brownies recipe card, along with all the brownie mix ingredients and directions.
Here is what you will need to make the best brownie recipes:
Butter
Dark brown sugar
Semi sweet chocolate chips
Eggs
Greek yogurt*
Flour
Cocoa powder
Baking soda
Salt
Milk
For my healthy brownies I will use swaps like metabolism boosting Almond Milk in place of milk, and you probably already saw my secret ingredient for my brownie homemade recipe… Greek Yogurt!
* The Greek Yogurt is my secret ingredient for these healthy chocolate brownies recipe, they make the brownies fudgy and moist, without added butter or eggs.
Now that you have my "secret ingredient" for making homemade brownies healthy… we can discus how to make my healthy chocolate brownies recipe.
How to Make Chocolate Brownie Recipe
In all baking you will want to divide out the wet ingredients and the dry ingredients… that is really the hardest part, dumping ingredients into separate bowls.
I make this brownie recipe easy by skipping that step… really!
I love making this homemade brownie recipe so much, that I have streamlined the process so all I need to use is a sauce pot and a spatula!
Here's how I make my Brownie Mix simple and easy:
Melt the chocolate chips, butter and sugar in a large sauce pot.
Add in Greek Yogurt and milk to cool, then add the eggs.
Add in all the dry ingredients (as you measure them… keep it simple!)
Add to brownie baking dish and bake.
You can use this method to make all brownie recipes easy… just be sure the melted chocolate and butter is cool before you add in the eggs.
Making a brownie from scratch doesn't have to be messy… use my extra simple directions to keep the cleanup easy.
Healthy Chocolate Brownies Recipes
Yippee… now that you have all your ingredients and my extra easy tips to making an easy brownie recipe, I can share my recipe for healthy brownies.
I personally believe this homemade brownie recipe is the best brownie recipe, for many reasons. The clean up is easy, they are fudgy and delicious, and they are low in calories… and if you are going have a tray of homemade brownies sitting in your home, it's best that they are healthy!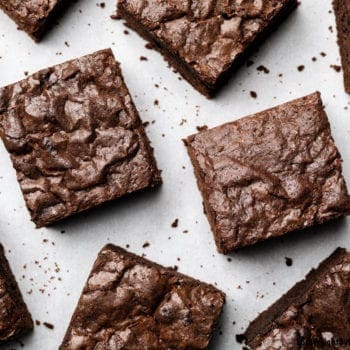 Healthy Chocolate Brownies Recipe
This Healthy Chocolate Brownies Recipe is low in calories thanks to my ingredient swaps like unsweetened almond milk and Greek Yogurt.
This low calorie brownie recipe will help curb your cravings without blowing your diet!
Ingredients  
1/4

cup

unsalted butter at room temperature

3/4

cup

dark brown sugar

1

cup

semi sweet chocolate chips

2

large eggs

1/2

cup

Greek yogurt

1

cup

flour

3/4

cup

unsweetened cocoa powder

1

teaspoon

baking soda

1/8

teaspoon

salt

1

cup

unsweetened almond milk
Instructions 
Preheat oven to 350 and using the inside of the butter wrapper rub butter on the inside of a 9×13 casserole dish.

In a large sauce pan add the butter, brown sugar, and chocolate and heat on low until melted. Mixing often.

Once melted, remove from heat and add in the greek yogurt and almond milk. Test to see if the mixture is cooled, and if so proceed… if not let it sit for 5 minutes before adding in eggs.

Add each eggs and mix until incorporated.

To the pan, add the flour, cocoa powder, baking soda and salt. Mix together until just combinded, it will be thick…

Add the brownie mix to the preparied cassarole dish, and smooth to an even layer.

Place in the oven for 35-45 minutes, you know they are done when the sides pull away from pan and the center resists pressure. Let cool for 1 hour before cutting into 16 squares.
Notes
Optional Add in Ingredients:
2 tablespoons white or dark chocolate chips
2 tablespoons dried cranberries
2 tablespoons slivered almonds, walnuts, or dried coconut
Nutrition
Serving:
1
brownie
Calories:
192
kcal
Carbohydrates:
27
g
Protein:
5
g
Fat:
9
g
Fiber:
2
g
I love making this healthy chocolate brownie recipe, it's easy, the clean up is easy, it's easy on my diet… It's just the best brownies recipe, ever!
Homemade Brownie Q&A
If you're looking for a recipe for brownies easy made, the one above can't be beat! But what if you have questions on your family recipe, or need tips on how to make homemade brownie recipes, this section will help you!
You can make any chocolate brownie easy recipe with these tips in the Q&A section… I scoured the internet for the 5 most commonly asked brownie questions, and here are the answers.
1. How do you make the best brownies from scratch?
The best brownies scratch recipes will require the best ingredients. Good chocolate, cocoa powder and if your a fan, vanilla extract can take your brownies recipe easy, to the nest level.
I recommend avoiding the box mixes, sure they are easy, but the chocolate brownie recipe in this article is even easier… it's crave worthy and low in calories!
2. What makes brownies more fudgy?
Most articles will tell you, if you want a fudgy brownie… you need to add more fat. And that can be true, but what if you don't want to add in extra calories?
I like add Greek Yogurt to my brownie mix, it makes easy brownie recipes fudgy and delicious without adding too many calories. Plus, Greek Yogurt will add a boost of protein!
Try my Greek Yogurt hack in my brownie best recipe in this article above.
3. How do you eat brownies?
So, you've done all the work to make a big tray of homemade brownies… now what?
I recommend cutting your brownies into 18 squares, that's easy… just 2 long cuts and 6 short cuts.
I recommend enjoying your homemade brownies easy recipe warm, with a small scoop of vanilla ice cream, yum!
4. Are brownies better hot or cold?
Are brownies better hot or cold? That's subjective, just like art everyone has different tastes when it comes to food, and brownies!
I personally like my brownie recipe best when it's warm, though I would not turn down a cold brownie either.
A cold brownie will be more dense, and a hot brownie will be more fluffy. You make have to try both ways to from your desired taste.
5. Can brownies go bad?
Just like all homemade food, brownies can go bad. But don't fret, you can refrigerate and or freeze your brownies!
I recommend storing your easy brownie recipe in the fridge, it will last about a week in the fridge (if you don't eat them all by then). If you prefer, freeze 1/2 of the brownies… here are the directions:
Wrap each brownie individually in parchment paper or cling wrap.
Then place homemade brownies in a freezer bag and close, removing as much air as possible.
Freeze for up to 3 months.
Final Thoughts on Healthy Chocolate Brownies Recipe
The best brownie recipe is a brownie recipe you can enjoy without guilt… and these healthish brownies are just the ticket!
Be sure to pin, share, email or print this Healthy Chocolate Brownies Recipe so you have it available the next time you have a craving!
What to Read Next:
Lose Weight By Eating Cookbooks:

Pin this Recipe to Pinterest: