In this Low Calorie Hog Dog Guide you will find healthier choices for hot dogs, buns and even toppings!
Hot dogs have long been a beloved classic in the world of American cuisine. From backyard barbecues to ball games, hot dogs have found their way into the hearts and stomachs of many.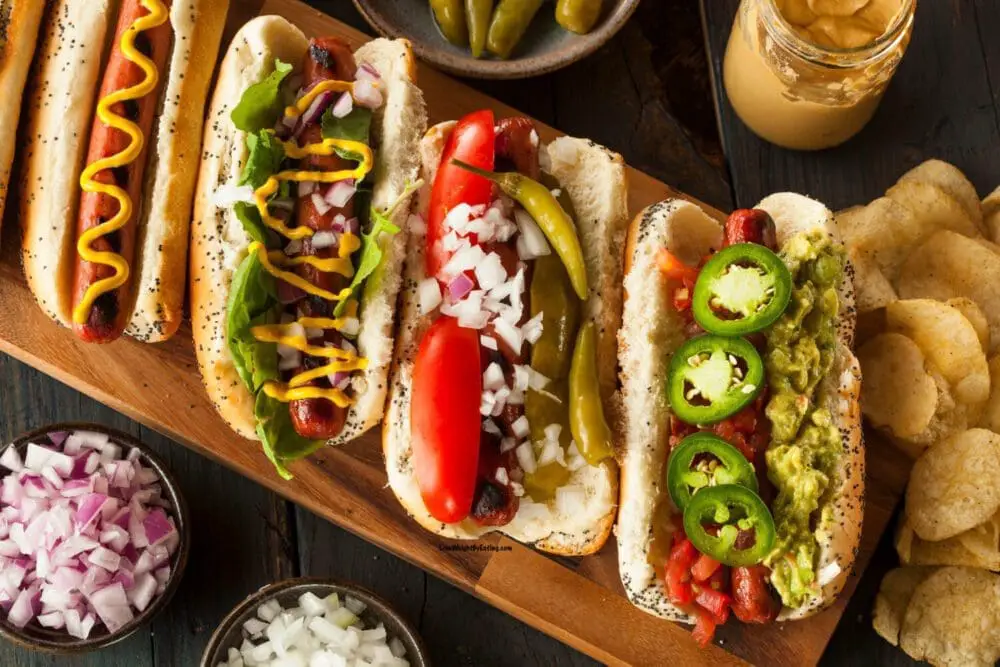 However, their reputation as a high-calorie indulgence often leaves health-conscious individuals feeling guilty about enjoying this tasty treat.
But fear not! In this comprehensive Low Calorie Hot Dog Guide, I'll show you how to savor the flavors of a hot dog while keeping your waistline in check.
So grab your favorite condiments and get ready to embark on a delicious and guilt-free journey!
Low Calorie Hot Dog Guide
What You'll Find in this Article:
20 Healthy Hot Dog Toppings
While traditional hot dog toppings like ketchup and mayonnaise may be delicious, they often come with added sugars and unnecessary calories.
If you're looking to enhance your low calorie hot dog experience, try these 20 healthy and flavorful toppings:
1. Guacamole: Spread a generous dollop of creamy and nutritious guacamole on top of your hot dog for a burst of flavor and healthy fats.
2. Pico de Gallo: Freshen up your hot dog with a vibrant mix of diced tomatoes, onions, cilantro, and lime juice for a tangy and refreshing topping.
3. Pickled Jalapeños: Add a spicy kick to your low calorie hot dog with some pickled jalapeño slices. They provide a zesty flavor without the added calories.
4. Caramelized Onions: Cook some thinly sliced onions until golden brown and sweet. They'll add a rich and savory flavor to your hot dog without piling on extra calories.
5. Coleslaw: Opt for a light and tangy coleslaw made with vinegar or Greek yogurt instead of heavy mayo-based versions. It adds a delightful crunch and freshness to your hot dog.
6. Sautéed Mushrooms: Enhance the umami flavors of your hot dog by sautéing some mushrooms with garlic and herbs. They'll bring a savory depth to every bite.
7. Diced Avocado: For a creamy and nutritious topping, dice some ripe avocado and sprinkle it over your low calorie hot dog. It adds a buttery texture and healthy monounsaturated fats.
8. Grilled Pineapple: Give your hot dog a tropical twist by grilling pineapple slices. The sweet and tangy flavor pairs wonderfully with the savory elements of the hot dog.
9. Basil Pesto: Spread a layer of aromatic basil pesto on your hot dog bun for a burst of fresh flavors. Look for lighter versions or make your own using less oil.
10. Roasted Red Peppers: Add some smoky and sweet roasted red peppers to your hot dog. They bring a vibrant color and a delicious flavor profile to the mix.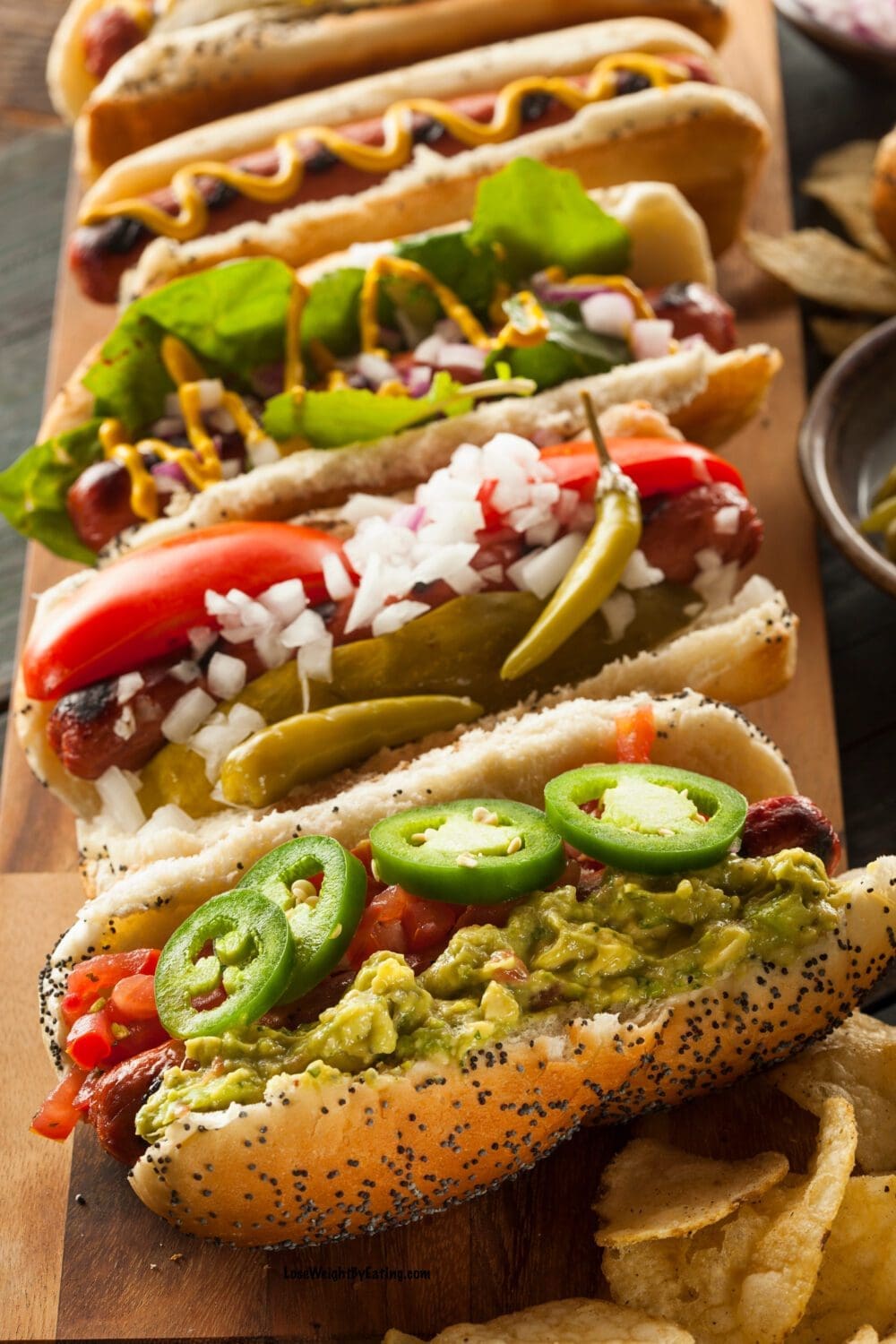 11. Mango Salsa: Combine diced mangoes, red onions, cilantro, and lime juice for a fruity and tangy salsa. It's a perfect accompaniment to a low calorie hot dog on a sunny day.
12. Black Bean Corn Salsa: Create a hearty and flavorful topping by mixing black beans, corn kernels, red onions, tomatoes, and lime juice. It adds a burst of texture and Mexican-inspired flavors.
13. Kimchi: Embrace the Korean cuisine by adding some spicy and fermented kimchi to your hot dog. It's not only tasty but also provides gut-friendly probiotics.
14. Greek Salad Topping: Top your hot dog with a combination of chopped cucumbers, tomatoes, red onions, kalamata olives, and crumbled feta cheese. It offers a fresh and tangy Mediterranean twist.
15. Balsamic Glazed Onions: Drizzle some balsamic glaze over caramelized onions for a sweet and tangy topping that elevates the flavors of your low calorie hot dog.
16. Dijon Mustard and Sauerkraut: Give your hot dog a classic touch with tangy Dijon mustard and sauerkraut. The combination adds a delightful zing and a probiotic boost.
17. Buffalo Cauliflower: Roast cauliflower florets with buffalo sauce for a spicy and flavorful topping. It's a great vegetarian option that brings a unique twist to your low calorie hot dog.
18. Greek Yogurt Ranch: Swap out traditional ranch dressing for a healthier alternative made with Greek yogurt, herbs, and spices. It's creamy and refreshing without the excess calories.
19. Sesame Slaw: Toss shredded cabbage, carrots, green onions, and a sesame dressing for a crunchy and Asian-inspired slaw topping. It adds texture and a delightful nutty flavor.
20. Cucumber Relish: Dice cucumbers, red onions, and dill, then toss them with vinegar for a light and tangy relish that complements your low calorie hot dog.
Experiment with these 20 healthy hot dog toppings to create your own delicious combinations. Feel free to mix and match, and don't be afraid to get creative in elevating your low calorie hot dog experience!
Now that this Low Calorie Hog Dog Guide has reviewed toppings, let's discuss the healthiest hot dogs and calories for all types.
The Lowest Calorie Hot Dogs
Hot dogs come in various types, each offering unique flavors and ingredients.
Here are some popular variations of hot dogs along with their approximate calorie content per serving:
Beef Hot Dog
Made primarily from beef, this classic hot dog is flavorful and rich. It typically contains around 150-180 calories per serving.
Pork Hot Dog
Featuring a blend of pork and spices, pork hot dogs offer a slightly different taste compared to beef. They usually contain approximately 180-200 calories per serving.
Chicken Hot Dog
A leaner option, chicken hot dogs are made from ground chicken meat and can provide a healthier alternative. They generally contain around 100-120 calories per serving.
Turkey Hot Dog
Similarly, turkey hot dogs are lower in fat and calories compared to beef or pork versions. They typically contain approximately 80-100 calories per serving.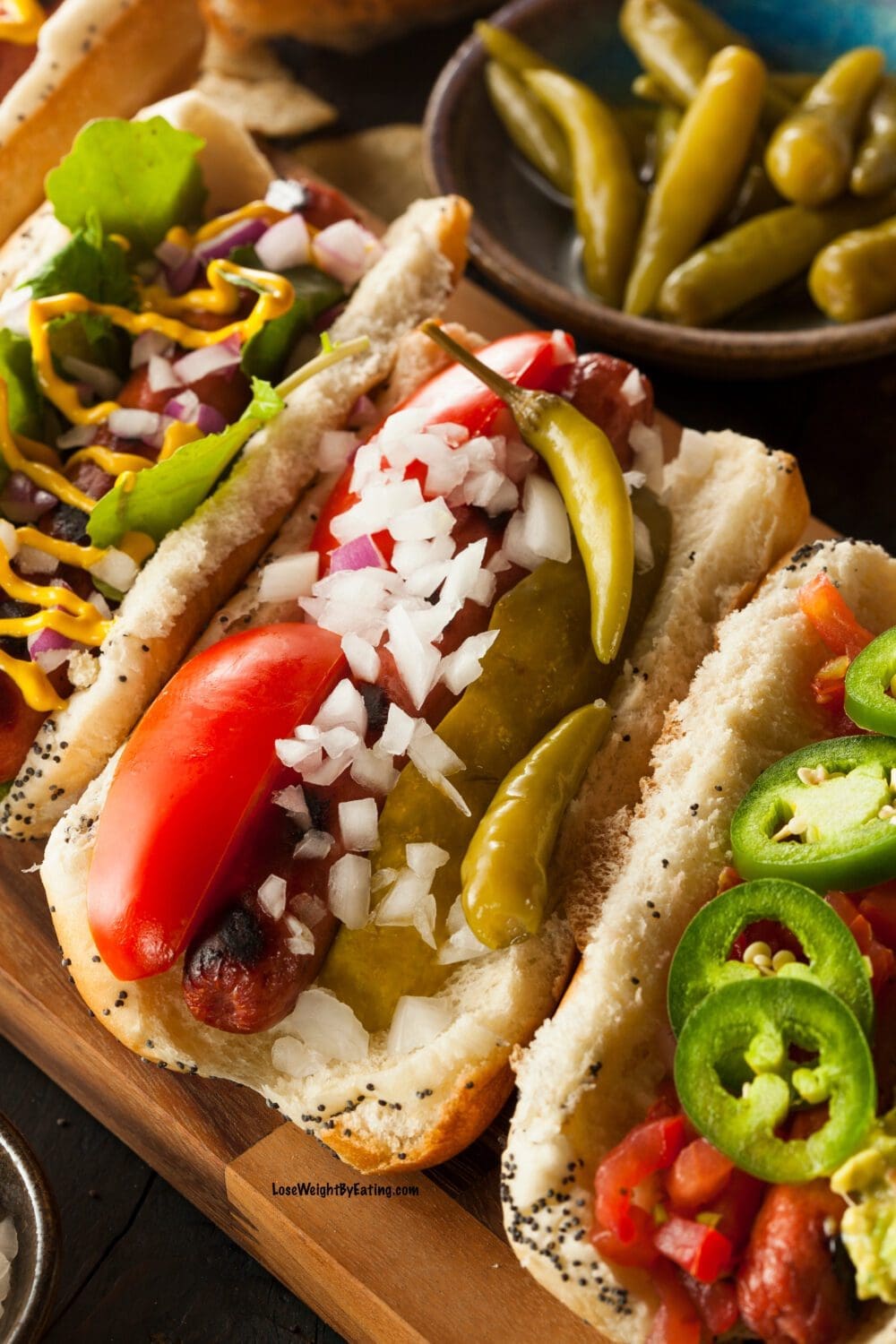 Veggie Hot Dog
Catering to vegetarian and vegan preferences, veggie hot dogs are made from plant-based ingredients such as soy, tofu, or vegetables. Calorie content varies, but they generally contain around 50-100 calories per serving.
Low-Fat Hot Dog
Designed specifically for health-conscious individuals, low-fat hot dogs are made with leaner cuts of meat and have reduced fat content. They typically contain around 80-120 calories per serving.
Gluten-Free Hot Dog
Created for individuals with gluten sensitivities or celiac disease, gluten-free hot dogs are made without wheat or gluten-containing ingredients. Calorie content varies depending on the type of meat used and additional ingredients.
Organic Hot Dog
For those who prioritize organic and natural foods, organic hot dogs are made with meat from animals raised without antibiotics or growth hormones. Calorie content can range from 120-180 calories per serving.
It's important to note that these calorie ranges are approximate and can vary based on brands, serving sizes, and additional ingredients used in the hot dog preparation. Always check the nutritional information on the product packaging for accurate calorie content.
When choosing a hot dog, consider your dietary preferences and health goals. Opting for leaner meat choices or vegetarian alternatives can help reduce calorie intake while still enjoying the flavors of a hot dog.
Healthier Hot Dog Buns
The bun is an essential part of the hot dog experience. While traditional buns are often high in calories and refined carbohydrates, there are healthier alternatives available.
Look for whole wheat or multigrain buns, which provide more fiber and nutrients while still offering a delicious base for your low-calorie hot dog creation.
Frequently Asked Questions (FAQs)
Are low-calorie hot dogs as tasty as traditional hot dogs?
Absolutely! Low-calorie hot dogs are crafted to offer the same great taste while reducing the calorie content. You won't have to compromise on flavor when opting for a healthier choice.
Can I find low-calorie hot dogs at my local grocery store?
Yes, most grocery stores carry a selection of low-calorie hot dogs. Look for them in the refrigerated section near the traditional hot dogs.
Are low-calorie hot dogs suitable for individuals with dietary restrictions?
Many low-calorie hot dogs are designed to accommodate various dietary needs, such as being gluten-free or low in sodium. Always check the packaging for specific details to ensure they align with your dietary requirements.
Can I cook low-calorie hot dogs on a grill?
Absolutely! Low-calorie hot dogs can be grilled just like traditional hot dogs. Just make sure to adjust the cooking time based on the package instructions.
Can I freeze low-calorie hot dogs for later use?
Yes, low-calorie hot dogs can be frozen for future enjoyment. Follow the storage instructions on the packaging for the best results.
Are low-calorie hot dogs suitable for children?
Low-calorie hot dogs can be a great option for children, especially if you're looking to introduce healthier food choices. However, always consider your child's dietary needs and consult with their pediatrician if you have any concerns.
What to Read Next:


Lose Weight By Eating Cookbooks

Share this Low Calorie Guide: