You can make this Low Calorie Cranberry Crisp with leftover cranberry sauce, or with fresh, or frozen cranberries! Plus, this healthy cranberry dessert is just 117 calories, and comes with gluten free and vegan options too.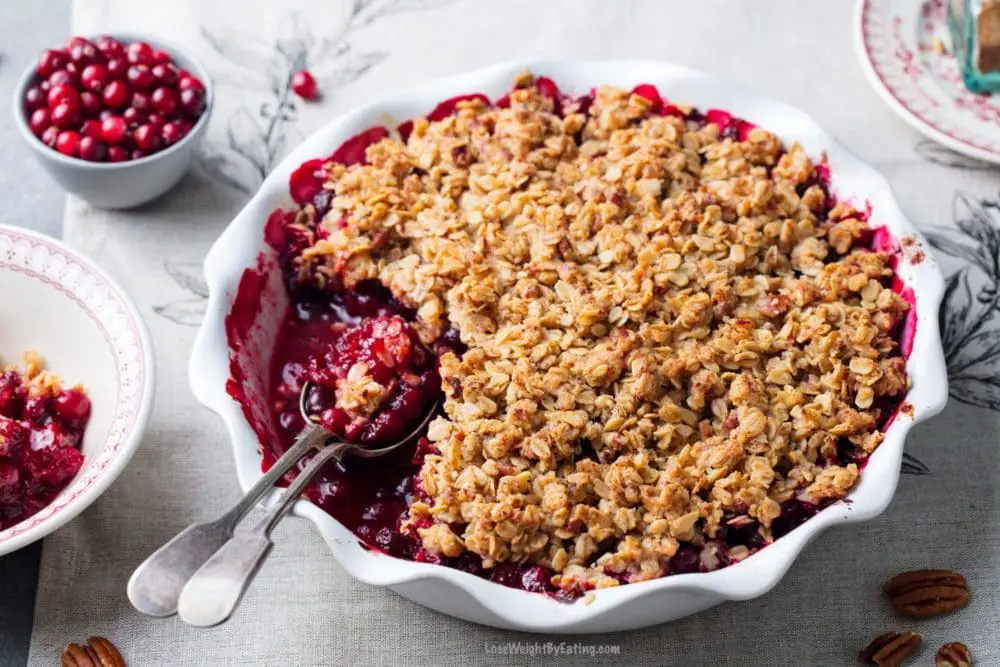 Everything You'll Need
3 cups leftover chunky cranberry sauce (OR fresh cranberries)
4-6 tablespoons zero calorie all natural sweetener (monk fruit, coconut, and pure cane sugar also work)
1 teaspoon vanilla extract
1 cup oats old fashioned oats
3 tablespoons flour (all-purpose or gluten-free)
3 tablespoons coconut oil (or butter)
Low Calorie Cranberry Crisp
Skip Ahead: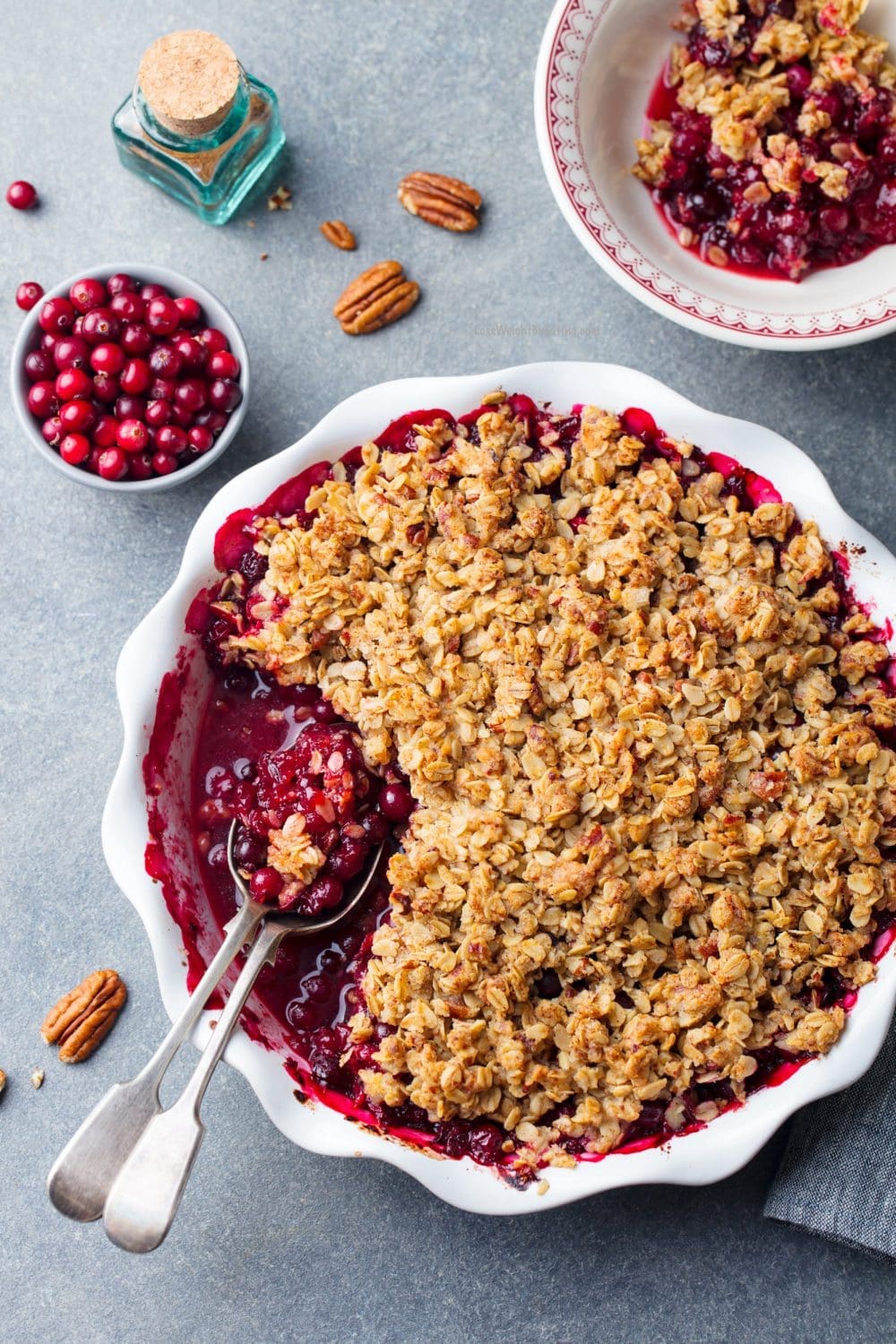 Healthy Cranberry Crisp Meal Prep and Storage
Meal Prep Bake the cranberry crisp and then allow to cool completely. Scoop single servings and place into individual containers. Or cover the entire crisp with foil, then place in a 2 gallon bag (if freezing). 
Frozen Crisp – Will hold in the freezer for 1 month
Refrigerated Crisp – Will hold in the refrigerator for 5 days.
Reheating – You can reheat individual servings in the microwave for 1 minute (defrosted) 3-5 minutes (frozen). For defrosting the entire crumble, move to the kitchen countertop over night (or place in a cool oven if you have pets) to defrost. Serve chilled, room temperature, or hot.
Low Calorie Cranberry Crisp Recipe
More Holiday Leftovers Recipes: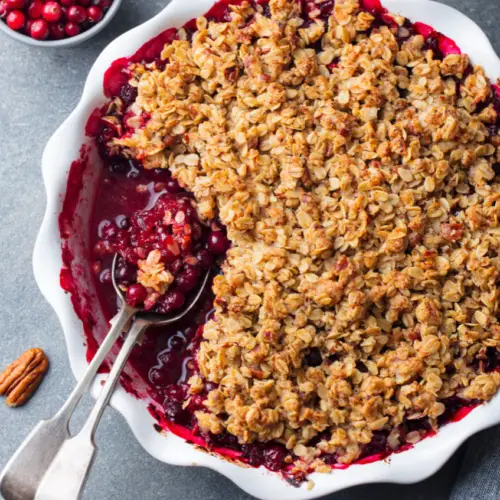 Low Calorie Cranberry Crisp
This low calorie cranberry crisp recipe can be made with fresh or frozen cranberries OR leftover chunky cranberry sauce.
It's a great way to use up leftover cranberry sauce from the holidays, or take advantage of the low cost (and availability) of cranberries during the winter months.
Try this leftover cranberry dessert anytime of the year with frozen cranberries, or enjoy it during the holiday season. You can also use 1/2 fresh/frozen cranberries and 1/2 cranberry sauce if you don't have enough leftovers!
Ingredients  
Low Calorie Cranberry Filling:
Cranberry Crumble Topping:
Instructions 
Preheat the oven to 350 degrees.

To a large bowl, combine the cranberry sauce or cranberries, 2 tablespoons zero calorie all natural sweetener, and vanilla.

Mix together and then add to a pie pan or 9×9 baking dish.

To the same bowl (no need to wipe out) combine the Cranberry Crumble Topping ingredients. Mix with your fingers until you can clump together.

Add the crumble topping to the top of the cranberries.

Bake for 60 minutes, until the topping is golden brown and the berries are bubbling.

Remove from the oven and let rest for 30 minutes before serving.
Vegan Cranberry Cobbler:
Use coconut oil instead of butter in the Cranberry Crumble Topping.
Gluten-Free Cranberry Cobbler:
Use Gluten-free oats, and Gluten-free flour in the Cranberry Crumble Topping.
Notes
Try These Combos for your Cranberry Pie Filling:
Leftover Cranberry Sauce and Fresh Cranberries

Fresh Cranberries or Leftover Cranberry Sauce and Apples

Leftover Cranberry Sauce and Sliced Pears

Fresh Cranberries and Blueberries

Leftover Cranberry Sauce and Strawberries
Nutrition
Calories:
117
kcal
Carbohydrates:
13
g
Protein:
1.7
g
Fat:
5.8
g
Saturated Fat:
4.5
g
Cholesterol:
0
mg
Sodium:
1
mg
Potassium:
111
mg
Fiber:
2.6
g
Sugar:
1.7
g
Calcium:
12
mg
Iron:
1
mg
About the Author
Hi, my name is Audrey Johns and I am a 4 time best selling cookbook author! All 4 of my low calorie cookbooks are published by HarperCollins (the oldest publishing house in the US!) and have been featured on prominent TV shows like The Today Show, Rachael Ray and The Doctors. I am a low calorie and healthy recipe authority and my delicious recipes are tried and loved by thousands of readers. 
After a one year 150 pound weight loss (and I've kept it off for 13 years!) I started sharing all of my low calorie recipes with the world. They are always all-natural and geared around weight loss and weight management. I have even made some of these recipes with my Biggest Loser pal Bob Harper! Check out my weight loss story, my best selling cookbooks, and my numerous TV appearances by clicking here.
Nutrition and Calories in Cranberry Crisp
A quick note on how we figured out the nutrition in this cranberry recipe. Because different cranberry sauces have different nutritional values, and without being able to be 100% sure which everyone will use, I based this nutrition label on a fresh cranberry crisp recipe. So if you want to keep calories low, use fresh cranberries. Or a combo (half and half) of cranberry sauce and cranberries.
More Weight Loss Recipes:

Lose Weight By Eating Cookbooks

Share this Low Calorie Recipe: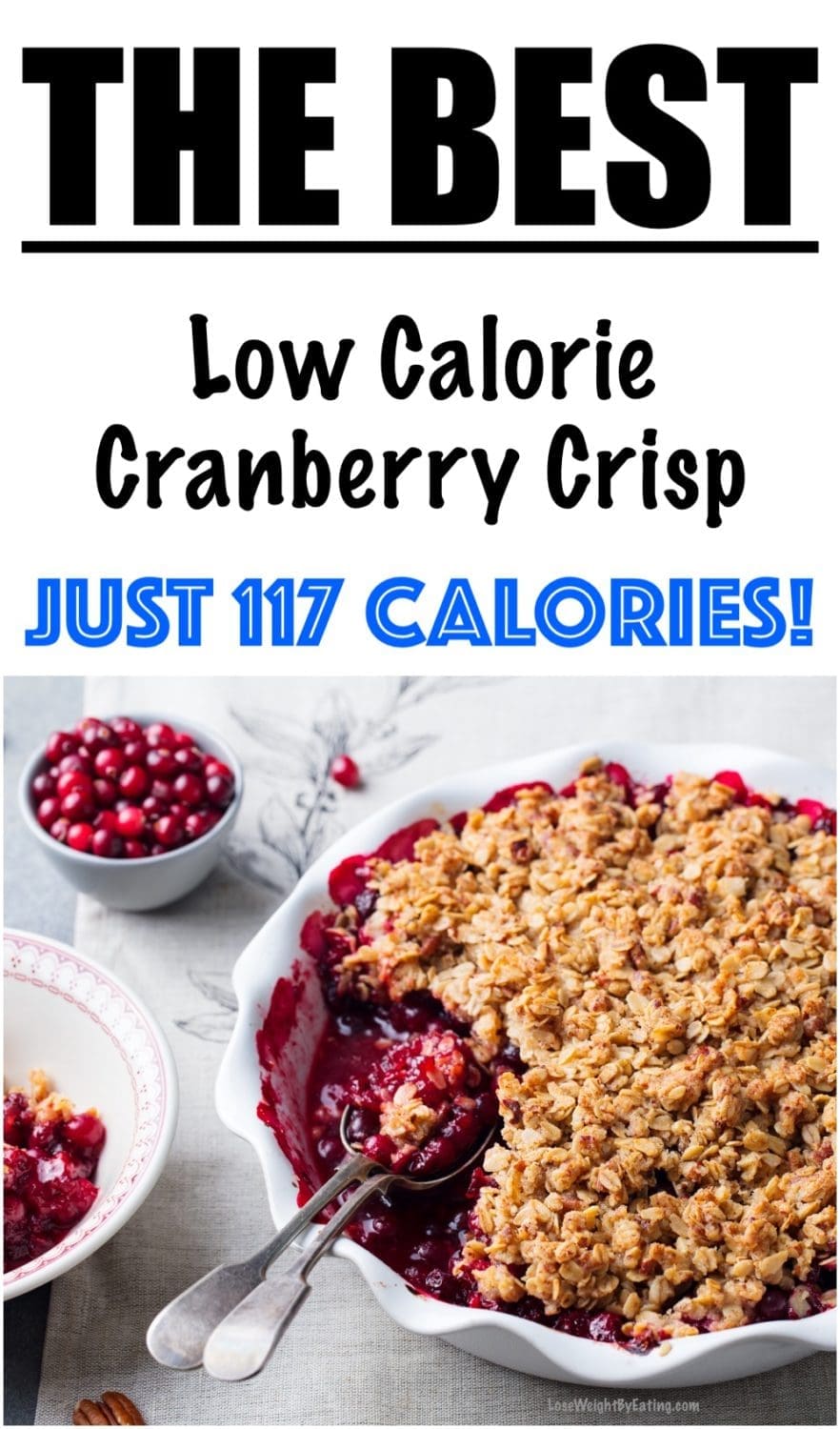 Article History:
Originally written and published November 24, 2021 by Audrey Johns
Most recently updated on November 9, 2023 by Audrey Johns