These Healthy Turkey Enchiladas are just 334 calories and are the perfect recipe for leftover holiday turkey! You can use light or dark meat, and the nutrition is based off a combination of both (so they will be lower in calories if you use just white meat!) You can also use chicken to make these green enchiladas, or a combination of both turkey and chicken. The recipe is meant to be easy and versatile.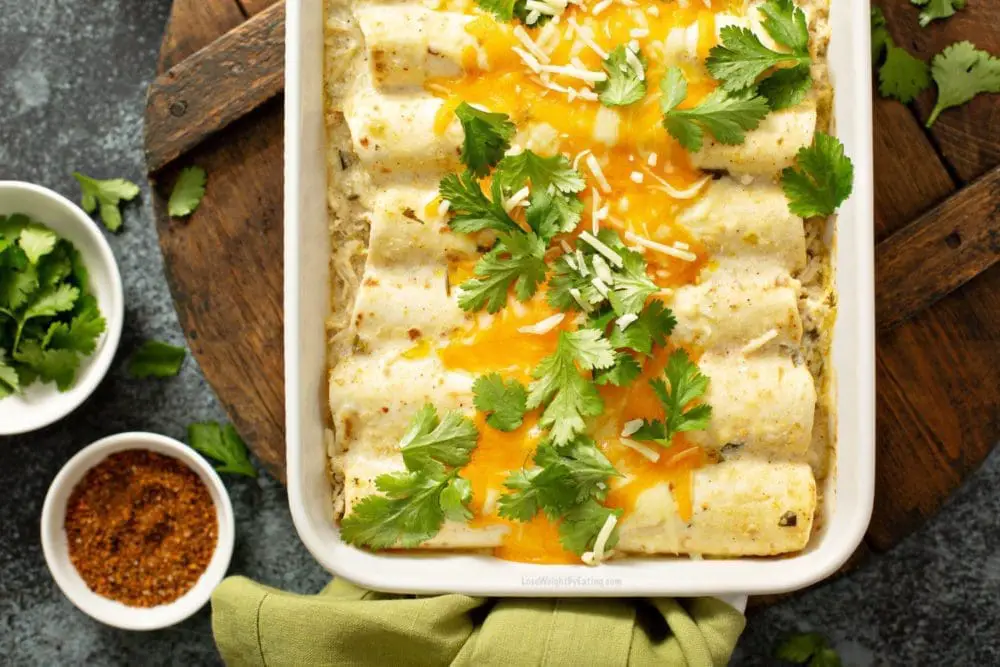 Everything You'll Need
Olive oil spray
1 sweet onion
3 cloves garlic
2 teaspoons Taco Seasoning
2 (4-ounce cans) diced green chiles
4 cups Shredded Turkey
2 cups Salsa Verde
½ cup chopped fresh cilantro
½ teaspoon salt
⅛ teaspoon pepper
1 cup shredded Monterey Jack cheese
8 (8-inch) flour tortillas
¼ cup 0% Greek Yogurt
Healthy Turkey Enchiladas
Skip Ahead:
Healthy Turkey Enchiladas Meal Prep and Storage
Meal Prep – Cook the enchiladas according to the directions, and then allow to cool completely. Add single servings into individual containers, or family sized servings into a large container. Or cover entire casserole with foil, then place inside a 2 gallon freezer bag (if freezing). 
Frozen Leftovers – Will hold in the freezer for 1 month.
Refrigerated Leftovers – Will hold in the refrigerator for 4 days.
Reheating – From frozen, add single servings to a microwave and heat for 3-5 minutes until warmed through, or entire casserole to the oven, covered in foil. Add to the cold oven, then set the heat to 350 degrees (as the oven heats so will the casserole) cook for 10 minutes covered at 350 degrees, then an additional 10 minutes uncovered. 
From defrosted add single servings to a microwave and heat for 1-2 minutes until warmed through, or the entire casserole covered in a 350 degree oven for 10 minutes, and then uncovered for an additional 10 minutes.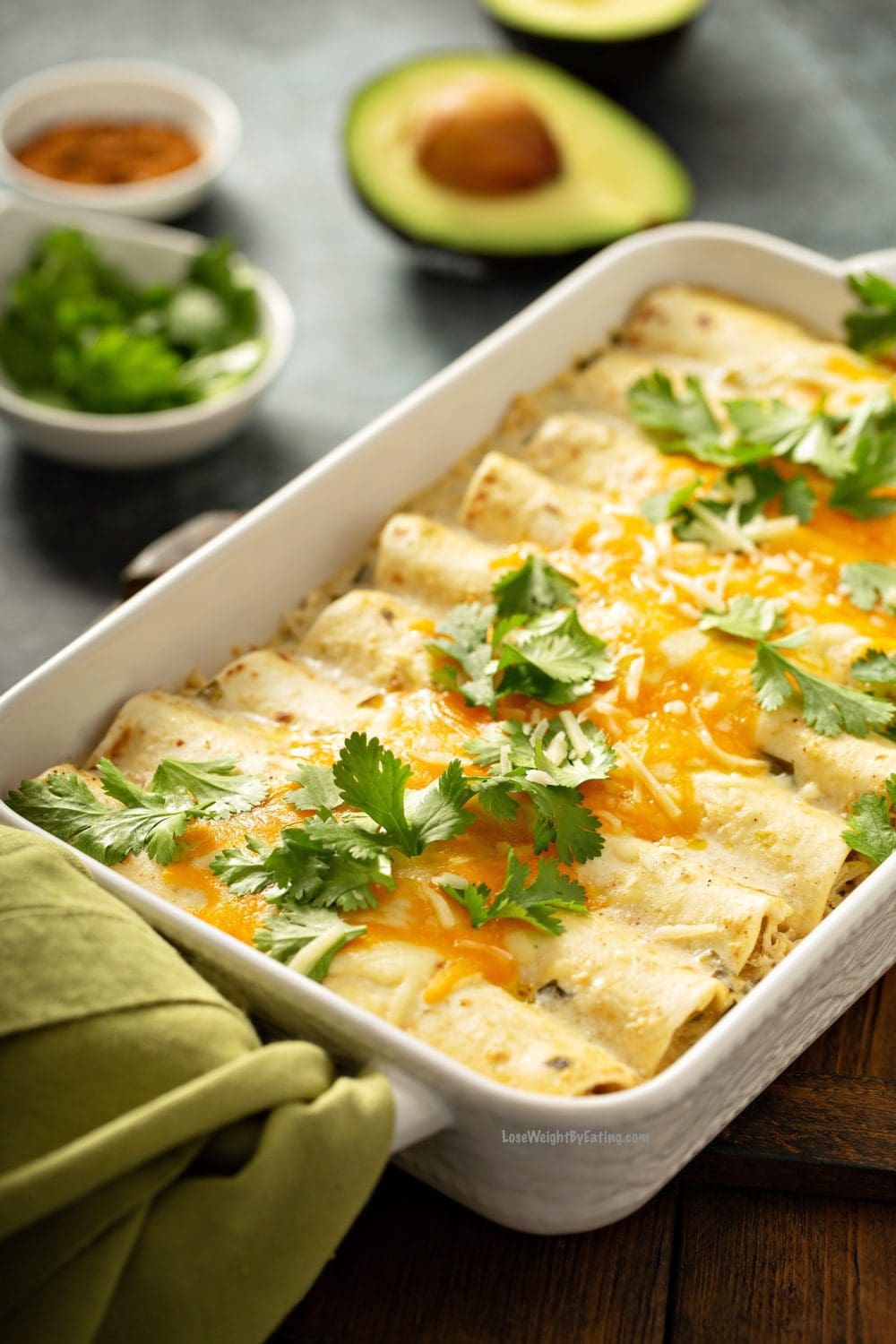 Low Calorie Turkey Enchiladas Recipe
More Holiday Leftovers Recipes:
Low Calorie Turkey Enchiladas
These healthy green enchiladas with turkey are just 334 calories and packed with 30.5g of protein!
I cut down the cheese a bit and swapped out the sour cream for Greek Yogurt (it tastes the same!) and these low calorie green leftover turkey enchiladas tasted just as good as the high calorie version.
Special Tip: We like use our own Taco Seasoning and Salsa Verde (and we've supplied you with recipes) but you can also use store-bought to save time.
Instructions 
Preheat oven to 375 degrees, and spray a 9×13 casserole dish with olive oil and set aside.

Heat a large skillet over medium heat, and spray with olive oil.

Add onion, and cook for 3-5 minutes until translucent.

Stir in garlic, and taco seasoning, cook for about 1 minute until fragrant. Then remove the skillet from the burner and stir in green chiles.

Add the onions and green chilis to a large bowl. Add the turkey, 1/3 cup salsa verde, cilantro, salt, pepper, and 1/4 cup of Monterey Jack cheese.

To assemble the enchiladas: Lay one tortilla on a flat surface and spoon 3/4 cup of the turkey mixture in the center. Roll the tortilla and place seam side down onto prepared baking dish. Repeat with remaining tortillas and turkey mixture. Once all the enchiladas are assembled, top with remaining salsa verde and remaining 1/2 cup Monterey Jack cheese.

Bake in the oven for 35-40 minutes, until the cheese is melted and the sauce is bubbling.

Serve hot, topped with dollops of Greek Yogurt.
Nutrition
Serving:
1
enchilada
Calories:
334
kcal
Carbohydrates:
29.3
g
Protein:
30.5
g
Fat:
9.6
g
Saturated Fat:
4.3
g
Cholesterol:
55
mg
Sodium:
988
mg
Potassium:
191
mg
Fiber:
1.4
g
Sugar:
3.8
g
Calcium:
227
mg
Iron:
3
mg
About the Author
Hi, my name is Audrey Johns and I am a 4 time best selling cookbook author! All 4 of my low calorie cookbooks are published by HarperCollins (the oldest publishing house in the US!) and have been featured on prominent TV shows like The Today Show, Rachael Ray and The Doctors. I am a low calorie and healthy recipe authority and my delicious recipes are tried and loved by thousands of readers. 
After a one year 150 pound weight loss (and I've kept it off for 13 years!) I started sharing all of my low calorie recipes with the world. They are always all-natural and geared around weight loss and weight management. I have even made some of these recipes with my Biggest Loser pal Bob Harper! Check out my weight loss story, my best selling cookbooks, and my numerous TV appearances by clicking here.
Nutrition and Calories in Turkey Enchiladas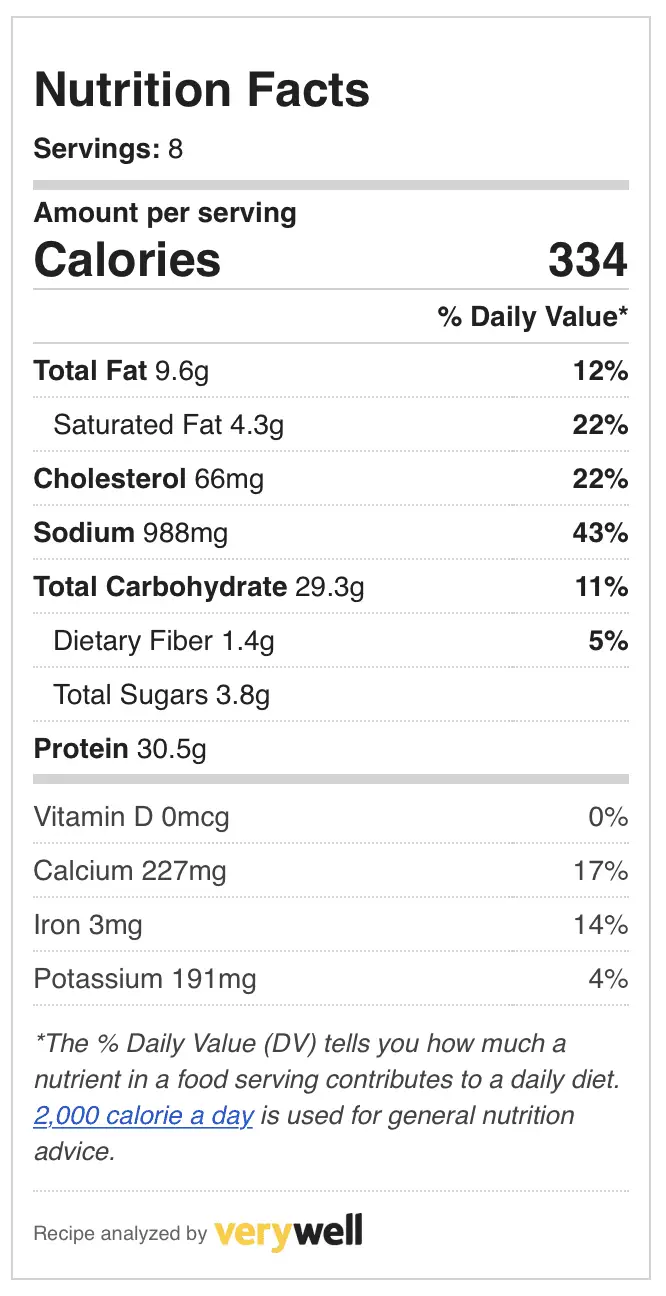 More Weight Loss Recipes:

Lose Weight By Eating Cookbooks

Share this Healthy Recipe: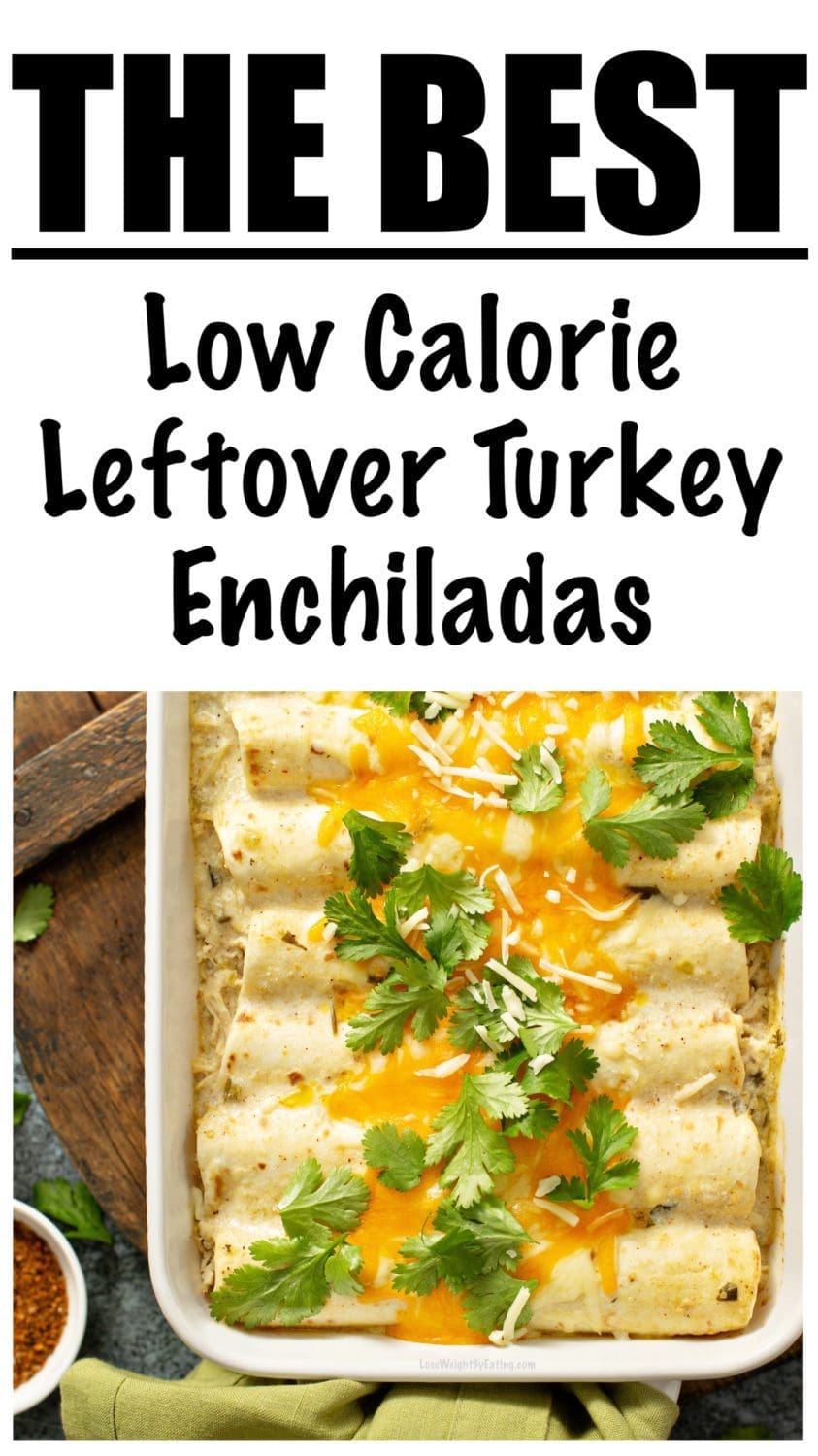 Article History: