If you're like many of our readers you've struggled with getting your veggies in every day. Some people don't like veggies, others don't have the time to cook them, and many just forget.
You've probably seen, and maybe even tried a green smoothie recipe.
Many can be good, but most often they taste like you are eating grass off the front lawn. But have you tried a Lose Weight By Eating green smoothie? They're super yummy, don't taste like veggies at all, and are so delicious you may even feel guilty enjoying them… until you look down at the color and remember you're eating healthy.
This Green Smoothie Sorbet, from my new cookbook Lose Weight By Eating- Detox Week, takes the traditional green smoothie to a new level. It's delicious and fun to eat, and best of all, at only 135 calories for 1 cup, you can eat as much as you want without guilt!
Try out the recipe yourself, then check out more yummy recipes in my new cookbook and lose up to 10 pounds in just 7 days… by eating!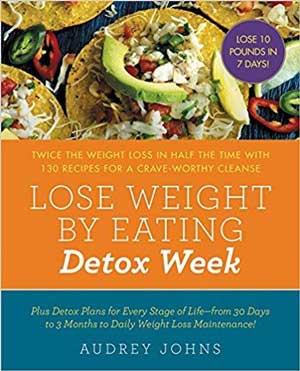 Green Smoothie Sorbet Recipe
Makes 4 servings
Serving size: about 1 cup
Per serving:
calories 135; fat 3 g; saturated fat 2.5 g; fiber 3 g; protein 2.5 g; carbohydrates 28 g; sugar 21 g
Prep time: 15 minutes plus 3 hours freeze time
My daughter went crazy for this sorbet when I first made it. I turned around for a second to get a spoon, turned back, and saw her literally digging her fist into the unfrozen sorbet. She wasn't even an impulse-driven toddler when it happened, but a full-on first grader. Yeah, it's that addictive!
1 (10-ounce) bag frozen mango chunks
3 cups frozen pineapple chunks
3 cups baby spinach
2 cups unsweetened coconut milk or almond milk
Hardest thing about this recipe? Clearing out a spot in your freezer! You must have enough flat space on which to place a filled gallon-size bag.
Place the mango, pineapple, spinach, and coconut milk in a blender and pulse. When the mixture starts moving, blend on medium speed until you have a smooth sorbet base.
Pour the sorbet into a gallon-size freezer bag and press out as much air as you can without spilling the sorbet all over the counter. Seal and place flat in the freezer for 1 hour.
Remove from the freezer and use a rolling pin to very carefully squish and break up the frozen chunks. Repeat this two more times: Freeze for 1 hour, squish. Freeze for 1 hour, squish.
Serve the sorbet or transfer it to an airtight container and pack it down well, then cover and freeze for later use. The sorbet will keep for up to 3 months.
Lose Weight By Eating cookbooks:
From Lose Weight By Eating: Detox Week by Audrey Johns.
Copyright © 2017 by Audrey Johns. Reprinted by permission of William Morrow, an imprint of HarperCollins Publishers.