This 10 Best Low Calorie BBQ Side Dishes article will supply you with 10 healthy BBQ sides that you can make on the grill, or make ahead.
I want to give you a wide range of BBQ side ideas. This way you can barbecue some, and make some healthy pasta salads, BBQ Baked Beans or a delicious cold salad ahead of time.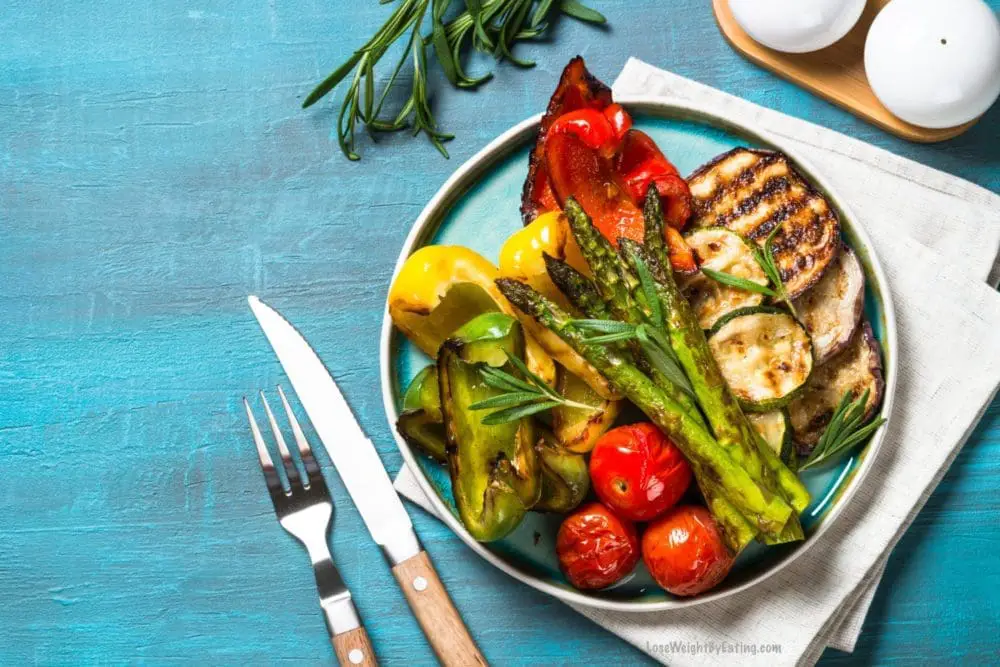 These easy barbecue sides are made easier with printable recipe cards and shopping lists! Just click on the photo or recipe to get everything you'll need to make the best BBQ sides dishes.
I've also included 12 low calorie, easy to make BBQ recipes for main courses… So if you're looking to revamp your traditional BBQ recipes, we've got you covered!
This article will share 10 Easy BBQ Sides for both making on the grill, or making ahead of time…
10 Best Low Calorie BBQ Side Dishes
To make these healthy BBQ side dishes easy, I've included a quick list of them.
This way if you don't want to scroll through and look at pictures and calorie counts (which we cover on each below) you can quickly click on the recipe in the list.
I will quickly explain each of these recipes below. You'll find calorie counts, photos, recipe cards and more. So keep scrolling to learn about each of these easy side dishes for BBQ dinners.
Here are the 10 Side Dishes for BBQ You'll Find Below:
Before I dive into explaining and reviewing each of the above ideas for BBQ sides, we wanted to share some reader favorite BBQ main course recipes.
If you're looking to make a healthier version of your favorite BBQ recipes, these have you covered!
Try Our Healthy BBQ Recipes:
At just 27 calories (for a very large serving!) and 3 different seasoning blends to choose from. This Grilled asparagus is one of our favorite veggie BBQ options.
You can toss these BBQ veggies on the grill and make everything at once. Or you can pair this veggie BBQ side with a premade side like the Healthy Baked Beans or Pesto Pasta Salad (all below!)
Healthy, low calorie, and super easy! I know you'll love these grilling sides!
If you're looking for a more elegant grilled sides recipe (that's still so easy you can hardly call it a recipe) this one is for you!
Just 81 calories for 1.5 cups (that's a huge portion!) you can feel good about making this easy BBQ side dish!
To make these sides for grill, all you do is grill the zucchini, then top it with cheese (feta, goat cheese, blue cheese anything crumbly) and pine nuts and you're done.
Fruit isn't just for dessert! This grilled pineapple is amazing with grilled pork chops, or as BBQ chicken sides!
At just 38 calories, this makes a great grilling side, or even a grilled dessert!
Learn how to make all BBQ sides healthy with the tips and tricks in this yummy side dish recipe!
Foil packets make grilling sides easier than ever! And this low calorie grilled potatoes recipe is mess free and fun to make!
Just 101 calories, this healthy starch side dish makes a great easy BBQ side!
I use New Potatoes, or mini potatoes in this BBQ side dish recipe. But you could use any potato if you cut it… directions in the recipe card below!
At just 116 calories (with butter and salt!), corn on the cob makes a good barbecue sides!
Check out how I was able to cut calories and fat, and still give you the buttery corn on the cob you know and love.
Foil packets are a great way to make BBQ sides easy, and mess free!
Above I went over veggie BBQ ideas to make on the grill. But often making a side dish ahead of time makes your backyard BBQ party easier, and diversifies the sides on the table.
At just 115 calories, this cold salad is great for potluck BBQ parties, or just making for the family.
I love this broccoli salad with big BBQ meals, like ribs, steaks, and beer can chicken. It has bacon in it, so vegan and vegetarian readers can skip the bacon, or check out some of the make ahead BBQ side recipes below.
I L-O-V-E pasta salad here at Lose Weight By Eating! It's a great make ahead side dish for barbecue lunches and dinners.
This 137 calorie pasta salad is perfect for potlucks and block parties. I will share another pasta salad below… plus you can find a Low Calorie Traditional Pasta Salad here.
This make ahead side dish for BBQ dinners and lunches is packed full of flavor. You can make it gluten free and low carb by using chickpea pasta.
There's something about BBQ parties that just beg for a sweet salad. And this healthy ambrosia salad is the perfect make ahead BBQ side dish.
At just 76 calories, this healthy BBQ side dish recipe is perfect for adding a bit of sweetness to your plate.
I swapped out many of the base ingredients to boost protein and reduce sugar. I know you'll love this fresh BBQ side salad recipe.
Like I said above, pasta salad is one of our "go to" BBQ side dishes. But this one adds in summer veggies like zucchini to lower calories and boost nutrition.
At just 93 calories, you'll want to start making your grilling side dishes ahead of time always.
And as a bonus, if you make this BBQ side dish with chicken, you can use the leftovers (both the chicken and the pasta salad) as a cold protein packed lunch tomorrow!
No list of the best BBQ side ideas would be complete without baked beans! And this low calorie recipe is absolutely amazing!
Try these make ahead barbecue side dishes for your next gathering. At just 149 calories, they are healthy and low calorie!
You can skip the bacon in this baked beans recipe if you like… just click the recipe card to find the easy modification!
The 10 Best Side Dishes for BBQ Dinners: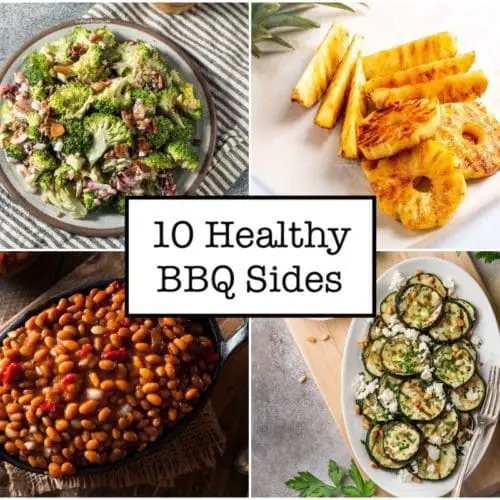 10 BEST Low Calorie BBQ Side Dishes
These 10 Healthy BBQ sides are easy to make and impressive to serve.
With 5 grilled sides, and 5 make ahead side dishes for BBQ, you'll be covered for all your BBQ parties or quiet family dinners.
Special Tip: Each of these BBQ sides recipes come with a printable recipe card!
Instructions 
Pick 1-2 healthy BBQ sides (we like to pick one make ahead and one grilled side).

Click on the links to retrieve the recipe… You can even print the recipe cards for each side dish!

Serve them alongside your favorite burger, or BBQ main dishes.
Nutrition
Serving:
1
cup
Calories:
75
kcal
What to Read Next:



Lose Weight By Eating Cookbooks

Share these Healthy Recipes:
Article History: