Using apple cider vinegar for weight loss has been happening for many years. It really took off in 2009 when a study was published showing that acetic acid (AcOH), a primary component of vinegar, was found to reduce body fat accumulation in animals (1).
Celebrities like Scarlett Johanssen have been reported to use it every day as a natural skin toner treatment. She claims it helps keep her face clear and glowing without the use of harsh chemicals.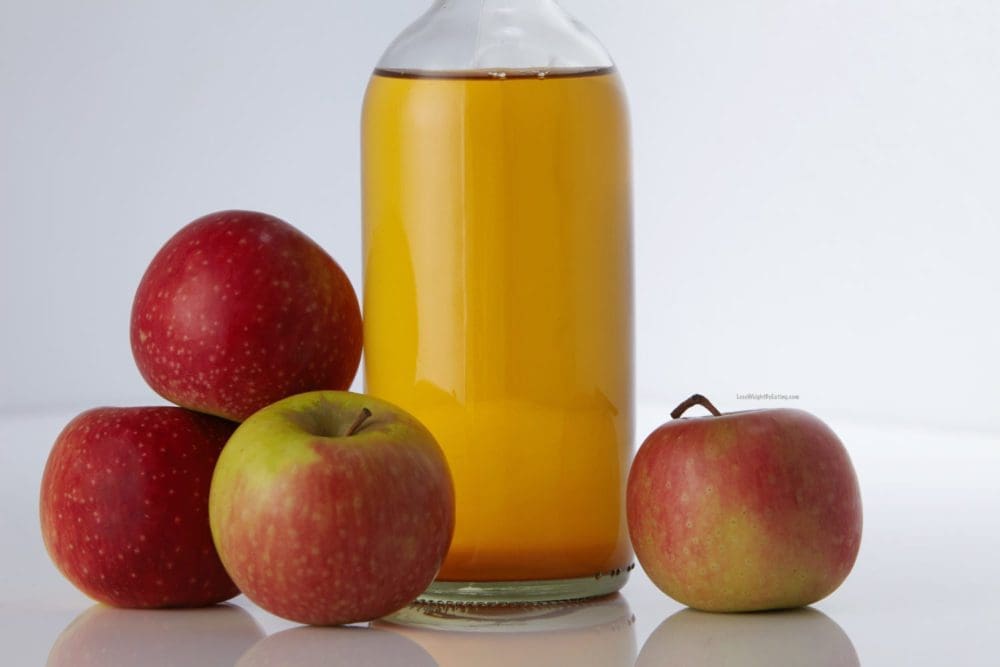 The most popular way to take ACV is to mix a teaspoon of apple cider vinegar and honey in a glass of water and drink it.
From weight loss, improved digestion, blood sugar control. Heart health support to better hair, healthier skin, and even improved energy. The following Top 10 Apple Cider Vinegar Benefits are truly amazing.
What is Apple Cider Vinegar?
Apple cider vinegar (or ACV) is basically fermented apple juice. It's made by crushing fresh apples and squeezing the juice out into barrels or vats. Yeast and bacteria are added and the liquid is left to ferment into alcohol.
In a second fermentation process. Acetic acid bacteria is added and the alcohol turn into a rich, brownish liquid that we know as apple cider vinegar.
Some unfiltered apple vinegar brands have a blob in the middle known as the "Mother of Vinegar". This is actually thin strings of bacteria. The Mother of Vinegar is often regarded as an essential part of the apple vinegar, containing lots of nutrients.
Generally, ACV is used in recipes like a drink or salad dressings. It is best used when a dish calls for an acidic ingredient or as a healthy food preservative. The antimicrobial properties of ACV also makes it a good natural household cleanser.
Key Point: Apple cider vinegar is made in a two-step process. It is most commonly used in drinks and recipes like salad dressing.
The Top 10 Apple Cider Vinegar Benefits
Here are the top 10 health benefits of apple cider vinegar we found:
#1 – Apple Cider Vinegar For Weight Loss
Some studies have shown that drinking apple cider vinegar will leave you feeling more full and satisfied. Which causes you to eat less calories and helping with weight loss.
Other studies in obese Japanese individuals showed that the subjects who drank the highest levels of ACV (acetic acid) had significantly lower amounts of belly fat and lower triglycerides levels compared to the group that was not on the apple cider vinegar diet or drank less amounts of it (2).
For maximum weight loss with apple cider vinegar. It is suggested you consume one serving along with meals that are high in carbs.
And if drinking it seems unappealing just swap out balsamic or other vinegars from your homemade salad dressings. And replace with ACV or add some to your all natural store bought dressing. This helps to mask the flavor while getting all the apple cider vinegar weight loss benefits.
Key Point: Drinking one serving of apple cider vinegar along with a meal can help you feel more full and eat less, which helps with weight loss.
#2 – Improves Digestion
Having tummy troubles? Drink a glass of water mixed with 1-2 teaspoons of apple cider vinegar 15 minutes before a meal. This will ensure that meal goes down easier.
How does it help digestion? Research has shown that drinking ACV helps increase your stomach's production of hydrochloric acid (HCl). HCl is important for digestion because it helps convert proteins into amino acids. It also assists in the digestion and absorption of fats, carbs, and certain vitamins like A & E.
Additional ACV benefits include helping to improve other stomach and intestinal issues like heartburn and constipation.
Key Point: Consuming a serving of apple cider vinegar before a meal helps your stomach produce more digestive acids for better absorption of nutrients.
#3 – Helps Regulate Blood Sugar Levels Which Helps With Diabetes
The acetic acid in apple cider vinegar has been shown to help regulate blood sugar. It does so by slowing down the digestion of simple carbohydrates.
In one study, researchers found that after-meal blood sugar levels of the test participants with insulin resistance lowered by 34 percent. This occured when they drank the apple cider vinegar. (3)
In another study… Researchers found that taking two tablespoons prior to going to sleep lowered participant's blood sugar levels by 4 to 6 percent by morning.
This is all good news for folks with diabetes or anyone trying to keep control of their blood sugar levels.
So start using ACV more often in your kitchen. A simple dressing of olive oil and apple cider vinegar is great over steamed, grilled or baked vegetables. As well as over salad and will give you all the wonderful health benefits.
Key Point: Apple cider vinegar has shown potential in improving insulin sensitivity and helping to lower blood sugar levels after meals.
#4 – Vinegar May Help Protect Against Certain Types of Cancer
There have been some studies showing vinegar has the potential to repress the growth of certain types of cancer. Such as leukemia.
While these studies are not conclusive, they do show the potential for cancer treatment (4).
Key Point: Some studies have shown that apple cider vinegar can slow the growth of cancer cells and shrink tumors.
#5 – Can Help Prevent Candida and Normalize Intestinal Bacteria
Candida is a fungus that helps with the absorption and digestion of nutrients when in proper amounts your the body. If you have too much in your system candida symptoms may appear.
If left unchecked in the digestive tract, candida breaks down the walls of the intestinal lining. It penetrates into your bloodstream, releasing toxins.
ACV is full of helpful acids, like acetic acid and malic acid. Which are believed to improve the composition of your intestinal ecosystem.
These acids have antibacterial, antimicrobial and antifungal properties that can help control the spread of candida fungus in your intestines (4).
Key Point: The acetic acid in vinegar can help kill bacteria. And/or prevent them from multiplying and reaching harmful levels in your intestinal system.
#6 – Helps Strengthen Your Immune System
Many people say they experience fewer colds when they consume apple cider vinegar daily. There are a couple of theories why apple cider vinegar for colds is a good strategy.
First, it helps support good intestinal health and your intestinal health is an important part of your body's immune system. By improving the health of your intestinal system, you help improve your immunity system as well.
There is also a substance called malic acid in apple cider vinegar. Malic acid is known for its strong antiviral properties. This may be one of the reasons people experience fewer colds when taking ACV.
Raw apple cider vinegar is also said to help support your body's lymphatic system. It does so by helping to cleanse your lymph nodes and break up mucus in your body. This action helps provide relief for congestion, colds and allergies.
Key Point: Malic acid in apple cider vinegar helps fight viruses and support your immune system strength.
#7 – May Lower Your Cholesterol and Support Your Heart Health
Heart disease is one of the most common causes of death in the world. It's responsible for millions of premature deaths every year.
Apple cider vinegar has been shown to help lower triglyceride and cholesterol levels in several studies (6).
Other studies have shown that it helps lower blood pressure, which is a major risk for heart health (7).
While the studies show promise, the tests were only done with animals. There's more research needed to concluded that ACV lowers cholesterol for sure. And so this should not be used as an alternative to medical treatment.
Key Point: Several studies have shown that apple cider vinegar can help reduce blood triglycerides, cholesterol and blood pressure.
#8 – Fights Bad Breath
Everyone experiences bad breath from time to time. While there are many reasons why bad breath (or halitosis) occurs, some serious. The primary cause is the accumulation of bacteria in your mouth.
Over time, this bacteria can lead to gum disease and tooth decay.
It can be used as a natural mouthwash. It has potent antiseptic properties which kills bacteria and helps keep your mouth healthy without the use of nasty chemicals.
To make an ACV mouthwash, simply mix one cup of warm water with one teaspoon of ACV.
Use this mixture to gargle in your mouth for approximately 2 minutes, swishing it all around your mouth. Spit out this mix, do not drink it.
Repeat this process daily for maximum effectiveness against bad breath and better oral health.
Key Point: One teaspoon of apple cider vinegar mixed with warm water makes an excellent mouthwash.
#9 – Detox Drink
Drinking one tablespoon of ACV in a large glass of waters ideal. It is believed to make a great apple cider vinegar detox cleanse.
Besides the other great things it does for the body we've already listed. An apple cider vinegar drink before every meal is believed to help detox and cleanse your liver.
Mix one tablespoon of ACV in a large glass of water before each meal as a daily ACV detox drink. Over time, you can increase the apple cider vinegar detox dosage to 2-3 tablespoons. But I recommend building up to that over time.
Give it a bubbly flair with my Apple Cider Vinegar Detox Soda:
Ingredients:
6 tablespoons organic apple cider vinegar
64 ounces sparkling mineral water (2 quarts)
juice of 2 lemons
Stevia to taste
Key Point: Apple cider vinegar can be used as part of a detox regimen when drank with meals.
#10 – Helps Improve Energy Levels
Are you looking for a way to boost your energy levels without drinking coffee or other caffeinated drinks? Try sipping on some to get some extra pep in your step!
While there are no conclusive studies proving that ACV boosts energy levels. It's long been reported to help improve stamina and fight exhaustion.
Simply mix a couple tablespoons to a glass of water. And sip on it whenever you're feeling like you need a jolt of energy. Not only will it help your energy levels, it's good in many other ways for your body.
If drinking ACV does not sound appealing try making your own salad dressing or mixing it with fresh squeezed orange juice. Whisk together then toss with your favorite fruit for a tasty snack or breakfast.
Key Point: Try drinking a couple teaspoons of apple cider vinegar with water for an energy boost.
25 Apple Cider Vinegar Recipes
25 Apple Cider Vinegar Recipes – Salad Dressings, Drinks, Dinners, Lunches
These 25 Apple Cider Vinegar Recipes include drinks, salad dressings, even lunches, dinners and a homemade hot sauce!
Add ACV (apple cider vinegar) to your diet, without ever having to taste it. Thanks to these yummy recipes!
Special Tip: Each recipe has a printable card, shopping lists, nutritional information and more.
Instructions 
Click on the links and print out the recipes cards.

Enjoy your new ACV recipes!
Nutrition
Serving:
1
recipe
Calories:
50
kcal
Apple Cider Vinegar Weight Loss Video
Here is a good video explaining the health benefits of apple cider vinegar and why it helps with weight loss.
What to Read Next:

Conclusion
In doing the research for this article, I was amazed at the amount of positive research regarding the health benefits of apple cider vinegar.
I highly recommend you give it a try for a week or two to see if it helps you feel better. But don't do too much too fast or you may get some apple cider vinegar side effects like indigestion. But overall you are going to love the amazing apple cider vinegar benefits…I sure did!
Lose Weight By Eating cookbooks: