Metabolism…. start your engine! This delicious Orange Dream Smoothie is packed full of metabolism boosting ingredients!
Oranges are full of Vitamin C which is known to boost your metabolism, as is Greek yogurt at Almond milk. Talk about a power trio! Make this and many more Metabolism Boosting Drinks and before you know it you will be shedding pounds without much effort at all.
Find more yummy smoothie recipes on my
Breakfast Smoothies
page! I also recommend you check out our recommendations for smoothie blenders if you want a nice blender that helps you drink more smoothies.
[AmpedSenseShortcodeA]
Makes one Skinny Orange Dream Smoothie.
Ingredients:
1 orange, peeled
1 teaspoon vanilla extract
1 teaspoon honey
1/4 cup Almond milk
1/4 cup Greek yogurt
1/2 cup ice
[AmpedSenseShortcodeC]
Get started: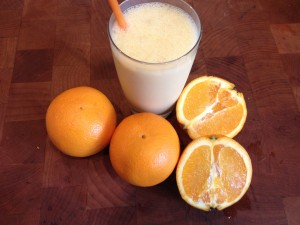 -Add all ingredients except ice to a blender and blend until almost smooth.
-Add in the ice and blend until smooth, add more ice if you want it chunkier.
-Serve in a large glass, store left over in the fridge for up to 12 hours.
Nutrition information:
Each smoothie has:
Calories: 129
Fat: 0
Fiber: 1.5
Protein: 10
Carbs: 25
Compare my Skinny Orange Dream Smoothie to the Jamba Juice Orange Dream Machine Smoothie which is 470 calories for the original size, the same size as this drink.
[AmpedSenseShortcodeB]
Orange Dream Recipe Tips:
You could also use vanilla yogurt and skip the vanilla extract and honey.
If you don't have Almond milk substitute for whatever milk you have in the house, just account for the extra calories.
Lose Weight By Eating cookbooks: