This Lemon Juice and Baking Soda Drink is quick and the Ice Hack Recipe is easy to make. It takes just 2 minutes and 2 ingredients (not including water). Best of all, this baking soda weight loss drink is just 7 calories and tastes just like sparkling lemonade!
Everything You'll Need
2 tablespoons fresh lemon juice
1 teaspoon baking soda
1 teaspoon All-Natural Zero Calorie Simple Syrup (optional- see notes/link in recipe card)
1 cup water
Lemon Juice and Baking Soda "Ice Hack" Drink Recipe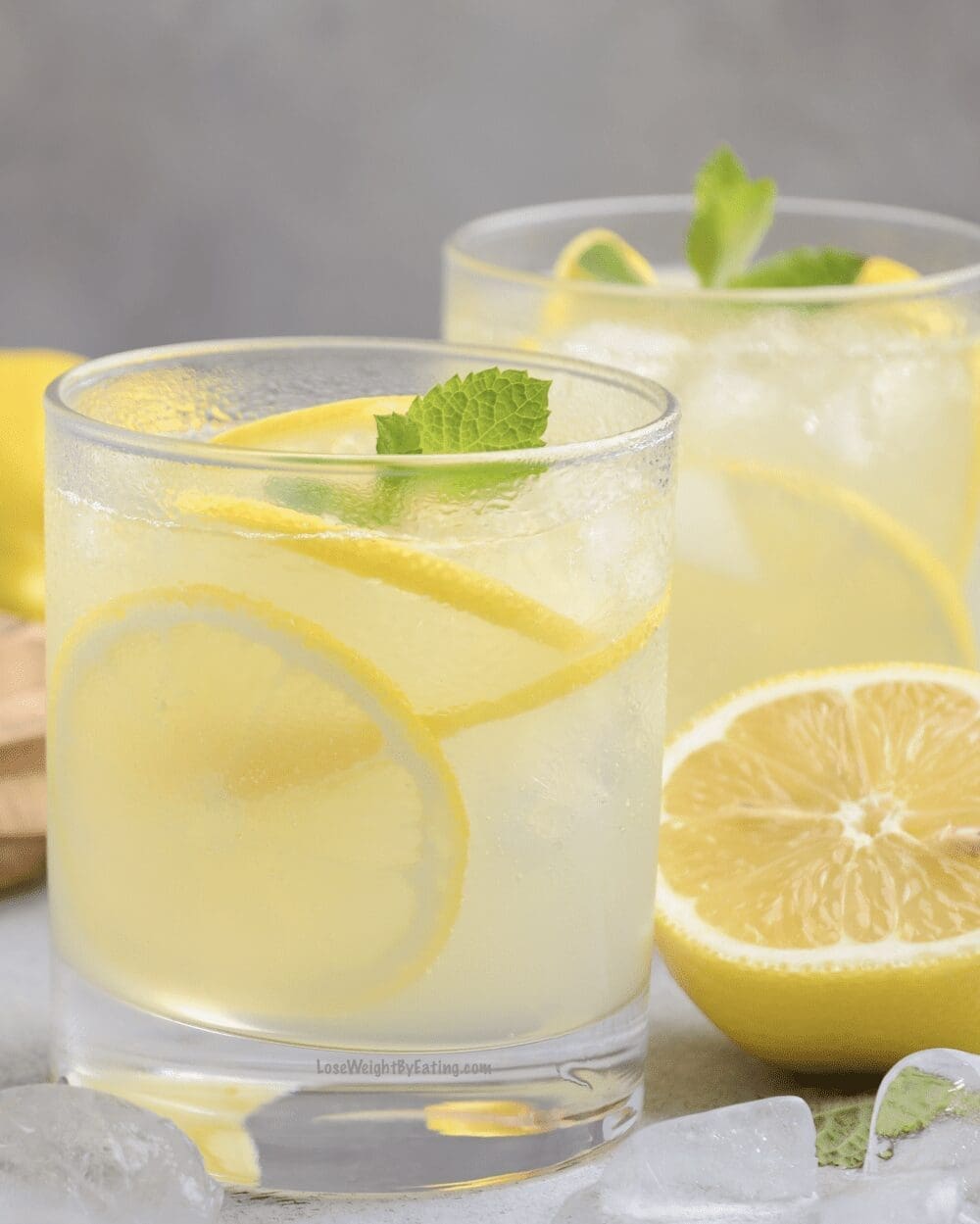 Ice Hack Recipe Meal Prep and Storage
Meal Prep
Juice Meal Prep – Juice the lemons ahead of time and add to a jar or ice cube mold (and freeze).
Prepared Juices – These juices are best made fresh, but you can make them ahead of time and store in a clean jar (with a lid) in the fridge. 
Leftover Storage
Fridge Storage – Add any leftover juice to a jar (I actually serve them in jars so all I have to do is add a lid). Close and store in the fridge for 2-3 days. 
Freezer Storage – Pour any leftover juice into ice cube molds, and freeze solid (about 4 hours). Then pop out of the mold and move to a freezer bag to avoid freezer burn. Will hold for 1 month in the freezer.
Lemon Juice and Baking Soda "Ice Hack" Drink Recipe
More Weight Loss Drink Recipes: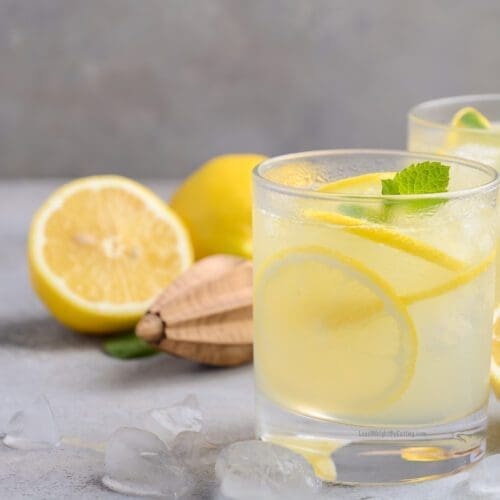 Lemon Juice & Baking Soda "Ice Hack" Drink
This Lemon Juice and Baking Soda Weight Loss Drink is just 7 calories and so easy to make!
Important Note on Ingredients: It is important you are using fresh lemon juice, not the stuff you can purchase in a bottle from the store. It might taste the same, but the stuff in the bottle will not help with weight loss. In fact it might actually cause fat storage because of all the preservatives and chemicals. You will want to get aluminum free baking soda, so check the package and look for "aluminum free".
How to Use: The best time to have this baking soda lemon juice is on an empty stomach, though it can also help with digestion after a heavy meal. You can have it up to 2 times a day, so start with it in the morning on an empty stomach. Then have it again to help digest a large meal, or before a meal to boost fat loss.
Special Tip: To sweeten this drink I supplied you with a zero calorie simple syrup that's all natural and super sweet. It's optional and I included a link so you can check it out.
Instructions 
To a tall glass add the lemon juice, baking soda, and simple syrup (if using).

Mix well to dissolve the baking soda.

Slowly add the water, top with ice and serve cold.
Nutrition
Serving:
8
oz
Calories:
7
kcal
Carbohydrates:
0.6
g
Protein:
0.2
g
Fat:
0.2
g
Saturated Fat:
0.2
g
Cholesterol:
0
mg
Sodium:
1272
mg
Potassium:
40
mg
Fiber:
0.1
g
Sugar:
0.6
g
Calcium:
9
mg
Iron:
0
mg
About the Author
Hi, my name is Audrey Johns and I am a 4 time best selling cookbook author! All 4 of my low calorie cookbooks are published by HarperCollins (the oldest publishing house in the US!) and have been featured on prominent TV shows like The Today Show, Rachael Ray and The Doctors. I am a low calorie and healthy recipe authority and my delicious recipes are tried and loved by thousands of readers. 
After a one year 150 pound weight loss (and I've kept it off for 13 years!) I started sharing all of my low calorie recipes with the world. They are always all-natural and geared around weight loss and weight management. I have even made some of these recipes with my Biggest Loser pal Bob Harper! Check out my weight loss story, my best selling cookbooks, and my numerous TV appearances by clicking here.
Nutrition and Calories in Baking Soda Weight Loss Drink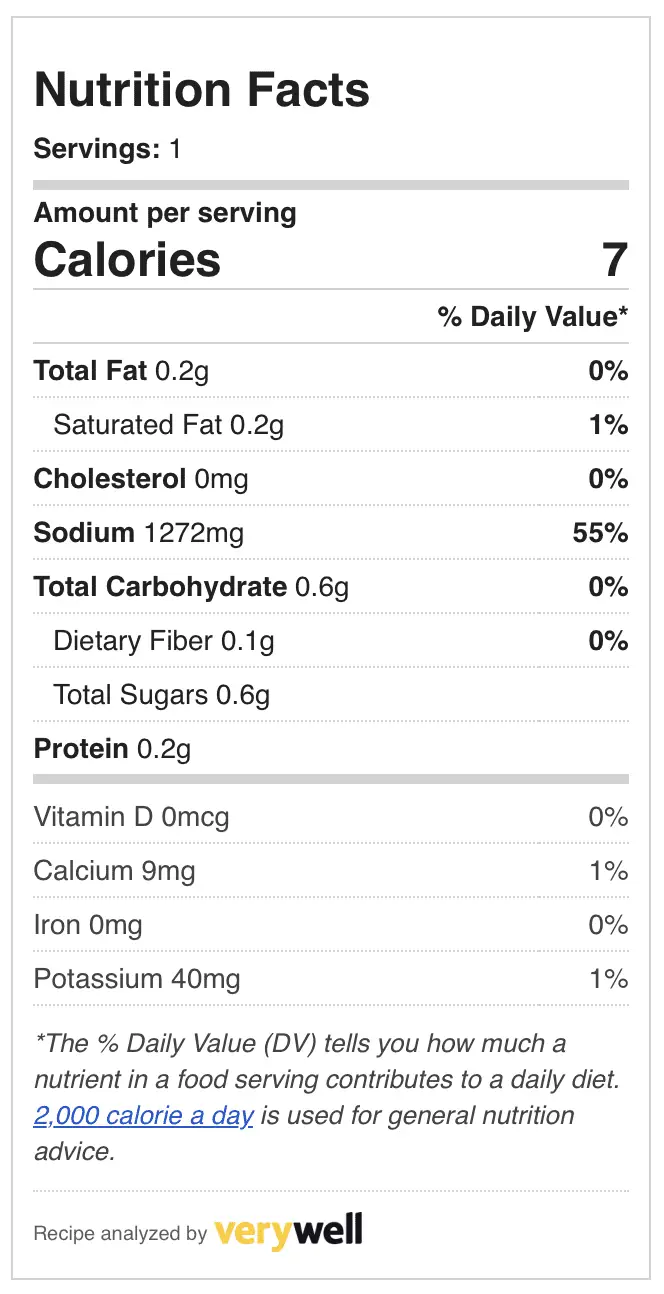 More Weight Loss Recipes & Articles:

Lose Weight By Eating Cookbooks

Share this Weight Loss Recipe:
Article History: