This Healthy Ham Casserole Recipe is just 262 calories, and has 15.1g of protein for a BIG serving! I can't tell you how excited I am about this fantastic leftover ham recipe! It's perfect after the holidays when you have leftover ham, and even better when you have leftover wine too, as the recipe calls for 1/2 cup white wine.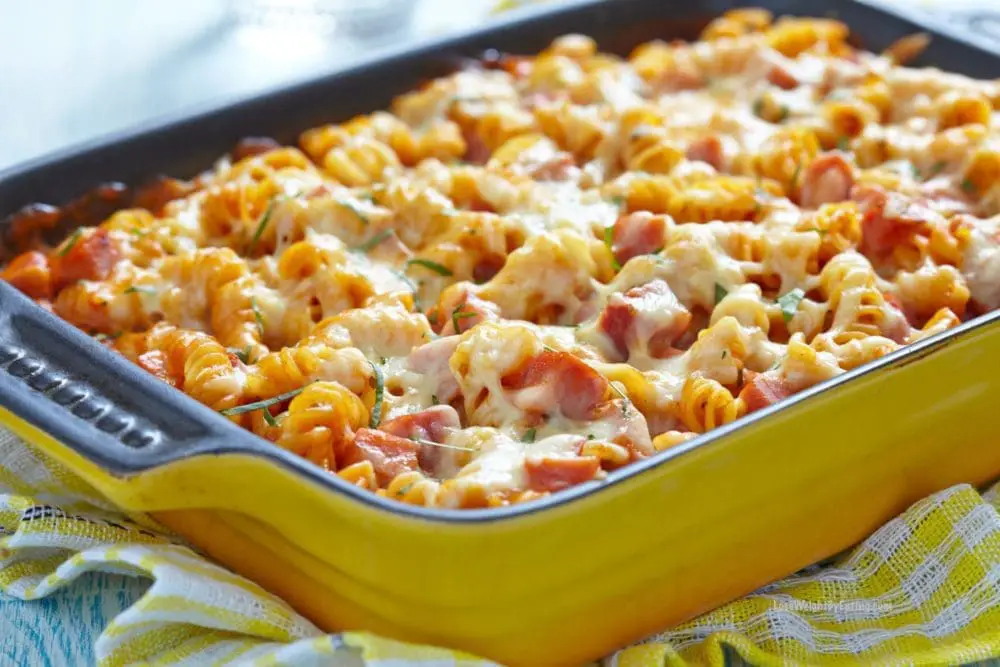 Everything You'll Need
1 tablespoon olive oil
1 yellow onion
1 tablespoon all-purpose flour
3 garlic cloves
1/2 cup white wine (or non-alcoholic white wine)
1/4 teaspoon pepper
1 tablespoon Dijon mustard
2 cups cooked ham
1 box (16-oz) rotini pasta (penne, rigatoni, and small shells also work well)
4 slices provolone (swiss or gruyere also work well)
Olive oil spray
Chopped parsley (optional)
Healthy Ham Casserole Recipe
Skip Ahead:
Healthy Ham and Pasta Casserole Meal Prep and Storage
Meal Prep – Cook the casserole according to the directions, and then allow to cool completely. Scoop single servings into individual containers, or family sized servings into a large container. Or cover entire casserole with foil, then place inside a 2 gallon freezer bag (if freezing).
Frozen Leftovers – Will hold in the freezer for 1 month.
Refrigerated Leftovers – Will hold in the refrigerator for 4 days.
Reheating – From frozen, add single servings to a microwave and heat for 3-5 minutes until warmed through, or entire casserole to the oven, covered in foil. Add to the cold oven, then set the heat to 350 degrees (as the oven heats so will the casserole) cook for 10 minutes covered at 350 degrees, then an additional 10 minutes uncovered.
From defrosted add single servings to a microwave and heat for 1-2 minutes until warmed through, or the entire casserole covered in a 350 degree oven for 10 minutes, and then uncovered for an additional 10 minutes.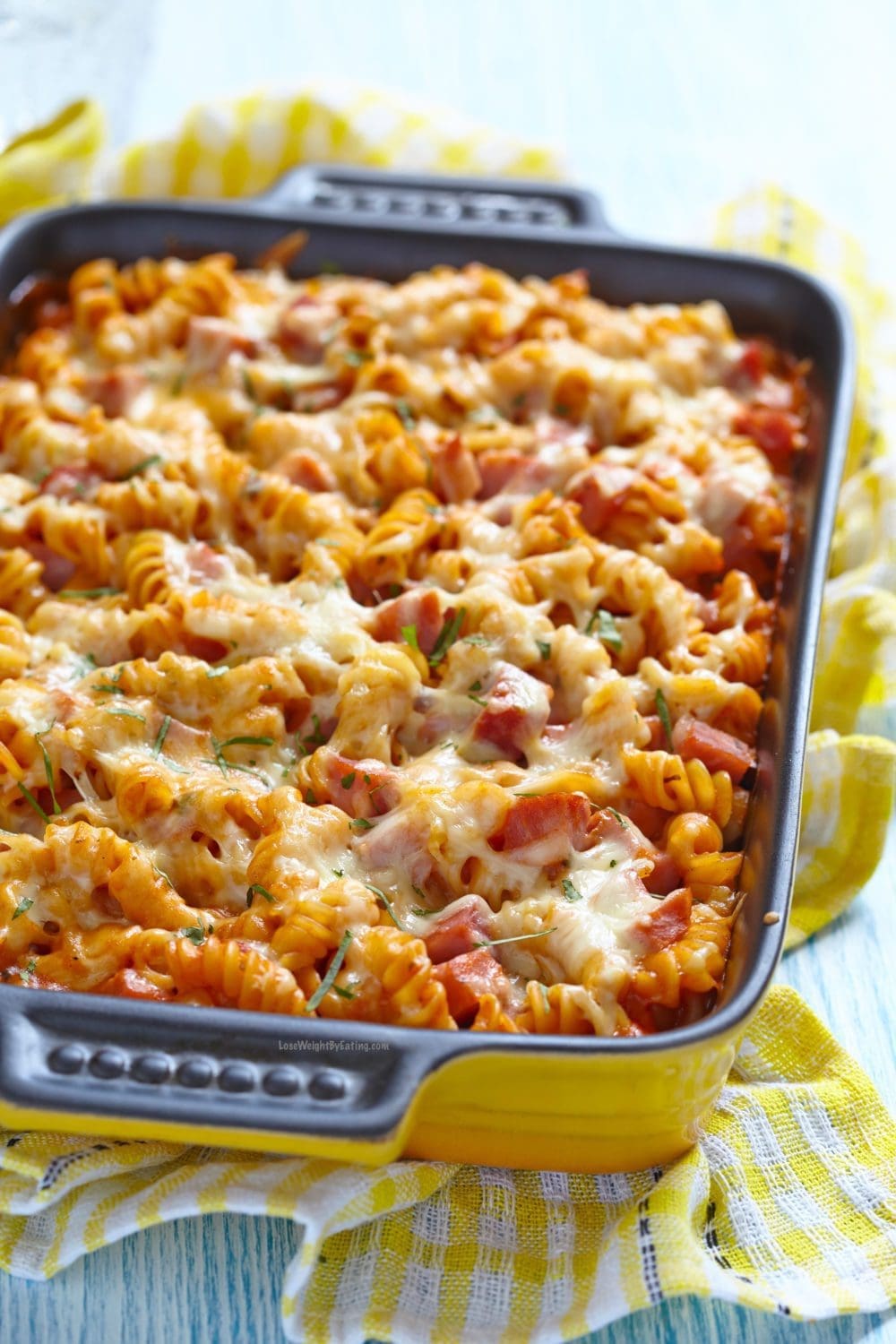 Healthy Ham Casserole Recipe
More Healthy Leftover Holiday Recipes:
Low Calorie Ham Casserole
This cheesy ham casserole is great for holiday leftovers! In fact, that is how I came up with it.
You can use leftover ham, and leftover wine to make this recipe. Or you can just pick up both at the store and cook away. It's great anytime of the year, you don't have to wait until after the holidays.
Special Tip: See the nutrition section for ways to cut carbs and boost protein!
Equipment
9×13 Baking Dish

or equivalent sized oven safe dish
Ingredients  
1

tablespoon

olive oil

1

yellow onion

minced

1

tablespoon

all-purpose flour

3

garlic cloves

minced

½

cup

white wine

(or non-alcoholic white wine)

¼

teaspoon

pepper

1

tablespoon

Dijon mustard

2

cups

cooked ham diced

1

box (16-oz)

rotini pasta

(penne, rigatoni, and small shells also work well)

4

slices

provolone

swiss or gruyere also work well

Olive oil spray

Chopped parsley

optional
Instructions 
Cook the pasta according to the directions on the box. Drain and set aside.

Meanwhile, heat a large pot over medium-low heat. Add in the olive oil and the onion.

Cook, mixing often, until the onion softens (about 5 minutes).

Add the flour and mix with a wooden spoon, continuously, until you have a lightly browned paste like covering the onions.

Add in the garlic and cook until fragrant (about 1 minute).

Add in the wine and whisk well to remove any flour lumps. Then add the pepper and dijon mustard and mix together.

Increase the heat to medium-high. And cook, mixing often, until the sauce has thickened and coats the spoon (about 5 minutes).

Turn off and remove from heat, add in the cooked ham and cooked pasta, and mix well to coat the pasta and ham in sauce.

Move the pasta to a casserole dish, or a cast iron skillet, and top with cheese.

Spray lightly with olive oil and broil for 2-5 minutes until the cheese is melted and lightly browned.

Remove from the oven, sprinkle with parsley, and serve.
Notes
This leftover recipe is great with any leftover veggies you have, and I actually like to serve it along the leftover raw veggies from the veggie tray. It makes it easier and they go really well together too. If you're cooking this another time of year, try it with a side salad, the heavy pasta next to a crisp salad is fantastic.
Nutrition
Serving:
2
cups
Calories:
262
kcal
Carbohydrates:
20
g
Protein:
15.1
g
Fat:
11.6
g
Saturated Fat:
4.9
g
Cholesterol:
39
mg
Sodium:
782
mg
Potassium:
187
mg
Fiber:
1.9
g
Sugar:
2.5
g
Calcium:
165
mg
Iron:
1
mg
About the Author
Hi, my name is Audrey Johns and I am a 4 time best selling cookbook author! All 4 of my low calorie cookbooks are published by HarperCollins (the oldest publishing house in the US!) and have been featured on prominent TV shows like The Today Show, Rachael Ray and The Doctors. I am a low calorie and healthy recipe authority and my delicious recipes are tried and loved by thousands of readers. 
After a one year 150 pound weight loss (and I've kept it off for 13 years!) I started sharing all of my low calorie recipes with the world. They are always all-natural and geared around weight loss and weight management. I have even made some of these recipes with my Biggest Loser pal Bob Harper! Check out my weight loss story, my best selling cookbooks, and my numerous TV appearances by clicking here.
Nutrition and Calories in Leftover Ham Recipe
The serving size will vary depending on which pasta you choose. It is about 2 cups, but it may just be easier to cut the casserole down the middle lengthwise, and then across 2 times leaving you with 6 pieces. That will give you a perfect serving size.
Boost Protein and Cut Carbs: To cut the carbs and boost the protein I recommend getting Protein Pasta (I like Banza Chickpea Pasta), and adding an additional cup of ham (so 3 cups total) to the recipe.
Lower the Sodium: It is hard to lower the sodium in this recipe as ham is salty. I did not add any salt to this recipe, but you could soak the cooked ham in water for 1-2 hours, then drain and rinse before adding to the casserole. This will lower the sodium for you.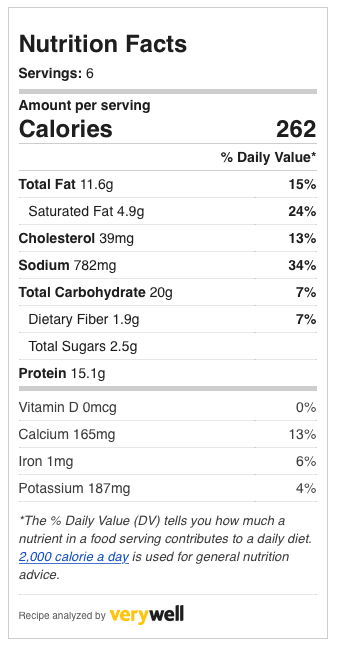 More Weight Loss Recipes:



Lose Weight By Eating Cookbooks

Share this Healthy Recipe: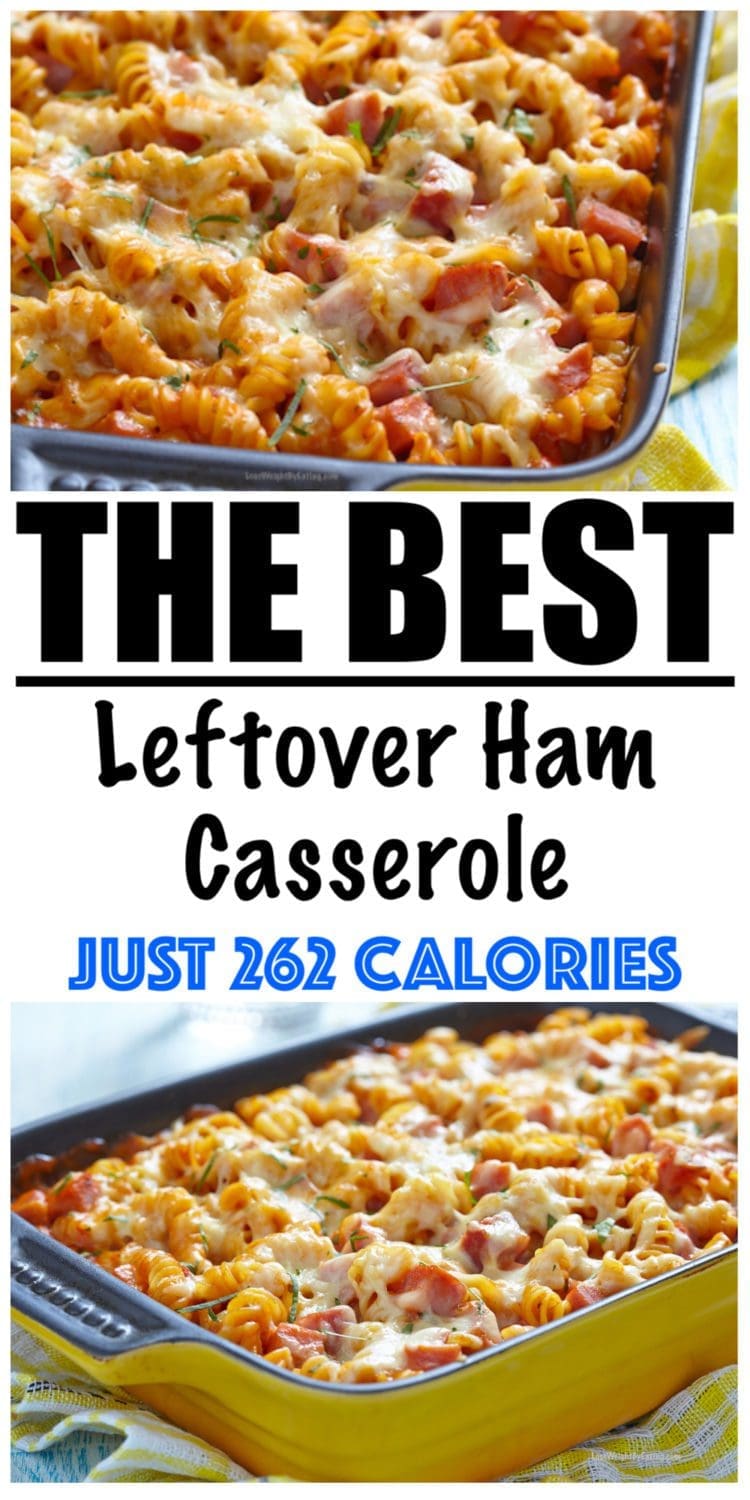 Article History: