The benefits of Almond milk make this vegan milk increasingly popular. In this article we will explore why this plant based milk has become so commonplace.
We will also discuss almond milk nutrition, and compare it to Oat, Dairy, Soy, Skim, and Coconut milk.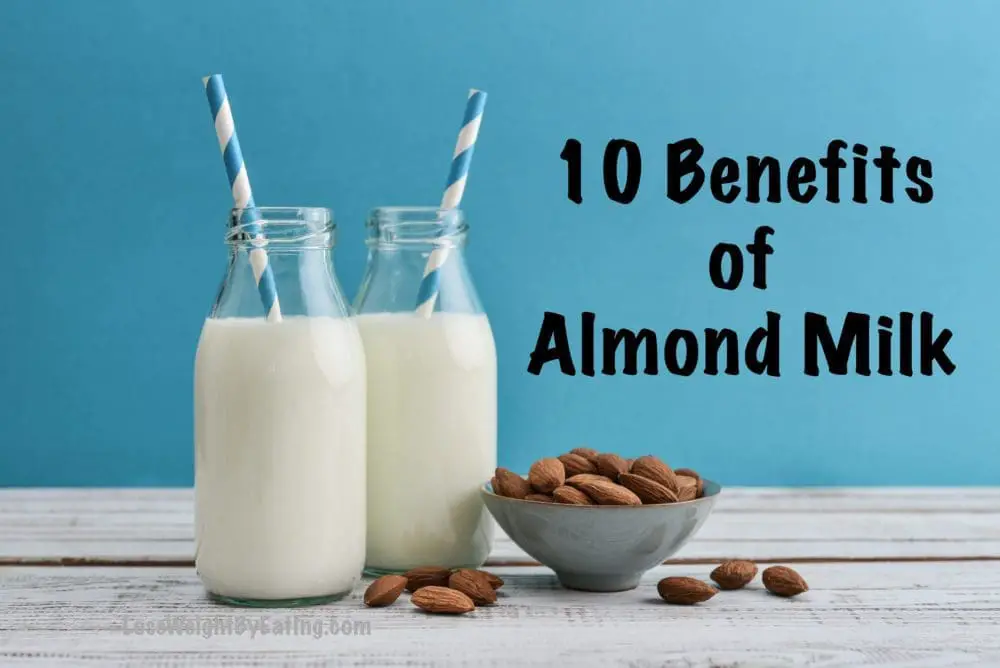 I use a lot of almond milk in Lose Weight by Eating recipes, and the calorie count is not the only reason.
The popular plant based milk can help you lose weight, look younger, fight cancer and promote heart health.
10 Benefits of Almond Milk and Almond Milk Nutrition
If you have a Lose Weight by Eating cookbook, or if you have perused my recipes you know we lean heavily on milk made with almonds.
You can use this popular plant based milk in baking recipes, smoothie recipes, you can heat it to make a Low Calorie Latte, and you can swap it out for milk in your favorite pancakes!
In this article you will find:
10 Benefits of Almond Milk
Comparing Milks- Almond milk vs. Oat milk, Dairy milk, Soy milk, Skim milk, and Coconut milk
Almond Milk Nutrition
Is Almond milk good for you?
If you keep scrolling you'll find nutritional information, as well as a section where we will compare different milks.
10 Benefits of Almond Milk
Almond milk is one of my "go to" ingredients… below I'll share why, and hopefully you'll learn some tips to adding it to your diet.
This vegan milk can easily be swapped into any recipe, and it goes so great with cereal in the morning!
1. Low in Calories
One of the main reasons this plant based milk is so popular, is because it's so low in calories!
On average, unsweetened almond milk is about 39 calories per cup. (1)
Compare that to 2% cows milk which is 120 calories. It's easy to see how much lower in calories almond milk is. (2)
Let's compare to skim milk… Skim milk is 80 calories per cup. Making almond still a better choice.
Special Tip: Use it in Baking!

Almond milk can help you cut a recipe's calories drastically! Try this dairy free alternative in baking recipes or in your morning cereal, where you can't taste the difference.
2. Boosts Metabolism
Perhaps my favorite reason to use almond milk- almonds naturally boost metabolism, and so does water… the two ingredients are both in the popular nut milk (2).
Boosting your metabolism is important when trying to lose or maintain a healthy weight. Simply adding some almond milk to your breakfast smoothie can help increase your metabolism.
If you're looking for more ways to boost your metabolism, check out the popular Detox Week here on this website. In 7 days you can change your cravings, increase your metabolism, and shed weight fast. Also… it's always free!
Special Tip: Take your Smoothie to the Next Level

Try milk made from metabolism boosting almonds in your smoothie! All you need is about 1/2 cup (that's only 20 calories!) and you've taken your smoothie to the next level.
3. Low in Sugar
Almond milk unsweetened is what you're looking for if you're trying to reduce or limit your sugar intake.
Each brand is a little different. If you're looking for the best vegan milk with low sugar, low carbs, and low sugar, my favorite is Califia Almond Milk (unsweetened).
The unsweetened Califia Almond Milk has the following nutrition:
Calories: 35
Fat: 3g
Saturated Fat: 0g
Fiber: 1g
Protein: 1g
Sugar: 0g
Carbs: 1g
Other brands can have significantly more sugar, especially if you don't choose unsweetened. Make sure to look at the label, or do your research at home before heading to the store.
Once you find your favorite brand, it's easy…
Special Tip: Not All Nut Milk is the Same

Be sure to look at the label and find the best brand for you. If you're looking for low sugar, Califia is great!
4. Good Source of Calcium
Almond milk calcium ranges, based on one cup measurement the amount of calcium is between 35%-45% your daily recommended amounts! And might I add that is for just 35 calories…
Calcium is so important for healthy bones, one of the best benefits of almond milk is the high calcium and the low calorie aspects (3).
As we age we need to take better care of our bones. I add the plant based drink to my smoothie almost every day. It's a great way to increase calcium without feeling weighed down by dairy.
Special Tip: My Favorite High Calcium Brand

Silk Almond Milk has 45% of your daily recommended calcium! The best part, you can store it in your pantry too!
5. High in Nutrients
Almond milk nutrients are pretty impressive!
From preventing cancer, to strengthening your bones, and even protection against heart disease, this plant based milk is packed full of nutrients (4)!
One cup has the following nutrients:
These valued are based on 1 cup, unsweetened .
With all these healthy nutrients you'll be feeling amazing in no time! Try adding in 1 cup of the vegan milk to your diet, daily.
Special Tip: Double your Nutrients!

If you add just 1/2 cup to your smoothie, or cook your oatmeal in it, you will be adding vital nutrients to your diet! And all for just 20 calories!
6. Vegan, Dairy Free, Gluten Free, and Lactose Free
This dairy free milk is versatile and delicious! Best of all, it's vegan, gluten free and lactose free as well!
This nut milk works into most diets, and works great in most recipes as well! I've even used it to made Mac and cheese in several of my cookbooks!
Even if you don't fall into any of these categories, there are many health benefits to almonds.
Special Tip: It's Kinda "One Size Fits All"

This is one of the best vegan milk options on the market! It works for vegan, gluten free, keto diets and it's soy and lactose free.
7. Good for Heart Health
Almonds have been shown to reduce blood pressure, thus reducing the risk of heart disease.
And do you remember the vitamin E that I mentioned above? It's fantastic for heart health! (10, 11)
We all have read that healthy fats are great for us, and that when eaten in moderation, great for heart health. This nut milk is the perfect way to keep things "in moderation".
Special Tip: Your Heart will Love You for it…

This simple swap in your morning cereal can change your life, and perhaps even you life span!
8. Full of Antioxidants
Antioxidants are so important for basic health… and my favorite "side effect" of antioxidants is that they slow the aging process!
Now I'm not just talking about forgoing Botox for another year… It's more about being able to still get down on the floor to play with kids at age 45. Or it's having a sharp mind in your 80's.
Antioxidants in almonds can help you lose weight, support the immunity system, support your respiratory system, and even help you sleep better.
Special Tip: Nature's Botox?

The antioxidants in almonds help slow the aging process! They also help in weight loss, and better digestion. You may just look and feel younger…
9. Low in Carbs
Unsweetened almond milk is low in carbohydrates!
I especially love the unsweetened Califia Almond Milk as it has only 1 carb, per 1 cup of milk!
Compare that to oat milk at about 16 carbs per cup… nut milk is the better choice if low carbs is important to you.
Special Tip: Try Almond Milk in Coffee

I recommend purchasing an almond milk creamer, or heating your milk as I did in my popular 10 Almond Latte Recipes… heating helps to avoid the vegan milk bubbling at the top.
10. Plant Based
Plant based diets are becoming more and more popular, and for good reason… the people on the plant based diets usually feel amazing!
They have more energy, fewer tummy and digestive issues, and often a slimmer waistline.
The ingredients in almond milk are simple: Water and Almond
Now this is for an "DIY" almond milk recipe, but even store bought are plant based… plus they're convenient!
Special Tip: Easy and Convenient

For readers looking for a plant based milk, this is one of the best! You can make it as home with just 2 ingredients, or pick it up at ant local store. You can even find pantry stable boxes to keep year around!
Comparing Milks- Almond vs Oat, dairy, soy, skim, and coconut milk.
There are 5 different milks people often compare to almond milk.
We will compare the nut milk to oat milk, soy milk, coconut milk and dairy milk.
Almond Milk vs Oat Milk
Pros: Oat milk has less fat and more protein than Almond does.
Cons: Unsweetened oat milk is higher in calories, carbohydrates and sugar.
Almond Milk vs Milk (Dairy)
Pros: Whole, 1%, and skim milk all have more protein than Almond does. And skim has less fat.
Cons: Whole, 1%, and skim all have more sugar and more carbohydrates than Almond. Also, whole and 1% has more fat.
Almond Milk vs Soy Milk
Pros: Soy milk has more protein than Almond does. It also has the same amount of sugar.
Cons: Soy milk has more calories, fat, carbohydrates, and sugar than Almond.
Almond Milk vs Skim Milk
Pros: Skim milk has less fat and more protein than Almond does.
Cons: Skim milk has more calories, carbs and sugar.
Almond Milk vs Coconut Milk
Pros: It's a close race, but Coconut milk falls short in all noted above… but just by a tiny amount! It's the closest to Almond, and my favorite substitute for it as well.
Cons: Coconut milk just barely falls short with 10 more calories, one more carb, and 3 more grams of fat.
Though it is a close call on coconut milk, Almond does win out above all these milk products!

In the next section we will share Almond Milk Nutrition, including a nutrition label…
Almond Milk Nutrition
In this section you'll find almond milk nutrition, ingredients in almond milk, and a nutrition label.
All of the health benefits above, plus the Pros and Cons section should have shown you how great this dairy free milk is… but if you still need more proof, check out the nutrition label below!
Ingredients in Almond Milk
There are only 2 ingredients in almond milk, that is if you make it at home… below I will share a nutrition label that will share what goes into a store bought nut milk.
Ingredients:
Almonds
Water
Nutrition Label:
This is based on 1 cup of Califia Unsweetened, you can click the nutrition label for more information from Califia
Is Almond Milk Good for you?
The quick answer, absolutely!
Not all nut milks are created equal, but Almond is by far the best for "all".
It's vegan, gluten free, lactose free. It's plant based, and you can easily make it at home!
It can help lower blood pressure, combat heart issues, fight and prevent cancer, make you look and feel younger…
Honestly, it's a lot to take in, but what it all comes down to, is that you should try this nut milk, and soon!
Special Tip: Almond Wins!

Not all plant based milk is the same, and not all milks in general are the same. Mostly because they just can't stack up to Almond!
How can I start using Nut Milk?
I don't recommend swapping out the milk you drink for nut milk… not at first at least.
Try it in your cereal, use it in pancake batter, even try out one of the great nut creamers on the market.
Special Tip: Add slowly…

Don't grab a big glass of vegan milk and expect it to taste like dairy… it won't! Instead get a nut based creamer for your coffee, use nut milk in baking recipes, and in your morning smoothies.
Where can I find it?
You can find most nut milks at your local grocery store.
I recommend picking up the refrigerated kind, however if you have long winters, or like to keep extra on hand, you can check the organic section for options that store on the shelf.
You can also purchase nut milks online, thanks to the shelf life… Big box stores and Amazon will ship it directly to your door. If you want to order now, check out these options:
What Recipes can I try it in?
I find that nut milks work in almost every recipe. They go especially well in smoothies, coffee drinks, soups,
All of these Lose Weight By Eating recipes will help you get started with plant based milks.
Final Tip: Take the Leap!

Vegan milk is not scary, it's actually very easy to work into your diet! You can pick up almond creamer, almond yogurt, even almond cold brew coffee!

Pick a product that speaks to you and start there, once you pass that hurdle you'll be ready to add more nut based milks into your diet.
Final Thoughts on Almond Milk
Almonds have numerous benefits. From cancer fighting properties, to anti aging and treating depression… they're a powerful superfood!
No wonder the milk you can produce by blending almond with water (then straining it) has become so popular that you can now order it form Amazon!
In this article we explored the benefits, and compared to all the other milks on the market, and Almond still won.
Now, here at Lose Weight By Eating we encourage the use of your favorite all natural products, and I myself am known to use Coconut milk often… It doesn't have to be "all or nothing" to get all the wonderful almond benefits!
Just try swapping out dairy milk and adding in plant based milk the next time you make pancakes, or blend up a smoothie.
Try This Almond Milk Iced Coffee Recipe: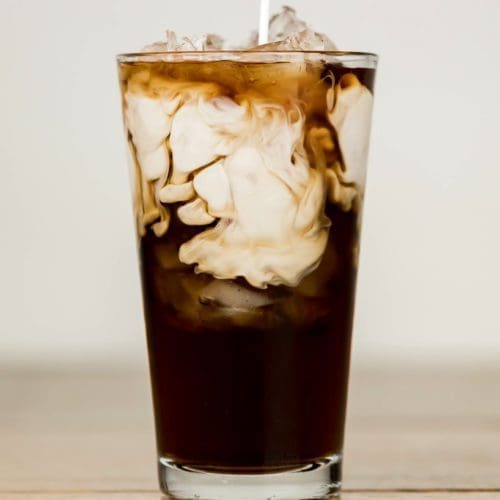 Almond Milk Vanilla Iced Latte
This almond milk iced vanilla coffee recipe is just 30 calories and has ZERO grams of sugar!
Learn how to make an iced vanilla latte at home with almond milk, that tastes just as good as Starbucks, but for just $2 (half the price) and just 30 calories (instead of their 300 calorie version!)
This homemade vanilla iced coffee is vegan, sugar free, uses non-alcoholic vanilla (see link provided) and can be made in just a few minutes!
Instructions 
Brew coffee or espresso, add all natural zero calorie sweetener and vanilla extract to the coffee when it's still hot. Mix well to dissolve.

Fill a tall glass with ice.

Add the brewed coffee to the glass of ice, top with almond milk and serve.
Nutrition
Serving:
1.5
cups
Calories:
30
kcal
Carbohydrates:
2.5
g
Protein:
0.8
g
Fat:
2.6
g
Saturated Fat:
0.2
g
Cholesterol:
0
mg
Sodium:
139
mg
Potassium:
144
mg
Fiber:
0.8
g
Sugar:
0
g
Vitamin A:
229
IU
Calcium:
229
mg
Iron:
1
mg
What to Read Next
Lose Weight By Eating Cookbooks: