These Anti Inflammatory Smoothies for Weight Loss have more anti-inflammatory foods than any other healing smoothie recipe! With up to 10 anti-inflammatory ingredients, this chocolate cherry smoothie is the best smoothie for inflammation and pain.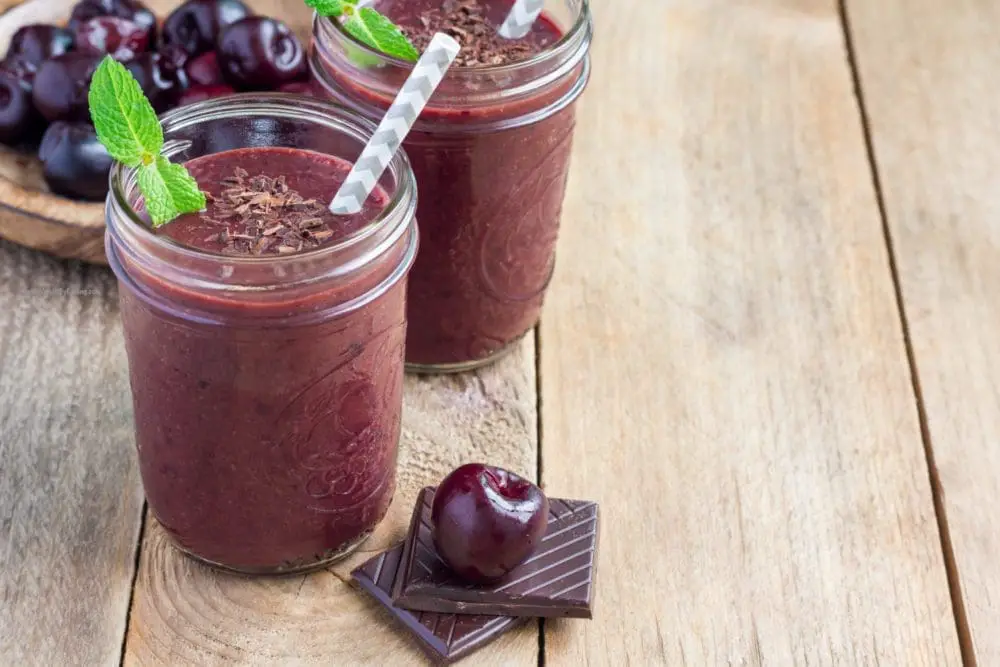 Everything You'll Need
1 cup baby spinach
1 cup dark red cherries pitted (frozen is ideal)
1 tablespoon unsweetened cocoa powder
1 cup almond milk (or oat milk)
More anti-inflammatory optional add ins in the recipe card below!
Anti Inflammatory Smoothies for Weight Loss
Healthy Anti Inflammatory Smoothie Meal Prep and Storage
Meal Prep
Individual Smoothie Bags – Add the Anti Inflammatory Smoothie ingredients (less any liquid) to a sandwich bag and seal. Store in the freezer (will hold for 1 month in freezer). 
Family Sized Smoothie Bags  – Add several servings worth of ingredients (less any liquid) to a gallon freezer bag. Place a 1/2 cup plastic measuring cup in the bag. Close and seal the bag, and store in the freezer (will hold for 1 month in freezer). 
Prepared Smoothies – these smoothies are best made fresh, but you can make them ahead of time and store in a clean jar (with a lid) in the fridge. 
Leftover Storage
Fridge Storage – Add any leftover smoothie to a jar (I actually serve them in jars so all I have to do is add a lid). Close and store in the fridge for 2-3 days. 
Freezer Storage – Pour any leftover smoothie into ice cube molds, and freeze solid (about 4 hours). Then pop out of the mold and move to a freezer bag to avoid freezer burn. Will hold for 1 month in the freezer.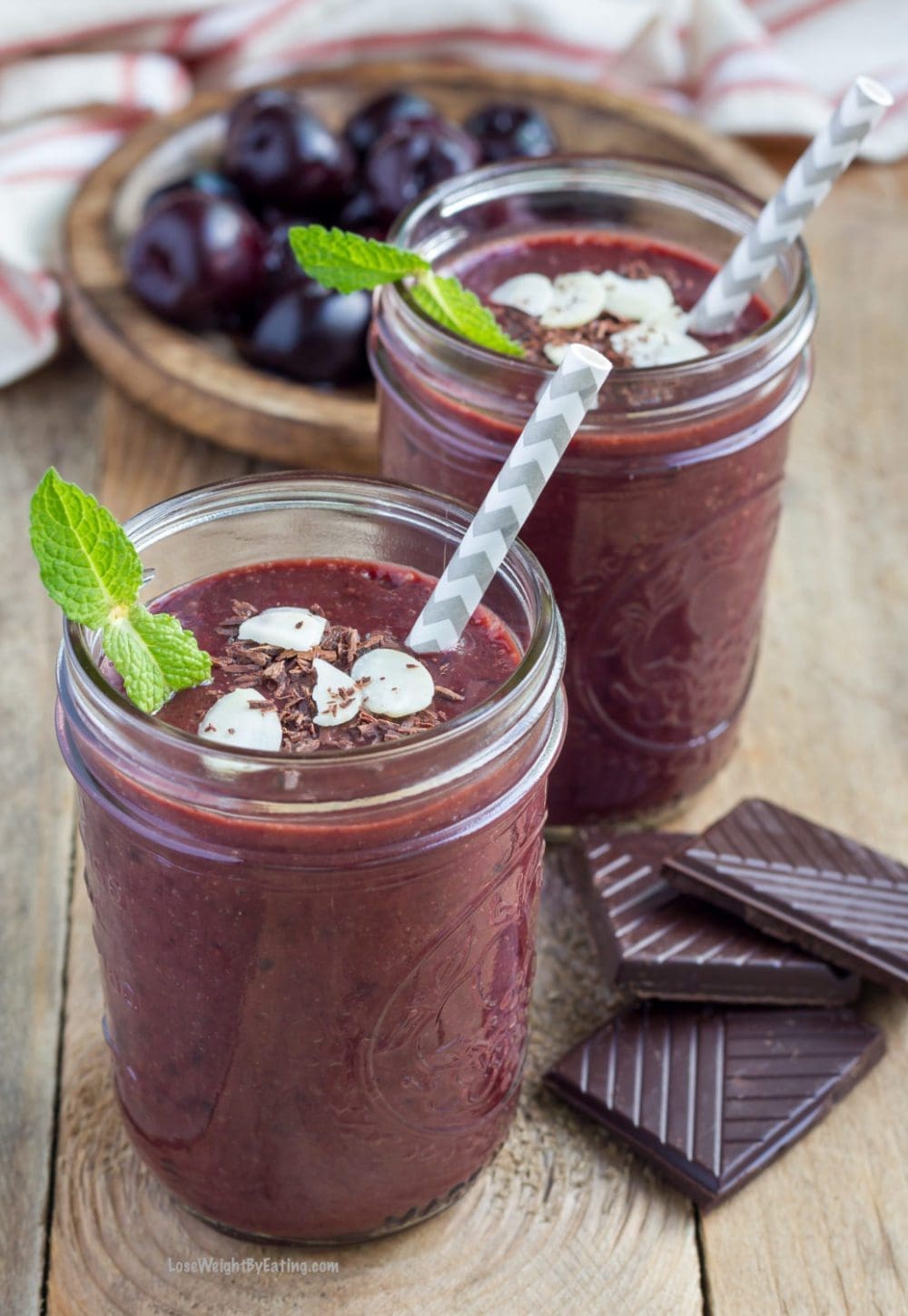 Anti Inflammatory Smoothies for Weight Loss Recipe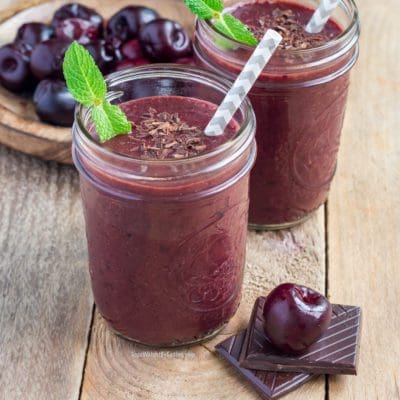 Anti Inflammatory Smoothies for Weight Loss
This smoothie for inflammation can be made simple with 4 anti-inflammatory ingredients, or complex and ultra healthy with up to 10 anti-inflammatory ingredients!
I originally made an anti-inflammatory smoothie with 10 anti-inflammatory ingredients. But realized that might be too expensive for some.
So if you like, add in all the ingredient below (it's so yummy!) or just pick and choose 1-4.
Customize Your Smoothie: Add in 1-6 of the "More Anti-Inflammatory Ingredients". Choose as many as you like, or none at all. Smoothie is most powerful with all 10 ingredients.
Ingredients  
More Anti-Inflammatory Ingredients (choose as many as you like)
Instructions 
Add all the ingredients to a blender.

Pulse to get the ingredients moving, then blend until smooth.

Pour into a glass and serve… Wash out the blender right away to stop ingredients from sticking.
Nutrition
Serving:
1
smoothie
Calories:
149
kcal
Carbohydrates:
28
g
Protein:
4.9
g
Fat:
4.9
g
Saturated Fat:
0.8
g
Cholesterol:
0
mg
Sodium:
205
mg
Potassium:
740
mg
Fiber:
6.5
g
Sugar:
19.2
g
Calcium:
357
mg
Iron:
3
mg
About the Author
Hi, my name is Audrey Johns and I am a 4 time best selling cookbook author! All 4 of my low calorie cookbooks are published by HarperCollins (the oldest publishing house in the US!) and have been featured on prominent TV shows like The Today Show, Rachael Ray and The Doctors. I am a low calorie and healthy recipe authority and my delicious recipes are tried and loved by thousands of readers. 
After a one year 150 pound weight loss (and I've kept it off for 13 years!) I started sharing all of my low calorie recipes with the world. They are always all-natural and geared around weight loss and weight management. I have even made some of these recipes with my Biggest Loser pal Bob Harper! Check out my weight loss story, my best selling cookbooks, and my numerous TV appearances by clicking here.
Nutrition and Calories in Anti Inflammatory Smoothie Recipe
FAQ – Anti-Inflammatory Smoothie Q&A
What kind of smoothies are good for inflammation?
Smoothies with these ingredients (full recipe attached) are great for reducing inflammation and pain:
1. Baby spinach
2. Dark red cherries 
3. Unsweetened cocoa powder
4. Almond milk
5. Cinnamon
6. Avocado
7. Oats
8. Flax seed meal
9. Almond butter
10. Anti-Inflammatory Chocolate Protein Powder
What foods clear up inflammation?
Try adding almonds, cinnamon, spinach or kale, avocado, fatty fish, and flax seeds to your diet to reduce inflammation and pain. This Low Calorie Anti-Inflammatory Smoothie has 10 ingredients to reduce inflammation!
Do green drinks help with inflammation?
Green smoothies are great for anti-inflammatory diets. Kale, spinach, and other smoothie ingredients are great anti-inflammatory ingredients. Check out this Anti-Inflammatory Smoothie with 10 Inflammation fighting ingredients!
What fruits are anti-inflammatory?
Berries, cherries, apples, citrus and pomegranates are all great for fighting inflammation. Check out this Chocolate Cherry Anti-Inflammatory Smoothie Recipe (it has 10 anti-inflammatory ingredients!)
More Weight Loss Recipes:


Lose Weight By Eating Cookbooks

Share this Weight Loss Recipe:
Article History: