These Low Calorie Blueberry Muffins are just 108 calories and are 100% all natural! The healthy muffins come with a yummy crumb topping, and modifications for all diets too.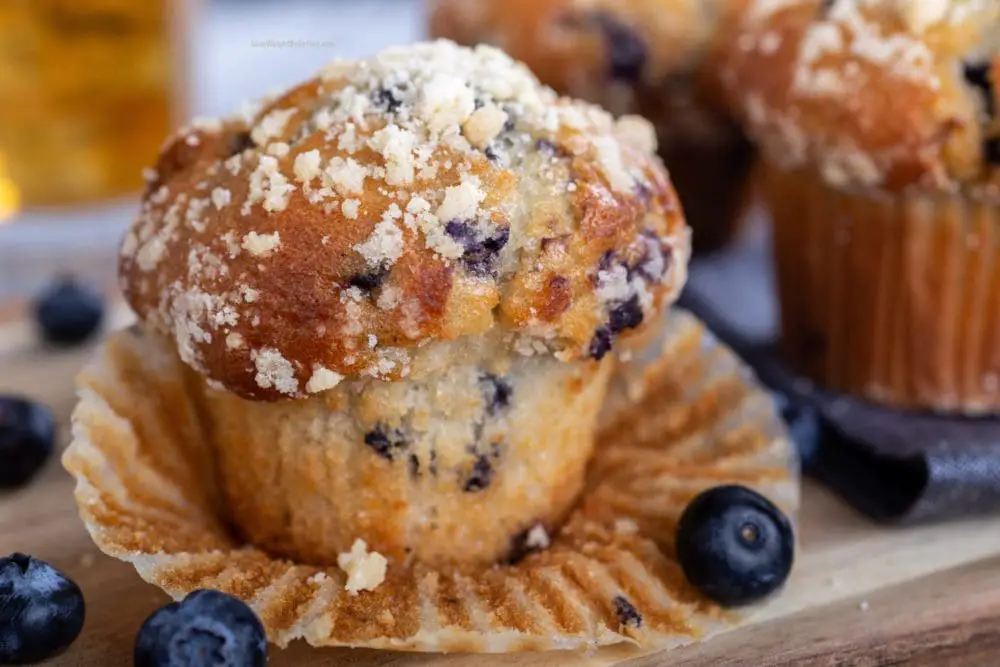 Everything You'll Need
Ingredients You'll Need:
Olive Oil Spray – cooking and baking spray also work
Self Rising Flour – to make your own self-rising flour, combine 1 cup all-purpose or gluten-free flour, 1.5 teaspoons baking powder, and 1/4 teaspoon salt.
Baking Soda – not baking powder.
Salt – or lemon zest for low sodium.
Brown Sugar – coconut, monk fruit, and brown sugar substitutes also work.
Eggs – or vegan eggs.
Vanilla Extract – ideally pure vanilla extract.
0% Greek Yogurt – or unsweetened cashew yogurt.
Unsweetened Almond Milk – or your preferred milk.
Unsweetened Apple Sauce – mashed banana, and pear baby food also work.
Blueberries – fresh, frozen, or dried
Granulated Sugar – coconut sugar, monk fruit and white sugar substitutes also work.
Butter – or chilled coconut oil.
Measurements in Recipe Card Below – click "Jump to Recipe" to skip ahead.
Tools You'll Need:
3 Bowls (small, medium, and large)
Measuring Cups and Spoons
Rubber Spatula or a Spoon to Mix
Muffin Tin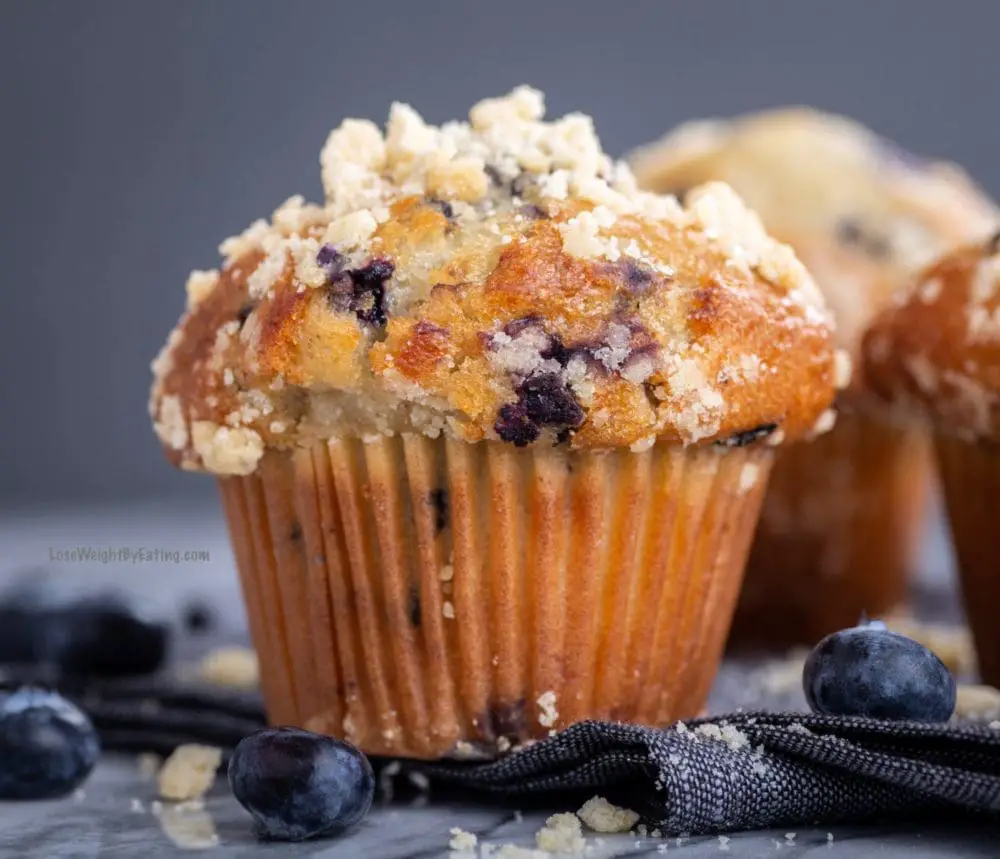 Low Calorie Blueberry Muffins
What You'll Find Below: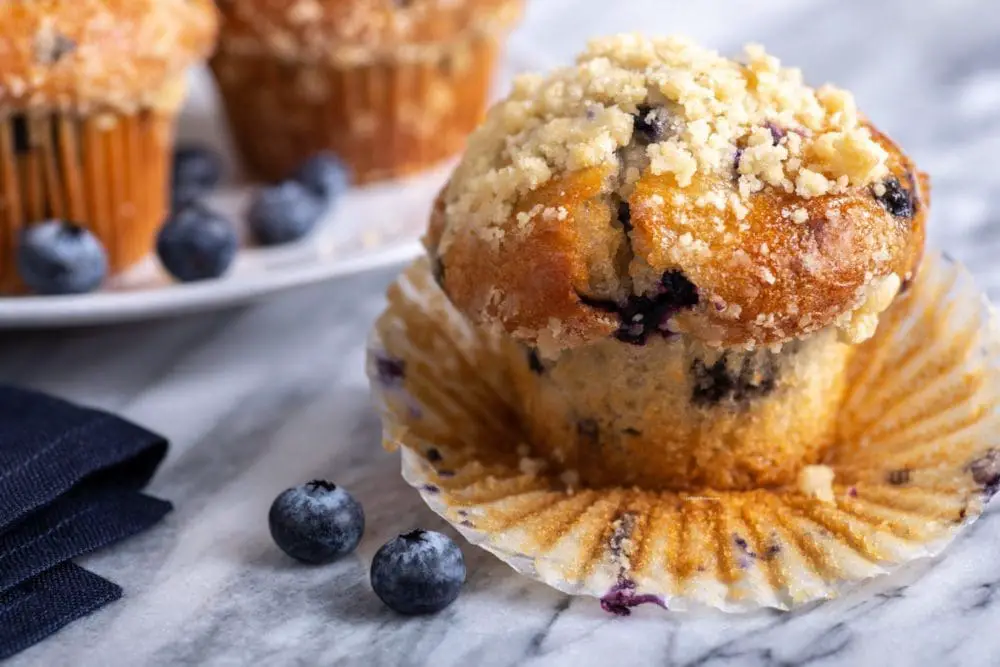 Healthy Blueberry Muffin Recipe Variations
Low Carb Blueberry Muffins
These blueberry muffins are already pretty low in carbs, but you can cut more carbs easily by using a sugar substitute in place of the brown sugar and granulated sugar. You can swap these out for monk fruit sweetener, or your favorite sugar substitute. You'll want to look for all natural variations to keep these extra healthy. I like "Pure Cane Sugar Substitute" and included a link in the recipe card below to it.
High Protein Blueberry Muffins
These blueberry muffins have a decent amount of protein in them, but if you want to boost the protein even more, check out my Low Calorie High Protein Blueberry Muffins here.
Low Sodium Blueberry Muffins
You can make these blueberry muffins low sodium by swapping out the salt for fresh lemon zest. As a bonus, this will make your muffins blueberry lemon muffins. If you're not a fan of lemon, you can just skip the salt all together.
Gluten-Free Blueberry Muffins
To make these blueberry muffins gluten free, swap out the self-rising flour for gluten-free self rising flour. You can also make your own self rising flour, combine 1.5 cup gluten-free flour, 2 teaspoons baking powder, and 1/4 teaspoon salt.
Low Sugar Blueberry Muffins
To make these blueberry muffins low sugar, swap out the brown sugar and granulated sugar for your favorite sugar substitute. Monk fruit sweetener works, as does liquid sweeteners. Just add them in with the wet ingredients instead of the dry ingredients. Also, make sure to get fresh or unsweetened frozen blueberries to make this. The dried will have more sugar per cup.
Vegan Blueberry Muffins
To make these blueberry muffins vegan, swap out the eggs for vegan eggs, the Greek Yogurt for unsweetened cashew yogurt, and the butter for solid (or chilled) coconut oil.
Different Flavors to Try
You can swap out the blueberries for chocolate chips, cranberries (dried or fresh), raspberries, diced apples (add a pinch of cinnamon to the batter too!), chopped strawberries, or any of your favorite muffin flavors.
Low Calorie Blueberry Muffin Meal Prep & Storage
Meal Prep and Storage
These healthy blueberry muffins make great meal prep breakfasts! You can easily double or triple the batch (there's a button that does the math for you) and then store them for on the go lunches all week.
Meal Prep – Make the muffins according to directions below.
Cool – Cool completely on a cooling rack or the countertop.
Refrigerate or Freeze – Wrap each muffin in plastic wrap and place in a gallon bag or container. Add to the fridge (will hold for 5 days) or the freezer (will hold for 1 month).
Frozen Tip – I like to grab a frozen blueberry muffin and add it to my purse or my daughter's lunchbox. By the time we go to eat them, they have defrosted. You can also add one to the fridge before going to bed and wake up to a perfectly defrosted muffin.
Reheating Muffins – If you like your muffins warm you can add them to a microwave for 1 minute, a toaster oven for a minute or two. Or place in the oven on a baking tray, 250 degrees for 5-10.
Low Calorie Blueberry Muffin Recipe
More Low Calorie Muffin Recipes: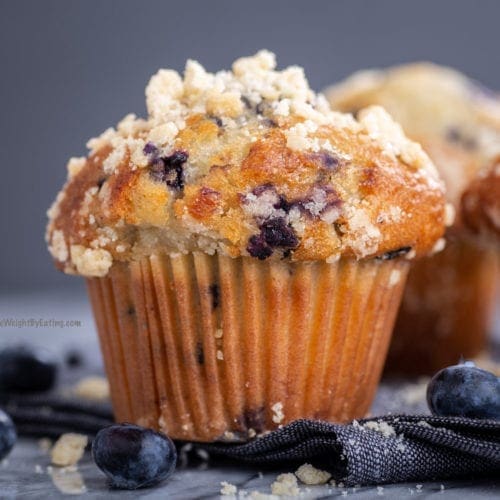 Low Calorie Blueberry Muffins (5 STAR)
This best blueberry muffin recipe is just 108 calories per muffin, and it has over 6g of protein!
I used Greek Yogurt and apple sauce to cut the butter and sugar, and used self rising flour for fluffy, moist blueberry muffins.
The crumb topping for muffins goes great on all berry muffins recipes, or you can skip it and keep these fresh blueberry muffins simple.
Special Tip: You can stop the blueberries from sinking by tossing them in 1 tablespoon flour.
Ingredients  
Crumb Topping For Muffins:
Instructions 
Preheat oven to 350°, and spray muffin pans with olive oil.

To a small bowl, combine all of the muffin crumble topping ingredients, and work together with your fingers until it's the consistency of wet sand. Set aside

In a large bowl, combine the "dry ingredients" the flour, baking soda, salt, and sugar.

To a separate medium bowl, whisk together the "wet ingredients" the eggs, vanilla, Greek yogurt, almond milk, and applesauce.

Optional Step – To a medium bowl combine the blueberries and 1 tablespoon of the flour mixture and toss to coat the berries. This will stop them from sinking to the bottom of the muffins.

Pour the wet ingredients into the dry ingredients, and add the blueberries, reserving a handful to top the muffins.

Gently mix the wet and dry ingredients together, until just combined.

Fill the prepared muffin cups 3/4 full of blueberry muffin batter, add more blueberries to the top, and sprinkle over the muffin crumble topping.

Bake for 15 minutes, or until a toothpick inserted into the center of the blueberry muffin comes out clean.
Notes
Special Tip: Regular flour is NOT the same as self rising flour! Make sure to get self rising flour to make these low calorie muffins!
Nutrition
Serving:
1
muffin
Calories:
108
kcal
Carbohydrates:
14.4
g
Protein:
6.3
g
Fat:
2.8
g
Saturated Fat:
1.9
g
Cholesterol:
23
mg
Sodium:
108
mg
Potassium:
103
mg
Fiber:
0.6
g
Sugar:
7
g
Calcium:
58
mg
Iron:
1
mg
About the Author
Hi, my name is Audrey Johns and I am a 4 time best selling cookbook author! All 4 of my low calorie cookbooks are published by HarperCollins (the oldest publishing house in the US!) and have been featured on prominent TV shows like The Today Show, Rachael Ray and The Doctors. I am a low calorie and healthy recipe authority and my delicious recipes are tried and loved by thousands of readers.
After a one year 150 pound weight loss (and I've kept it off for 13 years!) I started sharing all of my low calorie recipes with the world. They are always all-natural and geared around weight loss and weight management. I have even made some of these recipes with my Biggest Loser pal Bob Harper! Check out my weight loss story, my best selling cookbooks, and my numerous TV appearances by clicking here.
Nutrition and Calories in Blueberry Muffins
The nutrition and calories below are based off 1 serving (1 muffin) of the Blueberry Muffin Recipe above.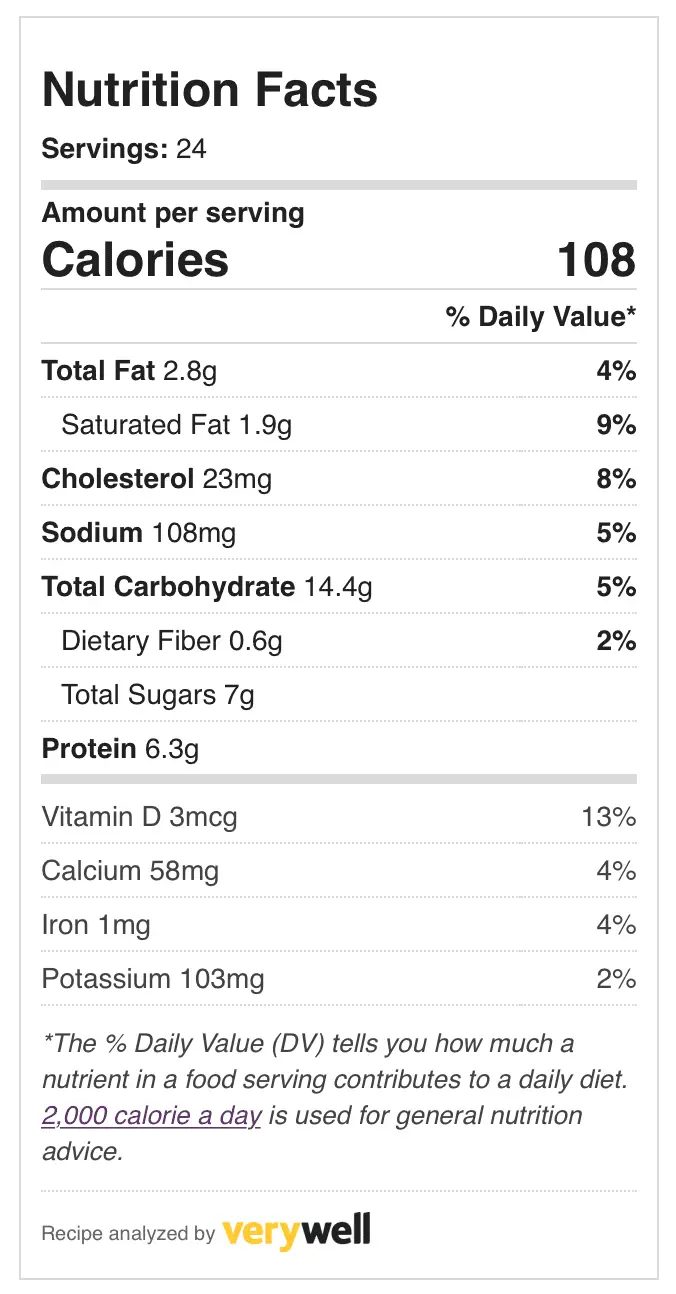 More Weight Loss Recipes:



Lose Weight By Eating Cookbooks

Share this Low Calorie Recipe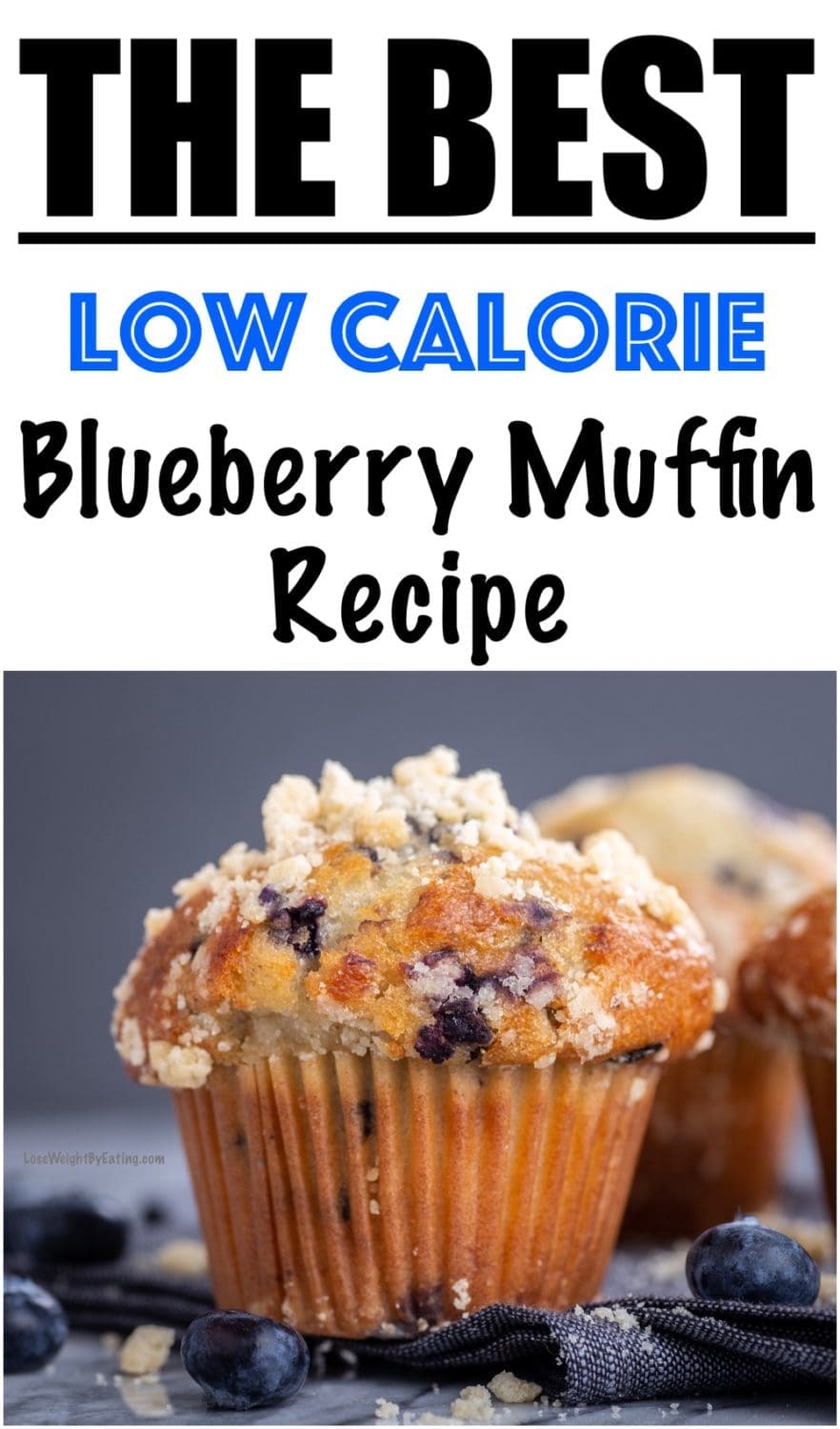 Article History: