This 10 Meal Prepping Tips article comes with 5 meal prepping recipes and printable guide!
Meal prepping is great for several reasons. It's a great way to cut down on the number of times you have to go grocery shopping, which can save you time and money.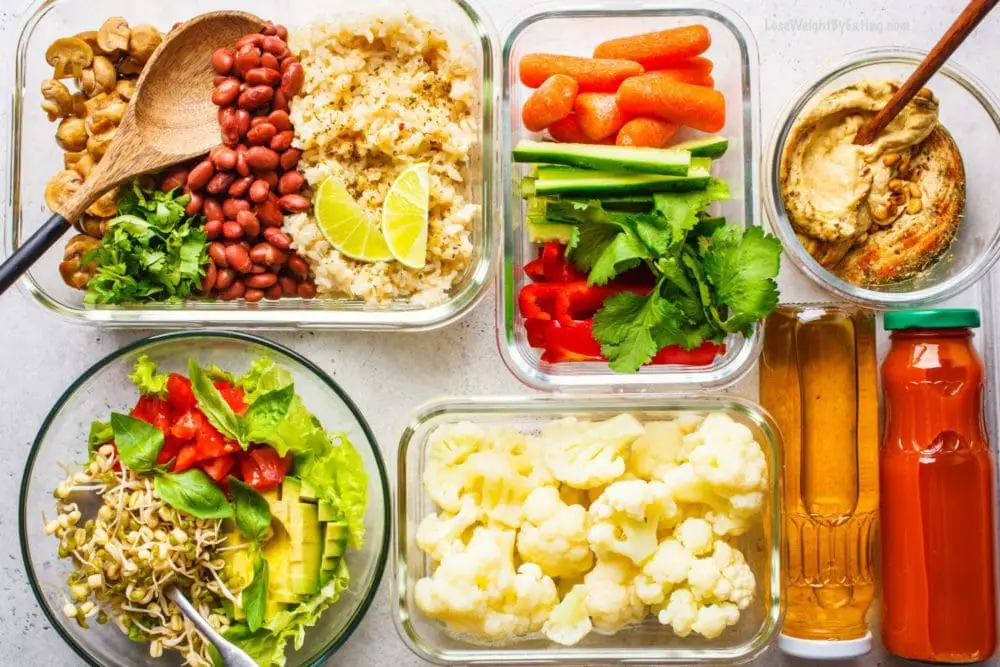 Prepping your meals ahead of time is also a great way to make sure that you always have healthy food handy for when hunger strikes. Especially if your diet requires specific foods at certain times. If this sounds like something that might be helpful for you, then read on!
Meal prepping can be difficult, so In the following article, we will explore 10 meal prepping tips that will help you get started with this healthy habit or help improve what you're already doing.
Here are 10 tips to help you during your meal prepping journey:
1. Plan out your meals
If you're not meal prepping already, then one of the biggest problems that you'll face is figuring out what to eat. This can be solved by planning out your meals in advance.
Not only does this help take some of the guesswork out of deciding what to eat, but it helps you make sure that everything that you eat is healthy and fits in with your diet.
If you don't want to do this yourself, then try searching Pinterest or YouTube for meal plans that use healthy ingredients. If you need help picking out healthy meals, don't be afraid to ask someone for their opinion. (1)
2. Cook your food all at once
If you're meal prepping, then you're probably already cooking your food, but are you cooking it all at once?
If you're thinking about meal prepping you'll want to seriously consider cooking in batches which involves cooking larger portions of food at once, so you can store some for later.
When you cook in batches, you can save both time and energy. Plus, cooking your food all at once means that you can have a variety of different foods to choose from when you're ready to eat. (2)
3. The freezer is your best friend
When you're meal prepping, there's one place that you can turn to over and over again for help: your freezer.
If you freeze items like chicken, fruits and vegetables, or anything else, they can last a really long time. You can even freeze cooked food you made while batch cooking to save it for when you want it later on.
If there are any types of food that you eat a lot, consider batch cooking and freezing it to save yourself time. (3)
4. Invest in some good storage containers
If you're going to be meal prepping, you're going to need some good storage containers.
Even if you're just planning on storing your food in the fridge, you'll need some good containers for this. Plastic and glass storage containers are both great options.
If you're wanting to freeze your food, then consider getting some freezer-safe glass containers as well. No matter what you choose, make sure that they are BPA-free.
It's also a good idea to get lids that can seal tightly so you can be sure that your food won't spill. (4)
5. Plan out your snacks, too!
Meal prepping is not just for meals. You can also use it to plan out your snacks.
If you have a hard time resisting unhealthy snacks, this can be a great way to make sure that you always have healthy snacks on hand.
Some good options for prepping your snacks include fruits, vegetables, healthy snack bars (low in sugar and high in protein), nuts/seeds, whole-wheat crackers, popcorn, etc. (5)
6. Store your food in the right place
One of the most important things to remember when meal prepping is to store your food in the right place.
If you store your food in the wrong place, it can spoil or get contaminated.
Here are a few tips for storing your food:
 Store cooked food in the fridge and use it within 3-4 days.
 Store raw meat in the fridge, not the freezer.
 The fridge should be set at 40 degrees or below and the freezer should be set to zero degrees or lower. (6)
7. Use a variety of cooking methods
When you're meal prepping, it's a good idea to use a variety of cooking methods.
This will help keep your food interesting and prevent you from getting bored with the same old thing.
Some great cooking methods to try include boiling, baking, grilling, roasting, and pan-frying. This can also make for a faster process when cooking in batches because you can use multiple cooking methods at the same time. (7)
8. Get organized
One of the best things about meal prepping is that it can help you get organized.
If you have a plan for your meals and snacks, it will be a lot easier to stick to it.
If you're not organized, it's very easy to get distracted and buy whatever is available at the grocery store. Meal prepping can help you stay on track and make sure that you're eating healthy, balanced meals. (8)
9. Make a shopping list
Another way to stay organized when meal prepping is to make a shopping list.
This will help you stay focused when you're at the store and avoid buying things that you don't need.
A good rule of thumb is to only buy the ingredients that you need for the meals you're prepping. This will help you save money and avoid waste. (9)
10. Don't be afraid to experiment
Meal prepping can be a great way to try out new recipes and ingredients.
If you make the same thing every week, it can get very boring.
When you're meal prepping, it's a good idea to experiment with new recipes and ingredients. You might even find some new favorites this way! (10)
Meal Prepping Guide + 5 Meal Prepping Recipes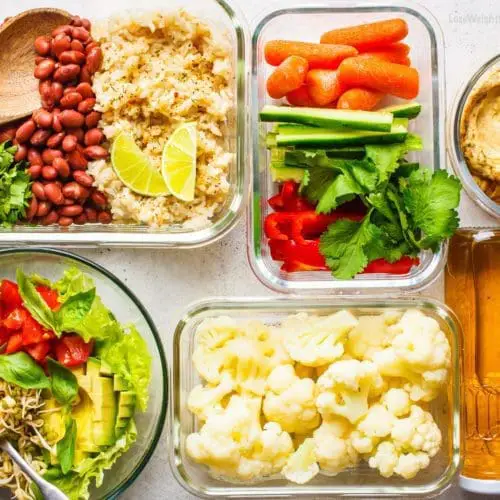 5 Meal Prep Lunches/Dinners (UNDER 395 CALORIES)
These 5 meal prep lunches are all 392 calories OR LESS!
Meal prepping lunches and dinners has never been easier with this handy guide.
We recommend picking 1-2 meal perps per week, then alternating them each day so your tastebuds don't get bored.
Special Note: The nutrition is based off the Teriyaki Chicken Meal Prep Recipe as it has the highest calories. Each recipe link will supply you with a nutrition label and printable recipe card too!
Instructions 
How to Meal Prep:
Lay your meal prep containers out in a line.

Divide the grains (quinoa/rice) between the meal prep containers.

Next, divide the veggies between the containers (they may remain raw as re-heating the meal prep containers will steam them!)

Divide the protein (chicken/meatballs/cheese) into each container.

Cover and store in the fridge for up to 5 days.
Nutrition
Serving:
1
container
Calories:
392
kcal
Carbohydrates:
50.4
g
Protein:
41.7
g
Fat:
3.3
g
Saturated Fat:
0.2
g
Cholesterol:
87
mg
Sodium:
1309
mg
Potassium:
496
mg
Fiber:
4.4
g
Sugar:
16.4
g
Calcium:
68
mg
Iron:
3
mg
Final Thoughts on Meal Prepping
Meal prepping can make a big difference when it comes to your lifestyle and health.
It can help you save time and money while helping you eat healthy, balanced meals.
As long as you follow these tips, and you'll be on your way to successful meal prepping in no time!
So, what are you waiting for? Get started today!
What to Read Next:



Lose Weight By Eating Cookbooks

Pin this Article to Pinterest: