This Low Calorie Red Wine Spritzer is just 98 calories, comes with lots of optional add-ins, and can be made in less than 5 minutes!
Plus, I've given you tips on what wine to buy (and even supplied you with a killer deal on a great bottle!)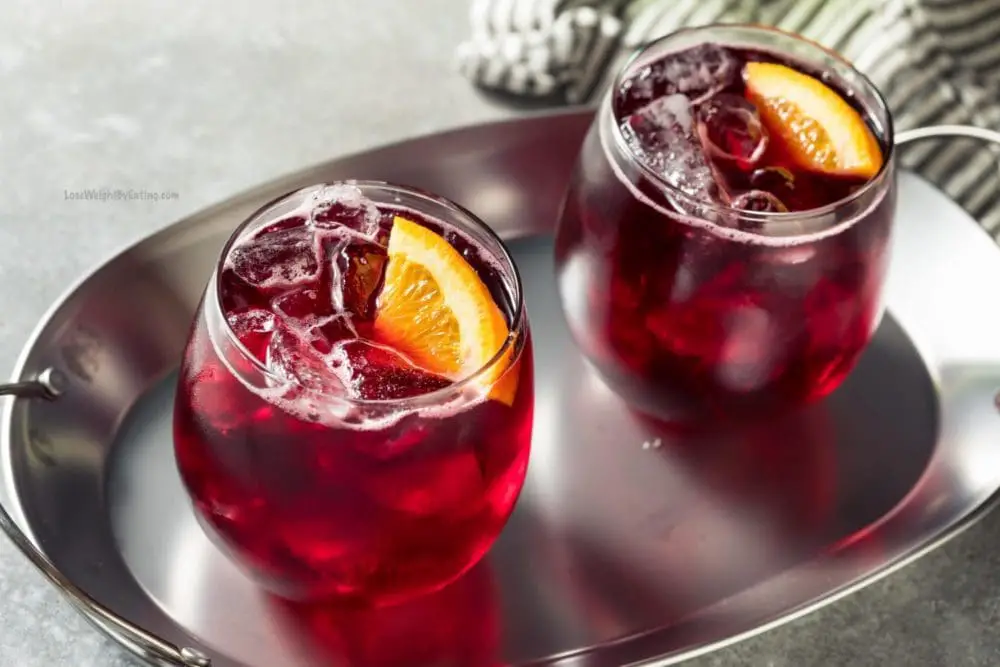 This yummy red wine cocktail is a great way to enjoy red wine on a hot day. And to spread out the calories so you can have a BIG drink, instead of a small glass of wine.
If you buy a red wine you don't like, try making this spritzer with it to dull the flavors. I think you'll love this red wine spritzer recipe so much you'll start buying red wine just to make it more often!
The Best Low Calorie Red Wine Spritzer
What You'll Find in this Article:
Red Wine Spritzer Recipe Ingredients
When I first started this website, I was a full time Food and Wine writer and a wine reviewer in the California Wine Region! So you can say I know a thing about wine.
Here's a few tips to help you pick out the best red wine for cocktails…
Tips for Buying Red Wine for Cocktails:
Choose light or medium bodied wines (Grenache, Cabernet Franc, Sangiovese)
When it doubt, get a red table blend. The wine makers blend different varietals of red wine to balance them perfectly.
Look for a $12-$15 price point for cocktails (save the $25 for your anniversary)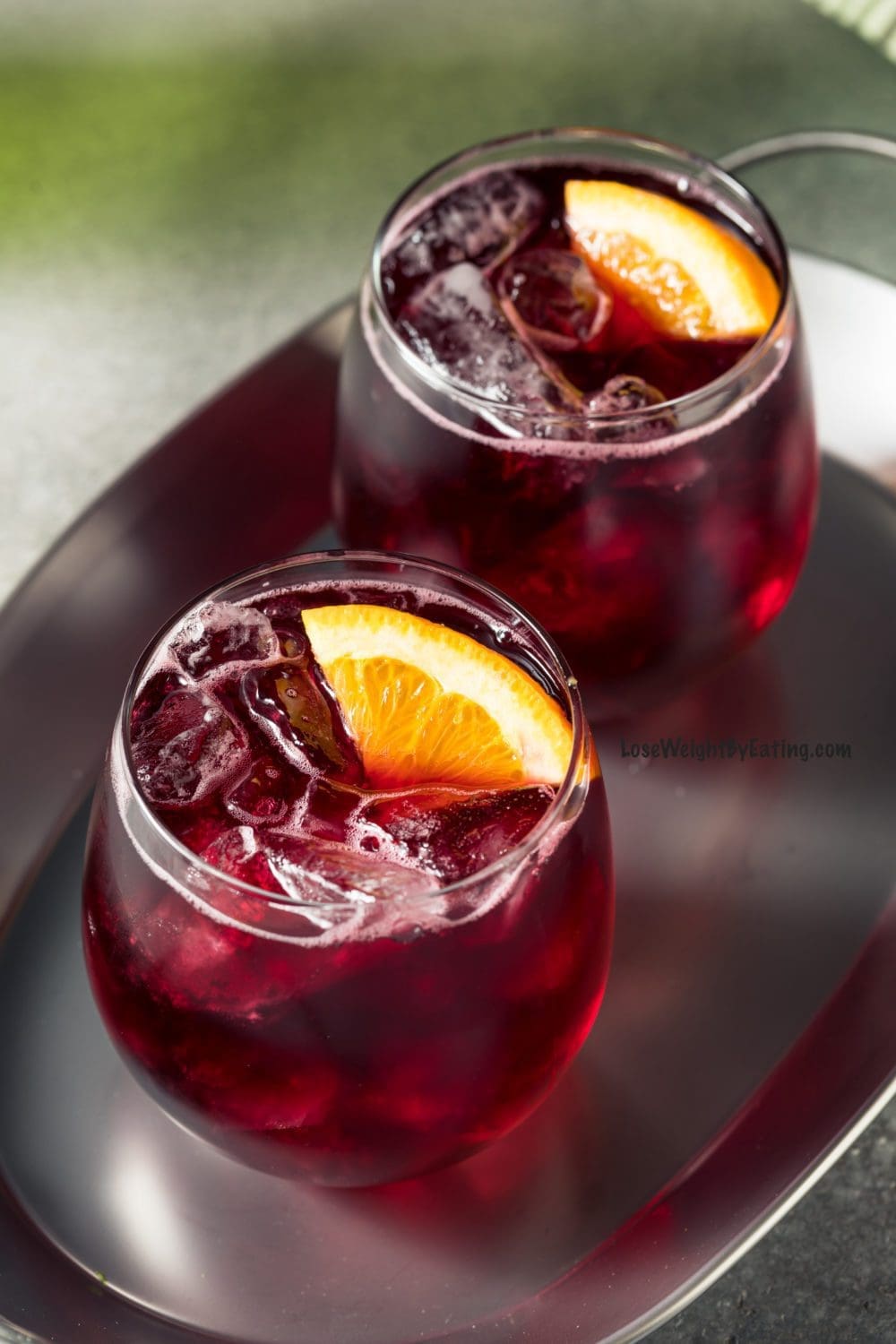 Shopping List for Red Wine Spritz Recipe:
Red wine
Soda water
Orange slice
Optional Add-Ins:
Muddled berries (raspberries and blackberries are our favorite)
Aperol
Swap the soda water for citrus flavored Soda (lemon or lime)
How to Make a Healthy Red Wine Spritzer
Making a red wine spritzer is a great refreshing way to enjoy red wine on a hot day. It's also a great way to have a bigger cocktail, for less calories.
And if people look down at you for adding ice to your wine, stick your nose up at them as correct them with "It's a Spritzer".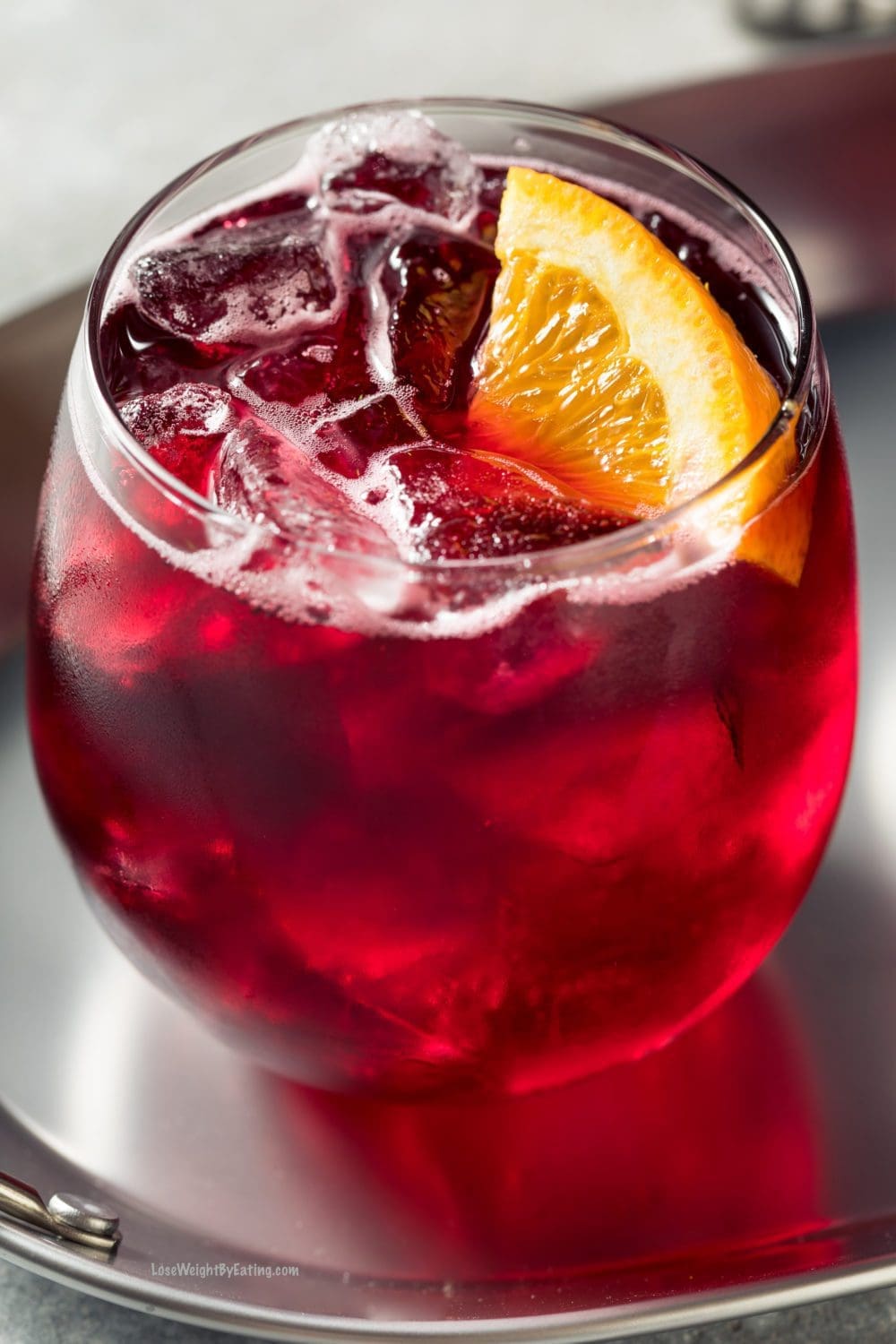 How to Make a Red Wine Spritzer Drink:
Fill a glass with ice.
Add the red wine, top with soda water and stir gently.
Garnish with orange slice and serve.
Low Calorie Red Wine Spritzer
These red wine mixed drinks are light and refreshing, and so easy to make. And if you want to try a white wine version, check out these Low Calorie White Wine Spritzers!
In the sections above I have given you tips on what wine to buy for red wine spritzers recipes… so if you clicked "jump to recipe" scroll back up for help choosing a great bottle (or just click the link below, we choose one for you).
More Low Calorie Cocktail Recipes: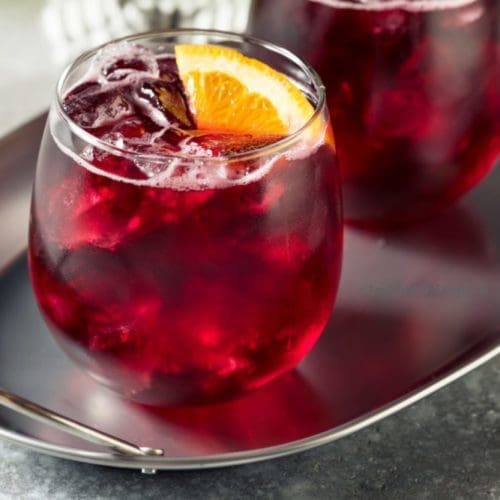 Low Calorie Red Wine Spritzer
This red wine spritzer is just 98 calories and so easy to make!
You can use your favorite red wine, we like a medium-bodied red wine, and a red wine table blend is great if you're unsure what to choose.
We've added in some optional add ins, but we think this red wine spritz is perfect as is.
Special Tip: When picking a good red wine, look for a price point to $12-$15. Anything less might not have a great taste… and look out for sales.
Instructions 
Fill a glass with ice.

Add the red wine, top with soda water and stir gently.

Garnish with orange slice and serve.
Nutrition
Serving:
1
cup
Calories:
98
kcal
Carbohydrates:
3.2
g
Protein:
0.1
g
Fat:
0
g
Saturated Fat:
0
g
Cholesterol:
0
mg
Sodium:
6
mg
Potassium:
117
mg
Fiber:
0
g
Sugar:
0.9
g
Calcium:
9
mg
Iron:
0
mg
Nutrition and Calories in Red Wine Spritzers
The nutrition below is based off one cocktail, equal to 1 cup of liquid. The full recipe above is for just one red wine cocktail.
We do not recommend getting low sugar red wine for this recipe, but if that is important to you by all means go for it. It just might be a more bitter drink.
You can find out more about the calories in wine in this completely Guide to Low Calorie Wine.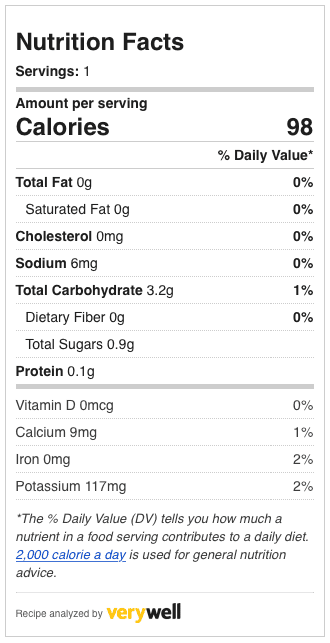 Important Note: As a reminder, at Lose Weight By Eating it is my goal to make you healthier, all-natural versions of your favorite recipes… not all will be "diet worthy" depending on the diet you are on. But they will be healthier versions to help curb your cravings.
What to Read Next:


Lose Weight By Eating Cookbooks

Pin this Recipe to Pinterest: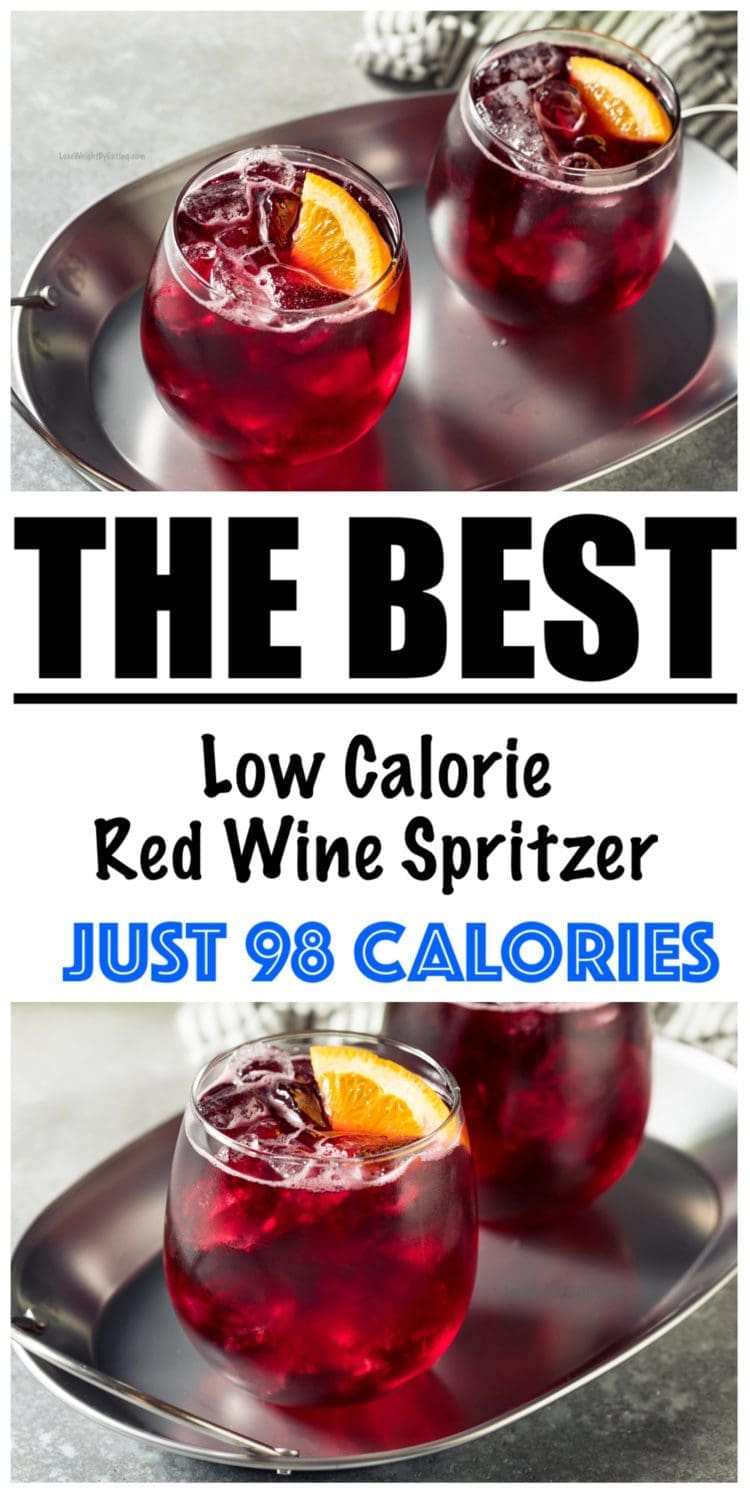 Article History: