Making a smoothie thicker can be done many different ways, but making a thick smoothie that's also healthy can be done in 5 easy and low calorie ways.
After writing 100's of smoothie recipes for my bestselling cookbooks and website, I know a thing about making thick smoothies and even smoothie bowls. And I'll share all my low calorie tips and tricks on how to make a smoothie thick in this quick and easy to skim article.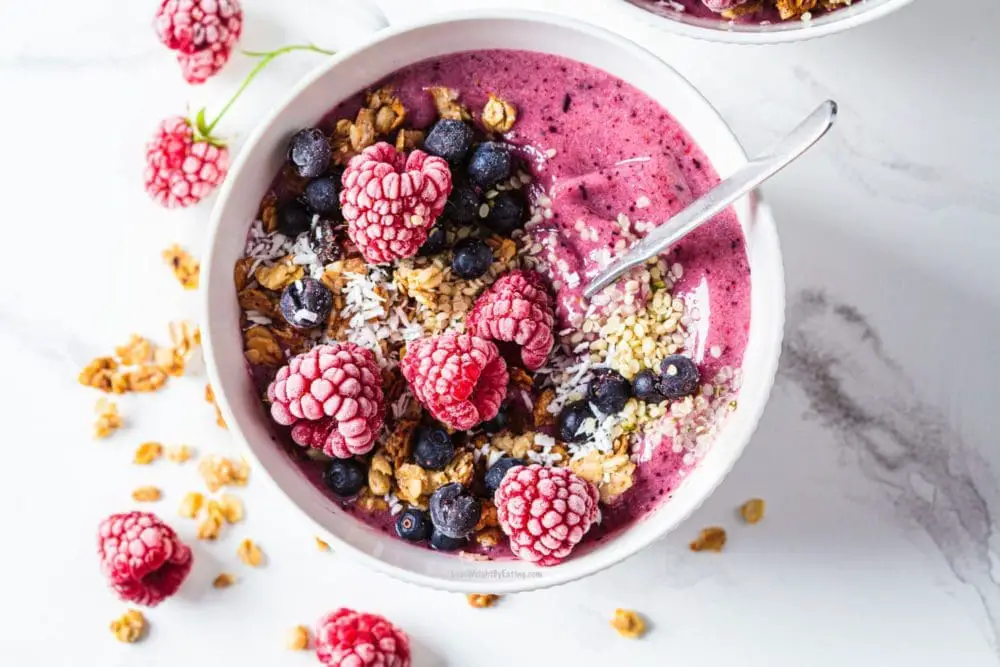 Because this article is all about the healthy ways to thicken a smoothie, I won't be discussing adding ice cream or some of those high calorie ingredients. Just the stuff you want in your healthy smoothies.
5 Healthy Ways to Make a Smoothie Thicker
5 Ways to Thicken a Smoothie:
1. Less Liquid = Thicker Smoothie
I realize this is a but of a no brainer, but I feel it's important to start with the easiest way to make a smoothie thicker. And that's by lowering or omitting the liquid all together.
This will require a high speed blender, or a food processor (yep, you can totally make a smoothie in a food processor!)
So if a smoothie recipe calls for 1 cup of liquid (water, juice, milk) cut it down to 1/4 cup. You can always add more liquid 1/8 cup at a time, but this will really help thicken up your smoothie.
Tips on Limiting Liquid in a Smoothie:
Scraping the sides

– when you add less liquid, you may need to open up the blender and scrape the ingredients down to the blades. Then restart the blender.

Using a Food Processor

– if you don't have a high speed blender (like a Ninja Blender) you can use a food processor instead!

Pulsing Instead of Blending

– when you start blending your smoothie, the pulse button is very helpful in making a thicker smoothie. It will help get things moving without the need for more liquid.

Adding More Liquid

– if you feel like you absolutely have to add more liquid, just add 1/8 cup at a time. This will help keep your smoothie extra thick.
2. Frozen Fruit for a Thicker Smoothie
I love using frozen fruit in my smoothies! It's lower cost, holds longer in my freezer and means I can have a Mango Pineapple Smoothie when there's snow on the ground!
Fruits like bananas, mangos, and strawberries are great at making smoothies thicker. And in their frozen form they create a thick smoothie better than in a defrosted form. So either buy frozen, or prep frozen fruit and you'll be enjoying super thick smoothies in no time.
You want to look for fruits that don't have a ton of water, and you really want to make sure that they are frozen solid. So freeze overnight, one hour won't cut it.
The Best Fruits for Thicker Smoothies:
Bananas

– the best fruit to thicken a smoothie is banana. Slice and freeze bananas and add 1/2 -1 banana per smoothie.

Mango

– second in line is mango, it thickens smoothies almost as well as bananas and you can buy already frozen mangos.

Strawberries

– up next is strawberries, and even berry medley will work here. Frozen strawberries are great for making a thick smoothie.

Pineapple

– frozen pineapple chunks can be purchased year around at most grocery stores and do a great job making a smoothie thicker.
3. Ice Cubes (Zero Calorie Thickener)
Though ice cubes can water down the flavor in a smoothie, they are a great quick fix when trying to make a smoothie thicker. You don't need to prep ice, or add extra calories. Just pop them in.
Of course frozen fruit is a better trick, and will create a flavor packed smoothie, adding ice will also thicken it up fast.
Special Tips on Adding Ice to a Smoothie:
Drink it Quick

– as the ice melts in your prepared smoothie, the thinner it will get. So this trick only works if you plan on having your smoothie right away.

Add more Flavor

– ice can water down (literally- it's water!) your smoothie. So adding a scoop of vanilla protein powder, or an extra 1/4 cup of fruit can help maximize the flavor.

Whole Cubes

– use whole cubes, not crushed. I realize that sounds weird as you will be crushing the cubes in the blender. But you want to make the smoothie as cold as possible and crushed ice is already on the way to being melted.
4. Frozen Milk/Juice Cubes
If your smoothie recipe calls for milk or juice, why not freeze that liquid and add it in to thicken the smoothies. It won't water down the smoothie as ice cubes will. And it won't add calories or sugar if the ingredient is already part of the recipe.
Those old fashioned ice cube molds are great and can be found online and in most kitchen gear stores. Just pour the nut milk, juice, whatever liquid the recipe calls for into the ice cube molds and freeze.
Special Tips on Freezing Liquid for Smoothies:
2 Oz per Ice Cube

– each ice cube typically holds 2 ounces which is 2 tablespoons, or 1/8 cup.

Just Freeze Half

– you can freeze 1/2 of the liquid and use the other half to blend with if you like.

Freeze then Bag

– I like to make lots of juice and milk cubes at once. I freeze them, add to a freezer bag and then freeze some more. This way I just have to grab a few from a freezer bag and not from the tray. This also means I can use the ice molds for more projects.
5. Healthy Add-Ins for Thicker Smoothies
With the first 4 tips on how to make a smoothie thicker all about working with the ingredients in the recipe, or zero calorie ingredients. These will add some calories to your smoothies. But they are all super healthy and will actually boost the nutrition in your smoothie too!
Choose 1-2 of these healthy smoothie thickening ingredients and try them in your next smoothie.
Healthy Add-Ins to Thicken Smoothies:
Protein Powder

– boost the protein in your smoothie and thicken it up too with some protein powder

Chia Seeds

– you've seen chia seed puddings, add 2 tablespoons of chia seeds to 1/4 cup water. Cover and place in the fridge, after 12 hours you'll have a jello like substance that will thicken a smoothie and boost nutrition.

Oats

– uncooked oats will both thicken up your smoothie and keep you full longer. 1-2 tablespoons per smoothie is ideal.

Flax Seeds

– just like chia seeds, flax seeds (and especially flax seed meal) will thicken up if left in water. So add 1-2 tablespoons to 1/4 cup water and cover. Place in the fridge for 12 hours then add to your smoothie.

Greek Yogurt

– adding greek yogurt will thicken up the smoothie and add a nice boost of protein!
Extra Thick Berry Smoothie Bowl Recipe
You can use all of the tips above to make a thicker smoothie, or choose just 1. The key to making a thick smoothie is patience. Adding in liquid without measuring it will thin it out too much. 1/8 cup (2 tablespoons) at a time will ensure you don't over do it.
And make sure to give yourself a little extra time to scrape down the sides, it really will make an amazing thick smoothie.
More Yummy Smoothie Recipes:
Extra Thick Berry Smoothie Bowl
Making an extra thick smoothie has never been easier thanks to this helpful article.
As you can see, we use most of the tips and many of the add-ins to thicken up this healthy smoothie. It's so thick, you can't even drink it through a straw, you'll need a spoon for it!
Special Tip: If you want this extra thick smoothie to be "drinkable" instead of a smoothie bowl, add in an additional 1/4 cup almond milk.
Ingredients  
1

cup

frozen berry medley

1

banana

peeled, sliced and frozen

1

tablespoon

rolled oats

1/4

cup

0% Greek yogurt

1/4

cup

almond milk
The Best Smoothie Bowl Toppings:
1

tablespoon

Homemade Granola

1

teaspoon

flaked coconut

1/4

cup

frozen small berries

blueberries, raspberries, blackberries

1/2

teaspoon

chia seeds

1

teaspoon

hemp seeds
Instructions 
Add all of the ingredients to a high speed blender.

Pulse to get things moving, then blend until smooth.

You may need to open the blender lid, scrape downtime sides of the smoothie and blend some more. This is normal.

Scoop your extra thick smoothie into a bowl and add your favorite toppings.
Notes
The nutrition is based off 1 smoothie bowl (the entire recipe) without toppings.
Nutrition
Serving:
2
cups
Calories:
319
kcal
Carbohydrates:
57.7
g
Protein:
18.2
g
Fat:
3.9
g
Saturated Fat:
0.2
g
Cholesterol:
0
mg
Sodium:
115
mg
Potassium:
711
mg
Fiber:
11.1
g
Sugar:
28.2
g
Calcium:
99
mg
Iron:
3
mg
What to Read Next:


Lose Weight By Eating Cookbooks

Share this Healthy Article: