These Healthy Holiday Leftover Sandwiches are just 311 calories, and so yummy! Perfect for the day after Thanksgiving or Christmas, you can fill them with your favorite leftovers and enjoy for lunch or dinner. I do have low calorie options for all the fillings, but feel free to use what you have leftover.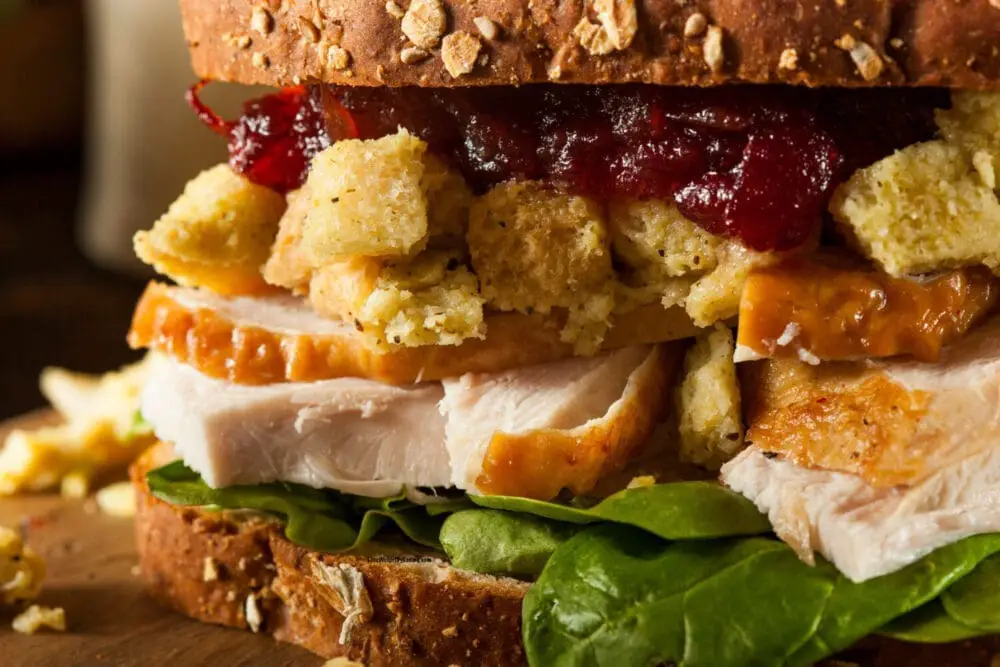 Everything You'll Need
Healthy Holiday Leftover Sandwiches
Low Calorie Thanksgiving Sandwich Meal Prep and Storage
Make Ahead Sandwiches – Assemble the sandwiches and wrap in parchment or wax paper, and or place in a sandwich bag or container.
Fridge Storage – These holiday sandwiches will hold in the fridge for 3-4 days, though the bread may get soggy the longer you leave them in the fridge. To avoid that, toast the bread ahead of time.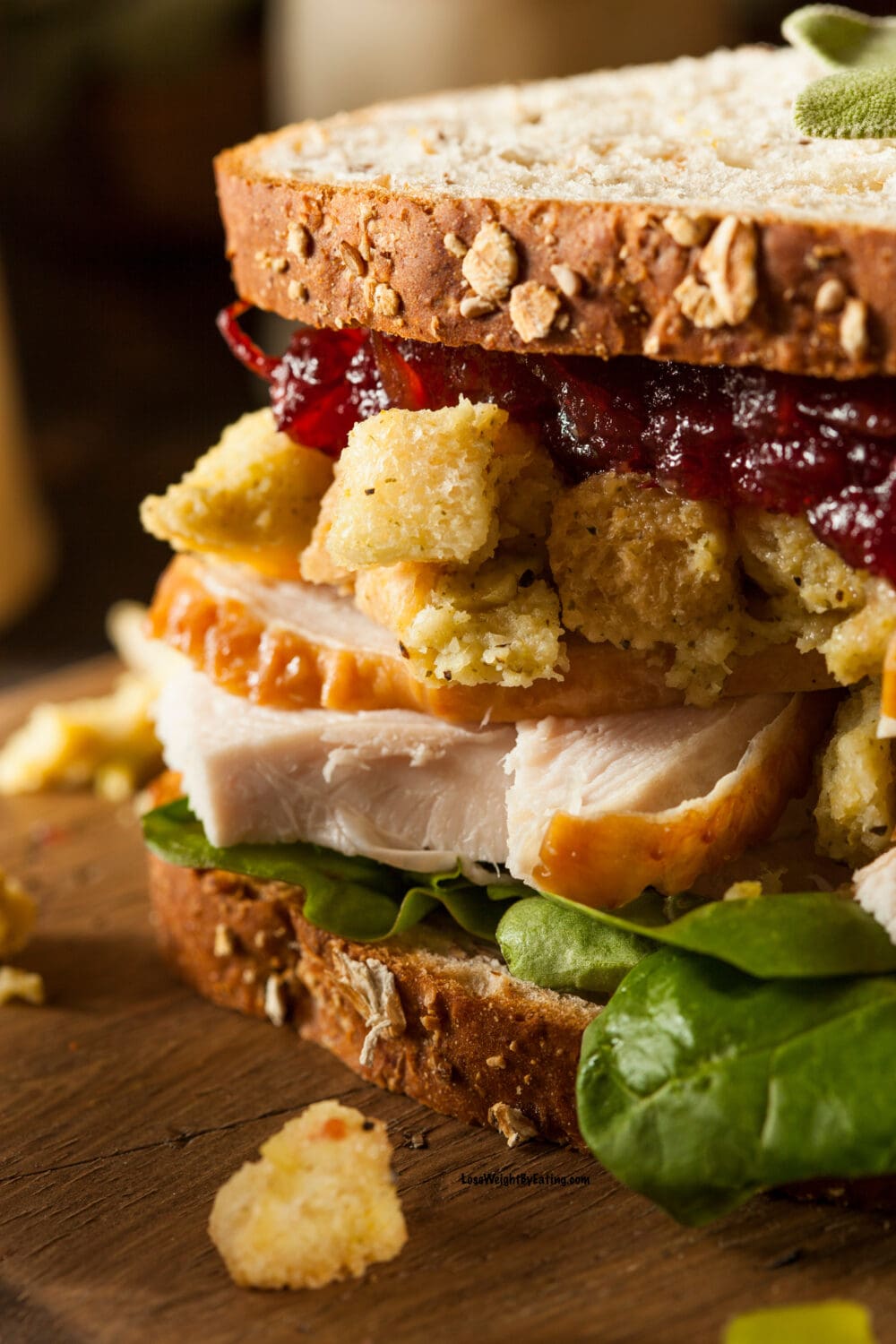 Healthy Holiday Leftover Sandwiches Recipe
More Low Calorie Holiday Leftover Recipes: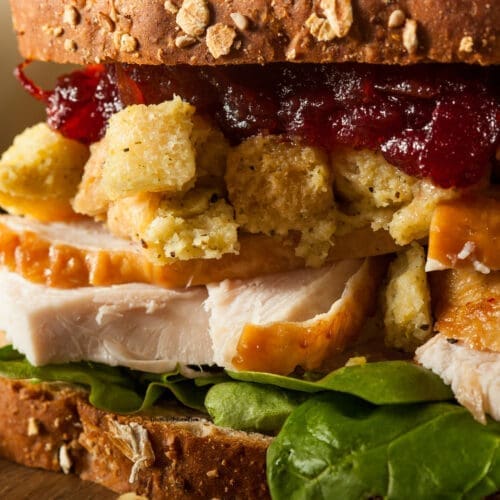 Low Calorie Holiday Leftover Sandwiches
These Low Calorie Holiday Leftover Sandwiches are just 311 calories thanks to the low calorie bread and fillings.
If you have leftovers that are not low calorie, don't worry, the entire sandwich will still be under 400 calories!
Special Tip – I like to make these to send home with my guests. It's a fun way to send them home with leftovers.
Instructions 
If you like you bread toasted, or are storing these for later, toast the bread.

To the top of one slice, add the spinach, then top with turkey, and stuffing (or mashed potatoes).

Smear the with slice of bread with cranberry sauce.

Place the cranberry topped bread atop the sandwich and serve cold.

Reheating Notes– if you want these to be hot sandwiches you can heat up the ingredients ahead of assembling. Or you can add the to a hot skillet and cook them as you would grilled cheese sandwiches.
Nutrition
Serving:
1
sandwich
Calories:
311
kcal
Carbohydrates:
3.4
g
Protein:
17
g
Fat:
2.9
g
Saturated Fat:
0.9
g
Cholesterol:
43
mg
Sodium:
58
mg
Potassium:
276
mg
Fiber:
1.4
g
Sugar:
1.2
g
Calcium:
17
mg
Iron:
6
mg
About the Author
Hi, my name is Audrey Johns and I am a 4 time best selling cookbook author! All 4 of my low calorie cookbooks are published by HarperCollins (the oldest publishing house in the US!) and have been featured on prominent TV shows like The Today Show, Rachael Ray and The Doctors. I am a low calorie and healthy recipe authority and my delicious recipes are tried and loved by thousands of readers. 
After a one year 150 pound weight loss (and I've kept it off for 13 years!) I started sharing all of my low calorie recipes with the world. They are always all-natural and geared around weight loss and weight management. I have even made some of these recipes with my Biggest Loser pal Bob Harper! Check out my weight loss story, my best selling cookbooks, and my numerous TV appearances by clicking here.
Nutrition and Calories in Thanksgiving Sandwiches
More Weight Loss Recipes:

Lose Weight By Eating Cookbooks

Share this Healthy Recipe: