This Low Calorie Ratatouille is just 87 calories per cup, and as delicious as it is beautiful! I like to thinly slice the ingredients and arrange as shown. But you can also cube them and toss into the casserole dish for a quick and easy version.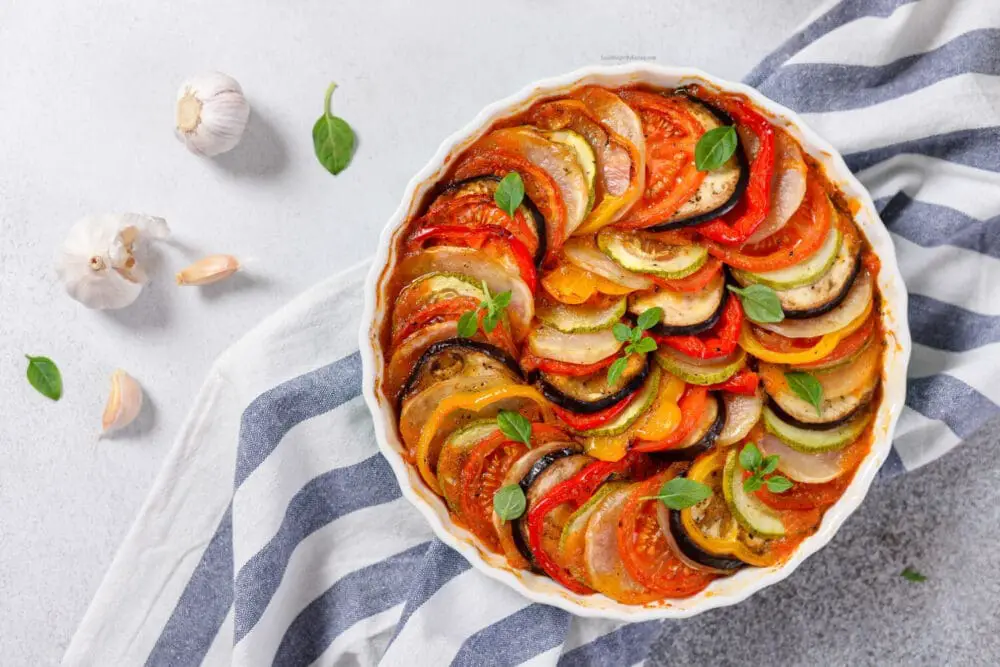 Everything You'll Need
Ingredients You'll Need:
Olive Oil Spray – Or 2 teaspoons olive oil. /li>
1 medium onion – Yellow onions are the best in this recipe, but white will also work.
1 red bell pepper – You can use any color you like.
1 medium eggplant – About the side of a large cucumber.
1 zucchini – Or an additional yellow squash.
1 yellow squash – Or an additional zucchini
3 plum tomatoes – Any medium tomatoes will work.
3 garlic cloves – Fresh is best, but 1/2 teaspoon garlic powder will also work.
½ cup chopped fresh basil – Fresh is best, but 1 teaspoon of dried will work.
Leaves from 2 thyme sprigs – Fresh is best, but 1/4 teaspoon of dried will work.
1 teaspoon red wine vinegar – Or apple cider vinegar.
Freshly ground black pepper – To taste.
Metric Measurements In Recipe Card
Low Calorie Ratatouille
Healthy Ratatouille Recipe Variations
Low Carb Ratatouille
All the carbs in this recipe come from veggies, so they are healthy carbs! If you do not eat veggies because you don't like the carbs, then this is not the recipe for you as it is 100% veggies. You can however boost the protein with collagen powder, or by serving with chicken to balance out the nutrition more.
High Protein Ratatouille
You can add 1-2 scoops unsweetened and unflavored collagen or protein powder to the recipe. Mix it into the tomato sauce just before moving to the casserole dish. You can also serve this with a chicken breast or some baked tofu to boost protein.
Gluten-Free Ratatouille
This Ratatouille is already gluten-free, just be sure to serve it with gluten free sides.
Low Sodium Ratatouille
I was able to keep the sodium very low in this recipe, just be sure not to add any salt and you are good to go.
Low Fat Ratatouille
You can omit the olive oil spray if you like. Just Lowe the heat on the onions and add 1 tablespoon of water. Then cover and sweat them without the oil.
Healthy Ratatouille Meal Prep and Storage
Meal Prep
Prep – Make the sauce and assemble the dish.
Cover – Cover with plastic wrap, or a casserole lid.
Refrigerate – Will hold for 4 days in the fridge. It is not recommended to freeze this dish before cooking.
Cook – Uncover and cook as directed below (you can print out the recipe card and tape it to the top).
Leftover Storage
Cook – Cook as directed below, and cool completely.
Individual or Family Servings – Add one serving (1 cup) to a container for single serve. Or as many servings as you need for the full family for family servings. Cover and store for later. 
Refrigerate or Freeze – Will hold for 4 days in the fridge. And in the freezer for 1 month. 
Reheat – Defrost in the fridge if frozen. Bake in a 350 degree oven for 30 minutes, or the microwave for 3 minutes.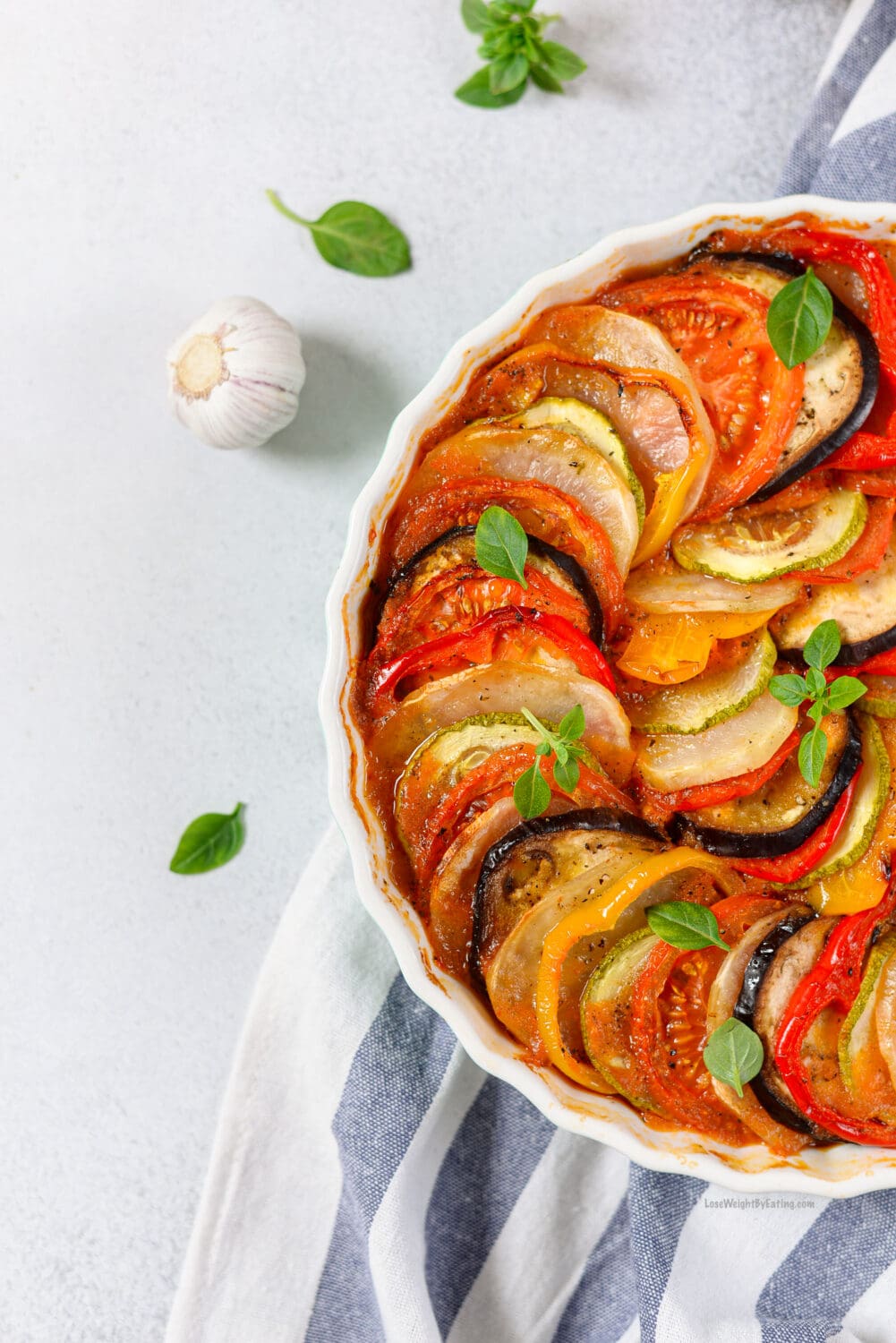 Low Calorie Ratatouille Recipe
Low Calorie Ratatouille
This Low Calorie Ratatouille is just 87 calories per cup, and so delicious!
I know you'll love this healthy vegan dish. Hav hit as a side dish, or have 2-3 servings for a main course.
Special Tip: You can also cube the veggies and toss them into the baking dish and save yourself time slicing thin and arranging.
Ingredients  
Olive Oil Spray

1

medium onion

chopped

1

red bell pepper

1

medium eggplant

1

zucchini

1

yellow squash

3

plum tomatoes

3

garlic cloves

½

cup

chopped fresh basil

Leaves

from 2 thyme sprigs

1

teaspoon

red wine vinegar

Freshly ground black pepper
Instructions 
Preheat oven to 370 degrees, spray a baking dish with olive oil.

Spray a skillet and heat over medium heat. Add the onions and sauté for 10 minutes, until tender.

Meanwhile, thin slice the bell pepper, eggplant, zucchini, and yellow squash. You can use a mandoline slicer if you have one.

Once the onions are soft, add in the tomatoes, thyme leaves, garlic, basil, and vinegar, and cook for 5 minutes, stirring often to avoid burning.

Add the tomato sauce to a baking dish, then layer with sliced vegetables like in the movie. I like to stack the veggie slices in my hand, then add to dish… it makes it much easier.

Spray with olive oil, cover with parchment paper, and bake for 60 minutes.

Remove the parchment paper and serve hot.
Nutrition
Serving:
1
cups
Calories:
87
kcal
Carbohydrates:
19.5
g
Protein:
4
g
Fat:
0.8
g
Saturated Fat:
0.1
g
Cholesterol:
0
mg
Sodium:
26
mg
Potassium:
803
mg
Fiber:
7.1
g
Sugar:
11.5
g
Calcium:
46
mg
Iron:
1
mg
About the Author
Hi, my name is Audrey Johns and I am a 4 time best selling cookbook author! All 4 of my low calorie cookbooks are published by HarperCollins (the oldest publishing house in the US!) and have been featured on prominent TV shows like The Today Show, Rachael Ray and The Doctors. I am a low calorie and healthy recipe authority and my delicious recipes are tried and loved by thousands of readers. 
After a one year 150 pound weight loss (and I've kept it off for 13 years!) I started sharing all of my low calorie recipes with the world. They are always all-natural and geared around weight loss and weight management. I have even made some of these recipes with my Biggest Loser pal Bob Harper! Check out my weight loss story, my best selling cookbooks, and my numerous TV appearances by clicking here.
Nutrition and Calories in Ratatouille
More Weight Loss Recipes:


Lose Weight By Eating Cookbooks

Share this Low Calorie Recipe: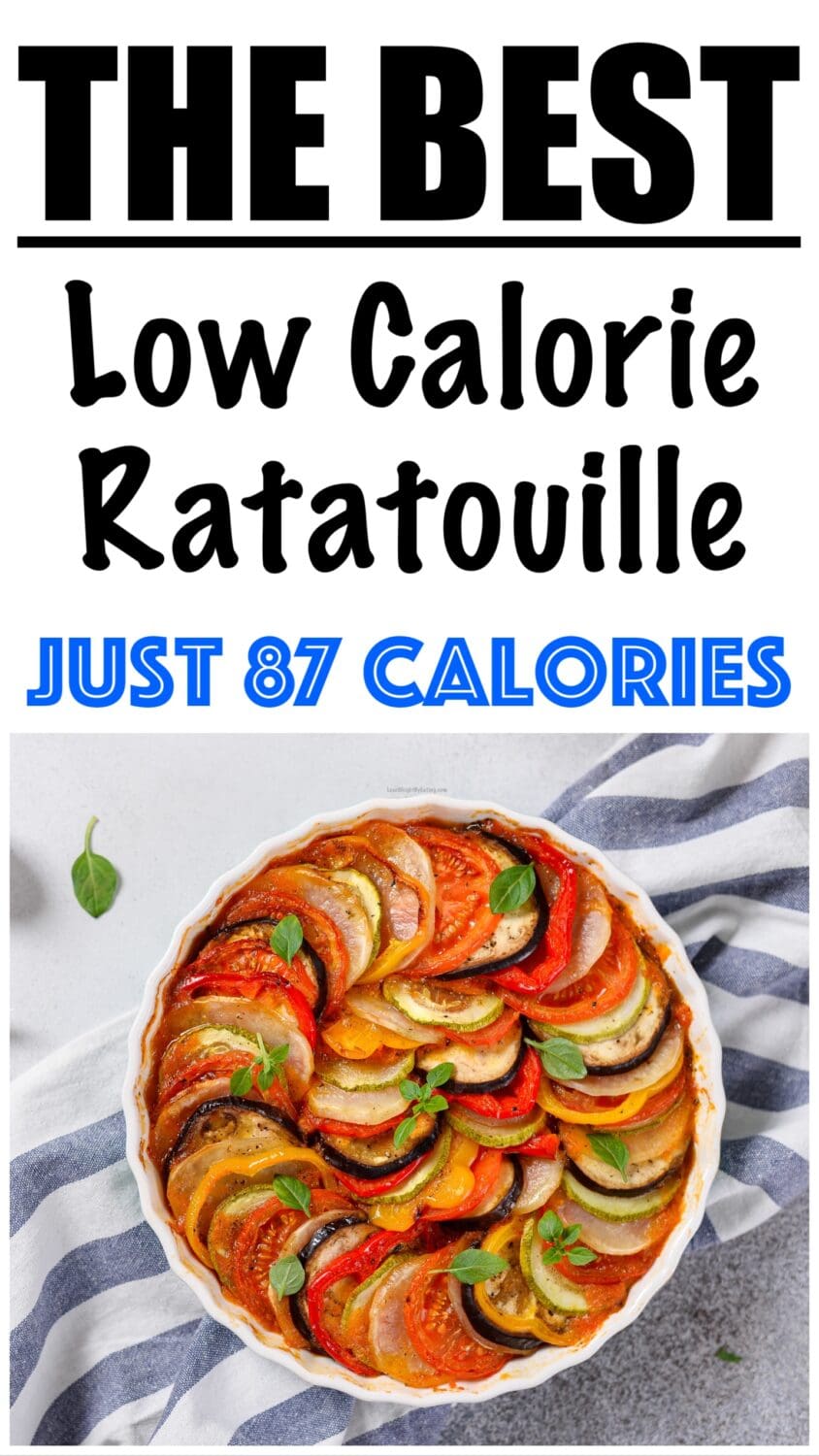 Article History: