Immunity boosting foods can help keep you healthy and well during cold and flu season. Make sure to stock these items in your pantry, freezer, and fridge.
I recommend trying to work 1 to 3 of these items into each meal to help keep your immunity strong so that you can fight off illness.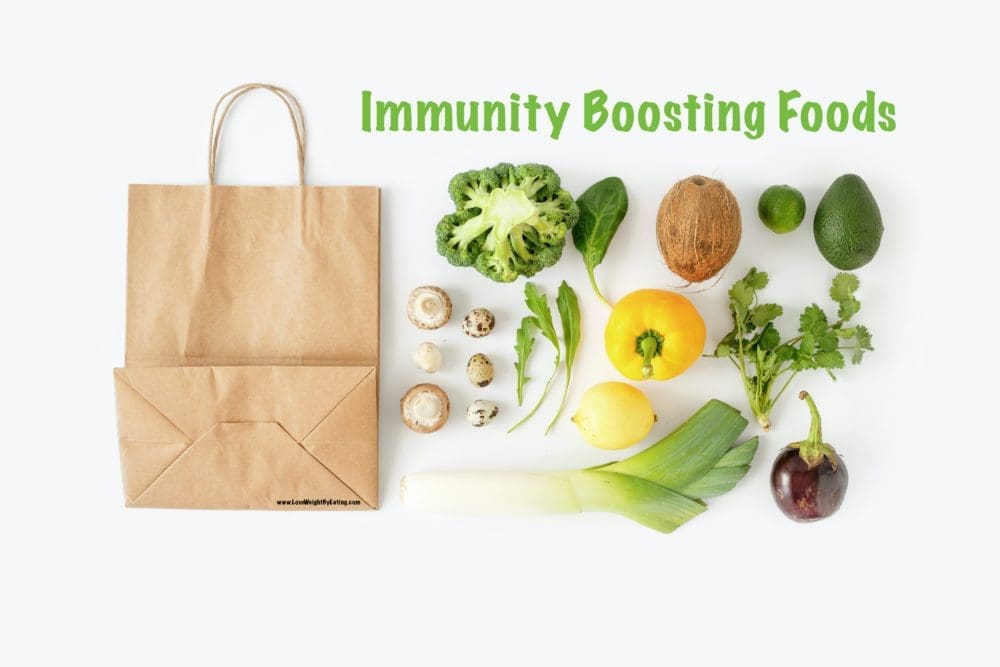 Immunity boosting foods:
If you're looking to help strengthen your immune system, here are a few immunity boosting foods you should be trying to get into your diet on a daily basis.
Below you will find list of food to stock up on, here we will explain the importance.
Vitamin C
It's already well known that Vitamin C helps protect your body from infection and can even help fight off disease. 
It's not just citrus fruits that you should be shopping for, there are a slew of other Vitamin C rich fruits and we will outline them below. 
Here's a sneak peak, bell peppers, broccoli, and spinach are all rich in Vitamin C. Scroll down to the lists to find more options.
Vitamin A
Vitamin A is a great to help protect against infection. It will help regulate your immune system and support probiotics that live in your G.I. tract.
We will review more Vitamin A healthy ingredients below, but here's a sneak peek, bell peppers, carrots and sweet potatoes are all rich in Vitamin A.
Protein
Protein is important when it comes to boosting your immunity. But that doesn't just mean animal protein.
My vegetarian and vegan pals will be happy to find that plant-based proteins provide antioxidants that will help boost the immune system.
However, one should not overlook animal-based protein as it can help increase zinc in the body, thus fighting illness.
More information below on healthy protein items, but we love that filling your pantry with items such as beans and lentils can keep you stocked with protein rich immunity boosting foods year round.
Vitamin E
Vitamin E is a great antioxidant, and can even help protect the body against infectious diseases.
Not sure what ingredients you can find that are packed full of Vitamin E? Here's a sneak peek. Nut butters, and leafy greens are great and full of Vitamin E.
Nuts and nut butters can be easily stored in your pantry year around. The next time you go to the store grab a package of frozen broccoli to help keep you stocked with Vitamin E rich foods.
Water
If you're a long time reader of Lose Weight By Eating, you knew I was going through water in here, didn't you?!
When trying to avoid getting sick, or if you are sick trying to flush your body, water is key!
If you're looking to find out how much water you should be drinking, click here.
Immunity boosting foods- pantry staples:
If you're going into cold and flu season, or just looking to stock up on healthy options, these pantry staples hold for a long time on the shelf. These immunity boosting foods will help keep you and your immunity strong all year long.
Nuts 
Almonds are my personal favorite, as they naturally boost metabolism.  However, most nuts are rich in Vitamin E, and help keep a healthy immune system.
Stock your pantry with these immunity boosting foods:
Almonds
Peanuts
Cashews
Peanut butter
Almond butter
Walnuts
Brazil nuts
Turmeric
There's a reason why a lot of people are taking turmeric pills come cold and flu season. It's because this spice is a wonderful anti-inflammatory, which can help fight colds and flu, and their symptoms.
Stock your pantry with the following items to help you consume more turmeric:
Powdered Turmeric
Organic soups – add a tablespoon of turmeric per can of soup to help boost immunity
Try my turmeric drink to help boost immunity.
Tea
Both black and green tea are wonderful antioxidants. Next time you need an afternoon caffeine boost, try grabbing for a teabag as opposed to your usual afternoon coffee.
Here are some tea items to stock your pantry with:
Green teabags
Black teabags
Honey
Decaffeinated black tea for those of you who are sensitive to caffeine.
Chicken broth
There's a reason people have been enjoying chicken soup to help get over illness for generations. Chicken and turkey are high in vitamin B6 which is an important vitamin to keep your blood healthy.
We recommend trying bone broth and even have a homemade recipe for you here. 
Next time you head to the store, pick up some chicken broth. You can use the immunity boosting food for a number of different dishes.
Pantry staples to help you consume more chicken broth:
Cans or boxes of chicken broth
Cans or boxes of chicken bone broth
Rice – next time you make rice use chicken broth in place of water
Keep chicken broth on hand to make soups, or even cook your beans in chicken broth.
Beans
As we outlined above, plant-based proteins are great antioxidants and will help boost your immune system.
We especially like that you can purchase many of these items inexpensively, they stack neatly, and hold for a very long time in your pantry.
Try out some of these plant-based protein immunity boosting foods:
Black beans
Chickpeas
Cannelloni beans
Pinto beans
Seeds and lentils
Seeds are wonderful for increasing your Vitamin B6 and Vitamin E. Both are powerful antioxidants.
Also, seeds and lentils are great plant-based proteins that can hold for a very long time in your pantry
Try out these seed/lentil pantry immunity boosting foods:
Sunflower seeds
Dried lentils
Canned lentil soups
Flaxseeds
Chia seeds
Hemp seeds
Pumpkin seeds
Immunity boosting foods- freezer staples:
Before heading into the cold and flu season, make sure to stock these items in your freezer to help keep you well all season long.
Frozen vegetables
Frozen vegetables are a wonderful option! When they're frozen at the farm, they're flash frozen. This actually helps to retain all of the nutrition. So when you purchase frozen vegetables, there are almost as nutrient packed as fresh.
Leafy green veggies are great for increasing your Vitamin C and Vitamin A. We also love the Vitamin C rich peppers.
Try out some of these leafy greens to boost your immunity:
Frozen broccoli
Frozen spinach
Frozen kale
Frozen bell peppers
Frozen fajita veggies
Frozen carrots
Bags of frozen peas and carrots
Frozen animal protein
The freezer is a great place to stockpile protein. Here are some great immunity boosting protein rich ingredients.
Stock up on these immunity boosting proteins:
Chicken breasts
Chicken legs and thighs
Frozen seafood
Frozen ground turkey
Frozen fruits
I always keep lots of frozen fruits on hand. Mostly because I'm almost always enjoying one of our wonderful green smoothies each day.
These fruits are a great way to increase your immunity, and you don't have to worry about them going bad since they're frozen!
Immunity boosting frozen fruits:
Papaya
Pineapple
Strawberries
Blueberries
Kiwi
Dark cherries
Elderberries
Açaí berry packs
Watermelon 
Immunity boosting foods- fridge staples:
Obviously fresh is always the best option! However, that's not always a available, which is why we started with pantry and freezer staples.
However, next time you head to the store for some of your weekly grocery staples, add a couple of these items to your cart to help boost your immunity!
Citrus fruits
Citrus fruits are packed full of Vitamin C, and unfortunately these don't always freeze very well. The great thing is most citrus fruits will last significantly longer in the fridge, then on the countertop.
Stock up on your favorite citrus fruits, and snack on them, or squeeze them into drinks such as lemon, or lime wedges.
Immunity boosting citrus fruits:
Oranges
Grapefruit
Lemons
Limes
Clementines
Tangerines
Garlic
To be honest I didn't quite know where to place this one, I actually keep my garlic in my pantry! However I know many people like to keep it in the fridge, and even more people like to buy the pre-chopped garlic. So this one belongs in both sections.
Garlic has 0 calories, read that again 0 calories! It's also great for boosting immunity which is why a lot of people take odorless garlic pills.
Here are some ways to keep garlic in your home for immunity boosting purposes:
Fresh garlic heads
Pre-chopped garlic
Ginger
Ginger, just like garlic is 0 calories, and it's also great to help a sore throat and decrease nausea.
Here are some ways to keep your home stocked with ginger:
Yogurt
Ingredients such as Greek yogurt will help stimulate your immune system and fight disease.
We recommend getting plain yogurt, and adding in your own flavors.
Stock your fridge with these yogurt items:
Greek yogurt
Plain yogurt
Honey
Organic yogurt drinks
If you're looking to add your own flavor into yogurt, try this delicious recipe.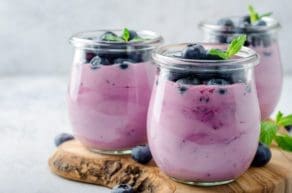 Pomegranate juice
Pomegranate juice is a great way to support your immunity! It's filled with antioxidants, and is an anti-inflammatory food.
Next time you head to the store, check out the pomegranate juice, or the pomegranate seeds, in the produce section.
Immunity boosting pomegranate staples:
Pomegranate juice
Pomegranate seeds
Sparkling water – you can get more bang for your buck by adding pomegranate juice to sparkling water. This will help increase your water intake, as well as your pomegranate juice intake!
Try this Immunity Boosting Chicken Soup Recipe:
Immunity Boosting Chicken Soup Recipe
This immunity boosting chicken noodle soup recipe is made in just 30 minutes, and is only 117 calories!
Try this healthy recipe for chicken noodle soup homemade anytime you feel a little under the weather, or just need a quick, healthy meal.
Ingredients  
2

chicken breasts

boneless, skinless

2

parsnips

peeled and chopped into 1/4 inch cubes

2

carrots

peeled and chopped into 1/4 inch cubes

1

onion

chopped

2

celery stalks

chopped into 1/4 inch cubes

2

teaspoons

garlic powder

2

teaspoons

salt

½

teaspoon

pepper

2

bay leaves

7

cups

chicken broth

Juice of 1/2 lemon

2

cups

pasta

Rotini, Egg Noodles, Rice Noodles GF

3

tablespoons

parsley

chopped
Instructions 
Lightly spray a large pot or dutch oven with olive oil spray. Heat to medium heat and add in the chicken, parsnips, carrots, onion and celery. Cover and cook for 5 minutes until the onions start to soften.

Add in the garlic powder, salt, pepper, bay leaves, and chicken broth. Brink to a boil on high heat, then lower to a simmer on medium-low and cook for 15 minutes.

Pull out the chicken and the bay leaves. Discard the bay leaves, and shred the chicken with two forks.

Add the chicken back to the pot, along with pasta and lemon juice. Cook for 8-9 minutes, top with parsley, and serve.
Nutrition
Serving:
2
cups
Calories:
117
kcal
Carbohydrates:
14.9
g
Protein:
8.5
g
Fat:
2.4
g
Saturated Fat:
0.4
g
Cholesterol:
8
mg
Sodium:
1274
mg
Potassium:
439
mg
Fiber:
2.7
g
Sugar:
3.9
g
Calcium:
33
mg
Iron:
1
mg
Immunity boosting foods conclusion:
It's easy to boost your immunity with a well stocked pantry, freezer, and fridge.
Next time you go to the grocery store, look at what's on sale, and start stocking up on these items.
Make sure you're drinking your water every single day, as this is so very important for overall health, as well as flushing out illnesses.
If you're looking for more coronavirus information, check out my article on social distancing self-care here.
What to Read Next:


Lose Weight By Eating Cookbooks