This Low Calorie High Protein Turkey Meatball Meal Prep is just 345 calories, gluten free, and great for lunch or dinner! Packed with 42.3g of protein, this healthy meal prep is great for most diets. And you can swap out the rice for cauliflower rice to make this low card too.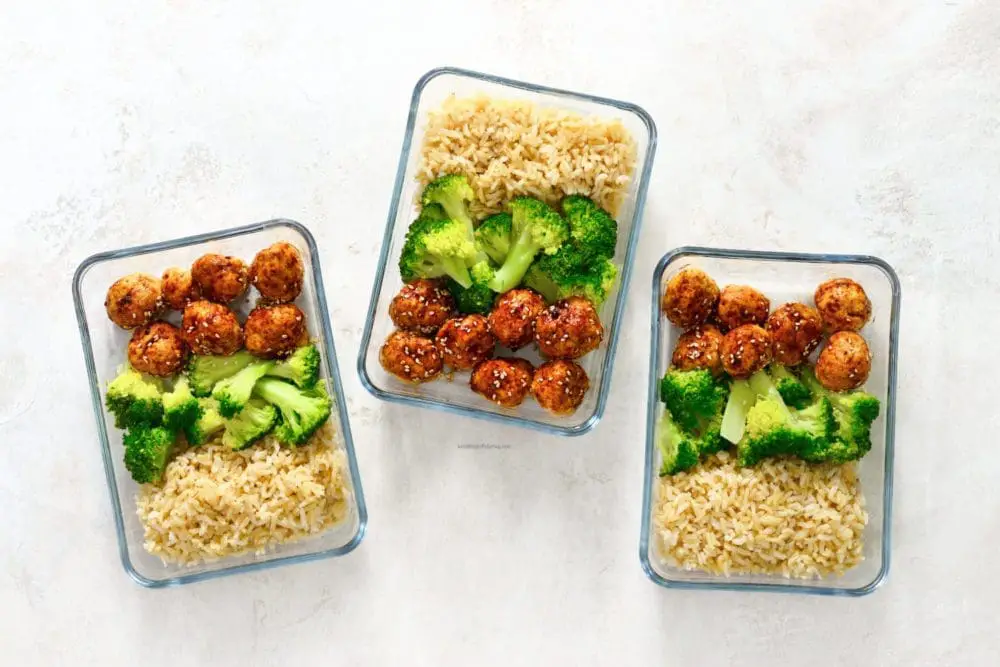 Everything You'll Need
¼ cup low-sodium soy sauce (or gluten free Tamari)
1 ¼ cup water (divided)
1 ½ tablespoon honey
1 tablespoon light brown sugar
1 tablespoon rice vinegar
¼ teaspoon toasted sesame oil
2 teaspoons fresh ginger
2 cloves of garlic
2 teaspoons cornstarch
1 pound ground turkey or chicken
1 egg
¼ cup panko breadcrumbs (or gluten-free panko)
2 green onions
1 teaspoon sesame seeds
½ cup rice (brown or white)
3 cups broccoli florets
Low Calorie High Protein Turkey Meatball Meal Prep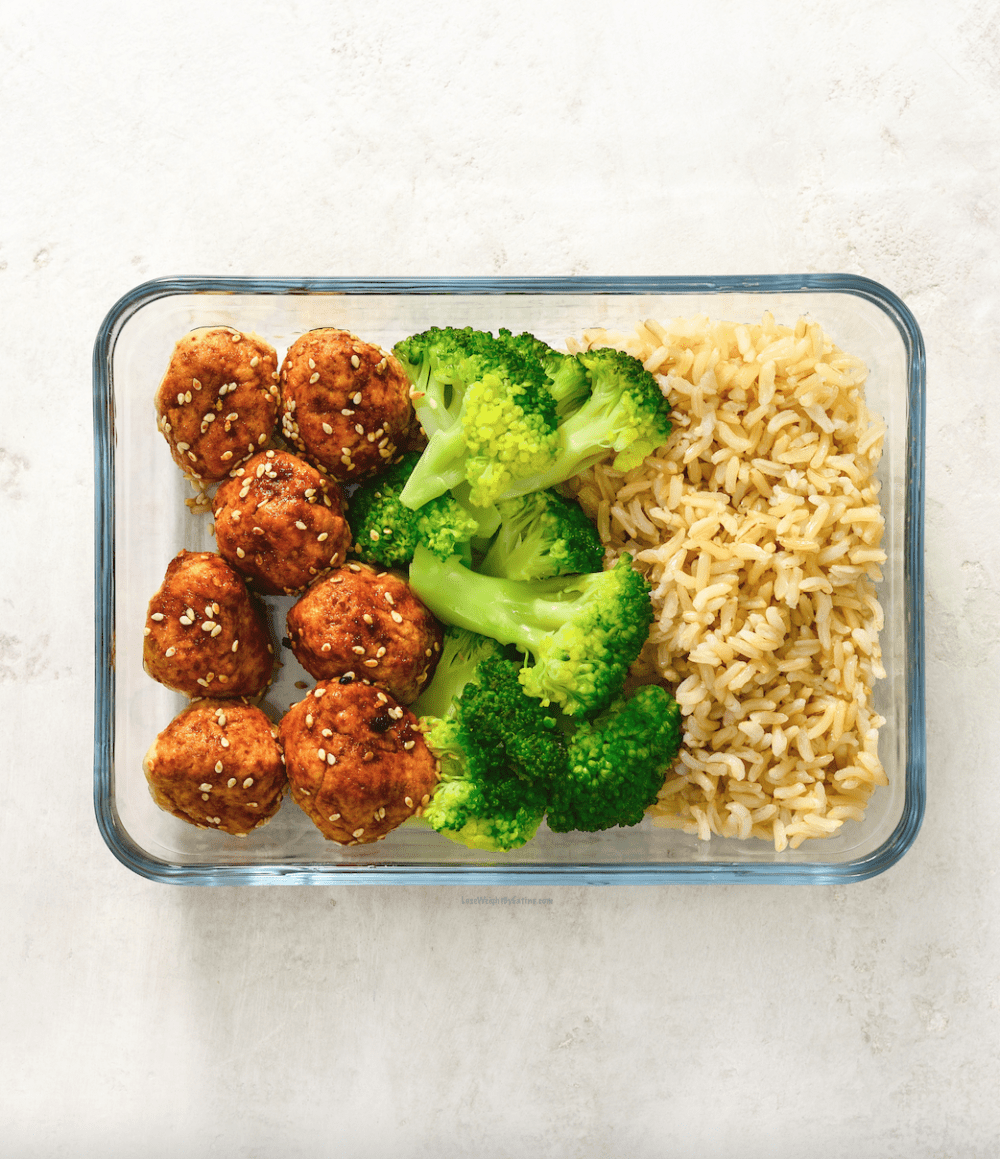 Healthy Meatball Meal Prep and Storage
Meal Prep
Prep – Assemble the meal prep boxes as directed.
Cover – Cover with a lid.
Refrigerate or Freeze – Will hold for 5 days in the fridge, and 1 month in the freezer. 
Leftover Storage
Cook – Cook as directed below.
Refrigerate or Freeze – Will hold for 5 days in the fridge. And in the freezer for 1 month. 
Reheat – Defrost in the fridge if frozen. Heat the microwave for 3 minutes.
Low Calorie High Protein Turkey Meatball Meal Prep
More Low Calorie Meal Prep Recipes: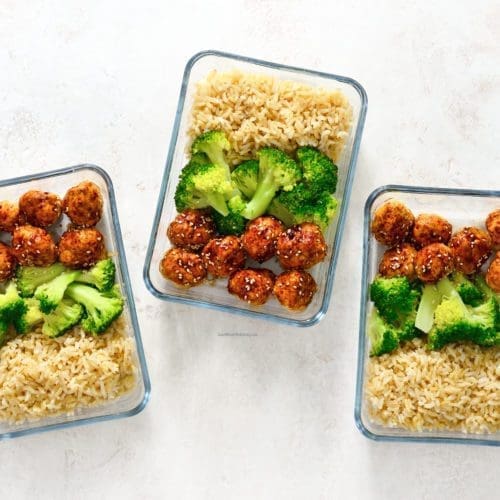 Low Calorie Turkey Meatball Meal Prep
These homemade meal prep lunches are just 345 calories and take just 30 minutes to make (no matter how many you make!)
Try this asian meatball meal prep lunch for work this week… you'll love the yummy flavors and the way this meal prep lunch fills you up.
This teriyaki turkey meatball meal prep lunch also makes great meal prep dinners! So stock up and freeze extras! As a bonus, you don't even need to cook the broccoli as it will steam in the container when you reheat!
Ingredients  
Homemade Teriyaki Sauce:
¼

cup

low-sodium soy sauce or gluten free Tamari

¼

cup

water

1 ½

tablespoon

honey

1

tablespoon

packed light brown sugar

1

tablespoon

rice vinegar

¼

teaspoon

toasted sesame oil

2

teaspoons

fresh ginger grated or minced

2

cloves

of garlic grated or minced

2

teaspoons

cornstarch
Homemade Meatballs:
1

pound

ground turkey or chicken

1

egg

¼

cup

panko breadcrumbs

or gluten-free panko

2

green onions

minced

1

teaspoon

sesame seeds
Meal Prep Lunches:
½

cup

rice

brown or white

1

cup

water

3

cups

broccoli florets
Instructions 
Make the Teriyaki Meatballs:
Preheat the oven to 400 degrees and line a baking sheet with parchment paper.

To a small sauce pan, combine the soy sauce, water, honey, brown sugar, rice vinegar, sesame oil, ginger, garlic and cornstarch.

Heat over medium heat stirring continuously until the cornstarch dissolves and thickens up the sauce. Then remove from heat and set aside.

To a large bowl combine the ground meat, egg, panko breadcrumbs, green onions, and 2 tablespoons of the homemade teriyaki sauce.

Mix the meatball mixture together until just combined (too much mixing will make tough meatballs).

Roll out 21 small meatballs, adding to the prepared baking sheet as you work.

Bake the meatballs in the hot oven for 25 minutes, until cooked through and browned. Then move the baking sheet to a spot to cool while you addable your meal prep lunches.
Make the Rice:
While the meatballs cook, make the rice.

In a small pot, or rice cooker, add rice and water.

Bring to a boil on high heat. Lower heat to low, cover and cook until the water soaks into the rice, about 30 minutes. (Or follow rice cooker directions)

Remove the pot from the heat and add the rice to a medium bowl, and set aside to cool.
Put Meal Prep Lunches Together:
Lay your meal prep containers out in a line.

Divide the meatballs into each container, then spoon over teriyaki sauce and sprinkle with sesame seeds.

Next, divide the broccoli between the containers (it may remain raw as re-heating the meal prep containers will steam it!)

Finally, divide the rice between the meal prep containers, and store in the fridge for up to 5 days.
Nutrition
Serving:
3
cups
Calories:
345
kcal
Carbohydrates:
32.5
g
Protein:
42.3
g
Fat:
6.2
g
Saturated Fat:
1.7
g
Cholesterol:
138
mg
Sodium:
1309
mg
Potassium:
740
mg
Fiber:
2.5
g
Sugar:
15.4
g
Calcium:
63
mg
Iron:
3
mg
About the Author
Hi, my name is Audrey Johns and I am a 4 time best selling cookbook author! All 4 of my low calorie cookbooks are published by HarperCollins (the oldest publishing house in the US!) and have been featured on prominent TV shows like The Today Show, Rachael Ray and The Doctors. I am a low calorie and healthy recipe authority and my delicious recipes are tried and loved by thousands of readers. 
After a one year 150 pound weight loss (and I've kept it off for 13 years!) I started sharing all of my low calorie recipes with the world. They are always all-natural and geared around weight loss and weight management. I have even made some of these recipes with my Biggest Loser pal Bob Harper! Check out my weight loss story, my best selling cookbooks, and my numerous TV appearances by clicking here.
Nutrition and Calories in Teriyaki Meatball Meal Prep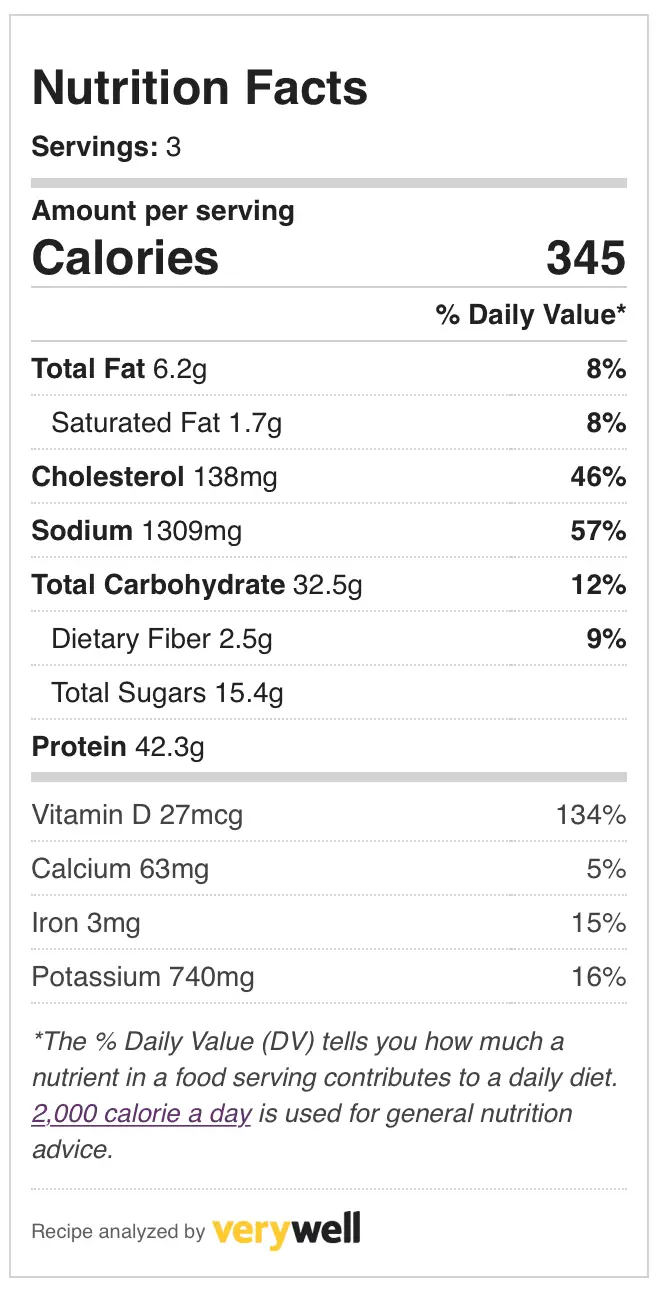 More Weight Loss Recipes:



Lose Weight By Eating Cookbooks

Share this Low Calorie High Proetin :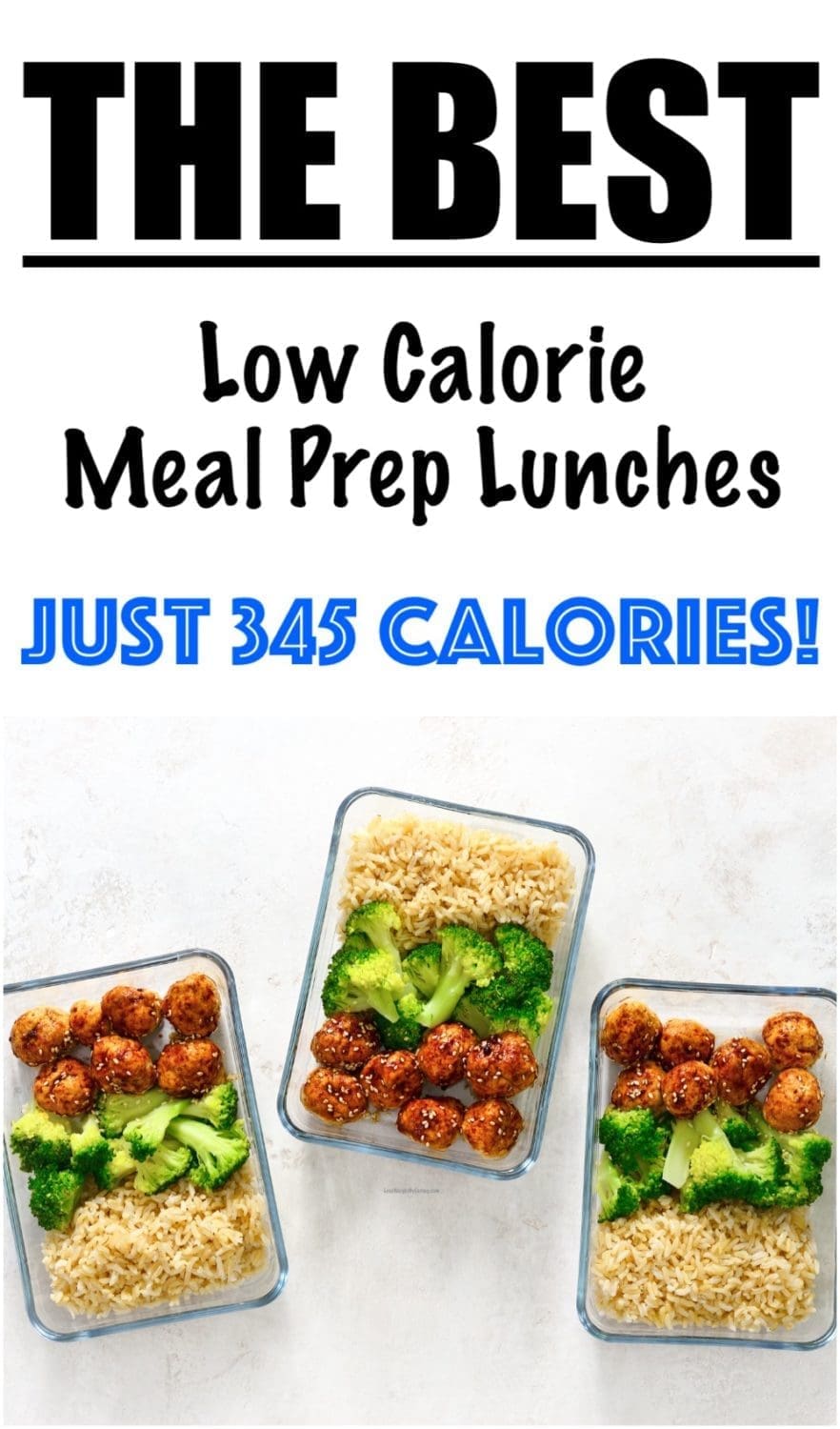 Article History:
Originally written and published November 10, 2021 by Audrey Johns
Most recent update on December 8, 2023 by Audrey Johns