Learn about 10 Different Types of Rice, how to use them. What each rice benefit is, and even find low calorie rice recipes!
Rice varieties range from long to short rice, white to black rice… there are many to choose from, and this article will help you choose (and find) the right rice for you.
Rice is a staple food for many cultures around the world, and it's one of the oldest crops humans have cultivated.
There are many different types of rice available, and they vary in terms of taste, size, cooking time, and nutritional value.
Below you'll find 10 Different Types of Rice, plus how to use them and even some healthy rice recipes!
10 Different Types of Rice
Rice comes in a variety of colors and textures, depending on where it was grown, but all rice starts out as white. The color of rice depends on its age and how much time it spends soaking in water before cooking.
A typical rice includes white rice, brown rice, purple rice, black rice, and wild-type brownish-red varieties that are less processed than white rice.
White rice has been milled throughout to remove its outer layers. Brown rice, however, still retains some of its outer layers.
While purple rice is colored by anthocyanin pigment found in red plants. And Black rice is fully germinated while having few nutrients removed, and wild-type brownish-red varieties are less processed than white rice.
There are many different types of rice, from short-grain to long-grain, and each has its own unique flavor and texture.
The 10 of the Most Popular Rice Varieties
Find out the difference between Jasmine Rice, Basmati Rice, Brown and White Rice, Sushi Rice and many more below.
And make sure to keep scrolling for lots of healthy rice recipes!!
White Rice
White rice is the most common type of rice, and it has had its husk, bran, and germ removed.
It's light in color and has a mild flavor, making it the most familiar to Westerners.
White rice is most commonly used for dishes like fried rice, pilafs, desserts, and many other dishes.
It's also the most processed rice, meaning it has the least nutritional value as opposed to other types of rice like jasmine or basmati rice.
Brown Rice
This is rice that has been hulled but not milled, maintaining its bran layer and germ.
Brown rice takes longer to cook than white rice, as the layers of bran and germ make it more dense.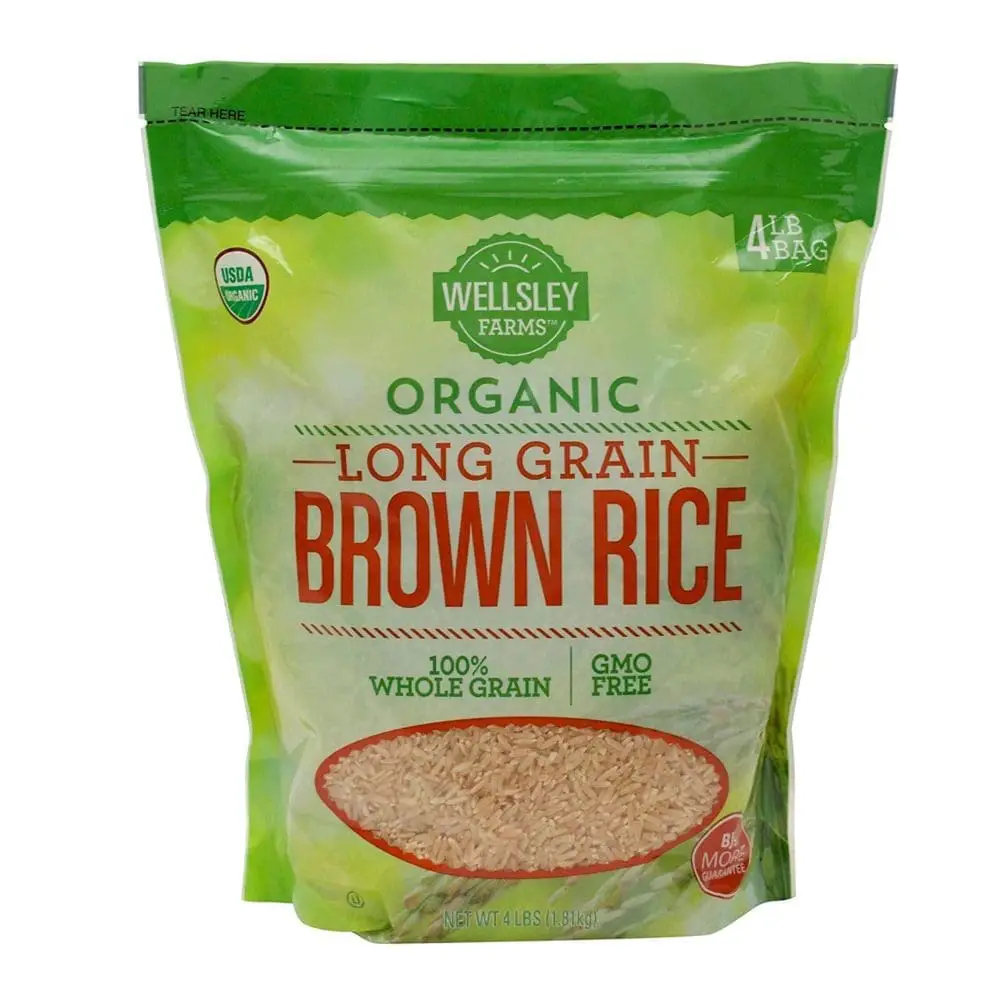 It's popular in Asia and is best known for its high nutritional value. Brown rice is often used in baked goods such as bread, muffins, and pancakes, as well as in salads and main courses.
Brown rice is even a good choice for people with digestive issues.
Long Grain White Rice
This is a type of white rice that is less processed than regular white rice.
It has a slightly chewy texture and a nutty flavor which makes it a popular choice for dishes like pilaf and paella.
There are many different varieties of this rice, including basmati which is popular in India and Pakistan.
Short Grain Rice
Short grain rice is a type of white rice that is more processed than long grain white rice.
It has a sticky texture and a sweet flavor, making it better for dishes like sushi.
It's also high in starch, which gives it a creamy texture when cooked.
Medium Grain Rice
Similar to short grain, this rice is more sticky than long-grain rice.
It's sweeter and less starchy than other varieties of short grain rice.
This makes medium grain rice it a good choice for dishes like risotto, rice pudding, and rice salads.
Wild Rice
Wild rice is not actually not really even rice, but the seed of a grass that is related to millet.
It has a nutty taste and is popular in North American cuisine, such as in stuffing, salads, and as a side dish.
Wild rice is also a great source of fiber and protein, so it's a good choice for people who are looking for a healthy alternative to white rice.
Jasmine Rice
This type of rice is long grain and has a floral aroma.
It's most popular in Thai and Southeast Asian cuisine because of its delicate flavor.
Jasmine Rice has a sticky texture that makes it a popular choice for fried rice dishes.
Jasmine rice is also a good source of fiber and iron, so it's a healthy choice for people of all ages.
Basmati Rice
This rice is very long and slender, originating in India.
It has a toasty, nutty flavor and a light, fluffy texture when cooked making it a great choice for dishes like biryani and pulao.
Basmati rice is also a good choice for people with diabetes due to its low glycemic index.
Arborio Rice
Arborio rice is a short grain, round rice that is used for dishes like risotto and paella.
It's high in starch and has a creamy consistency when cooked.
Arborio rice is also a good source of thiamin and niacin, meaning it's a good choice for people who need to watch their carb intake.
Sushi rice
This is a short grain white rice that is used for making sushi.
It has a sticky texture and a bland flavor, making it the perfect choice for absorbing the flavors of sushi toppings.
Sushi rice is also a great option for people with health issues because it's gluten free and low in calories.
Low Calorie Rice Recipes:
Final Thoughts on Rice Varieties
As you can see, there are a variety of different types of rice that vary in taste, color, and texture, which is why they have been used in many different cuisines all over the world.
Rice has proven to be one of the most versatile and beneficial foods in the world and has been a staple food for centuries.
It is still one of the most popular grains consumed in the world today and will continue to be for many years to come.
These ten types of rice are all great options for anyone looking for a healthy, nutritious. Plus it's a delicious ingredient to use in recipes.
If you're looking to cut out unhealthy carbs or simply want a new grain to experiment with. Then these different types of rice are a great place to start.
You can find one, or all of these types at your local grocery store and online. So be sure to experiment with each one to see which you like the best!
Whether you're looking for a bowl of sticky sushi rice or nutty wild rice. There's a type of rice out there that's perfect for your needs.
So the next time you're in the mood for something different, give one of these rice varieties a try!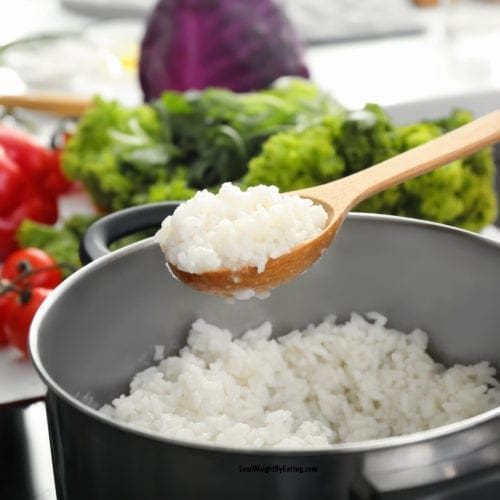 How to Cook Rice on the Stove Top Perfectly
This perfect stove top rice recipe comes out amazing everytime! Learn how to cook rice on the stove top with this helpful how to guide and recipe card.
Cooking rice on the stove is easy and simple, no fancy cookwear is needed… just a saucepan with a lid (ideally a glass see-thorugh lid).
Ingredients  
2

cups

water

½

teaspoon

salt

1

cup

long grain white rice
Instructions 
Bring the water and salt to boil in a medium saucepan.

Stir in the rice and bring to a light simmer.

Cover the pot and turn the heat down low, so that the water stay at a simmer.

After 17 minutes, check to see if the water is all absorbed. If you have a glass lid saucepan just tip it slightly to see if any water emerges. (Rice takes 17-25 minutes to fully cook.)

Remove from the heat and let it sit for another 1-2 minutes to finish absorbing any liquid.

Remove the lid, fluff the rice with a fork and serve hot.
Nutrition
Serving:
1
cup
Calories:
169
kcal
Carbohydrates:
37
g
Protein:
3.3
g
Fat:
0.3
g
Saturated Fat:
0.1
g
Cholesterol:
0
mg
Sodium:
293
mg
Potassium:
53
mg
Fiber:
0.6
g
Sugar:
0.1
g
Calcium:
13
mg
Iron:
2
mg
What to Read Next:


Lose Weight By Eating Cookbooks:

Pin this Article to Pintrest: