These Low Calorie Mocha Lattes are just 33 calories, and the drinks are low sugar too! You can make the latte decaf if you like, and I also supplied you with an iced version. I know you'll love this hot mocha latte, it's healthy and fast.
Everything You'll Need
½ cup strong brewed cold coffee (or 2 shots espresso)
2 tablespoons Low Calorie Chocolate Syrup (or store-bought)
½ cup unsweetened almond milk
2-3 tablespoons Almond Milk Whipped Cream (optional)
Low Calorie Mocha Lattes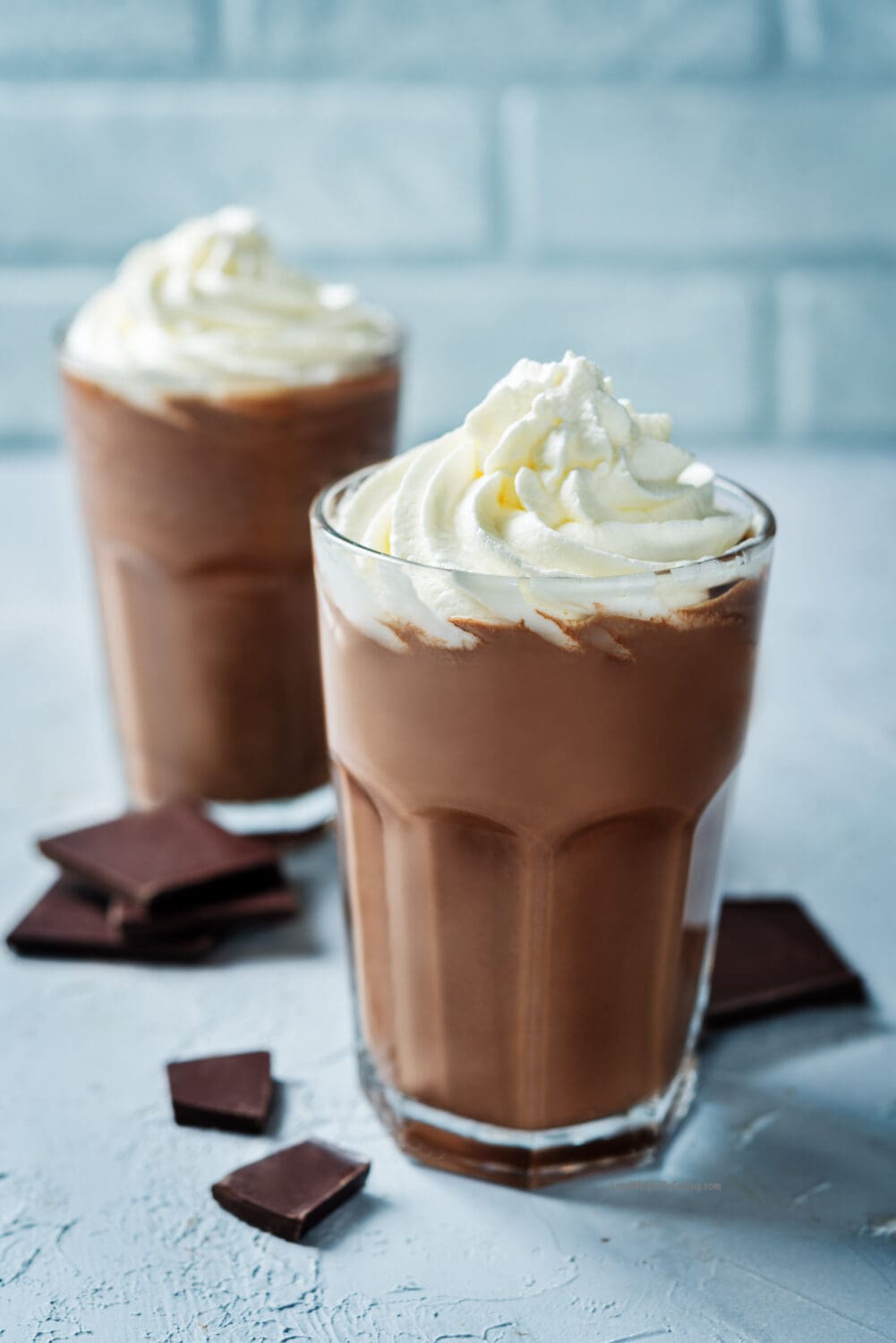 Healthy Mocha Latte Meal Prep and Storage
Meal Prep – You can To make mornings easy, make the chocolate sauce ahead of time, and place it in the fridge. Also set your coffeemaker the night before if you have one that will accommodate. Alternatively, you can make one or more servings, cool completely and add to a large jar and place in the fridge. Follow reheating directions below.
Leftover Storage – Leftover latte hold in the refrigerator for 3 days.
Reheating – Add to a small sauce pot and heat over low heat for 5 minutes until hot. Or add to a microwave safe mug and heat in the microwave for 1-2 minutes until hot.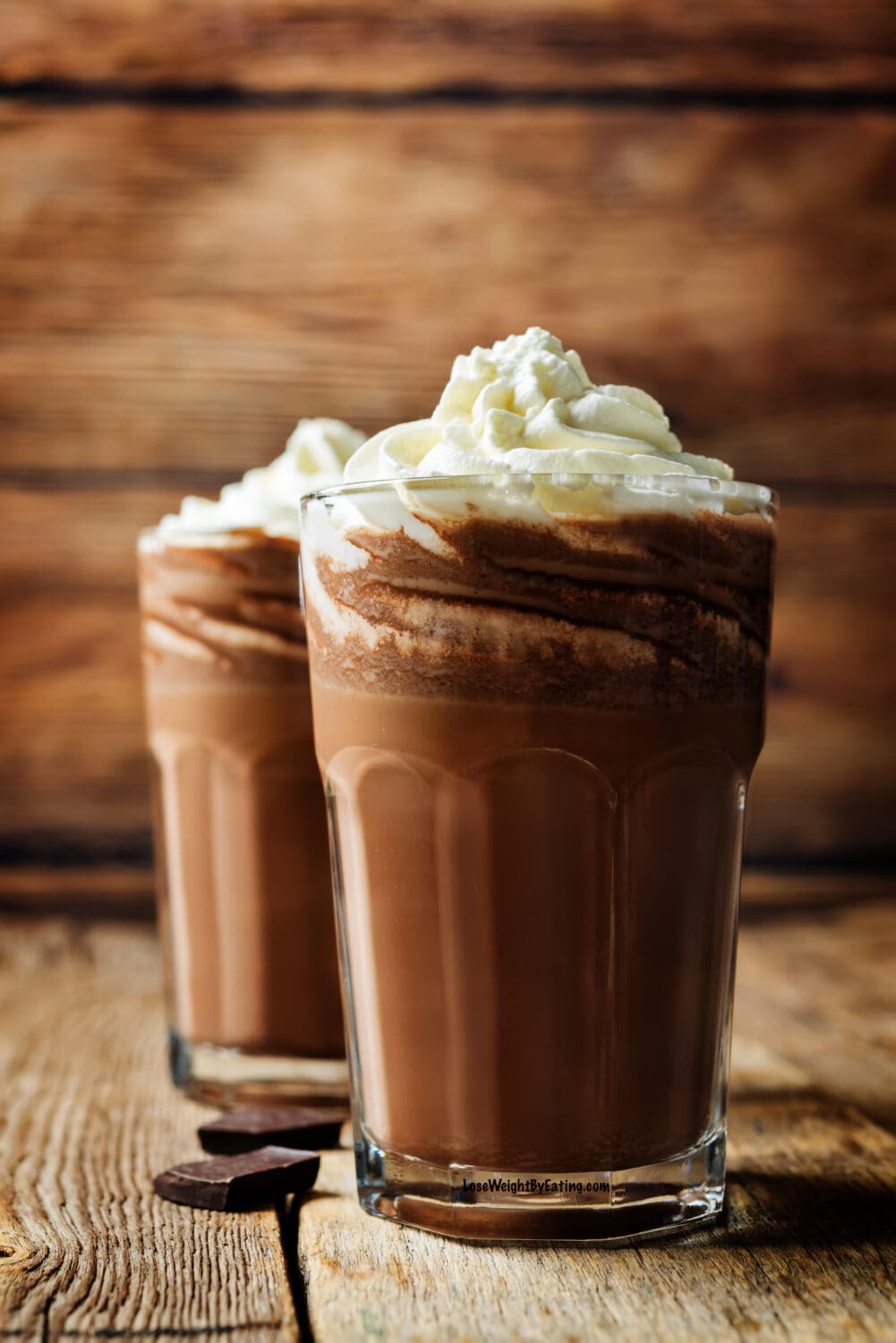 Low Calorie Mocha Lattes Recipe
More Low Calorie Coffeehouse Recipes: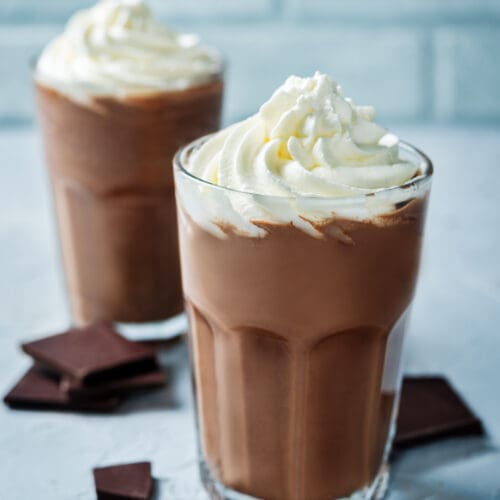 Low Calorie Mocha Lattes
These Low Calorie Lattes are just 33 calories and have just 0.1g sugar!
I have also supplied peppermint mocha, and iced mocha latte recipes. Both are also low calorie and can be made low sugar.
Special Tip: To make strong brewed coffee or decaf coffee, simply double the amount of coffee grounds you would typically add to your coffee maker.
Instructions 
To a coffee mug, combine the chocolate syrup, and roughly 3 tablespoons brewed coffee (does not need to be exact). Mix well until dissolved.

Heat the almond milk in a small sauce pan on medium low heat.

Optional Step: Once warmed whisk briskly and constantly to create foam.

Remove from heat, add the coffee, and the chocolate mixture.

Serve hot in a mug or to go cup.
Nutrition
Serving:
8
oz
Calories:
33
kcal
Carbohydrates:
4
g
Protein:
1.6
g
Fat:
2.5
g
Saturated Fat:
0.6
g
Cholesterol:
0
mg
Sodium:
93
mg
Potassium:
289
mg
Fiber:
2.1
g
Sugar:
0.1
g
Calcium:
158
mg
Iron:
1
mg
About the Author
Hi, my name is Audrey Johns and I am a 4 time best selling cookbook author! All 4 of my low calorie cookbooks are published by HarperCollins (the oldest publishing house in the US!) and have been featured on prominent TV shows like The Today Show, Rachael Ray and The Doctors. I am a low calorie and healthy recipe authority and my delicious recipes are tried and loved by thousands of readers. 
After a one year 150 pound weight loss (and I've kept it off for 13 years!) I started sharing all of my low calorie recipes with the world. They are always all-natural and geared around weight loss and weight management. I have even made some of these recipes with my Biggest Loser pal Bob Harper! Check out my weight loss story, my best selling cookbooks, and my numerous TV appearances by clicking here.
Nutrition and Calories in Mocha Lattes
More Weight Loss Recipes:



Lose Weight By Eating Cookbooks

Share this Low Calorie Recipe: