This Healthy Spinach Pasta for Weight Loss is done in just 15 minutes, including prep time! Plus it's just 367 calories, vegetarian, and packed with protein!
I have even included some protein pasta ideas, so you can cut carbs more and boost the protein in a big way!
Healthy Spinach Pasta for Weight Loss
I want to get to the point and get you the recipe quickly, so aside from a few ingredient swap ideas, you will find yourself at the recipe right away. But if you are in a rush (this is after all a quick dinner recipe) you can easily skip ahead to the section you want with these helpful links.
Ingredients for Low Calorie Spinach Pasta
Swap the Cheese: I like to make this recipe with gorgonzola cheese (it's just like blue cheese) but if you don't like it, or can't have it, you have more options. Try swapping the gorgonzola for feta or freshly grated parmesan cheese.
Use Protein Pasta: And if you prefer a lower carb dish, try swapping the pasta out for protein pasta. I like Banza Penne Pasta in place of traditional penne pasta. It does fall apart a bit when cooking, so it doesn't look as pretty. But is sure is yummy and a great swap for traditional pasta.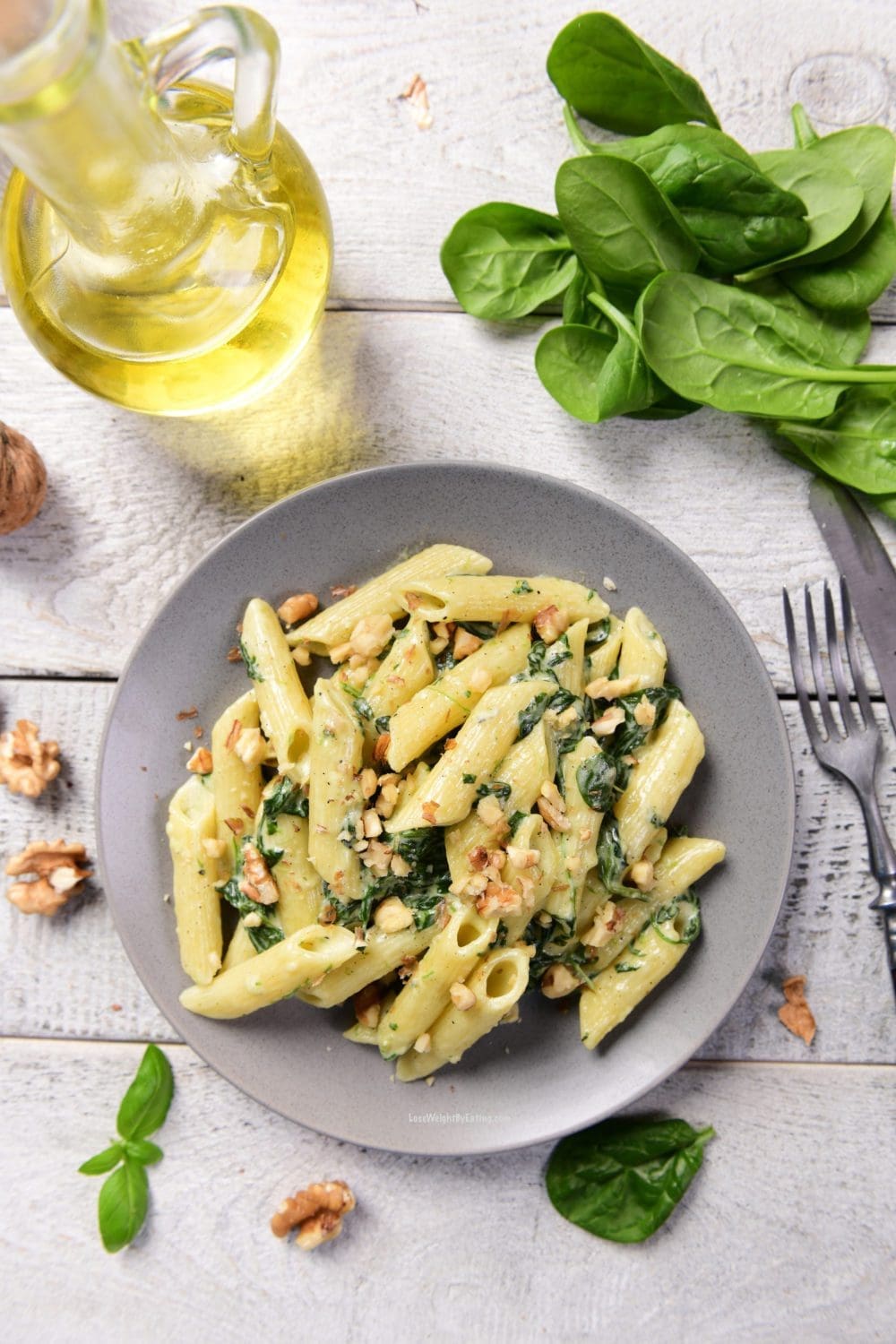 Low Calorie Spinach Pasta Shopping List:
1 box (16-ounce) penne pasta
2 garlic cloves
1/2 cup gorgonzola cheese
1/4 teaspoon salt
1/8 teaspoon pepper
4 cups baby spinach
1/4 cup chopped walnuts
How to Make Low Calorie Spinach Pasta Recipes
You can make this recipe in just 15 minutes (start to finish!) Making it a great weeknight dinner.
Try this recipe for spinach pasta the next time you have a craving for carbs. It's a healthy recipe that will keep you full for hours, without breaking your calorie "budget".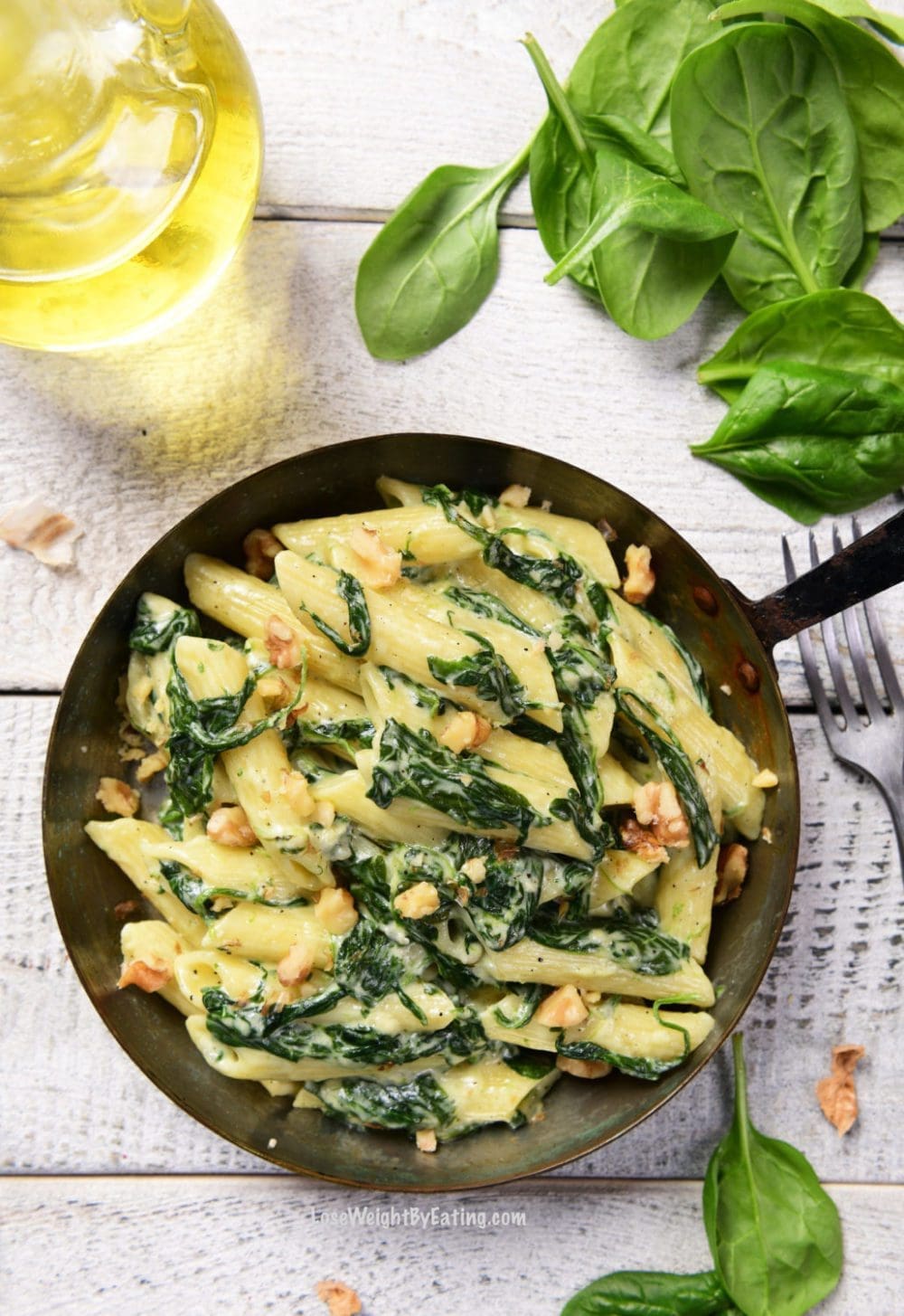 Spinach Pasta Directions:
In a large sauce pot bring 4-6 quarts of water to a boil. Then add in the pasta and cook until aldente (according to package). Then drain and set aside.
Meanwhile, while the pasta cooks start on the spinach pasta sauce.
To a large skillet over medium-low heat, spray with olive oil and add the garlic.
Cook for 2-3 minutes until fragrant.
Add in the gorgonzola, salt and pepper, and spinach.
Lower the heat to the lowest setting and cover.
Cook for 5 minutes, then mix and remove from the heat.
Pour in the cooked pasta, and toss together, top with walnuts and serve hot.
Healthy Spinach Pasta for Weight Loss
This healthy pasta recipe is quick and easy! You can swap out the traditional pasta for Protein Pasta if you want to lower the calories and carbs more. As a bonus, it gives you more protein!
Nutrition and Calories in Spinach Pasta Recipe
The serving size is about 1.5 cups, and this nutrition label is based off using traditional pasta.
You could easily boost the protein, lower the calories and carbs by swapping out the pasta for protein pasta. I like Banza Protein Pasta, it doesn't hold up as well as traditional pasta (so it won't look as pretty) but it is delicious.
Important Note: As a reminder, at Lose Weight By Eating the goal is to make healthier, all-natural versions of your favorite recipes… not all will be "diet worthy" depending on the diet you are on. But they will be healthier versions to help curb your cravings.
What to Read Next:

Lose Weight By Eating Cookbooks

Share this Healthy Recipe: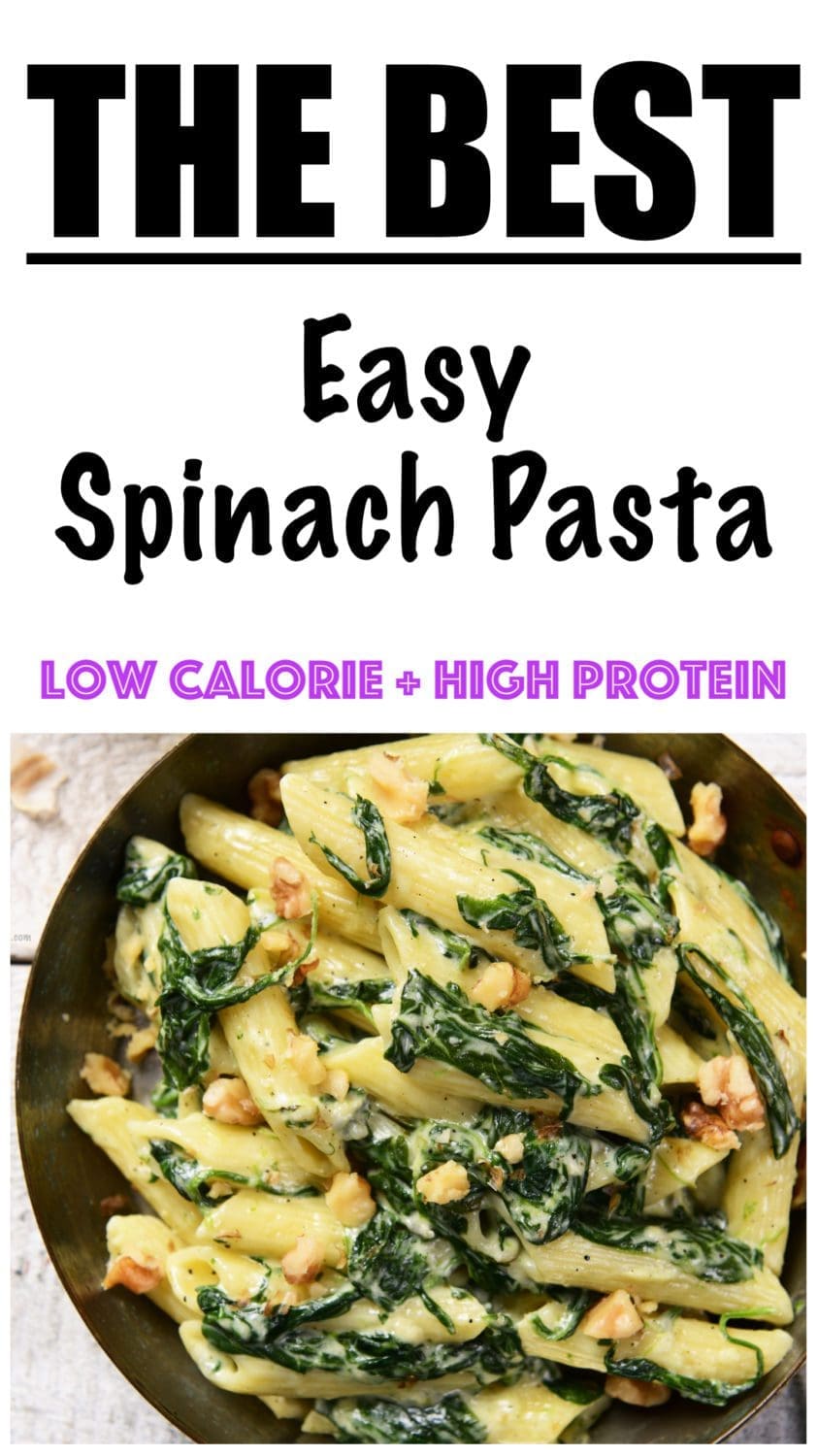 Article History: