In this article you will find the 10 best Ninja Blenders for smoothies, food processing, cooking (yes they cook now!) and more.
Our carefully worked reviews Ninja Blenders article collected the 10 best ninja blenders and added them all together. As the years progress, Ninja will come out with more amazing blenders, and so this fluid list of the best ninja blender sets may change as their amazing products do.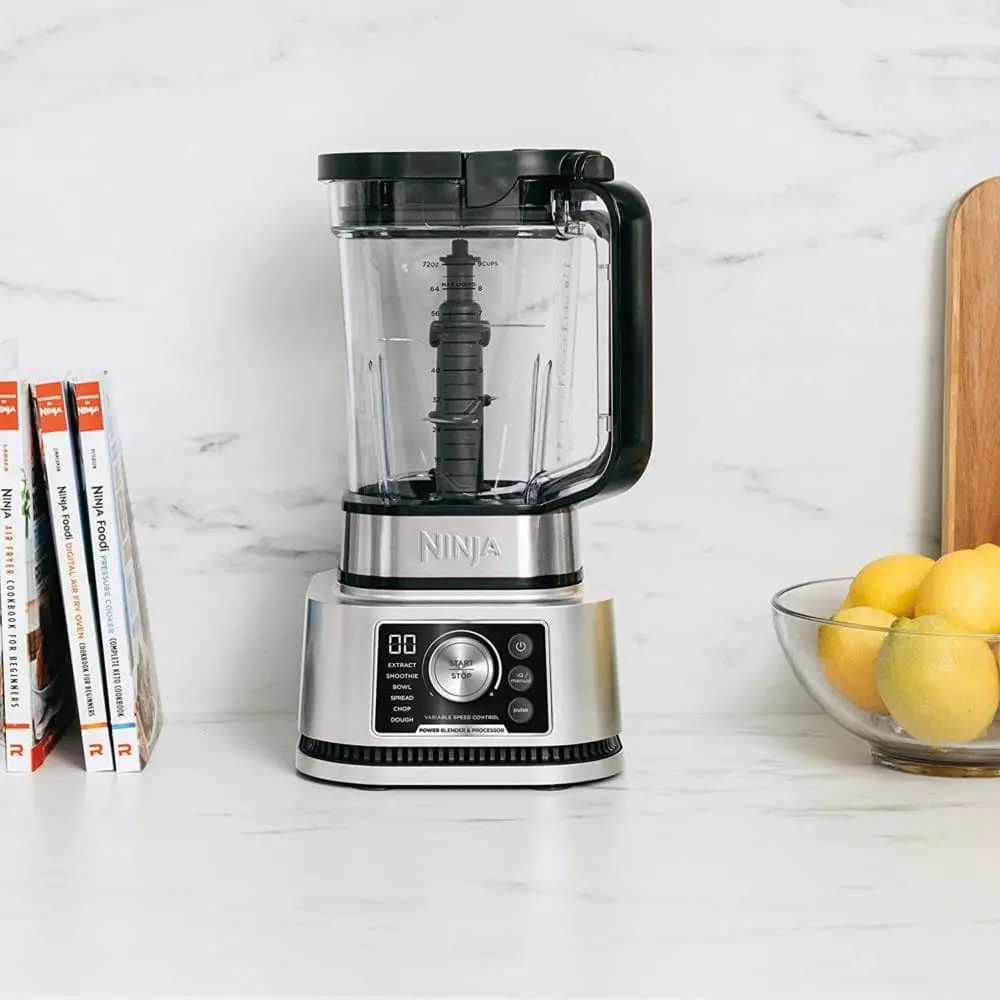 Before we get into the 10 best Ninja blender for smoothies, let's discus the controversial Ninja dishwasher question…
Question: Are the best rated ninja blenders really Dishwasher Safe?
Answer: Technically yes, they are dishwasher safe… But with any blade, constant cleaning in the dishwasher will dull it. So I recommend only adding in the pitcher, cups, and lids to the dishwasher. And (very carefully, they are super sharp) cleaning the blades with a blender brush or long handle dish brush.
Below you will find the 10 best Ninja blenders for smoothies, smoothie bowls, soups, and more…
The Best Ninja Blenders
Whether you're looking to buy a Ninja Chef style blends, a professional Ninja grinder (or food processor) or just their simplest and easiest to use smoothie blender. You will find the best Ninja blender for your specific needs below…
The Ninja Personal Blender is a small ninja blender that only blends in ninja cups. If you're looking to buy a Ninja just to make smoothies, then this Ninja Smoothie Maker is all you'll need.
This low priced Smoothie Maker Ninja Blender is under $100 and has over 18,000 five star reviews!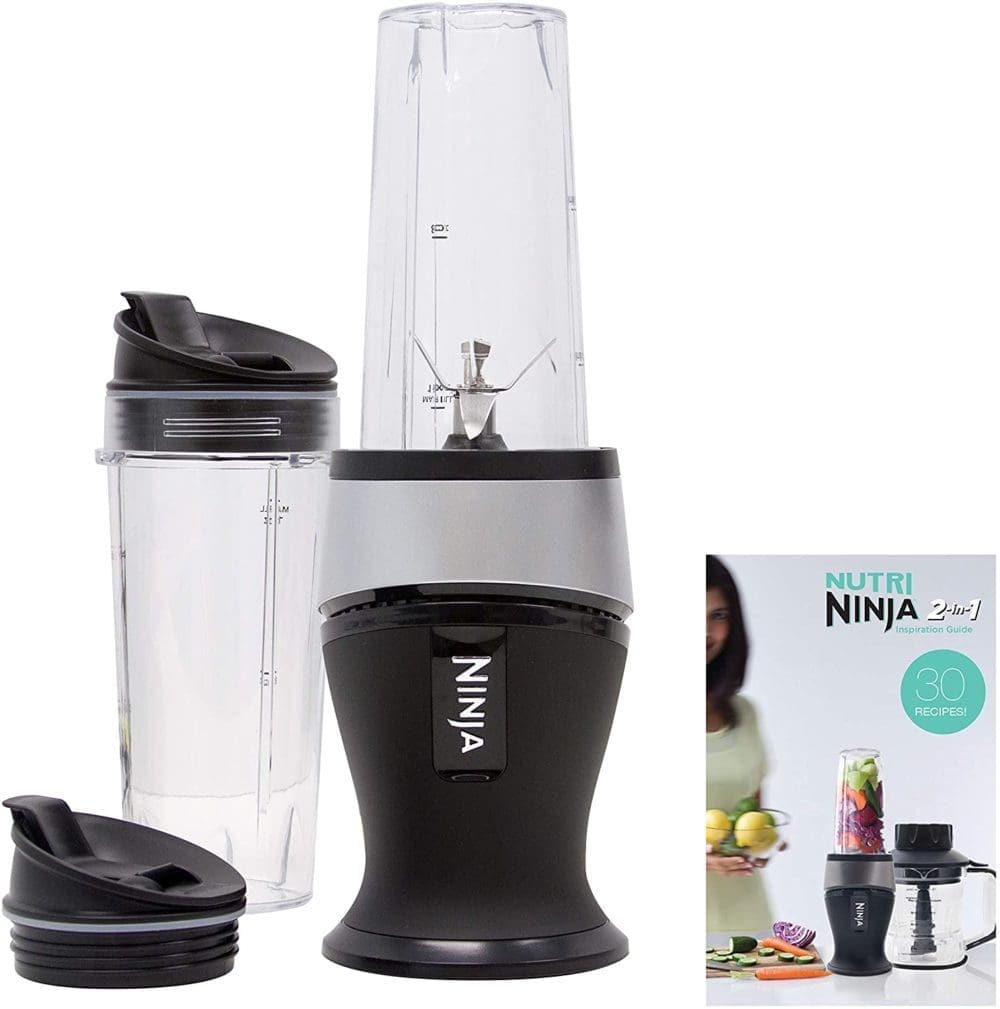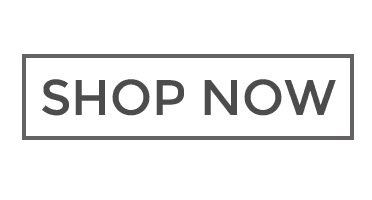 700-watt power pod
Includes: 2 16-oz. Nutri Ninja cups, 2 Sip & Seal lids & 30-recipe inspiration guide
Dishwasher safe
Frozen blending can crush through ice and frozen fruit for cold drinks and smoothies!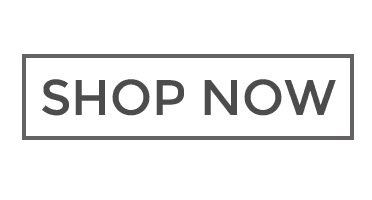 The Ninja Professional Plus Kitchen System with Auto-iQ is the best Ninja Blender for smoothies, food processing, grinding… everything! If you're looking for the "Rolls Royce" of Ninja Blender systems, this is the one you want!
Under $200 this is not just a blender! This Ninja Auto IQ blender is a blender, food processor, and an individual smoothie maker all in one! The Ninja Blender Auto IQ is basically all the blenders on this page, in one!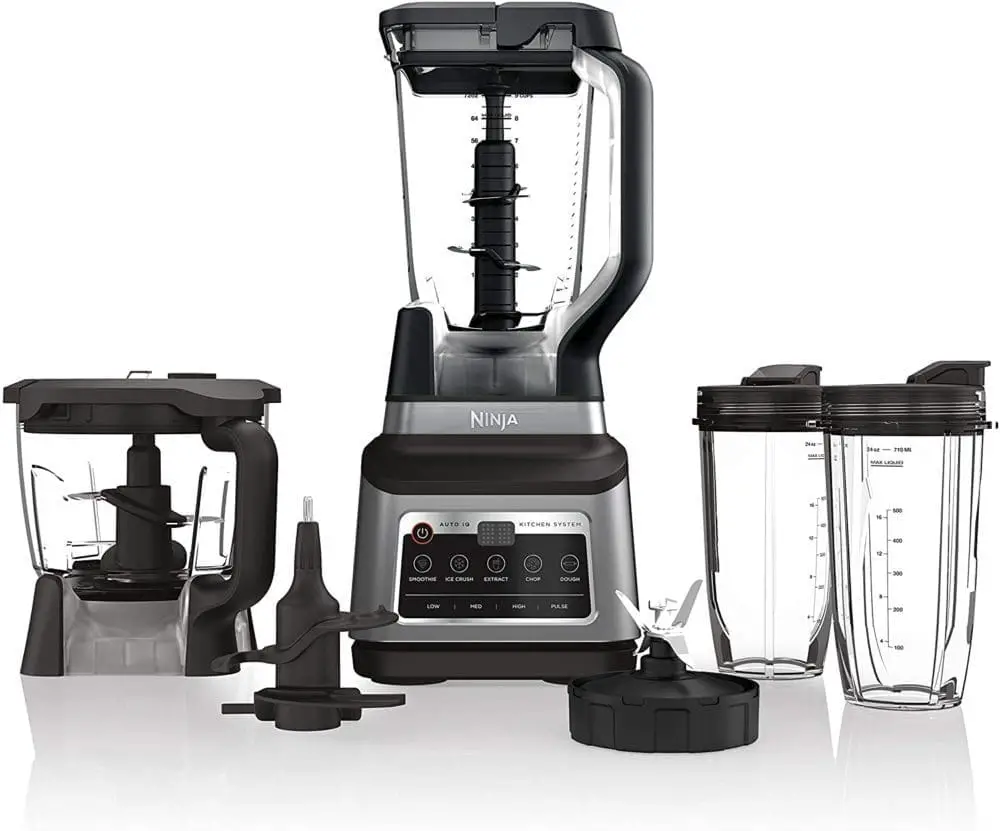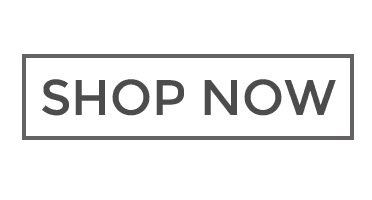 (2) 24 oz. Single-Serve Cups with Spout Lids
Food Processor has a Chopping Blade, Dough Blade
1400 peak watts 
5 Auto-iQ programs allow you to create smoothies, frozen drinks, nutrient extractions, chopped mixtures, and dough all at the touch of a button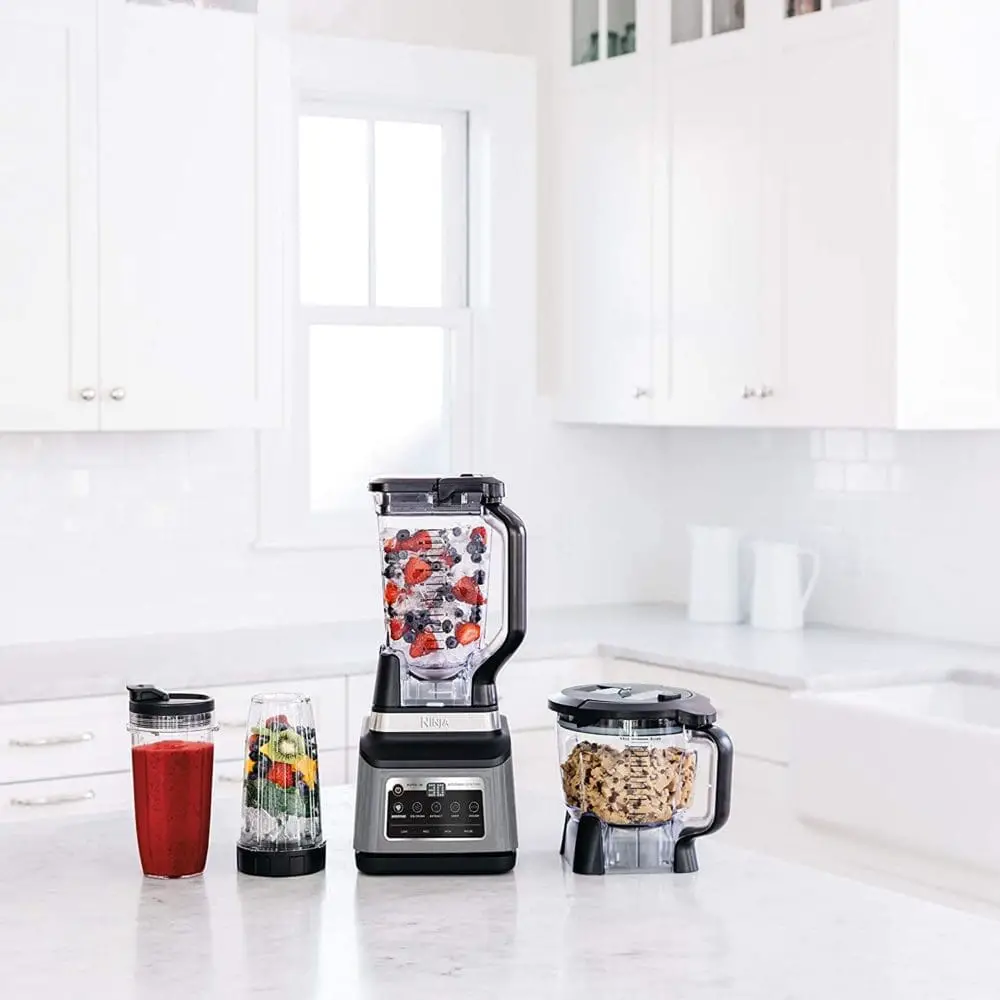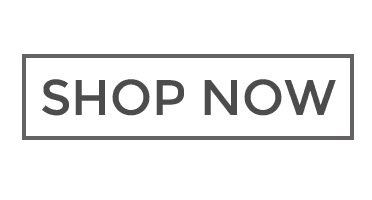 If you're just looking for a great blender without any extra attachments, the Ninja IQ blender is the one for you. This is a great Ninja for smoothies, and basic blender needs.
The Ninja Professional Blender is simply just the blender base and the 72 oz. pitcher.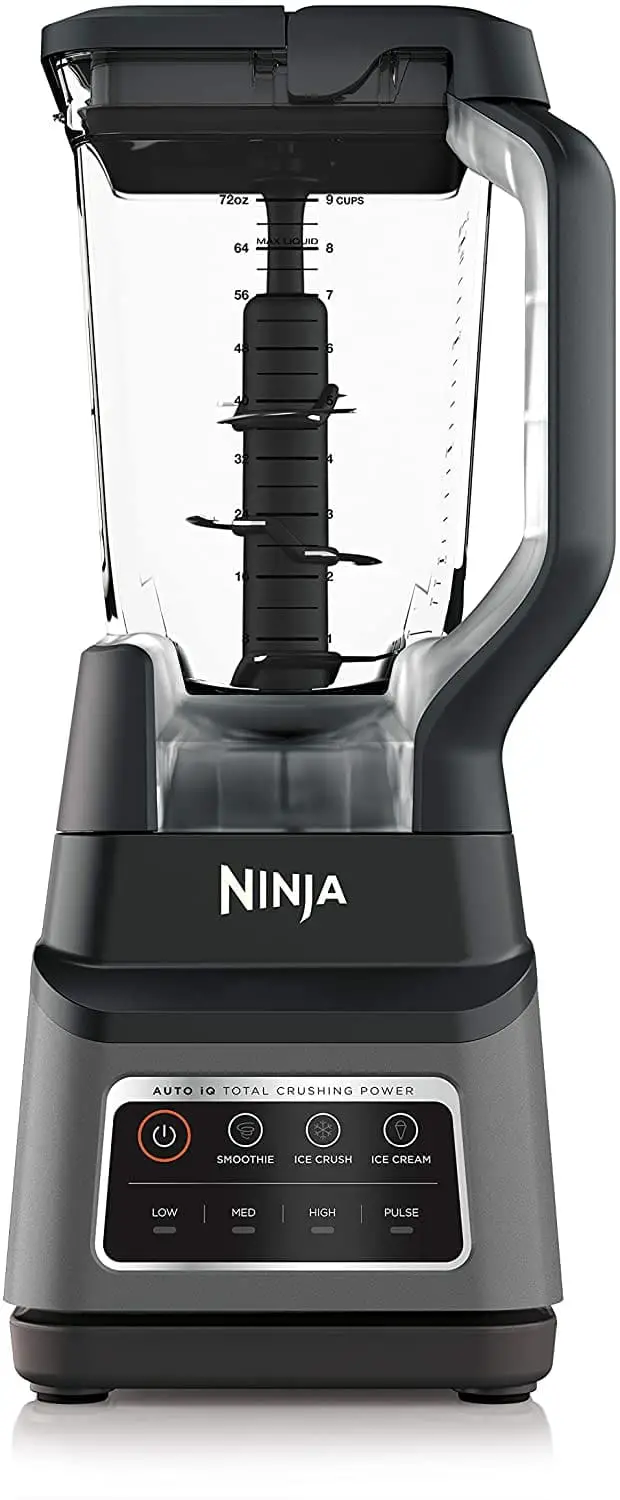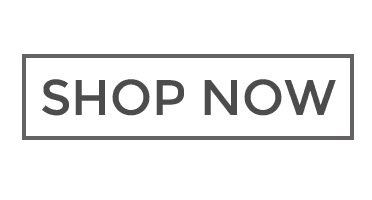 1400 peak watts of professional power
64 oz. max liquid capacity
3 Auto-iQ programs allow you to create smoothies, frozen drinks, and ice cream, all at the touch of a button
Ninja Total Crushing Blades gives you perfectly crushed ice for smoothies and frozen drinks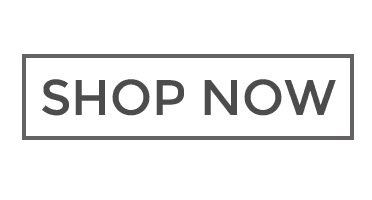 This Ninja Pro Blender is the best ninja blender for smoothies of all sizes. With the full size blender and the two blender cups, you can make family size, and single serve smoothies with this Ninja blender set.
This Ninja top blender is just a few dollars more than the one above, and comes with 2 single serve cups. But it does not have Auto IQ… so depending on you're planning on using this blender, it could be the better choice if you just need something super simple for smoothies.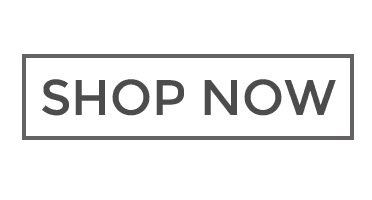 1100 watts of professional performance power
72 ounce total crushing pitcher
Pulverizes ice to snow in seconds!
Dishwasher safe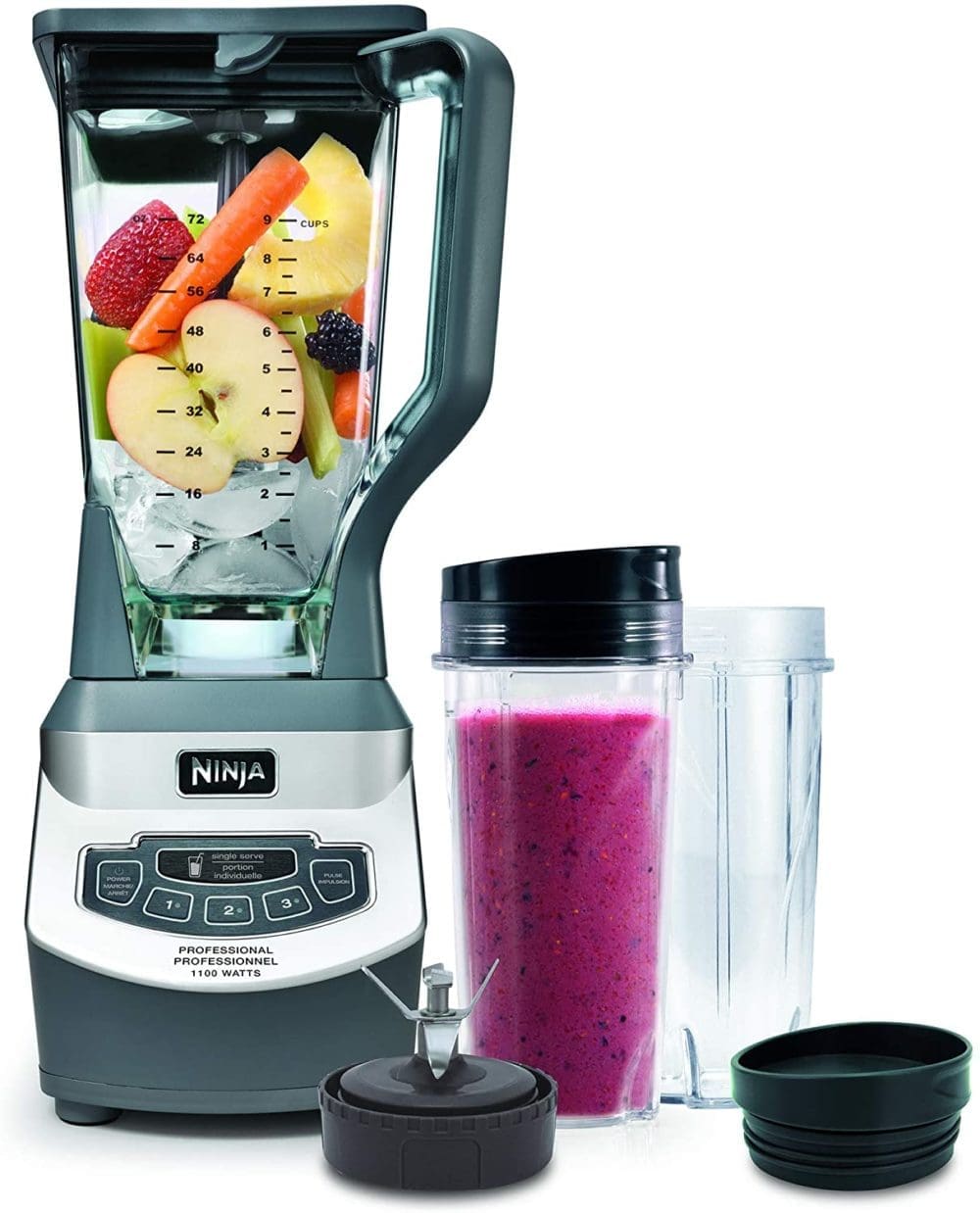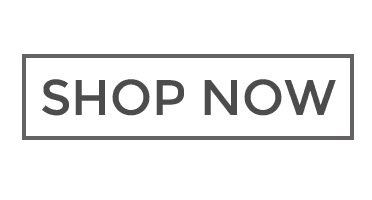 The Ninja Foodie is Ninja's Most Powerful Blender system that crushes, food processes, and makes smoothie bowls and dough. Adding both power and the ever popular smoothie bowls to the mix make this the best ninja blender for smoothies and smoothie bowls.
This powerful Ninja blender food processor can take care of all your smoothie needs, plus it comes with the Ninja blender IQ auto programs.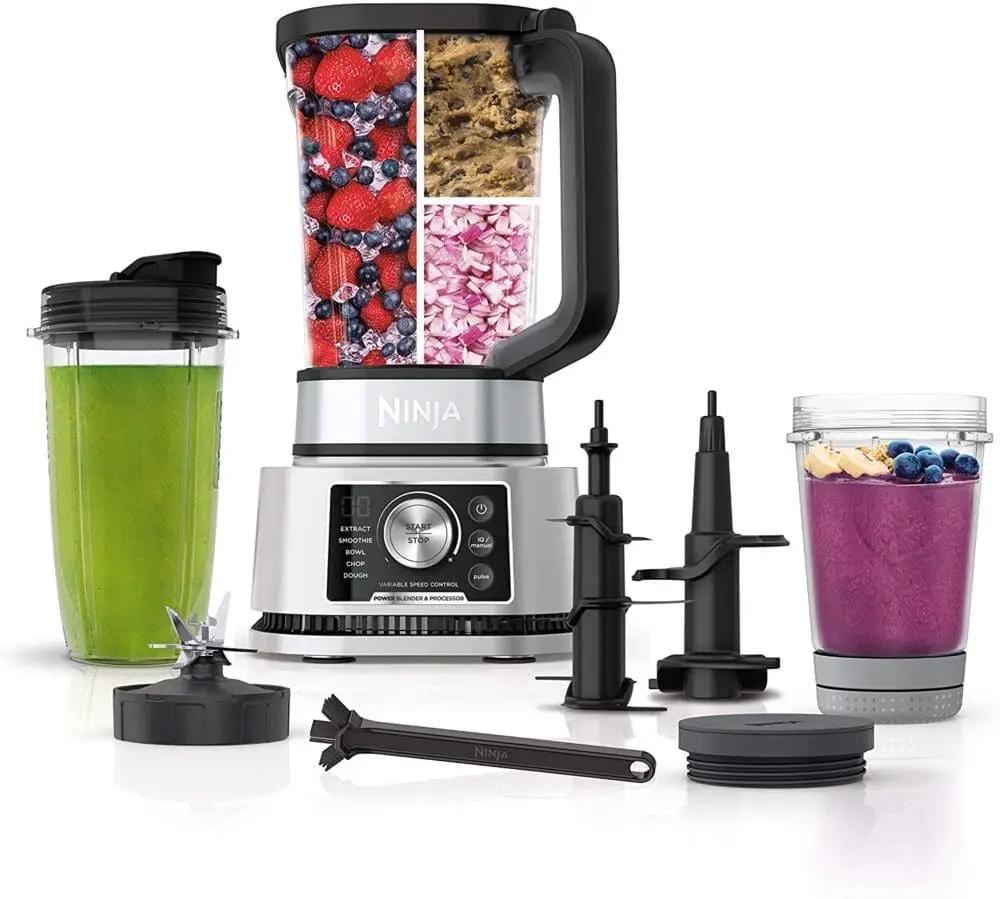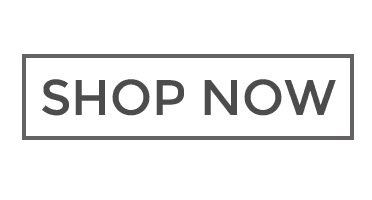 1400 peak-watt power
Smoothie Bowl Maker
Power Blender & Food Processor all in the same pitcher
6 Auto-iQ programs for one-touch smoothies, extractions, bowls, spreads, chopping, and dough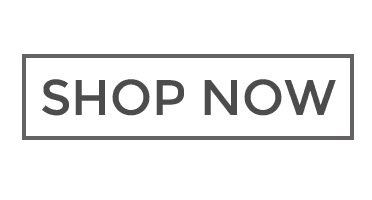 This Ninja foodie cooks… yes, you read that correctly, it cooks!
Ninja Foodi Blender with Heat-iQ can cook soups, and blend smoothies. It's the best ninja blenders for smoothies or soups, for hot and cold food.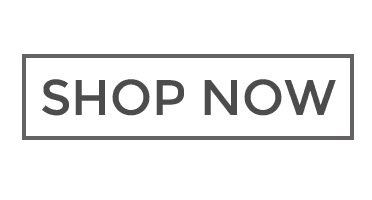 1400-peak-watt motor
800-watt heating element for hot drinks and soups
64 oz. glass pitcher (note, unlike other ninja blenders, this has a glass pitcher)
12 Auto-iQ Programs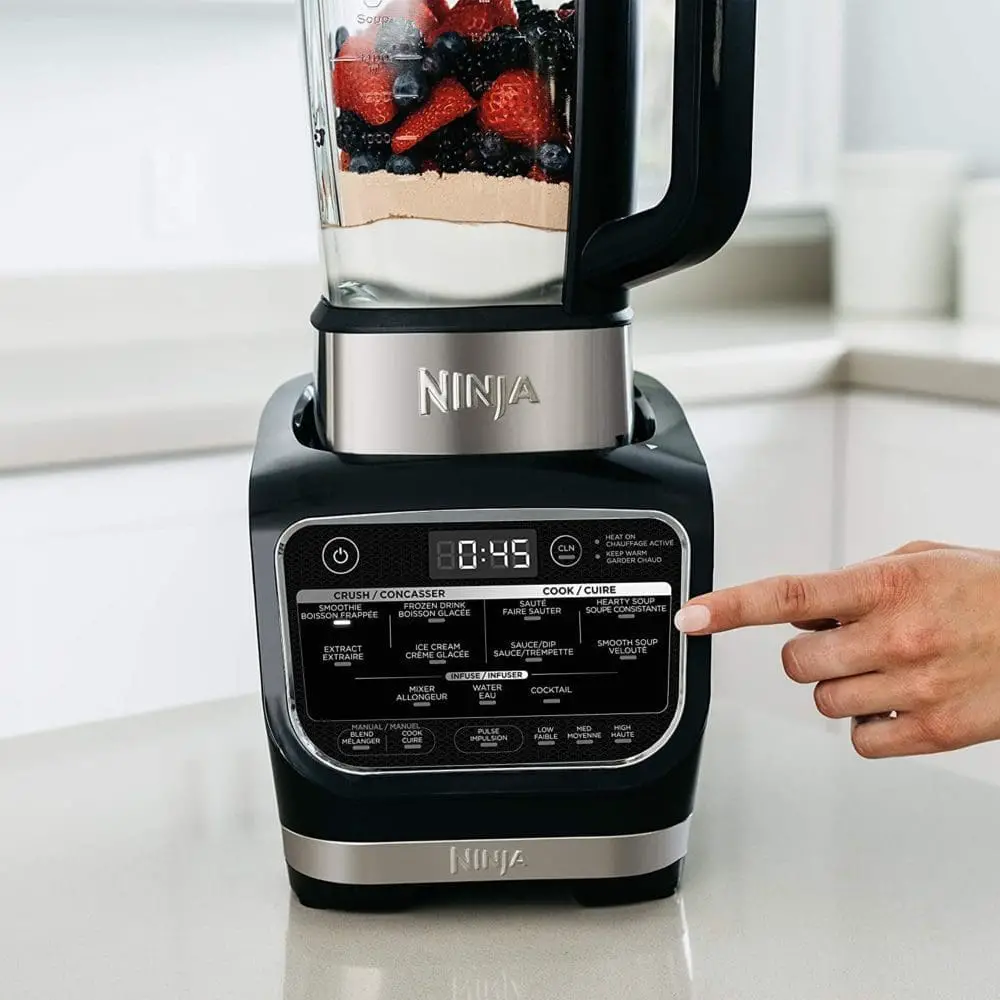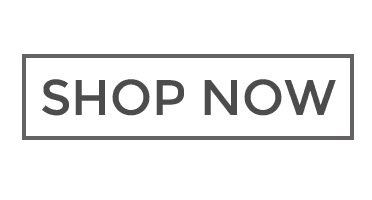 For the health enthusiasts looking to get the most nutrition out of every meal (basically me, and maybe you too) the best ninja blender is the new Nutri Ninja Blender.
This best blender Ninja has FreshVac Technology. It's a one-touch, FreshVac Pump designed to preserve vitamins, flavors, and colors by removing oxygen before blending (photo below).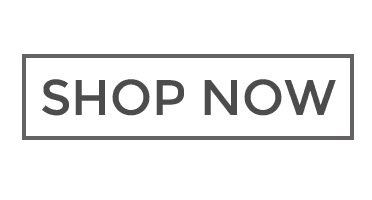 FreshVac Technology preserves vitamins, flavors, and colors by removing oxygen before blending
The Next Generation of Nutrient & Vitamin Extraction
Auto-iQ Technology
1100 Watts of Powe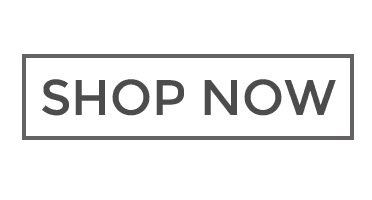 Just like the one above, this blender has the Ninja freshvac technology. You can use it on the large pitcher or small cups (photo below and above) and it also comes with a smart screen!
The Ninja Freshvac technology is designed to preserve vitamins, flavors, and colors by removing oxygen before blending. So you get more "bang for your buck" and more vitamins in your smoothies.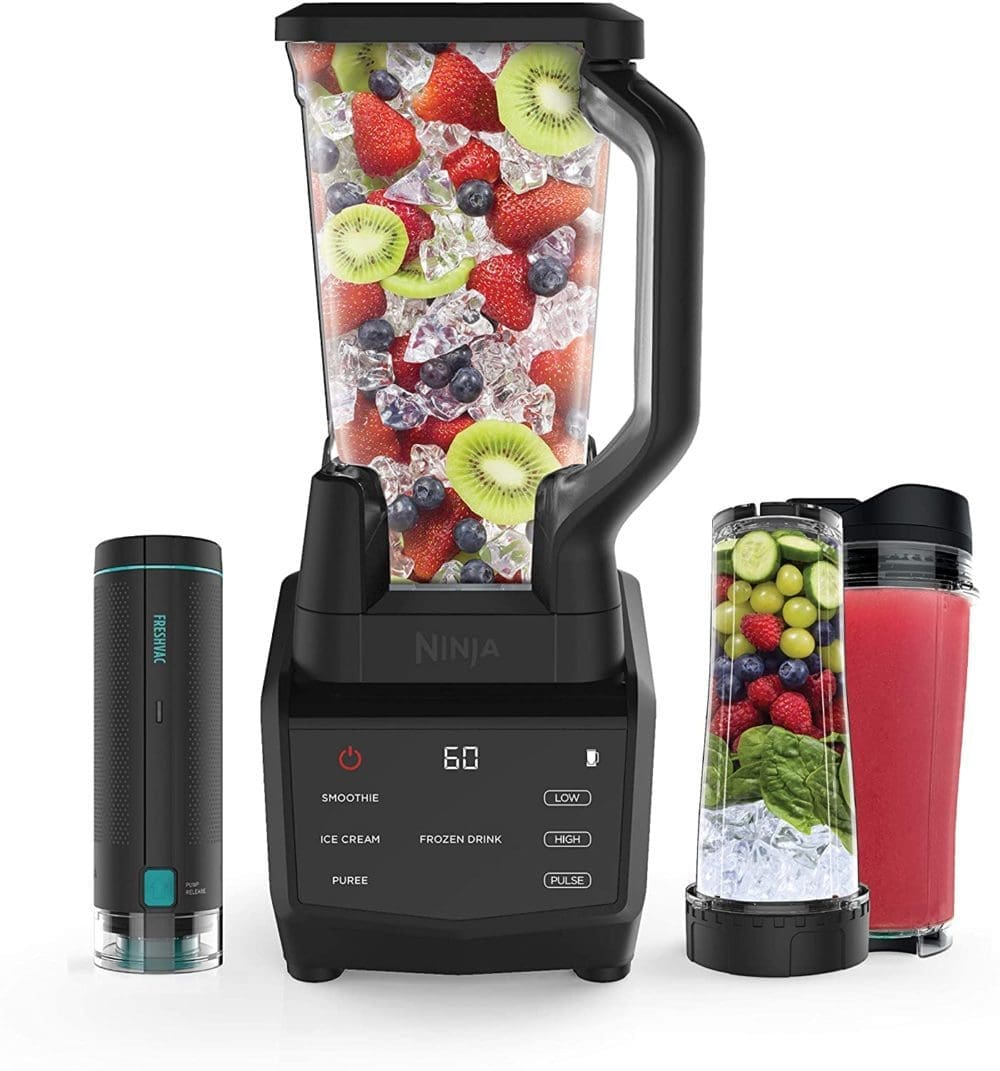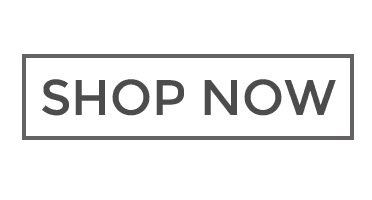 1400-Peak-Watt Motor Base with Touchscreen Display
FreshVac Technology
7 Pre-Set Auto-iQ Programs
FreshVac Blender Pitcher and ninja cups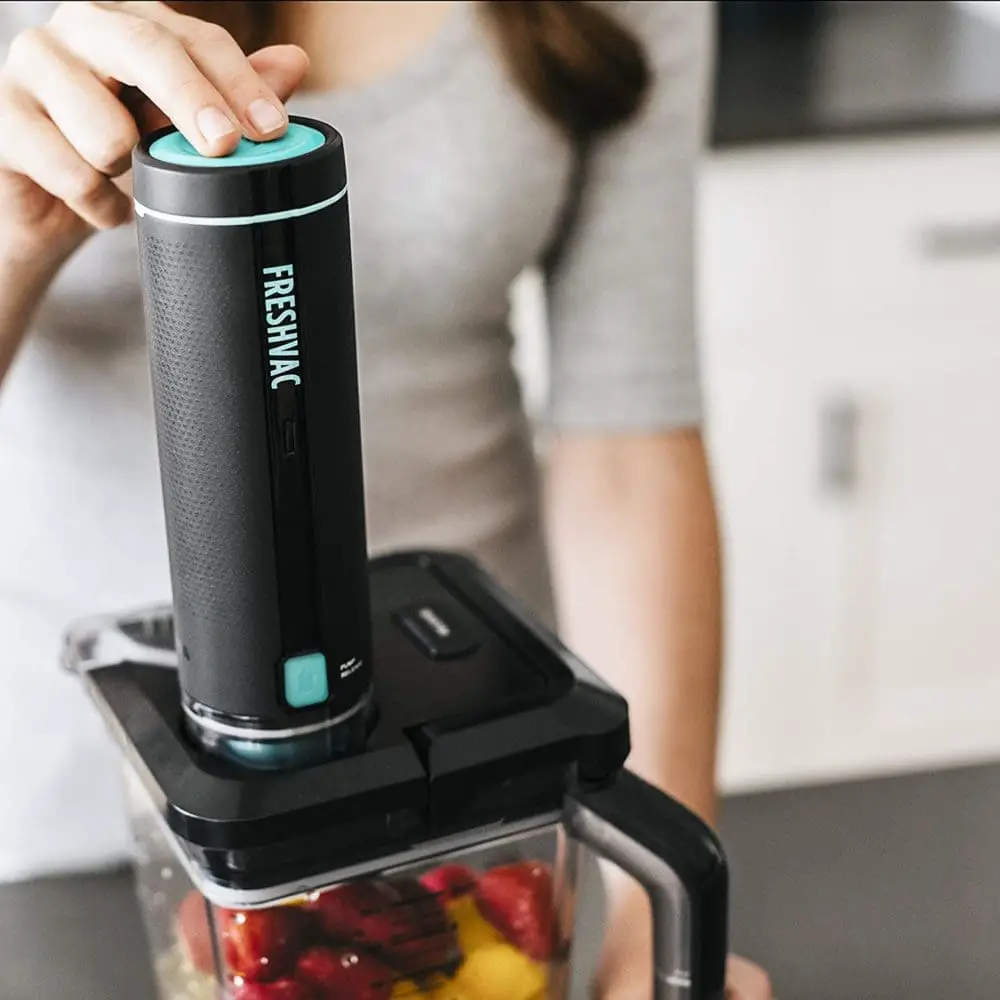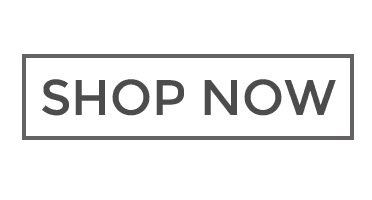 The Ninja Foodie Smoothie Bowl Maker does just what it's called. This Ninja chopper makes smoothie bowls.
Now all the rage, smoothie bows are a great way to get a lot of nutrition into a yummy meal. Now you can make them with Ninja's nutrient extractions, and with chef created Auto-iQ programs for perfect blending.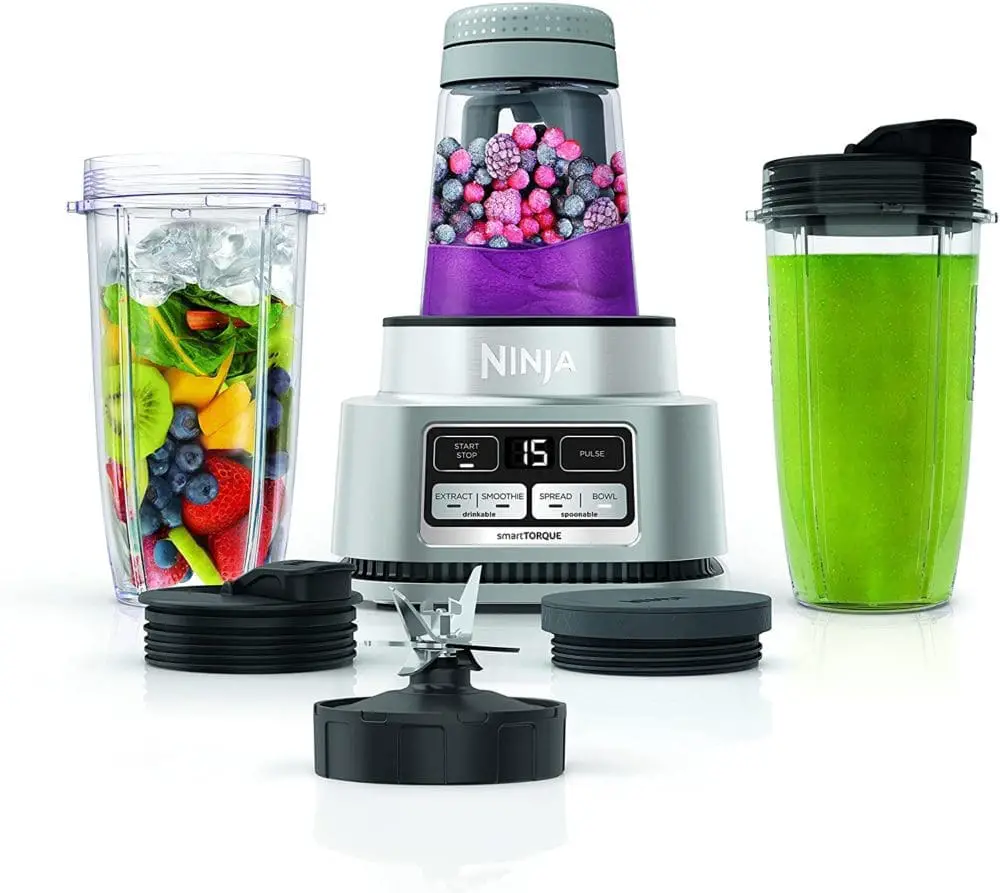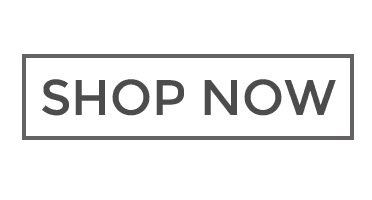 1200-peak watt smoothie bowl maker creates spoon-thick smoothie bowls
14-oz. Smoothie Bowl Maker and 24-oz. Nutrient Extraction Cup
4 Auto-iQ programs
Dishwasher safe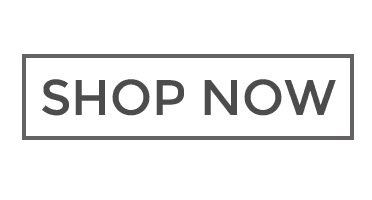 This Ninja chef blender has over 2000 five (5) star reviews of Ninja blenders and is lower in cost than the same unit with added accessories (above in #5).
Between the blender and the food processor you can crush, chop, and make dough conveniently in one pitcher! This is one of the best Ninja blenders for smoothies!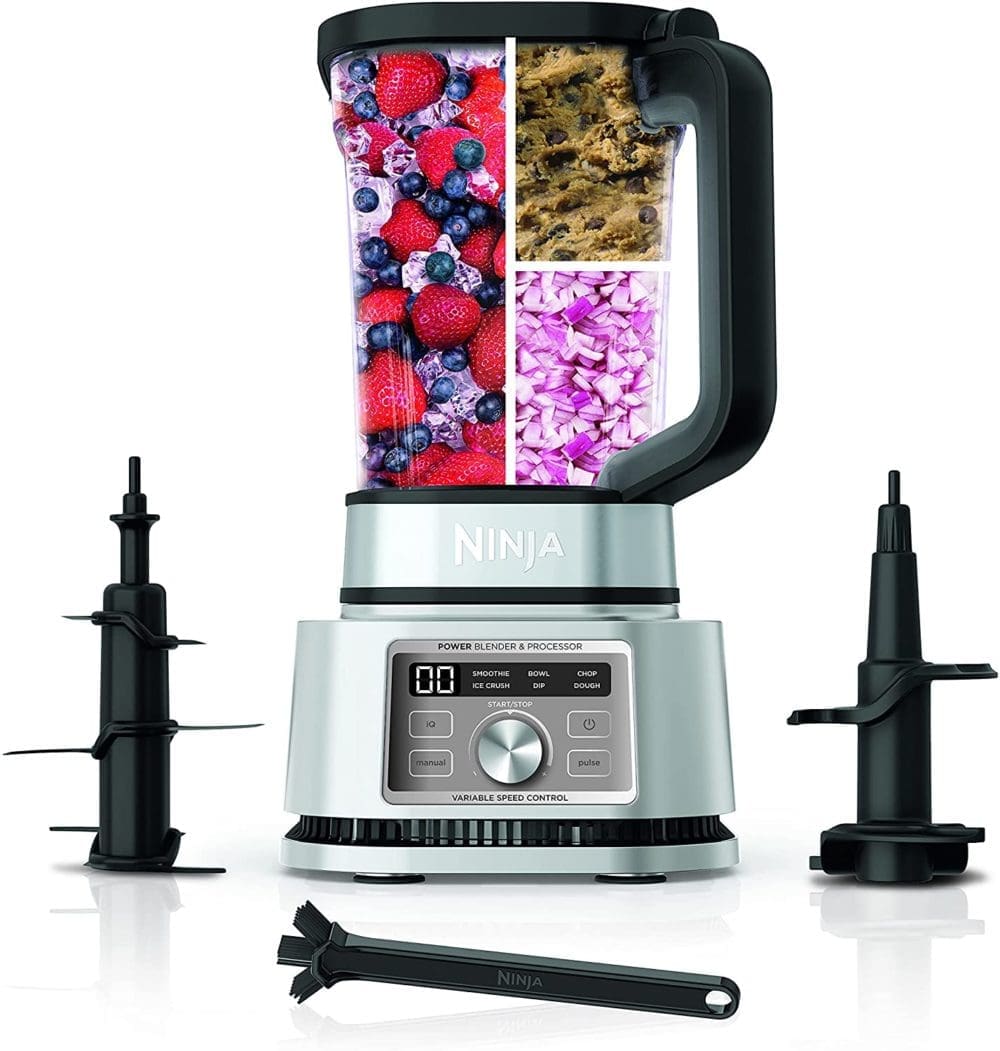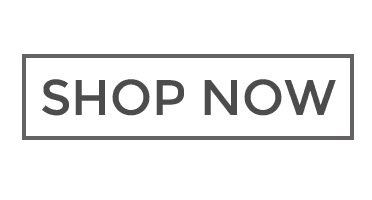 3-in-1 blender that crushes, food processes, and makes dough
6 Auto-iQ programs
1400-peak-watt power-dense motor
Dishwasher safe and includes cleaning brush for hand-washing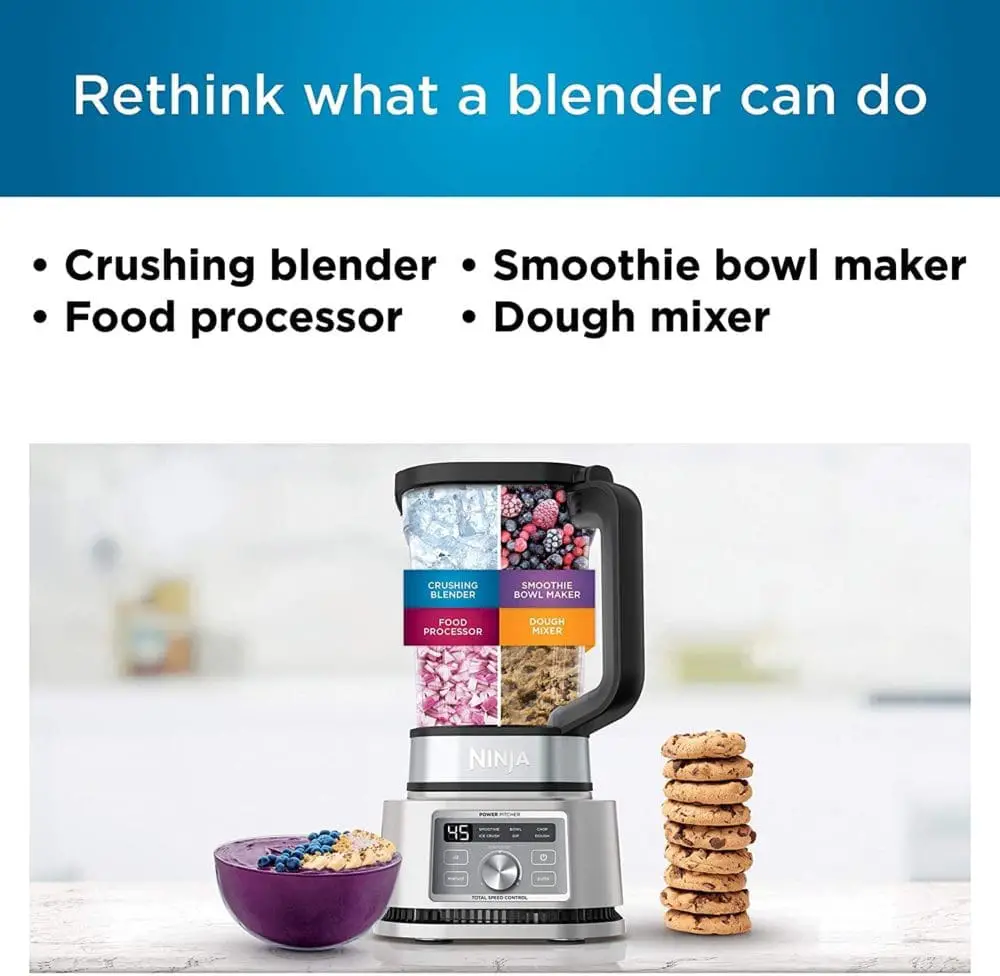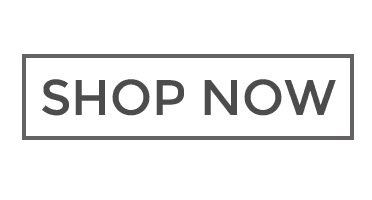 The Best Ninja Blender Smoothie
Now that you have your new blender, let's get busy making smoothies!
This amazing raspberry smoothie is the perfect way to break in your new ninja blender.
The Best Ninja Blender Smoothie
This low calorie smoothie is just 115 calories. Plus it's packed full of protein, and comes with protein add-ins!
This is the best Ninja Blender smoothie ever. The ninja blender makes it perfectly smooth, and the ingredients make it extra delicious.
Try this healthy ninja blender smoothie as a snack, or double the serving size and add optional protein powder to make it a meal replacement shake.
Equipment
Ninja Blender

(any blender will work in a pinch)
Ingredients  
1

cup

frozen raspberries

(pitted)

1/4

cup

0% Greek Yogurt

1/3

cup

water and more to thin as needed/desired

1

teaspoon

honey

optional

1

scoop

Vanilla Protein Powder

optional
Instructions 
Add the berries, yogurt, water, and optional sweetener or protein powder to a blender.

Blend until smooth, adding more water 1/8 of a cup at a time to reach desired thickness.

Pour into a glass and immediately rinse your blender out (to stop the ingredients from sticking to the inside).
Nutrition
Serving:
1
smoothie
Calories:
115
kcal
Carbohydrates:
23.7
g
Protein:
6.5
g
Fat:
0.5
g
Saturated Fat:
0
g
Cholesterol:
0
mg
Sodium:
16
mg
Potassium:
360
mg
Fiber:
3
g
Sugar:
20.8
g
Calcium:
70
mg
Iron:
0
mg
What to Read Next:


Lose Weight By Eating Cookbooks

Pin this Article to Pinterest:
Ninja Blender FAQ
Are Ninja blenders worth it?
Ninja Blenders are both low cost and durable. They rival their expensive competitors, at a fraction of the price. Find the Best Ninja Blender for your needs in this article…
Is Ninja a good blender brand?
Ninja blenders are durable enough for an expert cook, for a fraction of the cost of the expensive brands. This article will help you find the best Ninja blender prices, styles, and more…
Is Ninja or NutriBullet a better blender?
The Ninja blender is far superior than the NutriBullet! They even have a personal blender that's small like the NutriBullet (Ninja Personal Blender).