If you're a parent you're a teacher! You've sat for days on the bathroom floor potty training, held your child's hands through their first steps and taught them their first words. However some parents think their "teacher" job is done when the kids are off to school.
I've been thinking about my own mother a lot lately, I lost her to cancer when I was in college. She taught me how to use the microwave, toaster and of course the dishwasher… but never the oven! Was it because she thought she had more time to teach me to cook, because I was a defiant vegetarian for the majority of my high school years? Or was it because I grew up in the age of the microwave dinner and drive through?
My weight problems, like most people, came from my inability to cook and understand food. If you ask most kids "where does food come from?" most will answer with either "grocery store" or "restaurant." Not a farm or garden. More important than any reading, writing or math skills your kids need to know how to properly feed themselves, so tonight instead of sending them to their rooms to do their homework, sit them down with you in the kitchen. If they're going to be distracted might as well do it with a life lesson like cooking instead of social media sites and video games!
This blog post was inspired by a conversation with a producer I recently had. A regular question they ask is "Which chef star would you most like to meet and why?" I, of course, said the  incomparable and stunning Nigella Lawson.
I explained to the camera crew that I spent my Mother's last 3 months of life in bed with her and the show Nigella Bites. I choked back tears as I told the producer and crew about dropping out of college to be with her, and how less than a month before she died she gave me Nigella Lawson's incredible book, How to be a Domestic Goddess.
I look back at that time in my life, I was so young and naive. I was in denial of what was happening to my Mother that I didn't realize until this week, after telling this story that she was passing the baton with the cookbook. She didn't have the time left to teach me, so she gave me the hunger for knowledge and the best "textbook" she could find.
So all you parents out there, think about this story and what you want to leave behind. It's never too early to teach them how to cook, my 4-year-old cooks with me everyday. I will pass her down Nigella's fabulous book, a memory full of recipes and a whole lot of kitchen confidence! What will you teach your kids?
Here are some great starter lessons for you and your kids, remember- "It's not a good day until your child and kitchen are covered with flour!" 
Kids kitchen lessons for all ages:
Ages 1-3
-Helping you measure ingredients
-Cracking eggs
-Mixing dry ingredients together
-Anything with the rolling-pin
-Cookie cutters and cookie decorating
Ages 4-6
-Using the toaster
-Assembly jobs (like with pizza or rolling up pretzel dogs )
-Measuring ingredients for you
-Using a butter knife to spread
Ages 7-10
-Stove top cooking with adult supervision
-How to make rice, pasta etc.
-Reading and following recipe directions
-How to handle meat instructions, meatballs are fun!
Ages 11-14
-Use of electric mixers
-Start introducing sharp objects with supervision like pizza cutters
-Cleaning and washing produce
-DISHWASHER chores!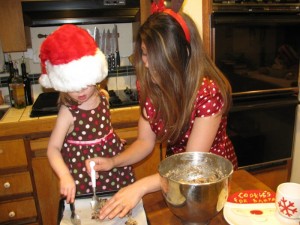 Ages 15-18
-Oven use, supervised at first
-Proper knife handling, supervised of course
-Blender and food processor use
-BBQ safety and proper use
Disclaimer- All these lessons are just that, lessons. You should supervise all activity in the kitchen until you feel comfortable enough to step away. I am not liable for any mishaps, these are just suggestions and ideas to help you get started.
Lose Weight By Eating cookbooks:
More Posts About Weight Loss: